Let's follow the route of Dane Lane's route to the places where his best photos were taken!
My name is Dave Lane of Dave Lane Astrophotography and I'm an unabashed astronaut. For about 2 weeks each month from April to September you will find me frantically combing through the West looking for clear skies and great foregrounds. In a typical trip, I will travel over 6,000 miles looking for not just a great shot but an absolute epic shot.
Night time photography, at least night photography done well, is a tricky endeavor. There are many considerations a daytime photographer need not take into account. Foremost is clear skies. As I write this I am in my vehicle awaiting darkness at the Black Canyon of the Gunnison.
I was in New Mexico at the Ah-Shi-Sle-Pah Wilderness Area yesterday, Great Basin National Park in Nevada the day before, and Moab Utah before that chased from spot-to-spot by cloud cover.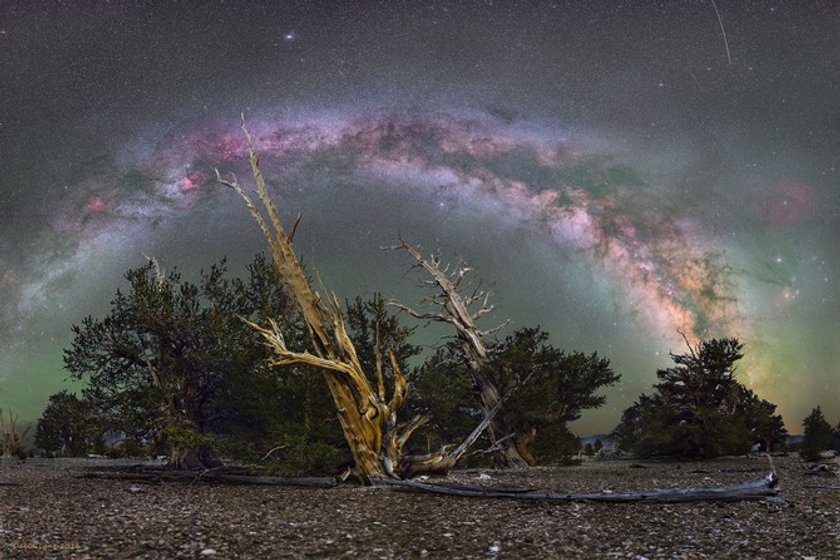 This is not the only oddity of astrophotography. In order to take images, including the main portion of the Milky Way, I have to find a suitably large object that allows an eastern photographic layout. That eliminates many views where such a vantage points are not possible. Many times I have found a fantastic view that is drop dead gorgeous for a shot and the facing is wrong and the shot must be scrapped.
To make matters even worse, there can't be any significant light in the area, Actually, almost any light can torpedo a shot. Once, on a very remote shot with excellent dark skies, an oil rig, about 3 miles distant but equipped with what must have been aircraft landing lights, cast harsh yellow highlights on many of the hoodoos I came to shoot. I managed to salvage just 1 of the 4 panoramas I shot.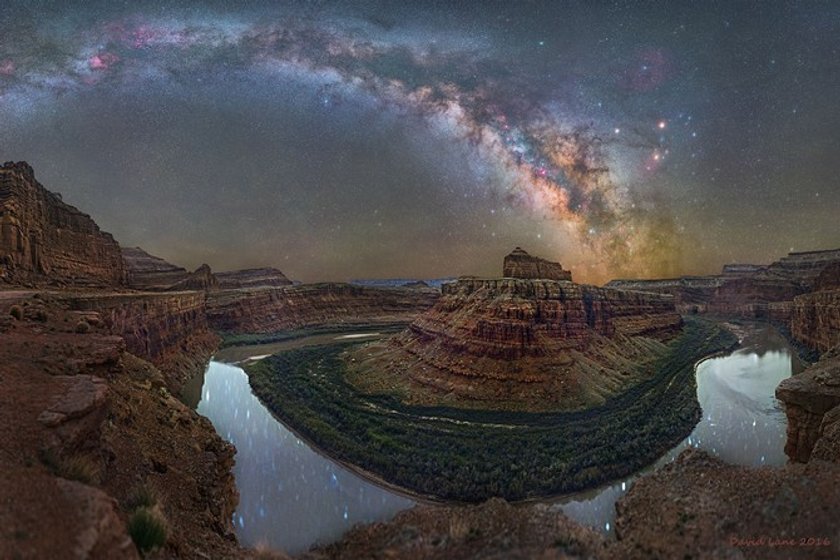 Then you arrive at the most obvious issue, working in complete darkness. It is amazing having stood there next to the camera that night to see what I can conjure forth in the finished image. To make that appear from what looks to be inky blackness.
Tonight at Gunnison there is the sub-freezing cold air, the frost forming on the tripod and camera, the stiff breeze blowing through my beard, the complete blackness before me, and the amazing pine scent in the air. I can see and feel all of it with just a glance at a finished image
I seem to live my nocturnal astrophotography existence within about a 500 mile sweep of Kanab Utah. There are such epic vistas here. Massive, knurled, perforated and sometimes completely insane geological formations that make you say "What the hell happened here?" At every turn there are canyons, arches, colors and swirls. It's enough to make a rock and astronut like me swoon.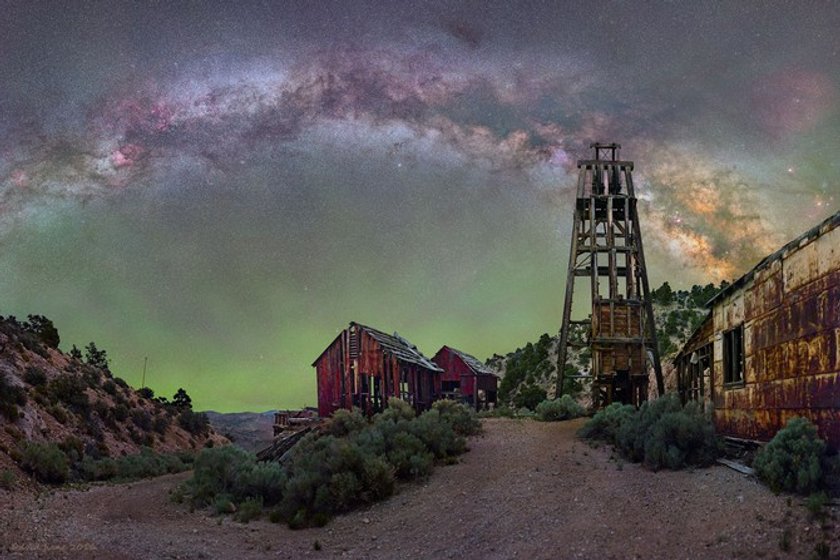 So, you might ask, what do I like to shoot, what really gets me excited? I have to say I think it's the canyons. They are so hard to do and so indescribably dark to behold. It's like staring into the maw of some ancient demon or some earth bound black hole. I definitely have a love hate relationship with them. They are so very hard to photo, to process into a quality image, yet so magnificent.
So let me pick a couple images to share with you. I'll explain briefly what was happening in the shot so you have some background for the image. I've chosen the images from a couple of my favorite areas in Utah and Arizona.
The first image is of Dead Horse Point Utah. The normal view of Dead Horse Point and its beauty lies way above this view. There's a reason for that too. The road down to this point is dangerous, mind-bogglingly steep and guaranteed to give you white knuckles or worse. This road is not for the faint of heart, mind or legs.
Attempting this road without proper equipment could end up being deadly. The road is certainly breathtaking but it still remains the heart pounding experience. Words can't adequately describe the steepness and pictures frankly do it no justice at all.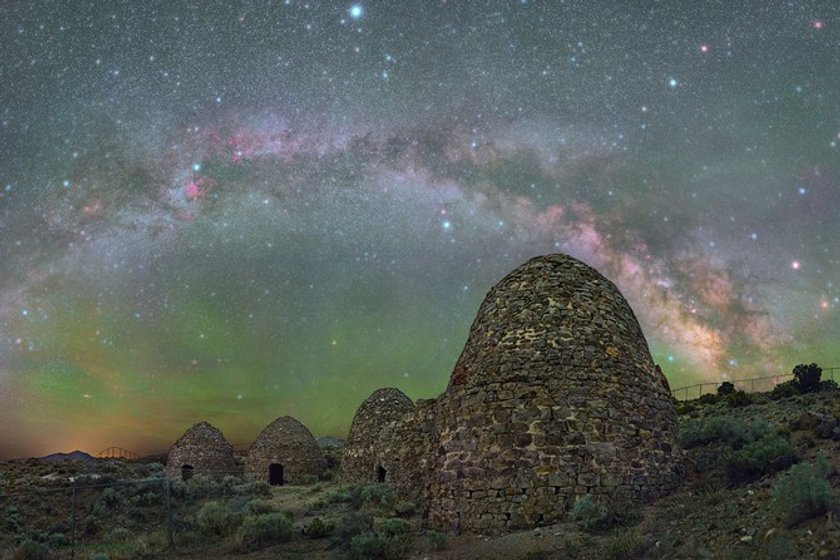 Headed down to the bottom the road starts out well, wide and in good condition. Then the wide expanse to the left begins to narrow, quickly becoming a rock shelf road hugging the side of a cliff face thousands of feet in the air. To make matters worse, the drop is not the least bit gradual. If you glance to the left, the sheerness of the drop will buckle your knees. The road here on the cliff face is so narrow I can't imagine having to pass another car.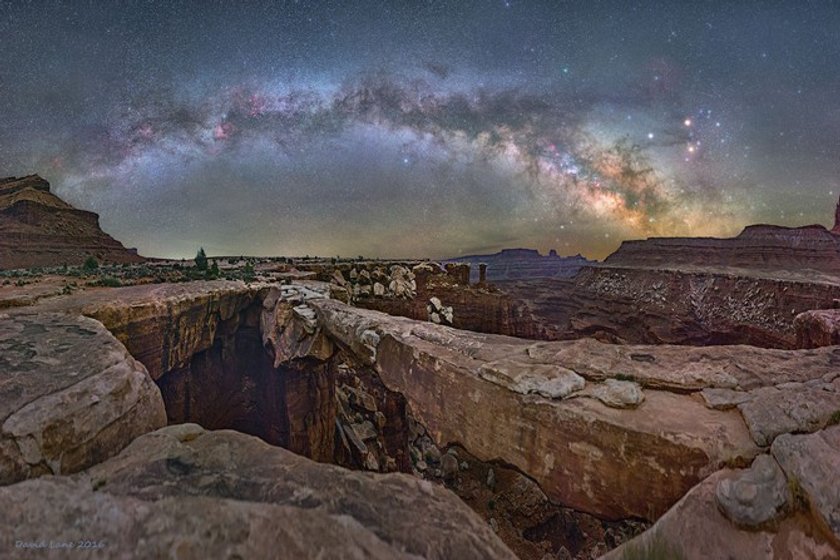 After looping around the cliff face a few times I came to the start of the switchbacks. Here is where the real adventure begins. Hairpin turns with barely enough room to turn before going in the opposite direction. Scant inches separate my tires from an unimaginable fate. You simply can't think about it. Seriously. And look? No way.
Finally having reached the bottom you travel a very bouncy and rough road for other 6-7 miles and you will come to this great overlook. Not ideal to line up with the Milky Way, yet what this looks like during the day is amazing.
At 4:00 AM it's time to set up on the edge of a drop that while only a couple hundred feet is equally as deadly. It's April and the Milky Way rises late in the night. I begin this panorama of 42 images. I managed to finish it just before astronomical dark and collapsed in my vehicle to nap till morning came.
Toroweap, Arizona. This western end of the Grand Canyon, which is where Toroweap is located, is amazing to behold and staggeringly hard to get to. The first 60 miles are a moderately wash-boarded dirt road and pretty easy to travel. Then the last 20 miles the going gets rough, rougher and roughest. Slowing down to a speed where walking might be faster. The last 2 miles are crazy. At last, the journey is over and Toroweap lies before you in all its glory. Eerie and haunting, almost surreal.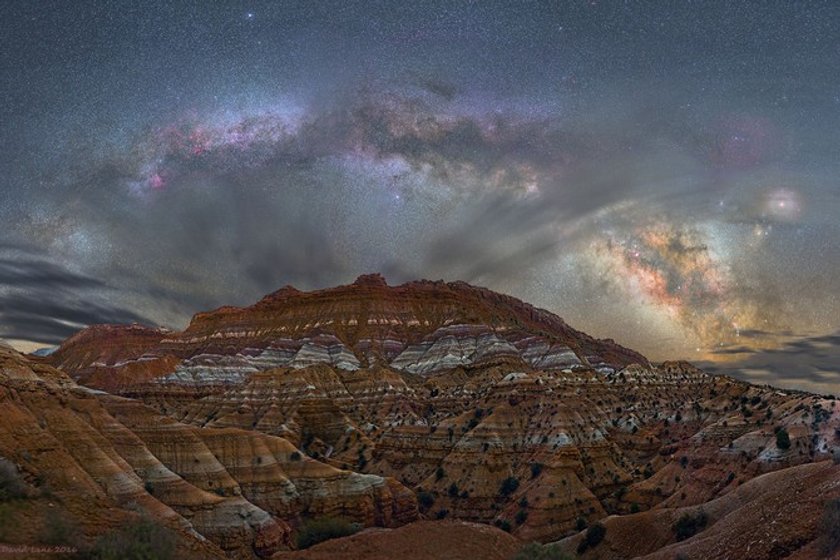 To say the cliffs here are steep is a huge understatement. The view and the sheer drop virtually bankrupt the English language. No words or images do it justice, even this one. Toroweap is one of the very few places in the Grand Canyon you can really look directly down onto the Colorado river.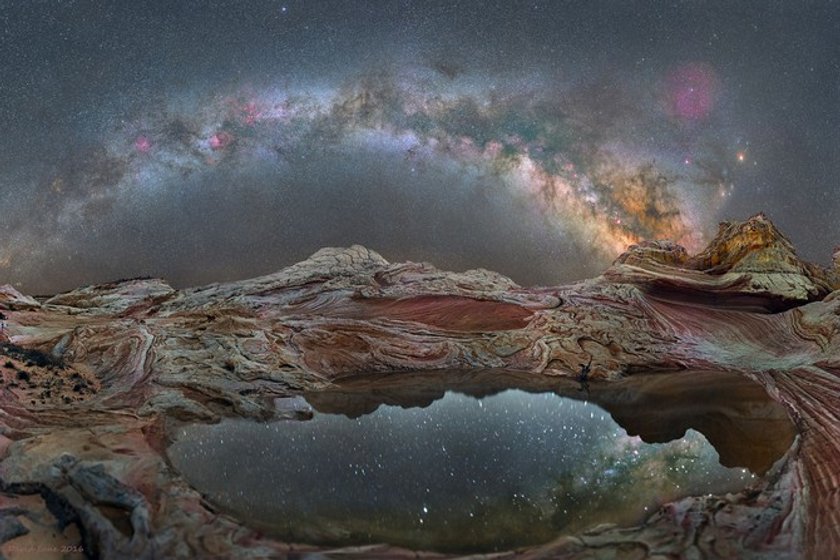 This shot I got of Toroweap came at 3am. I scrambled out onto these crazy weird rocks to a point that overlooked the canyon a mere 2 feet from a 3000 feet drop, in the dark, on very uneven footing. The actual photo after it is setup takes about 20-25 minutes to complete the 42 images.
Standing there for that long with complete blackness in front of you can be very unnerving. I always breathe a sigh of relief when I can grab the camera from the edge and retreat to relative safety.
Toroweap is a special animal in the world of canyons. Because it is so narrow and the cliffs so sheer, the photons streaming from the stars that manage to reach the bottom are so few and faint that it will take all my skill to make an image that is presentable.
So there are a couple of examples of what I do. Images that take an hour to complete and 42 images to stitch together to get a completed image. I usually get 2 images a night, 3 if I really hustle and don't have to move the equipment very far.
I started all this is in 2013 with a single camera image, then in 2014 I went to panoramas of 16 images. Last year I upped that to 25 images and this year its 42 images. I just shot one panorama that took 54 images just to cover the sky. I must really enjoy pain.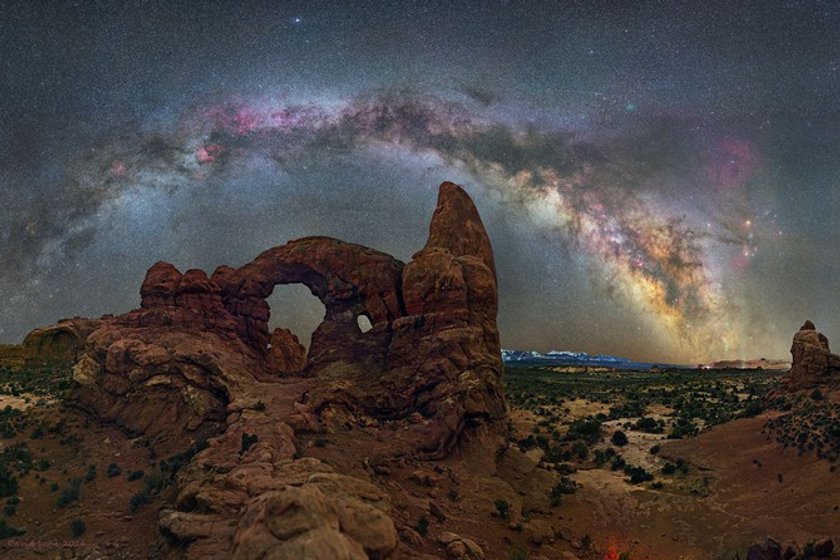 It is a good thing I love what I do. I am so blessed to be able to do what I do. To drive 30,000 miles a summer, to buy a massive pile of gear and go to locations that frankly are not only dangerous but incredibly remote just fire me up. I'd bore you with tales of searching Google Maps for hidden places and figuring how to get there, but alas this tale must end.
I've been called a master of light by some of my followers. I use unusual and different approaches I learned in deep space astrophotography to get these unusual results. Mostly, though, it's experimenting and trying new things. Sometimes they work, sometimes they don't. Learning to focus in the dark, how to configure an optimal equipment setup and mostly how to tease out the details all create a challenge I truly love.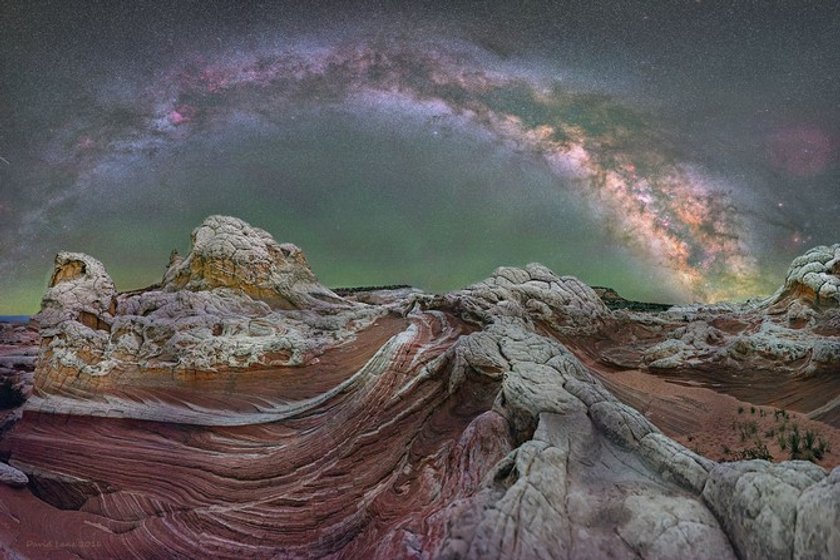 Think of me this summer when you are sitting somewhere in the evening when there is no moon, and know for certain I'm out there somewhere, looking for my next epic shot.
To find out more about Dave Lane's journeys and see more of his photos, you can visit the website or Facebook page.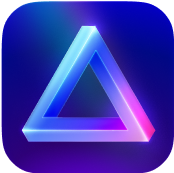 Advanced yet easy-to-use photo editor
view plans