After many months of work, we're excited to say that Creative Kit 2016 has launched!
After many months of work, we're excited to say that Creative Kit 2016 has launched! Six powerful Mac-only creative photography applications, including the fantastic FX Photo Studio. Our newest release can take you far beyond what you've experienced before.
Your photos will never be the same again and here's why we're confident in saying that. Not only do you get our 6 best apps at a low price (with over 50% OFF), we've dramatically improved how you work with them. Images can easily be shared between apps so that you can quickly correct any flaws, then "shoot for the moon" with creative photo enhancements!
We've also increased speed for every app and added batch processing in FX Photo Studio, Noiseless, Tonality and Intensify. This means that once you have a special style or look you want to repeat, you can easily apply it to many images at once, plus resize and rename them at the same time! We often use this with Intensify or Tonality to make a group of images look similar, or quickly process a bunch of low-light images with Noiseless. It's fantastic!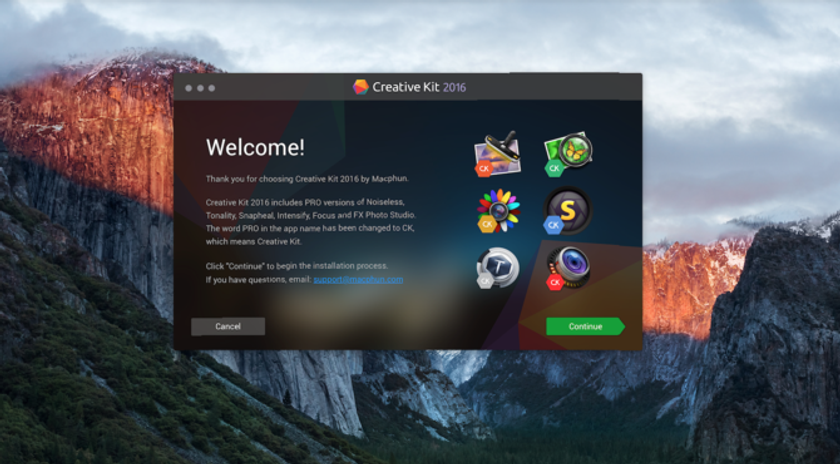 Another exciting development is that our top 4 apps of the 6 now support Apple's Photos for Mac editing extensions. Skylum was "first to market" with App Store versions of our powerful tools that work perfectly within Photos, and now most of our Pro CK ("Creative Kit") versions have been updated. Focus and FX Photo Studio will be updated within the next several weeks.
If you're a Mac fan using Photos as an image sync and management tool, now for the first time you have turn on the editing "afterburners" with Creative Kit 2016. In real world Photos for Mac and Creative Kit work so great together you don't need any other photo editing tool.
PRICING & BONUSES.
Creative Kit 2016 comes in 3 different versions plus there is a generous upgrade policies in place. We want everyone with a Mac to experience the new Creative Kit!
Creative Kit 2016 Starter Edition features Snapheal, FX Photo Studio and Intensify for just $99.99. Fix images and then make them even better with superb filters and detail enhancement!
Creative Kit 2016. Our flagship product featuring all 6 of our powerful Pro apps for just $149.99 (instead of $330, if buying separately). You get the finest image correction software with Noiseless and Snapheal, plus world-class creative tools in Tonality, Intensify, Focus and FX Photo Studio.
Creative Kit 2016 Premium. This version adds over 2 hours of professional training videos plus sample photography files to get you started faster.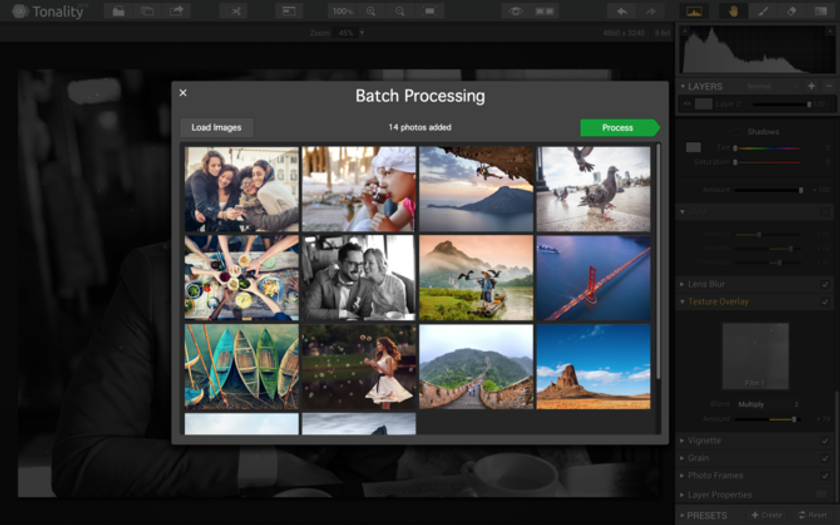 Upgrades.
You're really going to love our upgrade policy for Creative Kit 2016!
If you own the current Creative Kit Plus, you get the new version for free. Check your email Inbox, because we'll be fulfilling all of these by October 20th.
If you have Noiseless Pro, Tonality Pro, Focus Pro, Snapheal Pro and Intensify Pro, you also get Creative Kit 2016 for Free.
If you own ANY Pro app (e.g. Tonality Pro), you'll automatically receive the "CK" version of the same app, but of course with the upgraded features
For anyone who owns standard versions of our apps, purchased from the Mac App Store or elsewhere, you'll be able to upgrade to Creative Kit 2016 for a special discounted price, and save from 15% to 60%.
If you own one or more of our Pro apps and want to upgrade to Creative Kit 2016, visit the upgrade configurator to save from 30% to 70%, depending on the number of apps that you already own.
Bonus. A free photo book.
Anyone purchasing the Creative Kit 2016 or Creative Kit 2016 Premium will also receive a free medium landscape photo book from our friends at MILK Tailor-made books. That's a $55 photo book absolutely free.
There's never been a better time to become a user of Skylum software!
Click here to learn more about Creative Kit 2016 or buy it from Skylum store. Hurry up, as the number of free photo books is limited.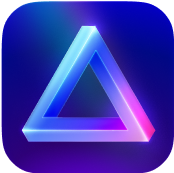 Advanced yet easy-to-use photo editor
view plans