While Lightroom is a great program for professional photographers, many people can't justify the price tag. These 15 free Lightroom alternatives will give you powerful tools without the subscription.
Lightroom is one of the most widely used photo editing tools, and for a good reason. Adobe has created software that allows you to seamlessly import, organize, and edit your images without having to switch between different programs.
The difference between Lightroom and Photoshop is one of the main questions budding photographers have. While Photoshop is great for extremely detailed image manipulation, Lightroom covers all the basics and is more than enough for most photographers. Lightroom is not only a photo editing program; it's also a wonderful tool for importing, organizing, rating, and sorting large batches of photographs.
In short, Lightroom is a wonderful all-in-one tool for people who are looking for basic image management and manipulation. Photoshop, on the other hand, is great for advanced levels of retouching and starting projects from scratch. Both are wonderful tools for photographers at every level.
But here's the catch: if you want to use either Photoshop or Lightroom, you'll need to pay $9.99 per month for as long as you want to keep using these programs. Adobe also makes it difficult to get out of their yearly contracts, forcing you to pay 50% of the remaining balance if you want to cancel before the year is up.
For novice photographers or people on a tight budget, it can be hard to justify the $120 a year price tag. Luckily, there are dozens of Lightroom alternatives out there — many of which are free! This list will take you through 15 of the most popular free Lightroom alternatives and compare them to popular Adobe software.
What to Consider When Choosing a Lightroom Alternative
For effective photo editing novice artist should first choose a monitor with objective light rendering. Very often inexpensive monitors manufacturers artificially raise the contrast and color saturation, and the picture because of this looks unnatural. If you choose a laptop to work with the image, the decisive criterion should be the display. The screens based on IPS matrix are well-proven. After that, you should choose the photo editor that suits you. It is worth paying attention to such parameters as the system requirements of the application, the built-in set of tools. On the Internet you can find dozens of Adobe Lightroom free alternatives with a suitable set of features for you.
Photo editing has never been easier than it is with Luminar Neo. This software has awesome Artificial Intelligence-powered features that allow you to edit photos in seconds. Luminar Neo provides the same basic features for organizing and editing photos as Lightroom but also includes a range of advanced tools that allow you to unleash your creativity.
For example, Accent AI analyzes a photo and determines how to enhance different aspects of it, like contrast, light, details, color, and clarity. It transforms your image into a fantastic work of art in no time.

Luminar Neo has tools to make edits automatically, but you remain in complete creative control and can change, adjust and enhance any part of your image. Luminar Neo's toolkit consists of sky replacement, relighting, portrait enhancement, background replacement tools, and many more.

Furthermore, Luminar Neo contains dozens of built-in Presets, Layers, Masking functionality, and pro-level Extensions, that you can purchase separately. This combination of features makes Luminar Neo one of the best Lightroom alternatives available.
If you're interested in learning more about Luminar Neo and how it can revolutionize your photo editing workflow, we encourage you to read our article dedicated to exploring Luminar Neo as an excellent alternative to Adobe Lightroom, called Lightroom vs Luminar Neo. In that article, we delve into the software's features, user interface, and differences between the two great products. It's a comprehensive resource that can provide you with a deeper understanding of why Luminar Neo stands out as an exceptional choice.
You can also find more information about the software on the Luminar Neo Review page. Don't miss the opportunity to learn about the experiences of professional and enthusiast photographers with this product.
Advantages:
Intuitive interface — extremely beginner-friendly;
Ability to create a catalog of photos;
Great tools for retouching and color correction;
Versatile built-in Presets;
Different subscription options are suitable for different needs.
Disadvantages: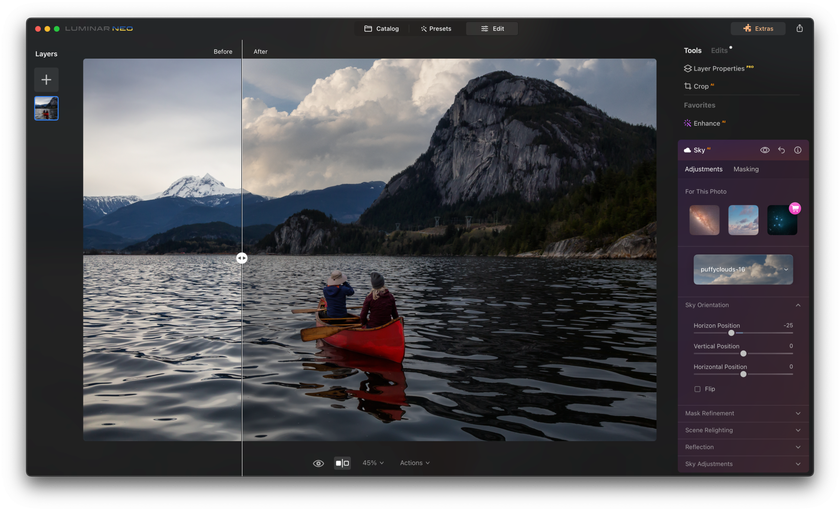 Apple Photos is automatically installed on all Mac computers, and it can be set up to sync with your other Apple devices via iCloud. This is great for people who use all Apple products.
Apple Photos offers a simple, streamlined way to organize and edit your photos all from one application. It supports RAW files and offers a handful of tools for simple editing, such as levels, curves, and selective color. You can also use it to create photo books, greeting cards, calendars, and more.
Where it falls short of Lightroom is in its inability to edit certain parts of an image. If you want to make the sky brighter, for example, you'll have to make the entire image brighter. While you can adjust highlights and shadows separately, Apple Photos is best for people who don't need to do heavy professional editing.
Advantages:
Ideal for users of Apple devices;
Lots of tools.
Disadvantages: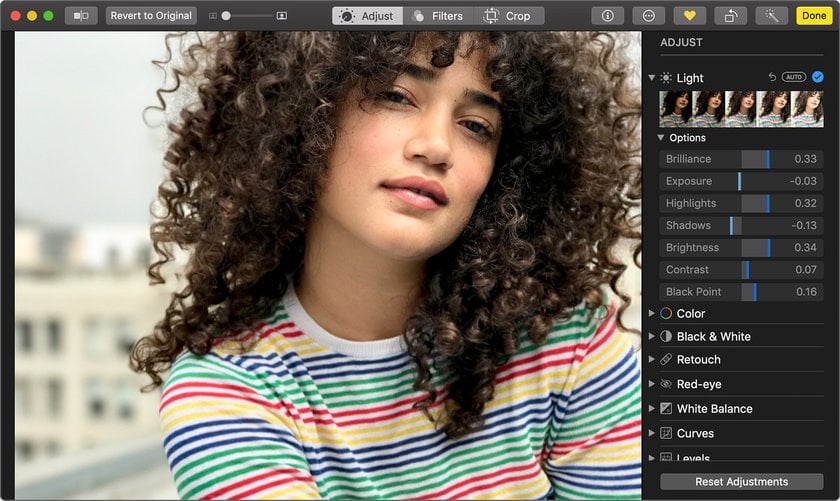 GIMP is an open-source raster graphics editor. It was initially created as a photo editor for those on Linux systems, since Photoshop wasn't supported. Nowadays, GIMP is available for Linux, Windows, and Mac.
GIMP looks and feels a lot like Photoshop and offers a lot of the same tools. It can even read. PSD files, which can come in handy if you've stopped paying for Adobe products but still want to access your files.
Unfortunately, GIMP doesn't offer any sort of photo organization. If you choose to go this route, you'll need to organize your photos outside of the app, then import them for editing purposes only. Yet as far as photo manipulation goes, GIMP can do nearly everything that Lightroom and Photoshop can. It's an ideal alternative for those looking for high-end photo manipulation tools.
Advantages:
A variety of tools, from basic to professional functions;
Many advanced features (facial features, animated GIFs, masks, layers, curves, and customizable brushes).
Disadvantages:
Suitable only for experienced users.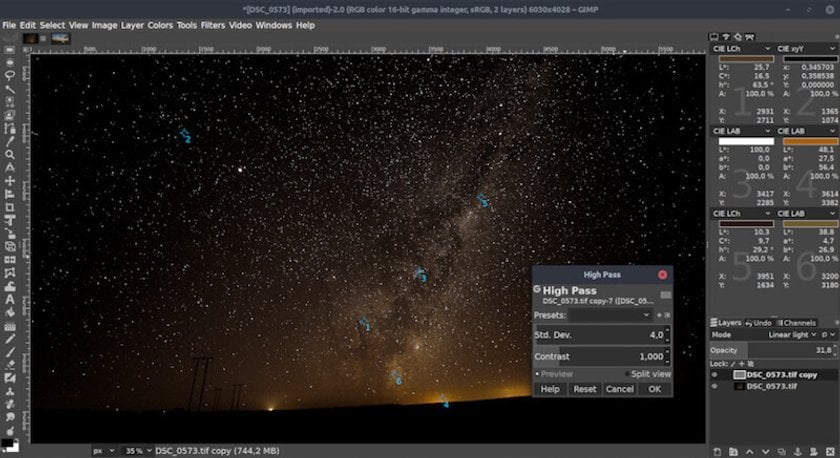 Microsoft Windows 10 Photos comes installed on any Windows 10 operating system, just as Apple Photos does for Mac. Like Photos and Lightroom, Windows 10 Photos acts as both an image library and editing program. Unfortunately, it doesn't support RAW files.
You can flag, rate, caption, and tag your images in Windows 10 Photos, making it easy to sort through large batches of photos. This software offers a handful of filters as well as an instant fix button that improves color, brightness, and contrast.
While it doesn't offer many of the advanced tools that Lightroom and Photoshop do, Windows 10 Photos is fine for the novice photographer who only needs to make simple image corrections, and can be a great Adobe Lightroom free alternative.
Advantages:
Free;
Simple interface for organizing photos.
Disadvantages: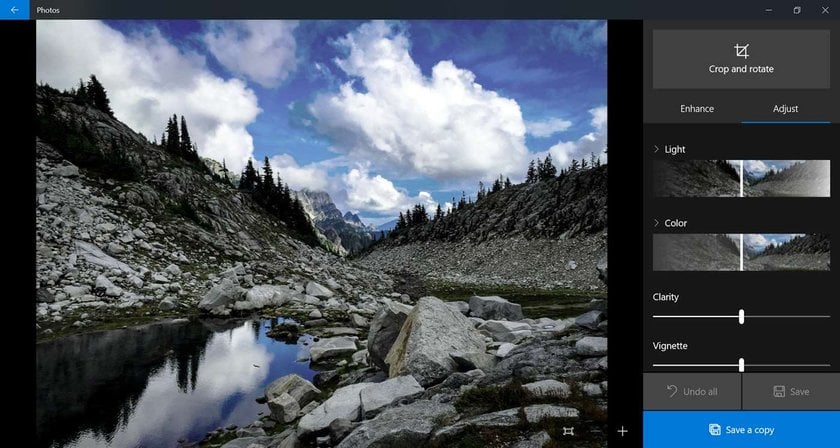 Paint.NET is free and easy-to-use photo manipulation software. It's an open-source image editor created specifically for Windows operating systems. Unfortunately, it's not available for Mac or Linux.
The interface is a bit old-fashioned, and the software doesn't offer any sort of photo organization system. Paint.NET is designed as a simple photo editor and is geared toward beginner photographers who don't need a lot of complicated tools. It can also edit only one image at a time, so it won't work for those who need to perform batch editing.
The tools in Paint.NET are straightforward and simple to understand. This free Adobe Lightroom alternative is a good choice for those looking for basic image manipulation on Windows without any frills.
Advantages:
Free;
The workspace is not overloaded with tools;
Maintains Layers;
Small size of installation files;
Not demanding PC resources.
Disadvantages:
Few automatic functions, retouching tasks and background changes have to be done manually;
Primitive text capabilities.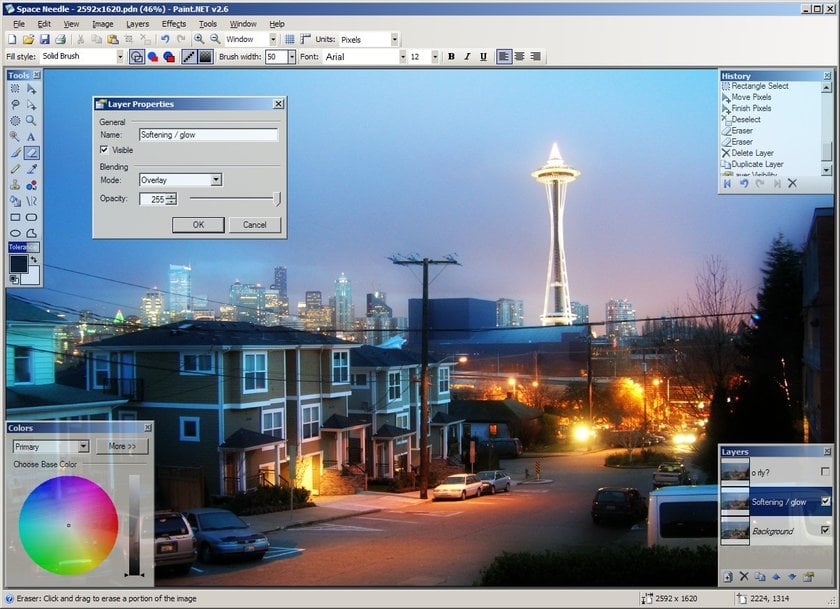 darktable is an open-source editor that's available on Mac, Linux, and Windows. It also happens to be one of the only free image editors that doubles as a space to store and organize your photos. You can add tags to images, rate them, organize them into folders, and mark them by color.
The interface is almost identical to Lightroom's, with the ability to quickly toggle between your photo library and editing tools. Darktable also offers non-destructive editing, allowing you to convert back to your original image quickly and easily.
While the tools offered are similar to those in Lightroom, it does fall short in its ability to handle professional color manipulation. Although it doesn't offer all of the advanced tools of Photoshop, it does a great job as a free Lightroom alternative.
Advantages:
Has functions of editing metadata and applying tags;
Free;
Simple interface.
Disadvantages:
Problems with a color rendering for RAW format.
Raw Therapee is completely free open-source software that runs on Windows, Mac, and Linux. The interface and tools are a cross between Photoshop and Lightroom, yet the learning curve isn't nearly as high.
Like Lightroom, Raw Therapee offers quick and easy RAW image processing. It also offers non-destructive editing, meaning the original file can be brought back with a simple click. While it does offer a way to rate, color tag, and sort images manually, the library is lacking in comparison to Lightroom.
This software is best for simple photo editing and basic color correction. It's a free Lightroom alternative for users who want advanced tools without the learning curve of Photoshop. Unfortunately, the tools themselves aren't as powerful as their Adobe counterparts, and there aren't a lot of tutorials online.
Advantages:
Free;
Lots of photo processing tools.
Disadvantages:
Not as powerful as Photoshop.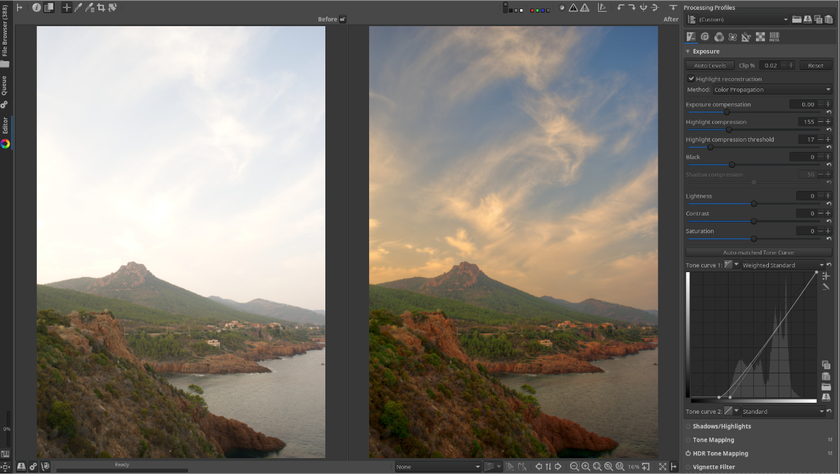 PhotoScape X is a free image editor for Mac and Windows. The Mac version offers a Photos extension that instantly connects your Photos library for seamless organizing and editing.
The Viewer in PhotoScape X allows you to rate and flag images, although the library isn't as powerful as Lightroom's. The Editor has over 1,000 filters and effects as well as the option to use masks, layers, and brushes. While it's primarily marketed as a photo editor, PhotoScape can also be used to create animated GIFS, stitch images together, and create collages.
The wide range of editing tools makes PhotoScape X a compelling Lightroom alternative. The abundance of filters and effects makes it quick and easy for anyone to instantly improve their images.
Advantages:
Free for a version with basic functionality;
Large library of effects and stickers;
Many additional features (catalog, GIF, collages, etc.).
Disadvantages:
Demanding on the amount of RAM;
Installed only through the Windows Store.
Photo Pos Pro is free photo editing software for those who want to both edit photos and build projects from scratch. It offers the ability to create collages, design business cards, and make other graphics. RAW, JPEG, GIF, and many other file types are supported.
When you first open Photo Pos Pro, you'll have the option to choose between a simple and a professional interface. For most basic adjustments, the simple interface offers all the tools you'll need. Unfortunately, if you want to unlock more tools you'll need to fork out some cash for the Pro version, which costs $30.
Photo Pos Pro is a good Lightroom alternative for beginners who don't need their photo editor to double as an image organizer. It's straightforward, offering quick and easy image adjustments.
Advantages:
Two different interfaces to select;
A wide range of tools for more sophisticated manual editing, including layers, brushes, masks, gradients, actions, textures, and RAW conversion.
Disadvantages: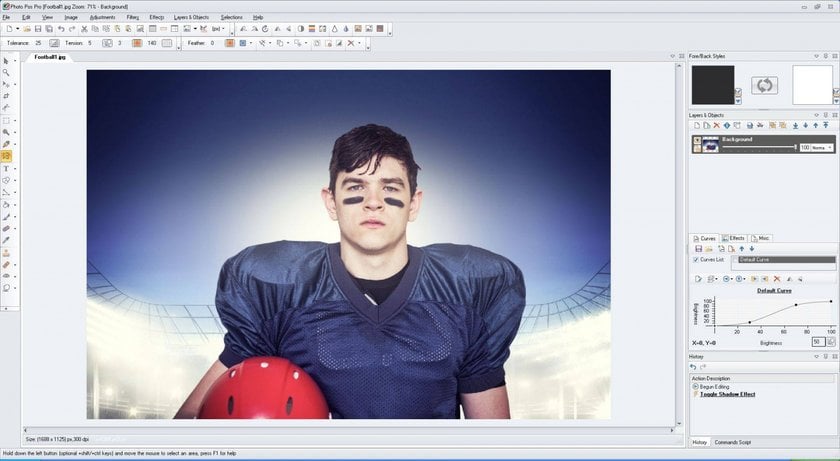 10. LightZone
Lightzone is available for Windows, Mac, and Linux. While it lets you rate images, it doesn't have the option to add keywords or efficiently organize images.
But while it lacks an image organization system, LightZone makes it easy to instantly improve your images. It's geared toward novice photographers and those who don't need a lot of Photoshop's advanced tools. And although the editor is basic, it supports RAW files.
LightZone doesn't use traditional layers. Rather, it offers an alternative that involves stacking tools on top of each other. You can then rearrange, add, and delete tools in this stack. This is a solid free Lightroom alternative for people who need basic photo editing tools.
Advantages:
A very powerful feature set for photographers;
Comfortable and stylish user interface.
Disadvantages:
The program does not allow you to create any albums or collections;
Demanding the PC resources;
High price.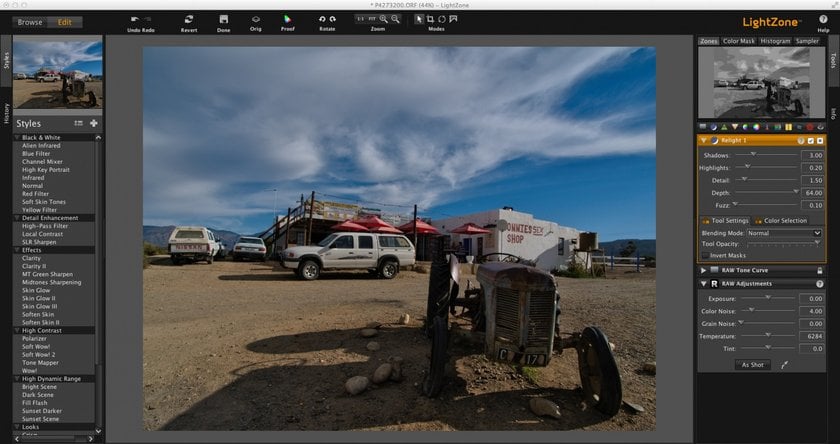 11. Pixlr (Online)
Pixlr is a free photo editor that's 100% online. This is great for people who are wary of downloading free programs onto their computers. Pixlr also offers a Chrome App that connects to Google Drive.
No account is necessary to use Pixlr; you only need to create one if you want to use the Pixlr Library with free cloud storage. While the library isn't nearly as advanced as Lightroom's, it's great for people who simply need a space to store their images.
A handful of filters such as HDR, glamour glow, and vignetting offer quick and easy ways to improve your photographs. More advanced tools such as layers and brushes are also available.
Pixlr is a reasonable Lightroom alternative for users who want a simple, straightforward photo editor. One drawback is that you need a constant internet connection in order to access and edit your images.
Advantages:
Support for PSD templates, premium fonts and stock images, and layers;
Considered to be the best online alternative of Photoshop.
Disadvantages: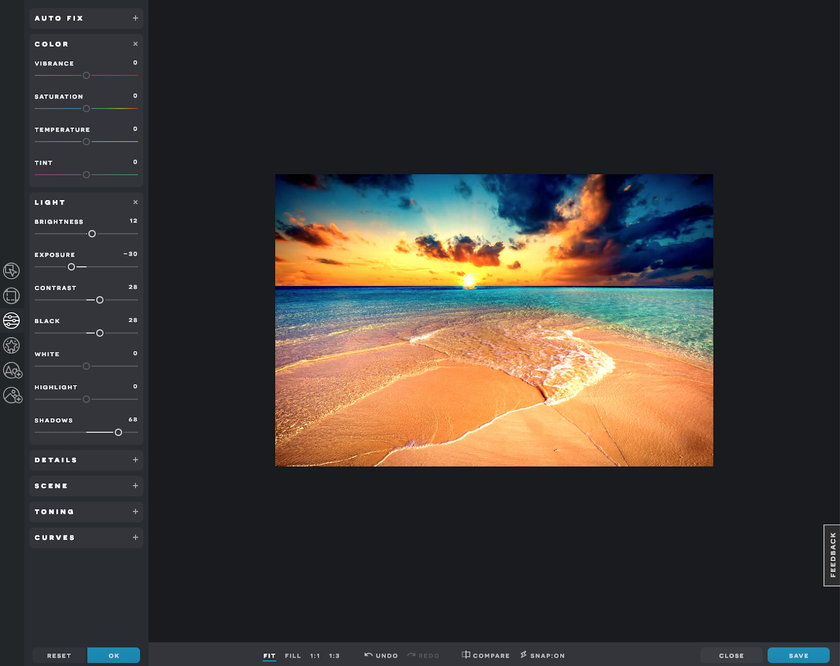 InPixio is a suite of applications for Mac and Windows. Photo Editor is just one of these applications; there's also Photo Eraser, Photo Cutter, and more.
InPixio's Photo Editor is best for novice photographers who are looking for filters, effects, and frames. With over 100 filters, 100 frames, and 50 textures, there's sure to be something for everyone. If you're looking for more advanced photo editing software, InPixio isn't it. However, if you're looking to improve your images with one click, this application is ideal.
Unfortunately, you don't get all of the tools with the free version. If you want to unlock InPixio's full potential, you'll need to purchase Photo Editor for $30.
Advantages:
Low entry threshold for beginners.
Disadvantages: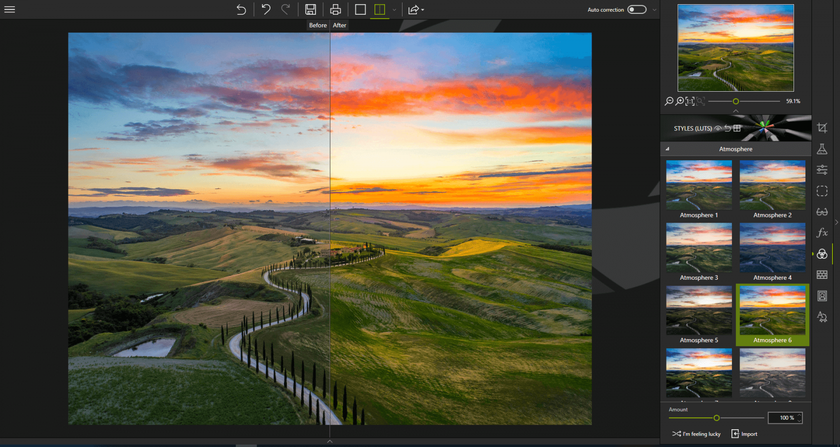 Like Pixlr, Photopea is a photo editing program that works completely online. This means you won't need to worry about downloading any software onto your computer. Photopea is one of the only online photo editors that supports .PSD files, although it doesn't offer all of the advanced tools you'll find in Photoshop.
Photopea is free, but in exchange you'll notice a lot of ads around the interface. If these are too distracting, you'll need to pay $9 a month to get rid of them. At this price, you could nearly be paying for an Adobe subscription.
Unlike Pixlr, Photopea doesn't offer an image library. If you close your browser without saving, you'll lose your work. On the plus side, Photopea supports many different file types including .XD, .sketch, and .XCF, making it great for photographers, graphic designers, and graphic artists. It also supports both vector and raster graphics! If you are looking for multifunctional online alternatives to Adobe Lightroom it is your choice.
Advantages:
Free;
Flexible tool customization;
The presence of effects and filters.
Disadvantages:
Some features are only available in the premium version;
Slow performance on weak computers.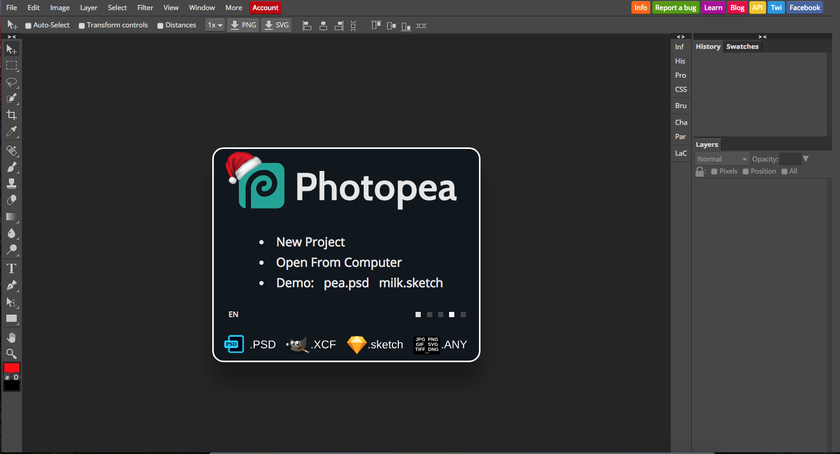 Polarr is an image editing program for Windows, Mac, and Linux. There's both a free and a paid version (for $2.50 per month). There are also apps for both iOS and Android, making it easy to edit photos on the go. Unfortunately, Polarr doesn't offer RAW image support.
Polarr is best for people looking for a quick and easy way to edit their photos. There are dozens of filters to choose from, with a slider to adjust the intensity of each. With the pro version, users can create and save their own filters.
Unlike Lightroom, Polarr doesn't offer an image library. And while it does offer some more advanced tools such as masks and brushes, the functionality is limited. Polarr is great for people who want simple filters or who only do basic image adjustments.
Advantages:
User-friendly interface;
Unique filters and tools for working with color reproduction.
Disadvantages:
Lots of in-app purchases.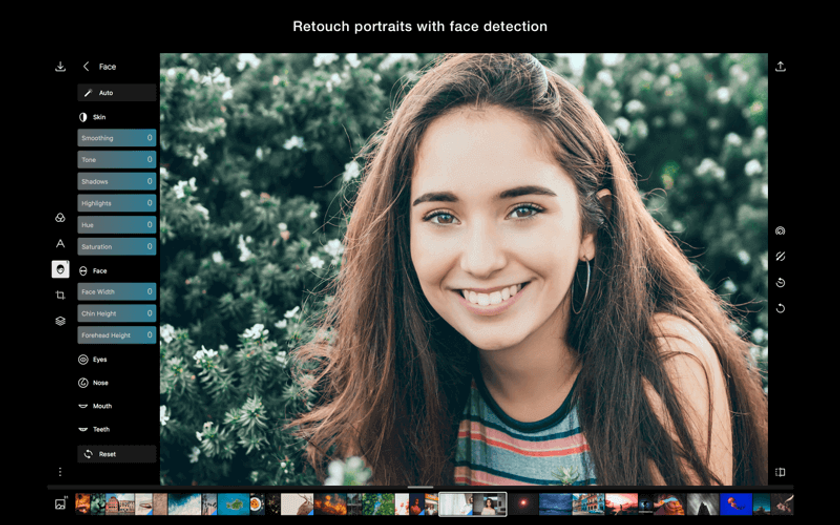 Pixelmator is as a photo editing program for Mac. Unfortunately, it's only free for the first 30 days. After the trial period, you'll need to purchase it for $30.

The interface is designed to look a lot like Adobe Photoshop and offers many of the same basic tools. However, it lacks the in-depth tools that Adobe products provide. Pixelmator is best for novice photographers who are looking for a one-click fix. There are plenty of filters and effects that will instantly improve your images.

On the plus side, you can start projects from scratch. Pixelmator is especially good for creating digital artwork. On the downside, it doesn't support RAW files. It also only works as a photo editing program, not a photo organizer.
Advantages:
A huge database of filters;
Available in a free trial version.
Disadvantages:
Available only on macOS and iOS.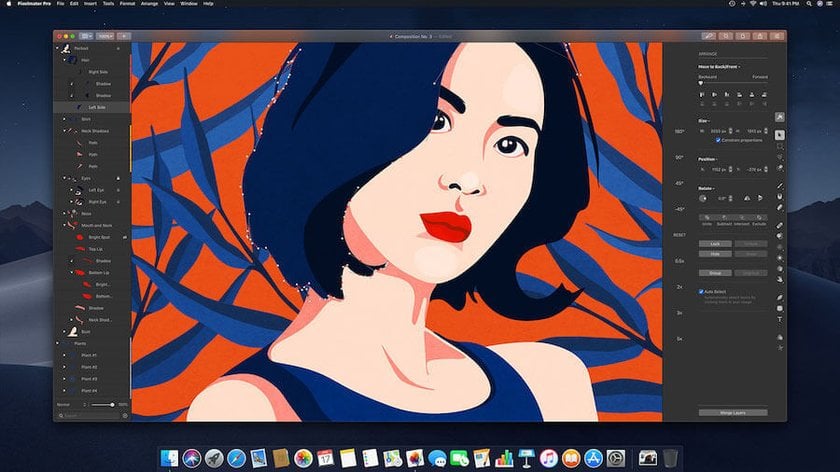 Summary & Recommendations
Lightroom is unique in the fact that it's an all-in-one program to both organize and edit your photos. While some free alternatives, such as Darktable, offer many of the same tools, others only offer simple image adjustments. Depending on your editing style, you may need to download a couple of different free programs to get all of the tools you need. Even so, free editing programs have come a long way in the past decade. If you decide to invest into a paid program, rest assured that Luminar Neo is the right fit for you. You can even try it for free for 7 days! Whether you're a beginner or a professional, we're sure you'll find an app that fits your needs.
FAQ
Is there a cost-free edition of Lightroom available?
No, there isn't a fully cost-free edition of Lightroom. However, Adobe does offer a 7-day free trial of Lightroom, after which a paid subscription is required.
Is the Lightroom app no longer offered without charge?
The Lightroom mobile app has a free version with limited features available for both iOS and Android, but a subscription is needed for the full set of features.
What's the most economical method to acquire Lightroom?
The most economical method to acquire Lightroom is through the Adobe Photography Plan, which includes both Lightroom and Photoshop for a monthly or annual fee.
What is the pricing structure for Lightroom?
Adobe offers Lightroom through its Creative Cloud subscription. Pricing may change based on location or promotions. Typically, it's included in the Photography Plan or can be subscribed to individually.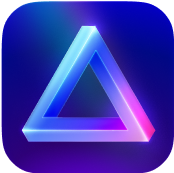 Advanced yet easy-to-use photo editor
view plans