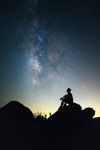 There are few things that compare to capturing an incredible image of the night sky: escaping light pollution from nearby cities and venturing into the darkness; waiting for the sun to set, for the celestial bodies to align, and for your long exposures to capture more than our eyes can see.

So much time is spent planning before you ever push the shutter button on a camera. Afterwards, you're left with a file that has an amazing amount of detail just waiting to be unlocked.
I created this Looks pack not just to eliminate the steep learning curve that comes with processing astrophotography images but to help photographers of all skill levels create images that do justice to the endless and beautiful night sky.
Whether you're shooting under a bit of moonlight or using a star tracker during a new moon, the Looks in this pack will allow you to take control and transform your images in ways you never thought possible.
The Looks and LUTs included in this pack were uniquely designed to give you ultimate control over your images. Although they work independently, they were created with a unique two-step customization process in mind.
When editing, I start with selecting one of the 10 Looks in the pack. Since the amount of light on your foreground will change from photo to photo, just as your subject in the night sky will change, different Looks will work best for specific conditions.
After I've applied a Look, I finish off the image with one of the 6 included LUTs. I created these LUTs with the idea of using them after a Look to help define the overall tone and feel of your image. This not only helps you dial in your image to match your specific vision but helps you create and define your own style while bringing out the most detail in your night sky.