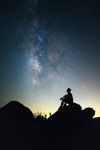 Er zijn weinig dingen die te vergelijken zijn met het vastleggen van een ongelooflijk beeld van de nachtelijke lucht: ontsnappen aan lichtvervuiling uit nabijgelegen steden en waag u in de duisternis; wachtend tot de zon ondergaat, tot de hemellichamen uitgelijnd zijn en tot uw lange belichtingstijden meer vastleggen dan onze ogen kunnen zien.

Er wordt zoveel tijd besteed aan het plannen voordat u ooit op de ontspanknop van een camera drukt. Daarna blijft er een bestand over met een verbazingwekkende hoeveelheid details dat wacht om te worden ontgrendeld.
Ik heb dit Looks-pakket gemaakt, niet alleen om de steile leercurve te elimineren die gepaard gaat met het verwerken van astro-fotografieafbeeldingen, maar om fotografen van alle vaardigheidsniveaus te helpen afbeeldingen te maken die recht doen aan de eindeloze en prachtige nachtelijke lucht.
Of u nu fotografeert onder een beetje maanlicht of een sterrentracker gebruikt tijdens een nieuwe maan, met de looks in dit pakket kunt u de controle overnemen en uw afbeeldingen transformeren op manieren die u nooit voor mogelijk had gehouden.
De Looks en LUT's in dit pakket zijn uniek ontworpen om u de ultieme controle over uw afbeeldingen te geven. Hoewel ze onafhankelijk werken, zijn ze gemaakt met het oog op een uniek aanpassingsproces in twee stappen.
Bij het bewerken begin ik met het selecteren van een van de 10 Looks in het pakket. Omdat de hoeveelheid licht op uw voorgrond verandert van foto tot foto, net zoals uw onderwerp aan de nachtelijke lucht verandert, werken verschillende Looks het beste onder specifieke omstandigheden.
Nadat ik een look heb toegepast, maak ik de afbeelding af met een van de 6 meegeleverde LUT's. Ik heb deze LUT's gemaakt met het idee om ze na een Look te gebruiken om de algehele toon en het gevoel van uw afbeelding te helpen definiëren. Dit helpt u niet alleen om uw afbeelding aan te passen aan uw specifieke visie, maar helpt u ook om uw eigen stijl te creëren en te definiëren, terwijl u de meeste details in uw nachtelijke lucht naar voren brengt.