A Facebook cover photo is important if you want to create a complete impression of your online profile.
Your profile and cover photos show how hundreds or maybe thousands of people recognize you. They make the first impression when someone searches for you on Facebook or when you send a friend request. Facebook has specific guidelines for their sizes. So to make the best first impression, it's important to know how to resize pictures for Facebook profile, your photos and optimize them for this platform.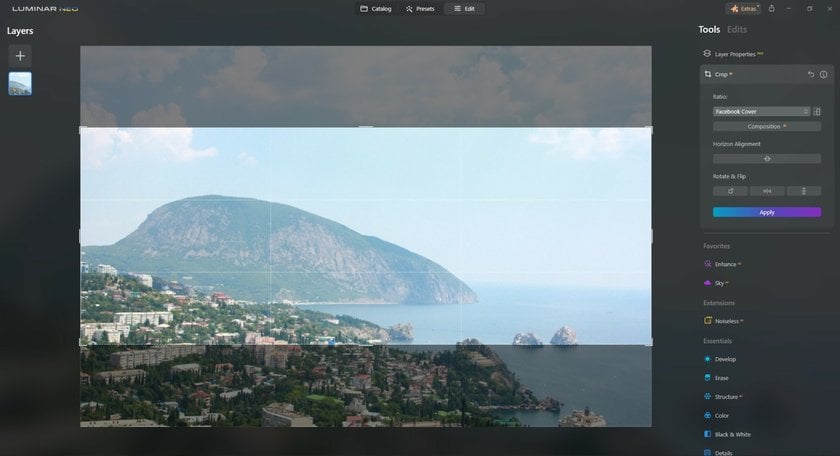 Why You Should Resize Profile Photos for Facebook
Facebook has set standards for profile pictures. When you upload a photo, the website automatically crops it to fit in the available space. While this is handy, the cropping isn't always accurate and can lead to some unusual framing. Remember that a profile photo is what introduces you to other people, so you want it to look good. Therefore, you should make resize for Facebook profile pictures before uploading them.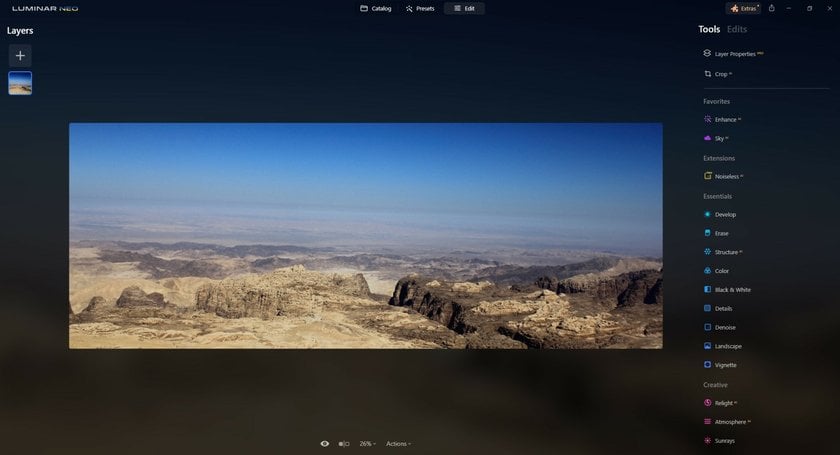 What are the Right Facebook Cover and Profile Photos?
Before discussing options for resizing, you should know that the sizes of Facebook cover and profile photos are 851×315 pixels and 170×170 pixels, respectively.
The ideal resolution for a Facebook photo is 826×462 pixels for a computer or 640 by 360 for a smartphone. It's better to edit cover photos on Facebook in this way before uploading them.
How to Resize Photos for Facebook Cover and Profile Pictures
Now that you understand why it's important to resize your photos for Facebook cover and profile pictures, let's take a look at some simple ways to do that: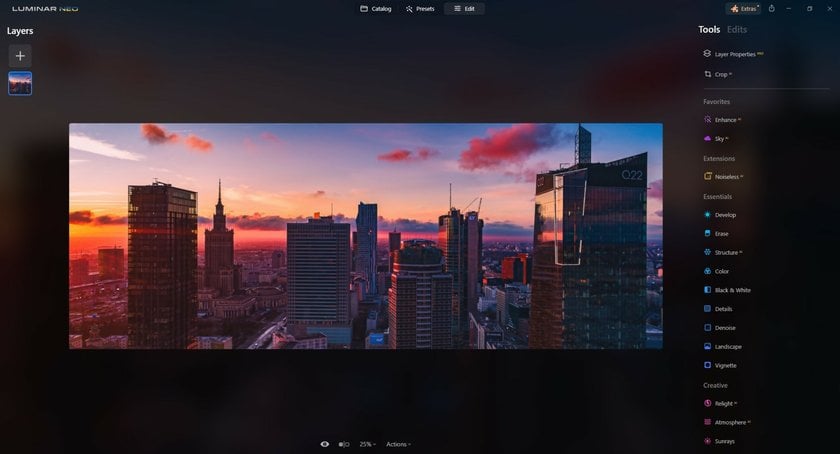 1. Using online solutions
If you don't generally resize images for Facebook, then you might want to use an online tool to resize your image to fit the guidelines. There are quite a few online resizers to help you do this, but we recommend Skylum's Online Photo Editor.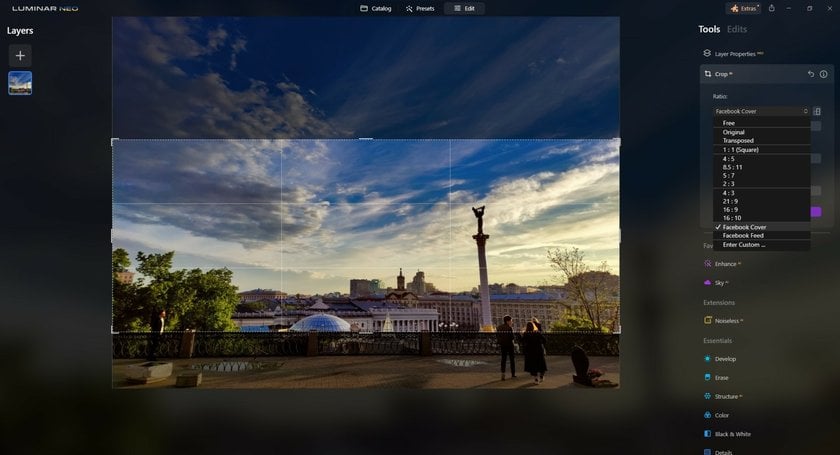 If you want to know how to make a Facebook profile picture fit, read below. To resize a photo with Skylum's Online Photo Editor, simply go to the website and follow these steps:
Upload the photo you wish to convert.
Go to the 'Edit' panel and select the Crop tool.
In the Aspect Ratio drop-down menu, select the 'Facebook Cover' or 'Facebook Profile' preset. If you can't find these presets, you can manually enter the dimensions to make photos smaller to fit your Facebook profile.
Adjust the crop area as desired. If you need to switch from horizontal to vertical, use the Rotate option in the same tool.
After making your changes, click on 'Apply' to finalize the crop and resize. Then, save the edited image to your computer.
Skylum's Online Photo Editor also offers a range of other features, including AI-powered adjustments that can help you enhance your image in just a few clicks. With a bit of practice, you can use these tools to create even more engaging and aesthetically pleasing Facebook covers or profile photos.
2. Using desktop solutions
If you already have editing software or are open to downloading software in order to resize photos for Facebook cover without cropping, then, current instruments like Photoshop and Luminar Neo are the best options. Before using them, it is advisable to find a tutorial on the Internet.
Of the two, Luminar Neo is the easiest, as it has a streamlined interface and simple controls that don't require you to spend weeks learning them. Luminar Neo isn't only a quick and easy way to edit original images but a powerful creative tool with AI solutions to any editing issue. This is why it might be the one photo editor that fits all your needs, whether you're a beginner or a professional. You can create amazing photos from RAW files, design pretty collages, change color, aspect ratio, and brightness or use another method to improve your pictures.
Before changing the aspect ratio of your image for Facebook, we recommend a quick and easy method to improve it. First, open the Presets tab and let Luminar Neo's AI analyze the image. In just a few seconds, it will offer you the most suitable Presets to transform your picture with a single click. Furthermore, you can adjust the intensity of the applied Preset and even further edit it to match your style and taste.
Here's how to resize a photo for Facebook with Luminar Neo:
Open the image you want to turn into your profile or cover photo.
Go into Crop Mode by pressing the C key on your keyboard.
The top bar will now show all the options associated with the Crop Mode.
Click the Ratio menu and select the Facebook Cover option.
If you wish to frame the photo within the crop area, simply click and drag the photo as desired.
Press Enter, and you'll have a perfect Facebook cover photo! Feel difference!
Luminar Neo is a versatile software, and you definitely need to check out all its features and possibilities! Click here to learn more about Luminar Neo's tools, add-ons, and pricing.
If you already have Photoshop on your system, then you can follow these steps to resize your photos for Facebook cover or profile pictures:

Click on the Crop tool.
Use the controls at the edges of the cropping border to freely resize your image, or type a specific size in the top bar.
Once done, press Enter or click outside the cropping border to make the change.
If you wonder how to fit Facebook profile picture in the circle, read below. Click on the icon in the upper right corner of the Facebook display and select "My Name". Upload the original photo in the "Profile Photo" menu, then click "Change Profile Photo" and add a frame, then click "Save changes".
What to Do Before Using a Facebook Cover Photo Resizer
Before you resize any photo for Facebook, you should know what matters in a good cover photo. It is especially important for all pages, including business, creative, or media accounts. If you provide any service to your visitor, you need to attract the viewer to your content. For example, if you have a Facebook photography page, then you need to showcase your best photos at the top of your page. A great way to do this is to create a collage of your images so people can see at a glance the different kinds of photos you take.
You should also change your cover photos now and then to put new content in front of people. Keeping the same image on your page for a long time makes people think you aren't very active and might not be the best for providing quick customer service.
In marketing, understanding the capabilities of photo editing tools like Luminar Neo is invaluable. This software excels in more than just efficiently cropping images for Facebook covers. Its AI-driven features can significantly enhance your photos, making them more appealing and professional.
For instance, the Enhance AI feature helps intuitively adjust lighting, color, and detail to bring a professional touch to your images with minimal effort. Sky AI is perfect for adding dramatic effect, allowing you to alter the sky in the images to ensure the backdrop always enhances the overall message.
Moreover, Luminar Neo offers essential extensions. Background Removal is ideal for creating focused visuals, enabling marketers to isolate subjects or craft composite images in a few clicks. HDR Merge and Upscale AI are key for ensuring that images are not just eye-catching but also high in quality, with enhanced details and resolution, making them more engaging to viewers.
Remember, a well-designed Facebook cover photo is a crucial marketing tool that sets the first impression and communicates your brand's essence to visitors. It's more than just an image; it's a strategic element of your online presence.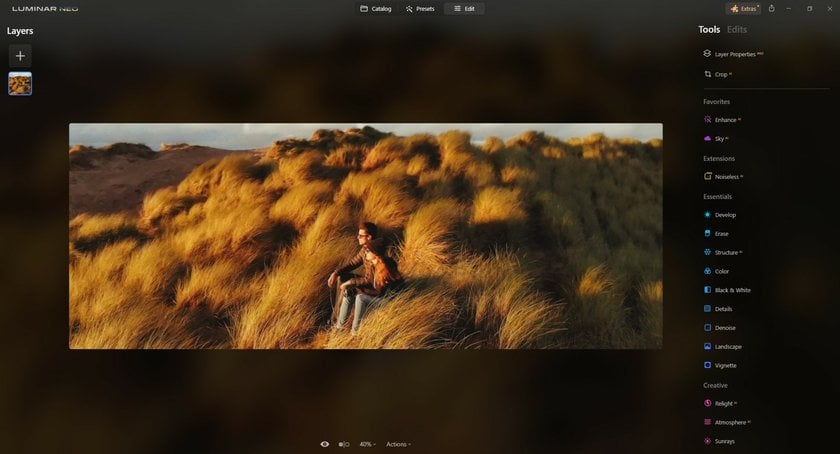 Closing Thoughts
Facebook is generally thought of as a great platform for people to connect with family and friends, and it definitely is that.

But it can be so much more if you use it effectively. We've written this guide on how to resize a photo for Facebook not only to help you make your profile look good but also to help you create an efficient business profile.
Creating a successful business page on Facebook requires posting regularly, sharing content that's relevant to your readers, and resizing your photos to fit Facebook profile guidelines.
If you're ready to supercharge your Facebook profile, then take the first step and resize your photos for Facebook!
FAQ
What Size is a Facebook Cover Photo?
The Facebook cover photo size for desktop is 820 pixels wide by 312 pixels tall and for mobile is 640 pixels wide by 360 pixels tall.

What Size is a Facebook Event Cover Photo?
The Facebook Event Cover Photo size is 1200 pixels wide by 628 pixels tall.

What Size is a Facebook Profile Picture?
The Facebook profile pic size should be uploaded at a minimum of 180 pixels x 180 pixels. It displays as 170 pixels x 170 pixels on desktop, 128 pixels x 128 pixels on smartphones, and 36 pixels x 36 pixels on most feature phones.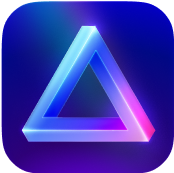 Advanced yet easy-to-use photo editor
view plans