If you are short on budget or prefer to do everything yourself, you are welcome to use all the following design platforms. This article will help you quickly find the best alternatives to Сanva.
Canva is one of the best (and most popular) photo editing tools. But there's nothing wrong with checking out alternatives from time to time. As a matter of fact, every business should re-evaluate its current setup to make sure it's operating cost-effectively. You might just be pleasantly surprised to discover a tool that offers even more features and possibly even at a lower price.
The following are some of the best alternatives to Canva. Some of them you can use for free, while others are paid. The one thing they all have in common is that they have a range of fabulous features. Let's take a look together at applications like Canva.
Creative image editor based on artificial intelligence to bring your ideas to life. This is one of the best softwares like Canva. Have you ever wanted to achieve more with your photo editing tools? Luminar Neo is an innovative program based on future artificial intelligence technologies that simplify complex editing procedures and allows authors to bring their boldest ideas to life. This is great software with tools like Canva. Why we like Luminar Neo so much:
It's a lot of fun to use.
This software is really easy to use (much more convenient than Adobe products).
With a few clicks or sliders, you can quickly add finishing touches to photos that used to take much longer.
Adding some style to your photos is also faster and easier with Luminar Neo than with other photo editors.
It performs tasks that Lightroom can't do (for example, you can add light to your photos and creatively control it in your scene, change the sky, add textures and bokeh, and use artificial HDR).
Luminar Neo allows you to focus more on creativity and style than technique and software skills.
It helps you create images for photos that you never would have considered or imagined before, which again increases creativity.
As a result, you get more inspiration and joy out of your processed photos!
Luminar Neo also includes many useful features. For example, there are more advanced features for adjusting the lighting settings of images. This software analyzes each picture and recognizes the depth and identifies the object in the scene, which gives the user precise control over exposure and tone. So, this is a great Canva competitor. In addition, the Luminar Neo editor is able to automatically recognize and remove various artifacts caused by dirt on the camera sensor or lens.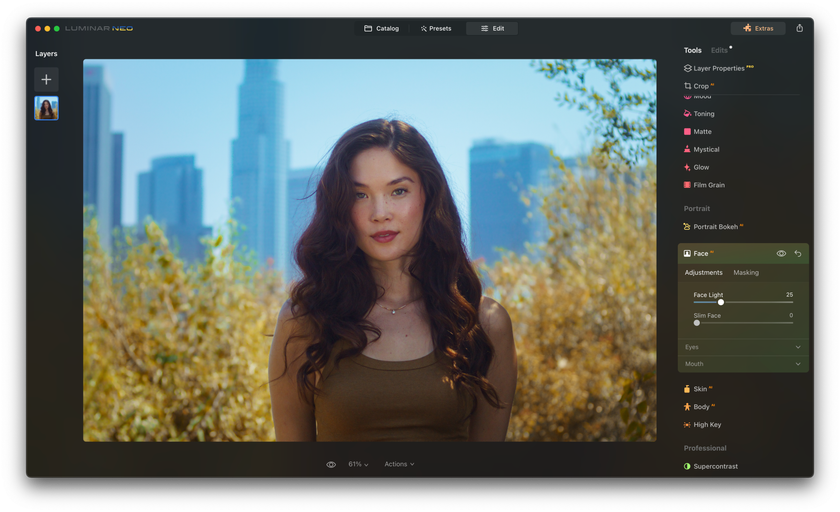 If you're a beginner photographer and haven't edited your images before, but want to do so and don't know where to start, Luminar Neo is a great option. The Luminar Neo is also great for photographers who want to speed up their existing workflow.
Do you want to spend more time on photography and less on editing? Ever dream of taking pictures that amaze your friends and family? You can try Luminar Neo with a 7-day free trial. You can also find more information about the software on the Luminar Neo Review page. You can also find more information about the software on the Luminar Neo Review page.
Boasting more than one million images and great integration with Marketo and Hubspot, Design Wizard will help you whizz through your graphic design workload. With the help of this superb software and Canva alternative, you can quickly add personal touches to your videos and images. Some of its other cool features include a library with free fonts, custom color palettes, free image storage, and a resize button. It also has templates for Pinterest, Facebook, Etsy, Twitter, Tumblr, and YouTube.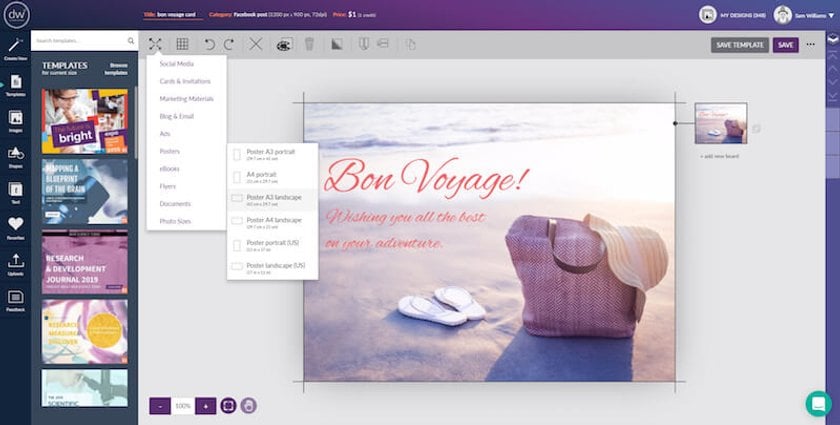 If you're working a lot with branding projects, FotoJet will get you all set, as it allows you to use your own custom typefaces. This alternate to Canva also includes many templates you can use to create invites or posts for major social media platforms like Facebook, Pinterest, Instagram, and Twitter. The best part is that you can use it offline.

All things considered, FotoJet is really easy to use. But if you do get stuck, there are tutorials available. On the downside, the free plan does not offer all of FotoJet's great features. For instance, if you want to save your projects or select a custom canvas size, you'll have to sign up for a paid plan.

Template.net, the home of high-quality, beautifully designed, and ready-made templates, offers more than an array of professional samples to our customers. This is also a great alternative to Canva. We also produce informative and first-rate business articles with varying purposes—how-tos, tips, lists, and guides. Different companies with a specialized focus in the manufacturing industry and professional services sector can utilize our articles when planning and strategizing their marketing and business plans. We guarantee that the pieces we create and share with our clients are adequate for their respective business goals.
We aim to provide the finest products for our esteemed clients. Hence, we give our 100% when designing various templates to showcase on our websites and when writing these comprehensive articles for our customers. As a company, we want to witness the success of our clients in their fields of interest, such as professional templates. Thus, they are here to deliver the necessary steps and manuals that assist individuals with the realization of their business dreams. From complete guides in HR management to budget planning, they have indispensable details that matter to the company.
Whether a newly established firm or an existing corporation in the industry, business owners can still enjoy and use the detailed information about visual content in our featured discussions.

They have an organized set up with each topic given a designated section. You can immediately browse through the portions of the blog to find the article you need. With this convenient structure, busy entrepreneurs—like yourself—can save time when looking for guides and tips on a particular process in the firm. Besides being concise and exhaustive, the articles are easy to learn and understand. Moreover, it expands a topic and makes it more comprehensible to every reader or viewer.
The services they present to there valued clients surpass the expectations of others. At most, they extend their efforts within and outside the bounds of our capacity as an enterprise. Their excellent templates are accessible at any electronic device and our articles are available to all viewers. Importantly, the detailed account of articles provides sufficient information for you to begin your journey in the industry. So, by choosing Template.net, as your beacon for success. Don't wait any longer and subscribe to there website now.
This easy-to-use app is ideal for editing photos, creating collages, and designing graphics. Similar to FotoJet, this app like Canva boasts a wide range of templates for major social media platforms. With BeFunky, you can save your designs to your device, Dropbox account, or Google Drive.
Although you can download a couple of complete images and get access to about 120 photo effects without creating an account, to be able to use the app to its fullest, you'll have to opt for the paid version.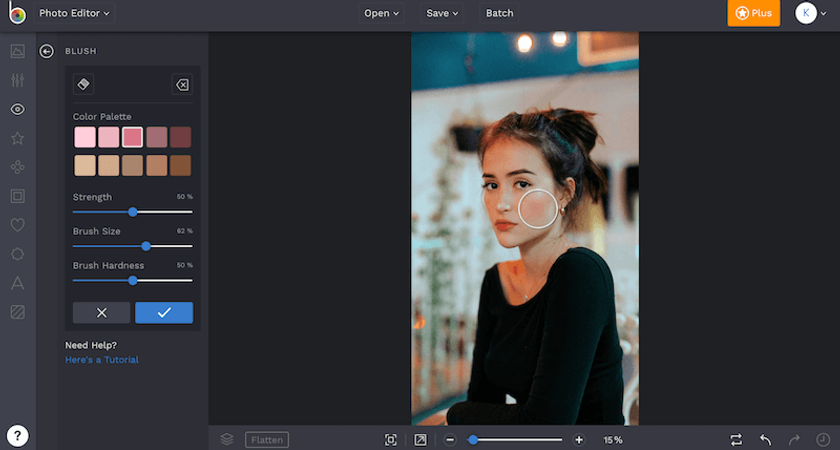 If you aren't too keen on doing the actual design work yourself, you'll love Limitless Designs. When you sign up for the Unlimited Plan of this program like Canva, a graphic designer will be allocated to work with you on your projects.
There are no restrictions to the number of designs and revisions you can order from your new star employee. Whether you need a business card, banner ad, T-shirt design, or photo for one of your social media accounts, your dedicated designer will be able to help. Or if you simply need a current design resized or cropped, you can also pass the task to your designer. It is similar to Canva.
What makes Limitless Designs so great is that you work with the same designer, so he or she will quickly start to understand your likes and dislikes. This is ideal if your business cannot afford its very own graphic designer yet (plus, you can cancel the service whenever you want). Alternatively, you can use Limitless Designs to take care of minor tasks (like cropping) so that your in-house team can tackle more important projects with graphic design tools.

Shutterstock Image Editor is a free tool that you can use to edit and resize your Shutterstock images. Though one quick word of warning: it is neither the fastest nor the easiest of tools. In short, it's great if you need to change the size of your Shutterstock images prior to downloading them.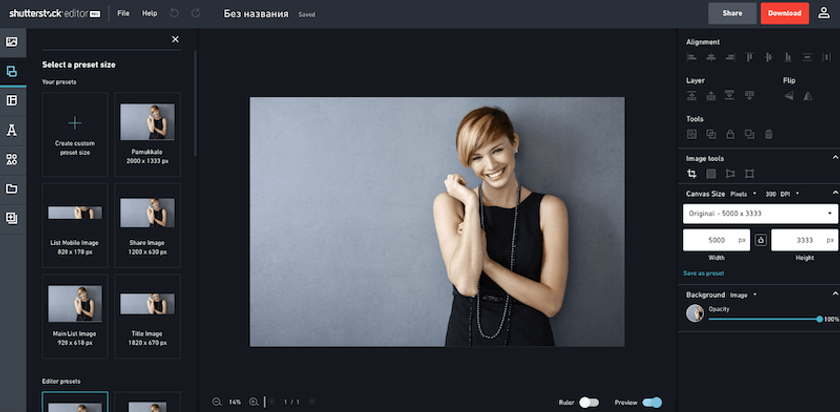 The interface of Desygner is quite similar to Canva. It comes with countless free images and templates you can use to design invites, banners, cards, Facebook posts, tweets, and even business logos. As there are no monthly limits, your only challenge will be if you're struggling with designer's block.
If you don't want to use the browser to create images or logos, you'll be happy to know that the Desygner app supports PSD and PPT file formats too (something that most other apps in this category do not support). Plus, you can save your final masterpieces in JPG or PNG format. If you want to import or export PDF files, though, you'll need to opt for the paid service. You'll also need to sign up for the paid service of stock photos to use your own custom fonts.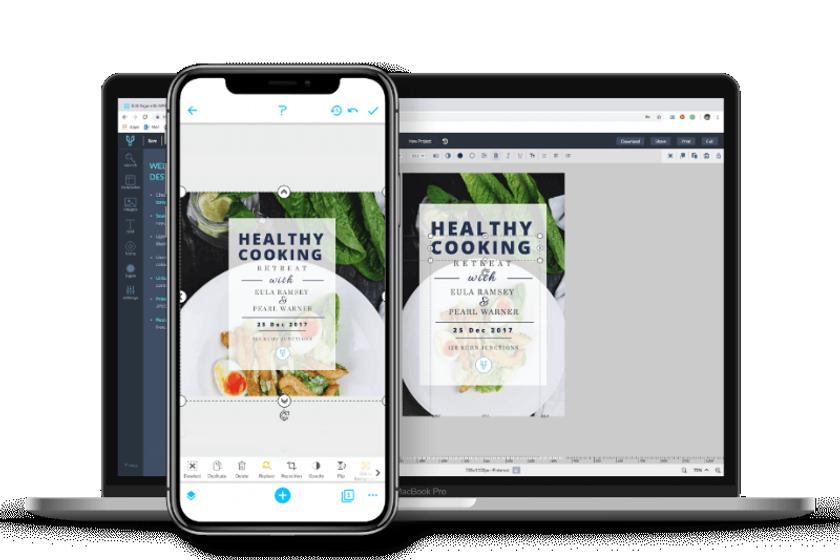 Pablo is the perfect website for marketers who mainly work with social media images and would like to boost their social media engagement with advanced features. It boasts an intuitive interface, so don't be too quick to judge the simplistic appearance.
You can either upload your own photos or use default images. Sadly, Pablo can only be used on your desktop, as there's no mobile app version. Also, although it does have some editing effects, it's restricted to social media. A good option if you need sites like Canvas.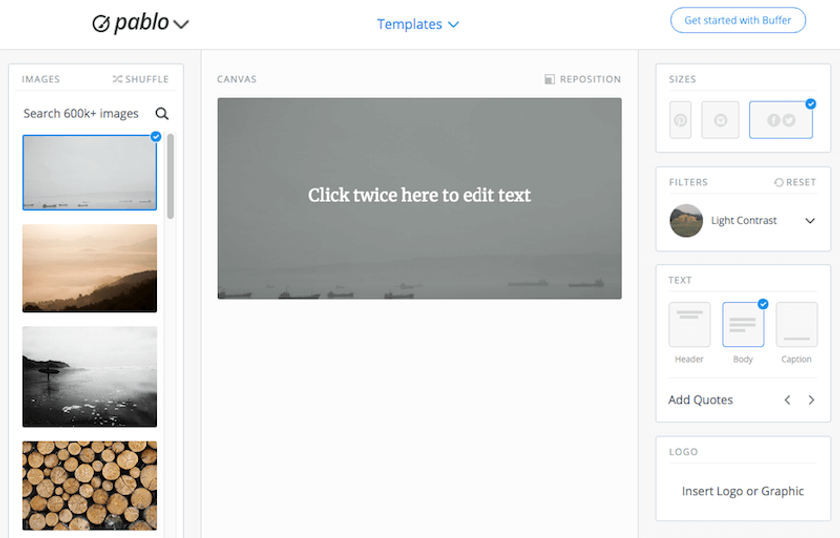 This is another great tool that can help you boost your social media engagement. Stencil comes with an impressive collection of royalty-free photos, database with quotes, Google Fonts, social media templates, infographics, and icons. You can create only 10 images per month with the free version, though. That being said, if you're using it for small business or personal use you probably don't need more than that.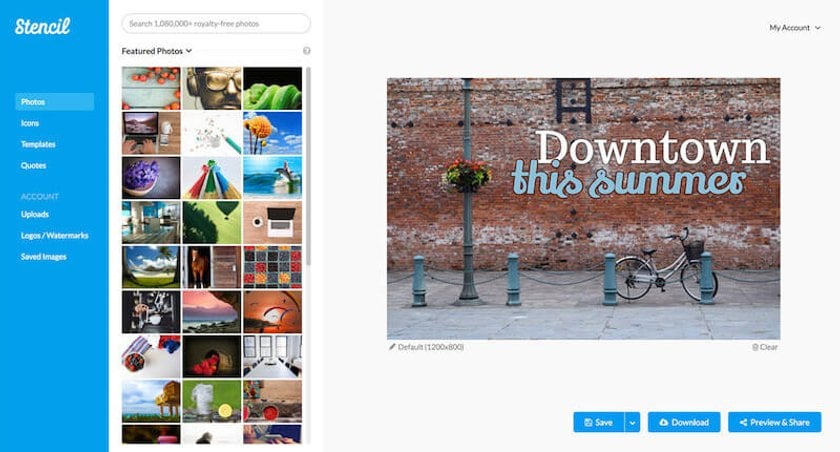 With PicMonkey, you can be as artful as a wagonload of monkeys! Its main features include touch-up tools, social media templates, basic filters, and fonts. While its interface of editing features is simple, its pricing is unfortunately not. That being said, PicMonkey remains one of the most affordable graphic design solutions. If you want to design things like infographics and collages, be sure to pick PicMonkey.
You can use Easil for many different things, including to create graphics, menus, flyers, posters, and social media templates for Pinterest, Facebook, Twitter, and Instagram. It's a good tool if you own a small or medium-sized business, as it uses folders and tagging to make sure the right users can access the right files right away.
But if you want to access many of its handy features, you'll unfortunately have to pay, so this is not a free alternative to Canva. Easil offers free fonts and images, but you're also welcome to upload your own pictures.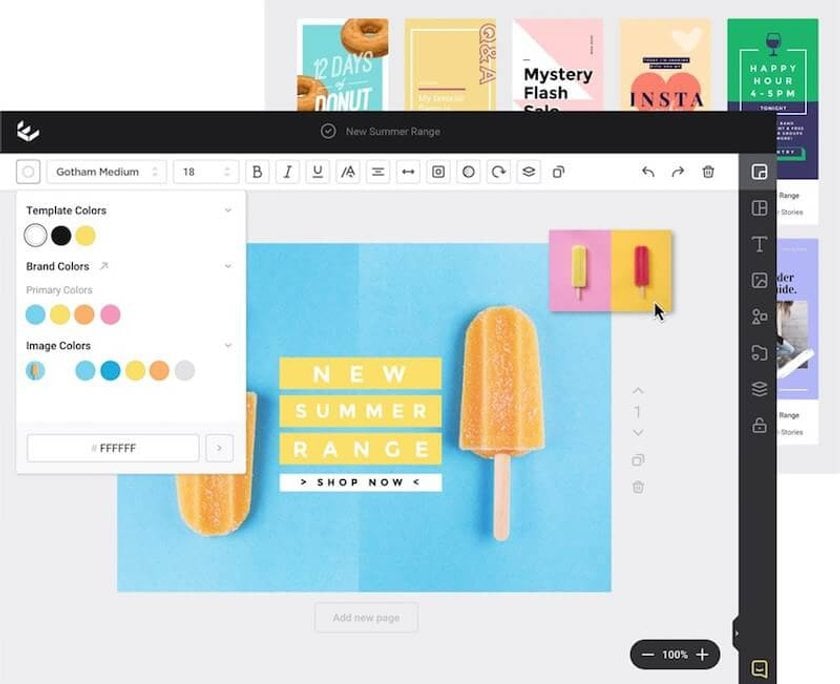 If you find yourself in a design-related pickle, DesignPickle will come to your rescue. All things considered, the quality is good, but don't expect first-class quality like some of the other tools can offer. The biggest perk of DesignPickle is that it can save you time. That being said, it's not the most affordable tool and its project scope is not that extensive either if you're finding free apps like Canva.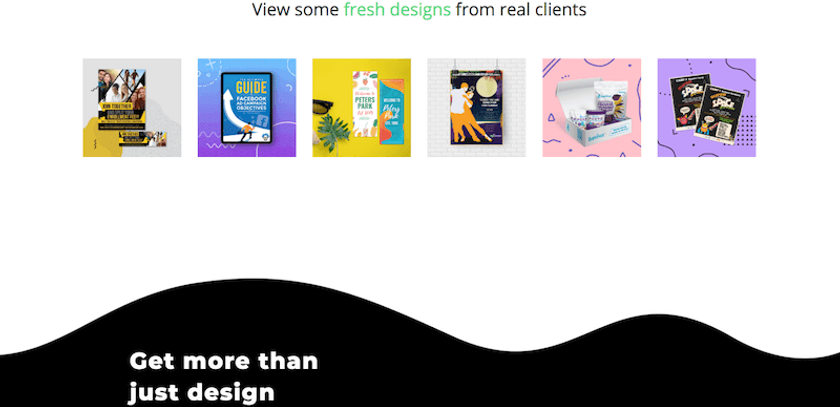 Polarr is one of the best photo editing tools. As a matter of fact, some think it's one of the greatest Photoshop alternatives. Although it doesn't have social media templates, fonts, or stock imagery, you'll really love the free filters and its nifty video editor feature. Whether you want to create a banner for a social media platform, an icon, or design a stunning invite, Polarr is an easy-to-use tool that allows you to import and export straight via the app. Alternatively, you can use it in a browser.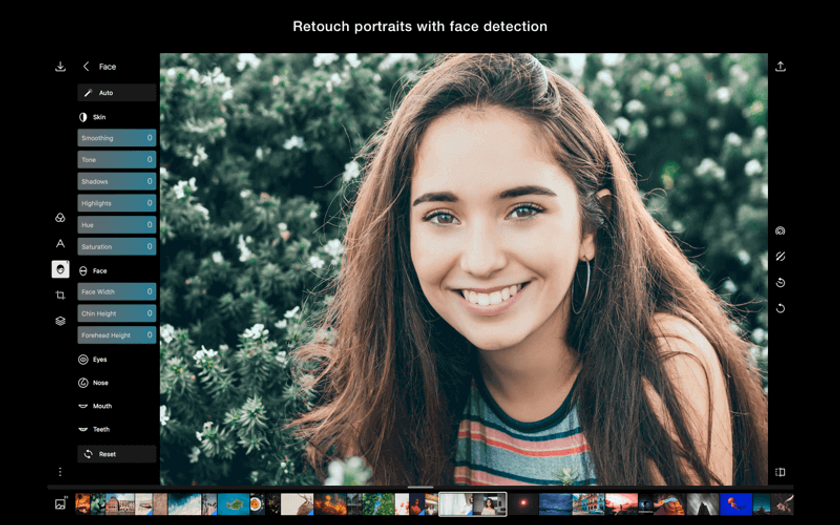 This is an excellent tool if you only want to design charts or infographics. Although there is a free version, the paid subscription is a good investment, and discounts are available for students, teachers, and non-profit organizations. This is also one of the worthy Canva competitors.
Piktochart provides more than 4,000 icons that you can use to create infographics along with a template. If you're up for the challenge, you can also create infographics without the help of templates.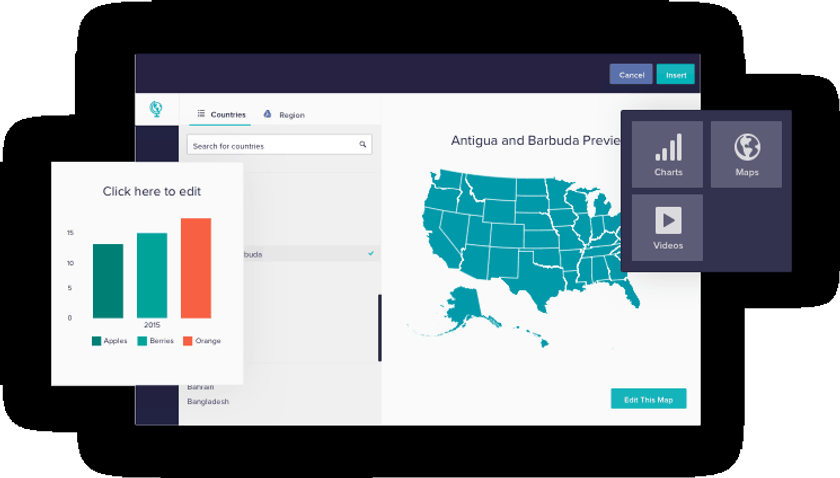 Gravit contains three apps: Cloud, Klex, and Designer. All three are easy to use and free of charge. If you do get stuck, there are tutorials and community support available.
For those who have worked with Gravit before, Cloud will be the best option. The designer is more geared toward graphic designers, while Klex is great for users who need help with a wide range of tasks and fonts. Gravit offers templates for all major social media networks as well as custom sizes.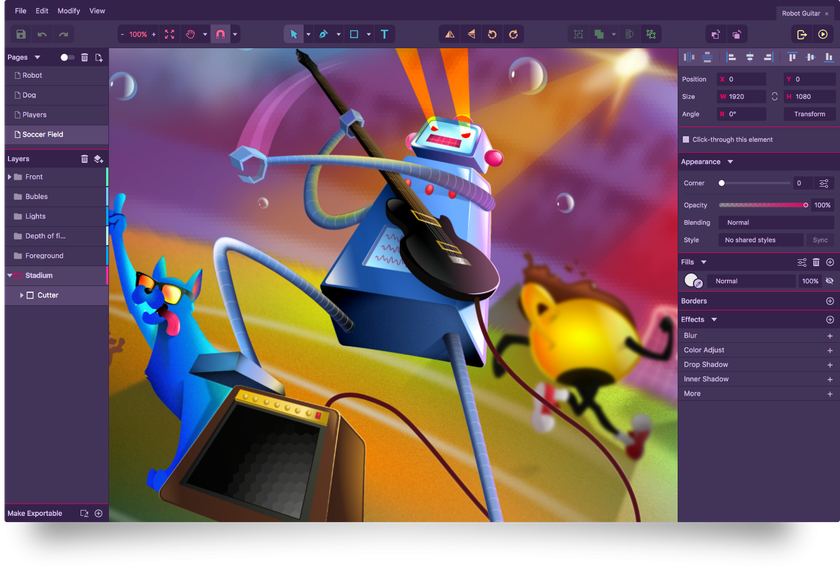 Fotor is trusted by over 300 million users. This popular cloud-based software can help you with virtually all your photo editing and graphic design work, whether you need to create a professional-looking ad or invite people to your upcoming birthday party. There are countless design templates available for all the main social media platforms. Some of Fotor's other features include fonts, stickers, and a built-in photo editor.
Fotor is easy-to-use design software, but if you do get stuck, you can simply turn to one of the many tutorials. The thing you will likely find the most difficult to figure out is Fotor's pricing.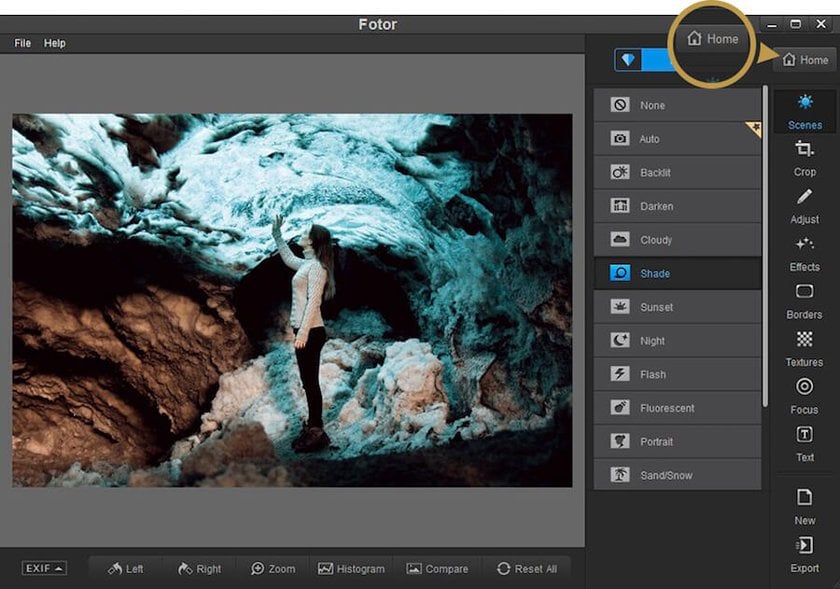 Many users find Photoshop too complex for their skills or needs. That being said, it still remains the top tool if you need to edit images. With the help of Photoshop, you can whip up custom and unique designs. Of course, when you think about apps similar to Сanva, Adobe products are worth mentioning.
One thing Photoshop does not offer is social media templates. So if you simply want to create something like a Facebook ad, Photoshop will be overkill.
If you do want the real deal and want to invest in Photoshop, be sure to make use of online (and offline) communities where you can get tips and complete tutorials. Photoshop is not the most suitable solution for beginners without a graphic design background who don't want to spend too much.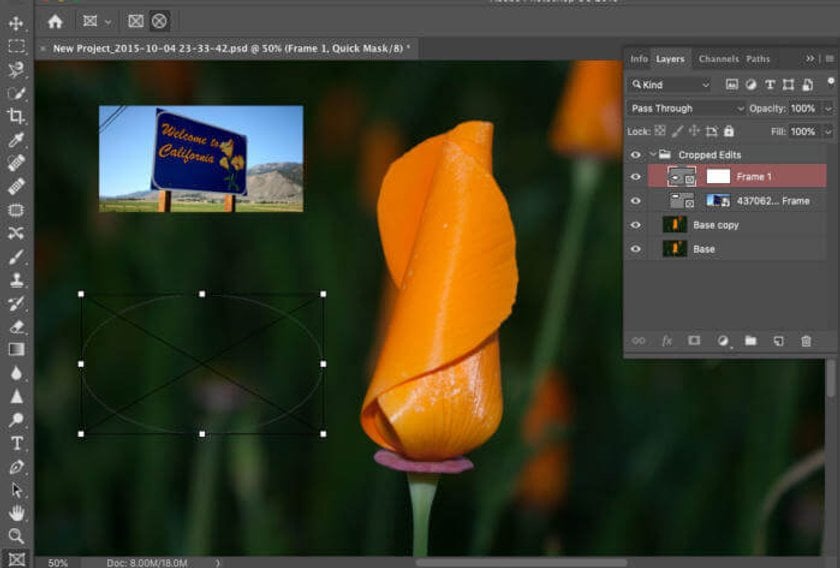 This is also one of the best free Canva alternatives. Snappa is an excellent graphic design tool for smaller businesses, in particular those that regularly work with social media platforms. Unlike many similar tools, the free version of Snappa does not limit what you can design. But if you want to create more than five images per month, you'll have to opt for the paid version. Also, you can't use custom fonts with the free version.
Snappa boasts more than 5,000 templates. So if you need a template for Twitter, email, Facebook, and most other social media platforms, you're bound to find one here.
Overall, free plan Snappa is easy to master, making it a great tool if you need to create something like an infographic or eBook cover in a snap.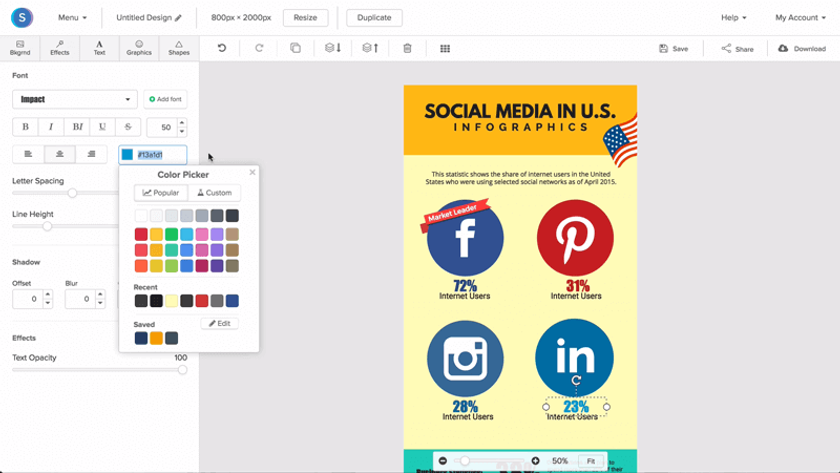 RelayThat is an easy-to-use tool that offers templates for all the major social media platforms (including AdSense) along with more than 2,000 Smart Layouts and 350,000 royalty-free images. It also has sophisticated editing tools and a feature that lets you preplan your Instagram posts, which makes it a wonderful Canva competition.
The biggest drawback of RelayThat is that if you don't want your images to have watermarks, you'll have to sign up for a paid version. Plus, many of the other alternatives mentioned offer similar features for cheaper.

20. Mac Computer Image Editor
Mac users often don't need anything more than their Mac's own free image editor. It's the ideal tool if you just need to crop a picture or resize it fast. You can also use it to add arrows, text, and some other basic shapes – with an emphasis on basic. Its features are not extensive: there are no icons and you can't use it to create a collage. This is a free app like Canva.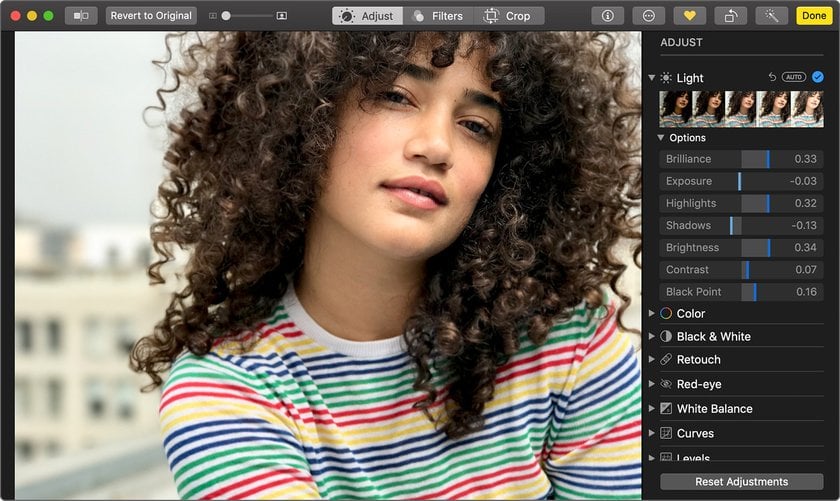 With the help of Crello, you can quickly create an animated design for your business website or social media account. The speed at which you can whip up designs that capture attention is what sets this tool apart from the others. If you don't know where to start, be sure to browse Crello's themed collections and massive library with millions of pictures.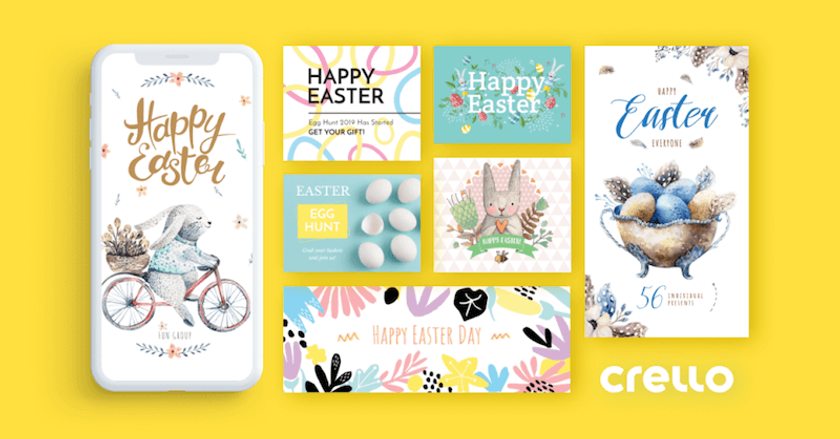 To Sum Up: Choosing the best alternatives to Canva for your needs
So, let's summarize. Canva is a popular Australian online raster design service for PC and mobile devices. It works only online, and this distinguishes it from popular counterparts such as Photoshop or Gimp. It's a great option with lots of tools, but you can always find Canva alternatives for free.
The service is used not only for amateurs but also for professional purposes. In particular, Canva is often used by SMM managers to create images for posts. One of the main advantages of Canva is the ability to save a pre-created image design template - this noticeably simplifies the processing of similar images. Canva is distributed on a standard basis - its main features are free, and some require a paid subscription. However, the free version of Canva has many features.
Of course, any modern online service or program has alternatives. At first, they may not be as convenient, but you can get used to each of them. Canva can be replaced by the editors listed above. Programs like Canva will work for beginners as well as more experienced users. Of course, when choosing, you need to pay attention to the functions and usability of each application. By switching from one editor to another, any user will be able to get the hang of it quickly enough.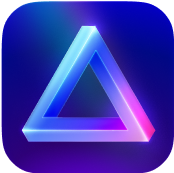 Advanced yet easy-to-use photo editor
view plans