We prepared a list of alternatives for Pixlr Photo Editor. Find online and offline analogs with basic and advanced features.
Pixlr is a good online photo editor for basic editing. It is simple and clear: you can crop, fill, work with shadows and colors and grab an image directly from an URL location with a Pixlr editor. But a lot of users will find some disadvantages in this tool. For example, the Pixlr Help section could be better. The developers did not propose answers for questions like "How to download Pixlr's Grabber". You will also be disappointed if you want to discuss something related to the software with other users, as there are no support communities for Pixlr.
That's why we prepared a list of Photo Editors for PC that can be great alternatives to Pixlr. You can find online and offline analogs with basic and advanced features in this list.
One of the best Pixlr alternatives is Luminar Neo. It is an AI-powered photo editor suitable for users of any level of experience. You can edit your pictures quickly thanks to one-click Presets that boast a variety of styles. It also includes easy AI editing tools, like Mask AI for making automatic selections, Sky AI for replacing the sky in one click, or Face AI for easy portrait retouching. Luminar Neo also supports Layers for more precise editing and creative exploration.
It is more stable than Pixlr, functioning offline and allows to get a better quality of image without compression which is unavoidable if you work with online software.
Luminar Neo can also be used as a plug-in for Adobe Lightroom and Photoshop.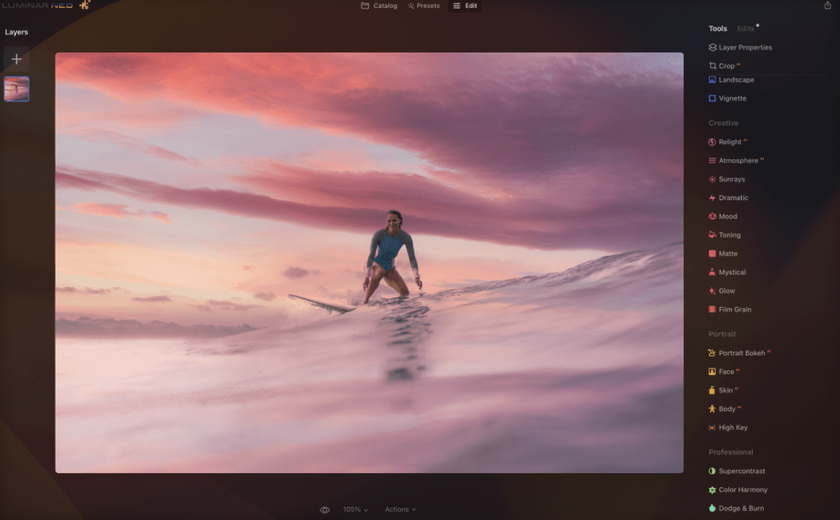 GIMP is an online open-source editor which estimated on 3.5 points. On the surface, GIMP's interface conforms to the standard graphics-program layout. The toolbox placed on the left, and the layers, channels, brushes, colors, undo history, etc. are on the right. Key features are located in drop-down menus. For instance, Brightness/Contrast is found under the Color menu, and the options for these menu-based commands are pop-up windows that can't be docked or otherwise kept open after you've applied the edit.
GIMP is completely free and available for Windows, Mac, and Linux Platform. We can say that it is one of the best websites like Pixlr.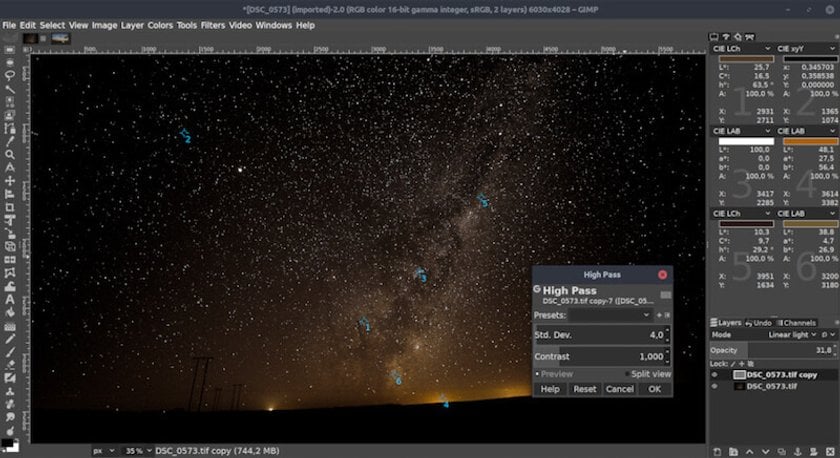 This is a simplified version of Adobe Photoshop. It differs from the classical program with a reduced pack of tools and more clear interface. The program is focused on beginners it interfaces as simple as possible.
At the top of the Home Screen, you will find a helpful search bar. Thanks to another feature, which calls Organiser, you can import and assort your images using tags, keywords, and albums to make them easier to find. Adobe Photoshop Elements lets you work with RAW files. The range of controls in this Pixlr editor alternative is more limited than Photoshop's and Lightroom's, but you still can adjust the exposure, saturation, contrast, highlights, whites, blacks, sharpness, and vibrancy.
Photopea's developers present their product as a free Photoshop alternative that works in your browser. Let's be fair, the free version is limited. In the free version, users are able to work only with a standard set of tools such as colors, shadows and lights editing, curves, masks, and layers. But the full functionality of the program is available free only for a short period of time.
Photopea's interface looks like one to one with Photoshop's CC: toolbar is on the left side, workspace in the middle and masks/layers/history is on the right side.
For a professional user, Photopea isn't going to replace Photoshop, though that'd be a big thing to ask from a free piece of software. Instead, Photopea is an excellent companion for photo editors who need to make edits on a machine that isn't their normal setup.
Many professionals identify Photoshop CC as the standard photo editing program. Comparedto this ideal, Polarr is not bad. Among other apps like Pixlr, it is an online editor that leaves a good first impression. It has a very useful histogram tool, which is very rare for online editors and you will hardly find it in other programs.
You may be surprised by the good usability of the product. It is simple and intuitive to use, maybe more than Adobe Lightroom. Polarr's curves are modishly minimalistic, and they're useful for some basic color correction. You have a composite RGB curve for adding contrast, and then there are the separate (RGB) curves.
A more limiting aspect of Polarr is that it exports everything in an sRGB color space. This might be a constraint of its coding, but it's less than ideal if you want to print your files on an inkjet.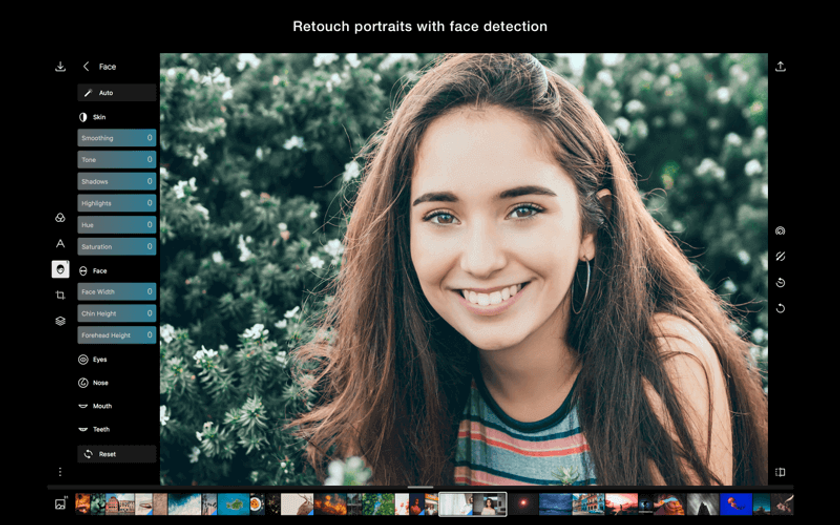 6. BeFunky
BeFunky is a versatile online photo editor like Pixlr that lets you make basic color corrections and enhance your pictures in a variety of ways. Whether you want to change the background color, crop and resize your images, or create a collage, BeFunky has a wide range of tools and features to help you achieve the desired results.
This image editing site also has its own social network where users can share their processed photos and get feedback from other members of the BeFunky community.
If you are a professional photographer or just want to improve your personal pictures, this app like Pixlr offers a user-friendly interface with powerful editing tools to help you realize your creative vision. With its wide range of features and customizable options, BeFunky is a great alternative to Pixlr.
7. PicMonkey
PicMonkey is another popular online photo editing app that offers a number of tools to help process and enhance images. Some of its key features include:
basic editing tools such as cropping, resizing, and exposure adjustments;
A range of filters and effects to add creative style to your pictures;
customizable templates for collages, graphics, and social media posts;
a wide range of text and design instruments to add captions, logos, and other graphic elements to your images.
In general, PicMonkey is a great option similar to Pixlr for those looking for a comprehensive picture editor that offers both basic and advanced editing features, as well as many customizable templates to meet a variety of needs.
8. PaintNet
PaintNet is a versatile software that provides extensive support for layers, filters, and other advanced features. It offers a wide range of tools, including customizable brushes, gradients, markers, and special effects, as well as support for node editing and bitmap vectorization. With PaintNet, users can work on multiple files at the same time.
One of its standout features is its advanced text editor, which includes more than 100 fonts to choose from, as well as options for color, size, and transparency settings. In addition, this photo editor like Pixlr provides a tool called "Stamp" that allows users to remove graininess from images.
The software also has a wide range of customization options, and many plug-ins can be downloaded to extend its functionality. Whether you're a beginner or a skilled professional, PaintNet is a valuable resource for those who want to improve their editing skills.
9. PhotoScape
PhotoScape is a free image editing application for Windows that offers many features and functions for both individual and batch processing. Its instruments include red-eye removal, adding frames, stamps, texts, filters, and more. The software also lets you create GIFs and take screenshots, making it a versatile photo editing tool for a variety of purposes.
The interface of the application is divided into sections by task, such as viewer, color selection, renaming, printing, and others, making it easy to navigate. One of the unique features that sets PhotoScape apart from other sites like Pixlr is the ability to create animations and screen captures, giving users a customized interface for these functions.
Overall, the main features and functions of PhotoScape are listed here:
free photo editing software for Windows;
allows the processing of both individual and batch photos;
tools for removing red-eye effects, adding frames, stamps, text, filters, and editing screenshots;
unique features for creating animations and screen captures.
As you can see, among the other Pixlr alternatives for free, this is a really worthy option.
Online is for efficiency, offline is for quality
If you need to have pictures in high resolution after editing, it's better to work on them via offline editors such as Luminar Neo. Online editors are more suitable for pictures for websites or amateur photography. Programs that work in the browser usually compress quality and have fewer tools.
FAQ
Here we prepared answers to the most popular questions.
Is Pixlr no longer free?
Pixlr is still available as a free online photo editor and mobile app. However, the company also offers a premium version that includes advanced features and tools for professional users. It requires a subscription and is not free. If that doesn't suit you, there are a lot of free Pixlr alternatives online.
Is Pixlr E as good as Photoshop?
Pixlr E is a good online picture editing software with many features, but Photoshop is an industry-standard photo processing application used by professionals worldwide. While Pixlr E can handle basic tasks such as cropping, resizing and adjusting color and brightness, it lacks the advanced tools and capabilities of Photoshop. If you need an alternative that is powerful enough, try Luminar Neo.
Does Pixlr reduce quality?
Like any image editing software, Pixlr has the potential to reduce the quality of an image if it is not used properly. However, if used correctly, it can maintain the quality of the original picture.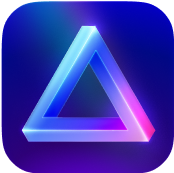 Advanced yet easy-to-use photo editor
view plans