Discover the new features offered by Topaz Labs and other professional photo editing tools you can use.
Topaz Labs develops plugins and standalone software for professional photo editing. Its first products were plugins for Adobe Photoshop and Lightroom, but now Topaz has its own standalone editor that works as a host for its plugins. Independence from Adobe products means a lower price, an easier learning curve, and a more straightforward workflow.

Each Topaz Labs plugin is designed and optimized for a specific purpose. All provide advanced functionalities and deliver natural-looking results. Topaz Labs plugins are built for professional photographers, and high-quality images are their priority.
The newest versions of Topaz Labs plugins integrate artificial intelligence technologies and provide content-aware functionalities. They offer smart and automatic adjustments but allow users to fine-tune each parameter to create a unique artistic vision.
Before deciding to use Topaz Labs products or look for Topaz alternatives, find out what this company has to offer and if their products suit your requirements and workflow.
Topaz Labs products are available for Windows and Mac. Topaz offers free trials that allow you to see how the software works on your computer and make an informed decision. All Topaz Labs products are compatible with Adobe Photoshop and Lightroom, have a perpetual license, and can be bought separately or in bundles.
Topaz Studio 2
Topaz Studio 2 is a standalone photo editor and an Adobe Photoshop and Lightroom plugin dedicated to creative post-processing. It provides tools for creating unique images and focuses on the creative process rather than mass processing. As a result, Topaz Studio doesn't include batch processing, digital asset management, or design tools. It focuses solely on transforming an image into an artwork.
Among its best features are modern filters for noise removal, sharpening, enhancing contrast and details, and performing black and white conversions, over 200 looks for predefined styles, and more than 200 textures. Topaz Studio 2 also offers special effects that simulate brush strokes similar to paintings, add glow effect to image, and recreate vintage film effects. In addition, it works with layers and masks to give you full control over the artistic process.
If you use Topaz Studio as standalone software, you should know that it works as a host for Topaz Labs plugins. Topaz Studio costs €63.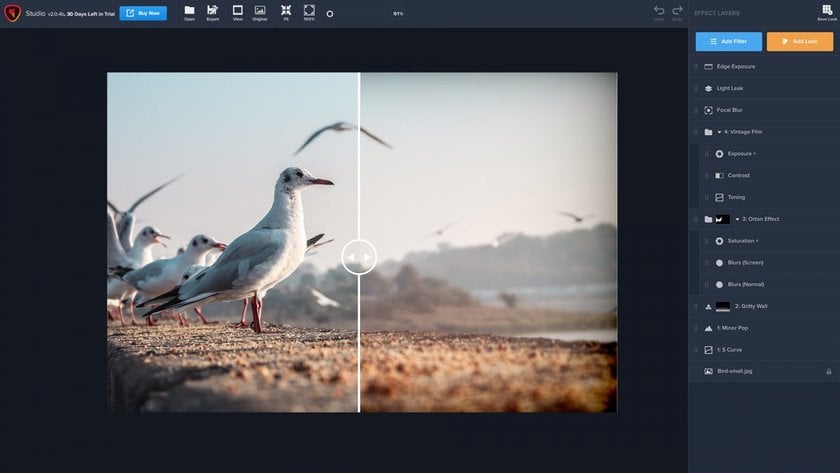 Mask AI
Mask AI is an AI-based plugin that provides tools for automatically making complex selections. It uses the trimap technique and AI algorithms to create content-aware and edge-aware masks. All you have to do is roughly outline the subject. Mask AI shows good results for landscapes, portraits, animals, architectural photos, nature, silhouettes, and fine art. It costs €90.
Adjust AI
Adjust AI uses AI technology to perform automatic adjustments. It can enhance colors, bring out details, and adjust highlights and shadows in seconds. All adjustments are calibrated to maintain the image's natural feel and tonality. Adjust AI includes a collection of signature presets that recreate frequently used styles such as gritty, urban, amber, and black and white. It costs €72.
DeNoise AI
DeNoise AI is a dedicated plugin for noise removal. It's able to remove noise and recover details from images taken in any light, at medium and high ISO. The plugin uses AI technology to distinguish between noise and details and removes noise without smudging. It costs €72.
Sharpen AI
Sharpen AI is dedicated software for sharpening images. Like DeNoise AI, Sharpen AI uses AI technology to make out the difference between detail and noise. You can use it to repair images with three types of blur: motion blur, focus blur, and general softness. It delivers sharp images, without artifacts and halos, for landscapes, portraits, and nature photos.
Sharpen AI works as standalone software and as a plugin for Topaz Studio, Adobe Photoshop, and Lightroom. It costs €72.
Gigapixel AI
Gigapixel AI is a dedicated software solution for photo enlargements. It can upscale images by up to 600% while preserving their quality and details. Gigapixel uses AI technology to recognize faces and provide automatic face refinements. It also enhances details and creates sharp images. Gigapixel AI costs €90.
JPEG to RAW AI
JPEG to RAW AI is a standalone application that converts JPEG files to RAW files. It removes compression artifacts, recovers details, and enhances the dynamic range so that JPEG files look like high-quality RAW files. It also recovers colors, adjusts highlights and shadows, removes noise, and provides batch processing. JPEG to RAW AI costs €90.
Topaz Classic Plugins
Topaz Labs continues to develop the plugins that made it famous. They provide classic editing functionalities that can be very useful. Topaz Classic plugins are:
B&W Effects – Provides black and white conversion and monochrome image editing (€54)
Clean – Provides tools for smoothing surfaces in the most natural way (€27)
Lens Effects – Provides creative effects inspired by real lenses and filters such as bokeh, vignettes, tilt-shift, and diffusion (€63)
ReStyle – Provides more than 1,000 photo effects for changing the mood of your photos in seconds (€54)
Best Topaz Labs alternatives
Each of the Topaz Labs products is designed for a specific purpose and offers advanced features in its niche. Many photographers look for smart and easy-to-use plugins that efficiently solve a single problem. Also, many photographers prefer to use a single application for editing their images. While you can use Topaz Studio and install additional plugins, there are many Topaz alternatives to consider.
The market for photo editors is growing. Modern editors incorporate new technologies, becoming smarter, faster, and more efficient, and expanding from a reduced set of functionalities to complete software solutions for organizing and editing images. As a result, you have powerful Topaz alternatives to choose from.
Luminar Neo is a photo enhancement tool available as a standalone application and as a plugin for Adobe Photoshop and Lightroom. Luminar Neo provides digital asset management, batch processing, automatic edits based on artificial intelligence algorithms, selective adjustments, over 70 filters, and presets designed by professional photographers. Presets in Luminar Neo are called Looks, and in addition to the built-in ones, you can download more Looks from the Luminar Marketplace. Looks are editable, and you're free to create and save your own.
Unlike the Topaz plugins, which have to be installed separately, Luminar Neo offers all the features you need with a single installation. It has a user-friendly interface suitable for both professional and amateur photographers, with a customizable workspace and large preview panels.
Luminar Neo comes with a perpetual license and offers a free trial to help you make the best decision. It's available for Windows and Mac.
✅ Pros
80+ Looks and 70+ filters for instant photo editing
Fast RAW editing
Affordable and subscription-free
Intuitive, easy workflow for pros and beginners alike
❌ Cons
You have to install and open the entire application even if you need a single feature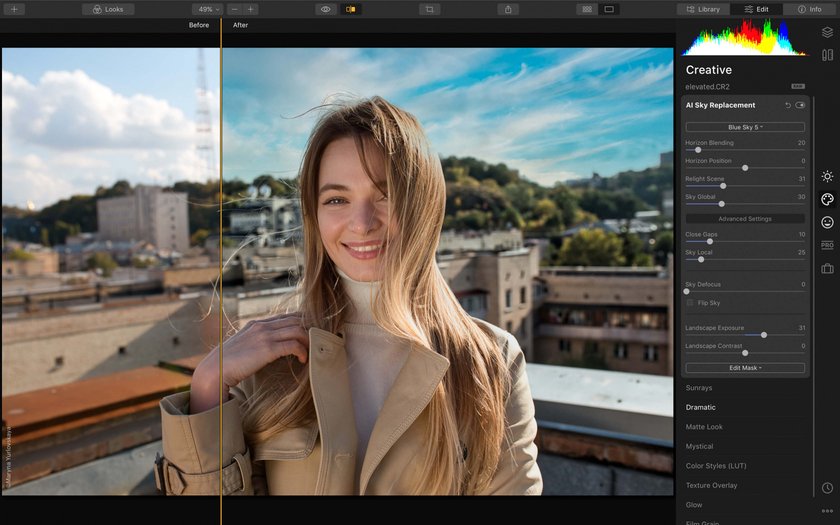 The CorelDRAW Graphics Suite is a powerful set of tools for graphic design and photo editing. It can help designers tackle graphics projects of any difficulty and is created specifically with artists, designers, and engineers in mind. The suite includes a range of applications including Corel Photo-Paint (for image editing), AfterShot (for RAW editing), CorelDRAW (for page layout and vector illustrations), PowerTRACE (for bitmap to vector tracing), and CONNECT (for finding content).
For photo editing, Corel Photo-Paint is the best application of the suite. Among its best features are compatibility with more than 300 camera models, support for RAW and PSD files, non-destructive layer editing, retouching and restoration tools, special effects, and tools for drawing, adding text, and painting over images. It also provides digital asset management, export to PDF, and object-based search.
The CorelDRAW Graphics Suite is available for Windows and Mac and costs €629.
✅ Pros
Tools for creating artwork
A complete software solution for photo editing, illustration, web design, and fine art
❌ Cons
Many features aren't useful for photographers
Expensive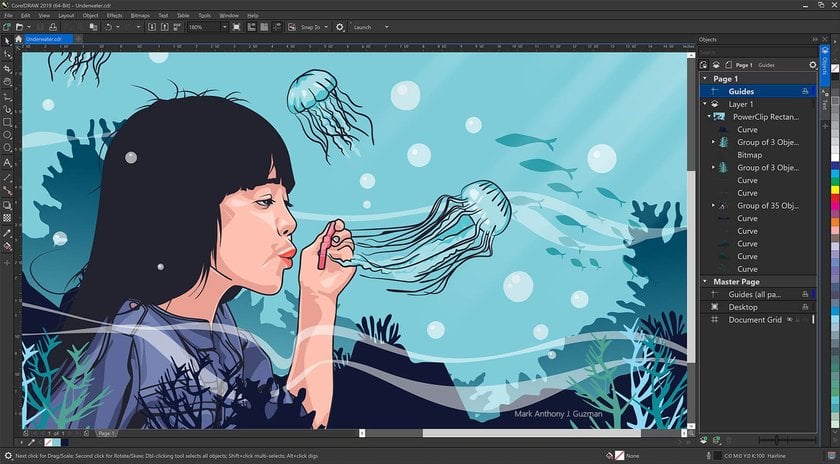 Adobe Lightroom may be a good Topaz alternative because it provides many of the functionalities Topaz Studio doesn't have and is also a host for Topaz plugins. Lightroom is a cloud-based service and allows you to edit images on a desktop, mobile device, or browser. It also provides cloud storage and makes sure your images are synchronized and safe.
In terms of image editing, Lightroom focuses on photography and provides tools for color and light adjustments, geometric corrections, detail enhancement, noise reduction, focus and exposure corrections, and more. It also offers styles and presets, layer management, masking tools, and selective edits. Unlike Topaz Labs plugins, Lightroom tries to cover all the user's requirements, including for image organizing and sharing.
Adobe Lightroom is available for Windows and Mac and requires a €9 per month subscription.
✅ Pros
Cloud-based service that's accessible from different devices
Digital asset management
❌ Cons
Lacks AI-based features and automatic adjustments
Monthly subscription
4. Aurora HDR
Aurora HDR is an HDR editor that allows you to merge brackets and achieve natural-looking results. It provides HDR-specific filters such as details enhancer, denoise, clarity, structure, polarizing, color toning, and LUT mapping. Like Topaz Labs products, Aurora HDR has features powered by AI. These features are content-aware and provide high-quality bracket merging and color enhancement.
Aurora HDR is available for Windows and Mac, as a standalone application, as a plugin for Adobe Photoshop and Lightroom, and as an extension for Apple Photos. It costs €99.
✅ Pros
Fast HDR editing
Tone mapping technology
Create HDR photos from an unlimited number of brackets and single images
❌ Cons
If you like to take pictures but hate to spend hours editing, Photolemur is the editor you need. Using AI-powered technology, Photolemur automatically adjusts photos and delivers natural-looking results. All you have to do is drag and drop your photos to the application. There are no complicated controls, and you don't need to spend hours with tutorials and manuals to learn how to use it.
Still, Photolemur produces high-quality images thanks to advanced AI technologies and analysis tools. For example, Face Finish technology automatically smoothes skin, removes imperfections, and whitens teeth. Photolemur achieves amazing results for portraits, landscapes, and nature photography. You can use it to replace the sky, enhance the foliage, adjust exposure and color, and process RAW files.
Photolemur is available for Windows and Mac, both as standalone software and as a plugin for Adobe Photoshop. It costs €35.
✅ Pros
Easy to use, intuitive workflow
Batch processing
Affordable
❌ Cons
No manual adjustments available
No mobile version yet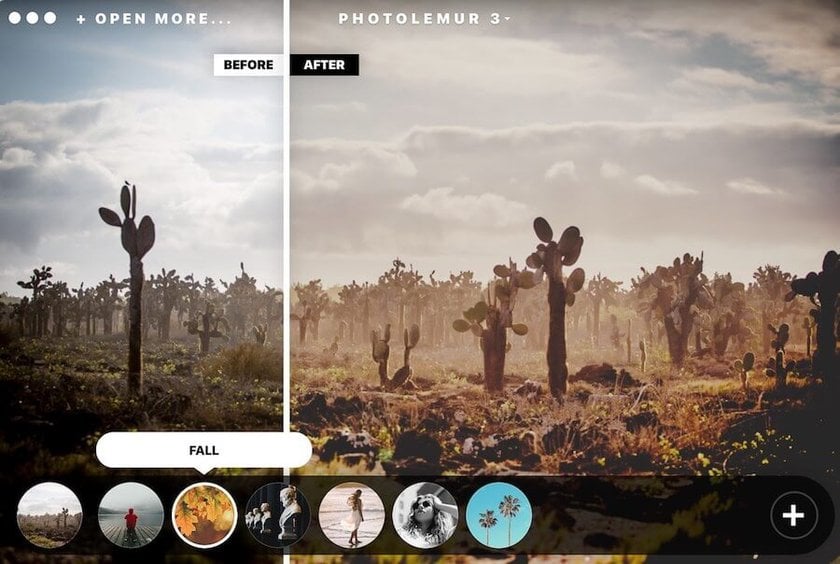 Pixelmator Pro is available only for Mac. Unlike Topaz Labs products, Pixelmator Pro provides only basic editing features such as blur, distortion, sharpening, and color adjustments. It also provides tools for creating graphic designs, painting over images, and drawing graphic vectors. However, it doesn't include digital asset management tools.
Pixelmator Pro is suitable for beginners because the layout is simple and intuitive. It's also useful for artists and designers because it works with layers, offers large brush libraries, supports text and textures, and provides a wide range of effects. Pixelmator Pro allows you to open and edit RAW files, make local adjustments, and use an extensive collection of styles. It costs €36.
✅ Pros
Graphic design functionalities
Affordable
Easy to use
❌ Cons
No digital asset management
Available only for Mac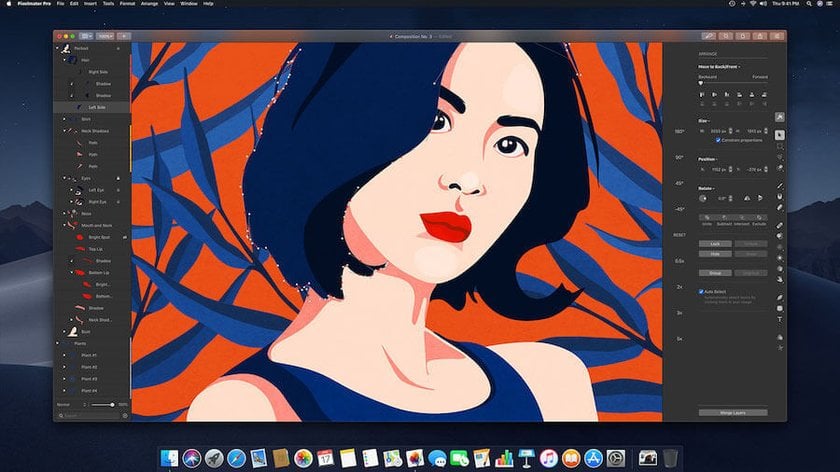 Similar to Topaz Labs products, the Nik Collection is a collection of plugins for DxO PhotoLab, Adobe Photoshop, and Lightroom that are designed for specific editing purposes. The collection is aimed at professional photographers and covers a wide range of functionalities from HDR editing to analog image processing. All plugins support RAW files, work with layers, and allow you to make selective adjustments.
The Nik Collection includes the following plugins:
Color Efex Pro – Provides advanced editing tools for color photography, including color correction and 50 creative filters.
Silver Efex Pro – Provides advanced editing tools for black and white photography, including darkroom-inspired controls and filters that simulate classic film effects.
Analog Efex Pro – Provides effects that recreate the style of classic cameras, lenses, and filters such as bokeh, light leaks, scratches, and lens vignetting.
HDR Efex Pro – Provides HDR editing including bracket merging and HDR effects from a single image.
Viveza – Provides precise color editing tools including levels, curves, color toning, hue and saturation adjustments, and contrast enhancement.
DFine – Provides advanced noise reduction tools tailored for individual camera models.
Sharpener Pro – Provides tools for enhancing details and sharpening images and delivers customized settings for screen and printer models.
The Nik Collection is available for Windows and Mac and costs €149.
✅ Pros
Dedicated plugins for advanced editing functionalities and special effects
Camera and lens profiles
❌ Cons
No digital asset management
You can't buy plugins separately
In conclusion
Topaz Labs plugins deliver high-quality results and offer amazing effects. They link old-school photography with new digital effects, provide customized camera and lens profiles, and offer many creative effects and presets. In the area of photo editing, Topaz Labs products are powerful competitors.
Still, Topaz Labs products don't offer a complete solution. You need a host, a separate image organizing application, and a photo editor for the basic functionalities that Topaz products don't provide. So you shouldn't disregard Topaz alternatives that may be more suitable for you.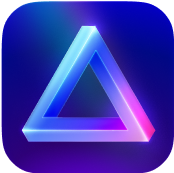 Advanced yet easy-to-use photo editor
view plans