I am a fan of old-fashioned photography. And Polaroid is one of the brightest examples of such pictures. It became known for its unique color reproduction, soft shadows, and light blur, which creates the feeling of sleep on photographic paper. Yes, you will undoubtedly recognize these shots, even if you have never seen photos from the original Polaroid! It's incredibly beautiful, but there are a couple of problems here.
Many instant cameras are being produced today, but this is not the same as a Polaroid. Maybe I'm being picky, but I want the camera to not only shoot retro but also look like true retro. You can't buy such a toy so easily now: there are just a few in the world left, and they are very expensive.
The second reason is paper. It's pricey, either. So, for now, I choose to do without that luxury altogether. But I still want to post fantastic retro shots on Instagram... If you have the same thoughts, read this article to the end. There is a temporary solution: I will tell you how to turn your pictures into polaroids.
Frame parameters you need to know to turn photos into polaroids
What's a Polaroid picture, in fact? Right! It`s not just a photo but also a stylish frame that we can`t imagine this picture without. Before we get started, it`s essential to explore the dimension of a Polaroid film so we can make it as realistic as possible. Of course, you can resize the card if you want (crop, change the aspect ratio, or whatever you want). In this case, the original dimension is just a template to experiment with.
Some might think that a Polaroid picture is a perfect square. But it's almost a square (of course, I'm talking about the photo itself, not the entire card area). Moreover, the size may differ depending on the manufacturer of the photographic material. The most common are the original Polaroid 600 film and Instax. So we'll take a look at these two.
The dimension of Polaroid 600
If you want to make pictures look like polaroids, you should remember the following dimensions:
the aspect ratio of the photo is 3.0625 x 3.125 inches;

the aspect ratio of this stylish frame is 3.4 x 4.2 inches.
The dimension of Instax film
With more modern Instax film, it is a little more complicated since it comes in two formats: square and mini. A square is really a perfect square. The dimensions are:
the photo itself is 61×61 millimeters;

photo with frame - 62×62 millimeters.
Mini sizes are:
the photo itself is 61×46 millimeters;

photo with frame - 62×46 millimeters.
Three ways of turning pictures into polaroids
Okay, we figured out the correct aspect ratio. Now let's try to make photos look like polaroids.
Using free mobile apps
Where there is demand, there will always be supply. So it's no surprise that the easiest way to get your old-fashioned photos is with one (of the many) free polaroid picture maker. In this case, you don't even need to know the frame dimensions. Just a few easy steps, easily share… You already know that something is wrong here, right?
I will not name these applications so as not to advertise them but also so as not to devalue the efforts of their developers. However, I do not recommend using this method, no matter how convenient it may seem. There are several reasons for this.
Even though it's free, the apps have a lot of ads, which makes them very inconvenient to use.

Often, this is not about photo processing but about using a regular polaroid filter. In addition, it also adds a lot of unnecessary inscriptions and stickers on top. And it looks unconvincing, but it will do for stories on social networks.
Basically, it exists, it's easy to use, and it's the fastest way, so you can use it. But I won't.
Turn pictures into polaroid with Photoshop
Using Photoshop, we can make a more realistic Polaroid image. First of all, open your photo in Photoshop. You need to adjust curves: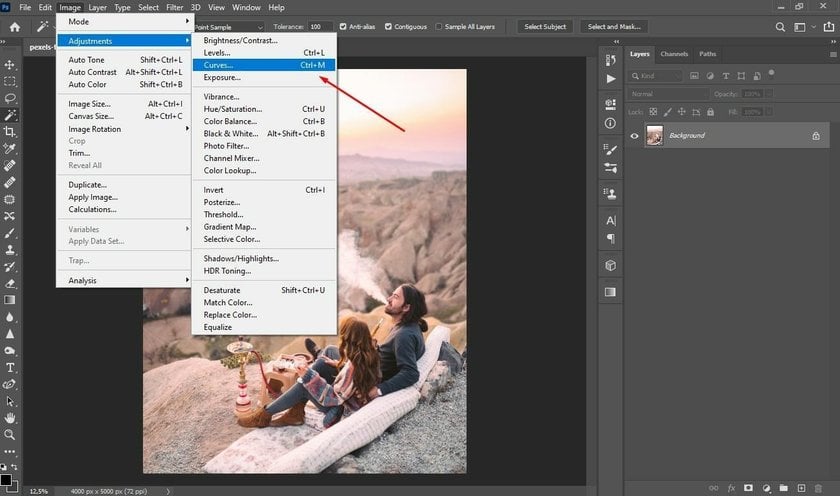 Polaroid film is known for having a high black point. This affects the fact that the darkest parts are not pure black but look slightly faded. So let's try that fade it.
By default, the RGB channel will be selected. Without changing the channel, drag the bottom left dot slightly up to make the image less contrasty: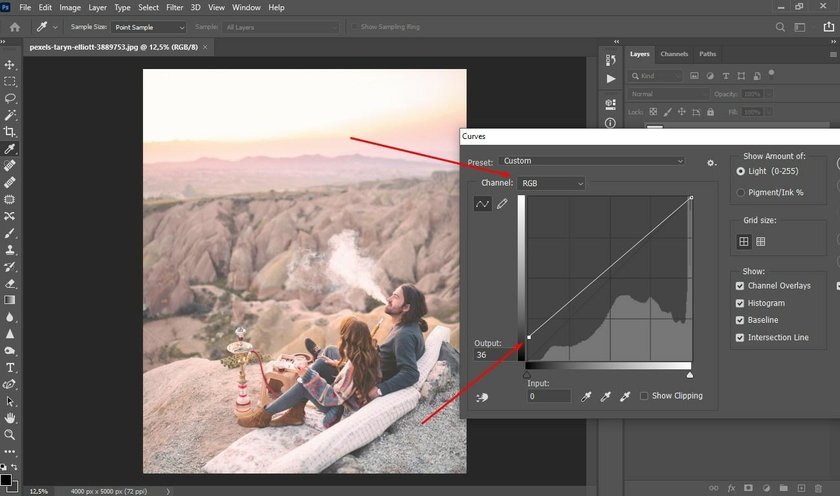 What to do next depends on your image. As with RGB, I lift the left point of red a little and then lower the right point of green. That's what I did: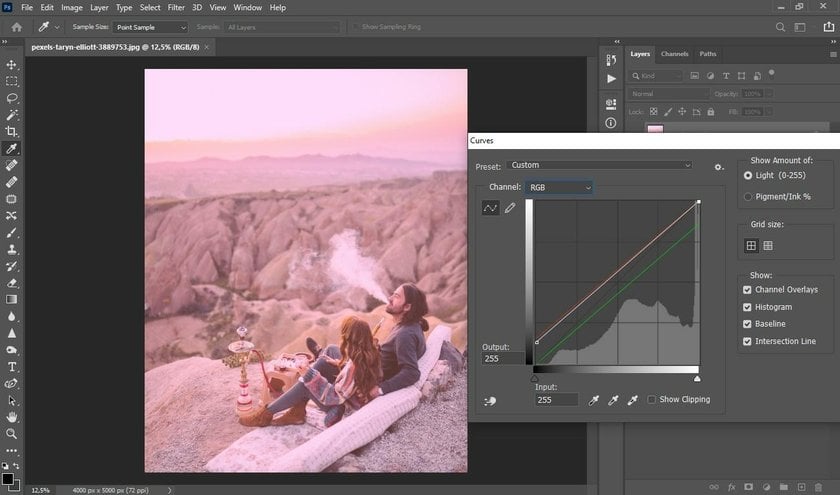 It looks like a polaroid photo effect, right? You will have to experiment until the result suits you. You can also try playing with the gray point, and opacity, dull the brightest parts or edit whatever you want to turn your pictures into polaroids.
I guess it's time to add some noise to give the image a retro grainy look. Select "Filter → Noise → Add Noise...":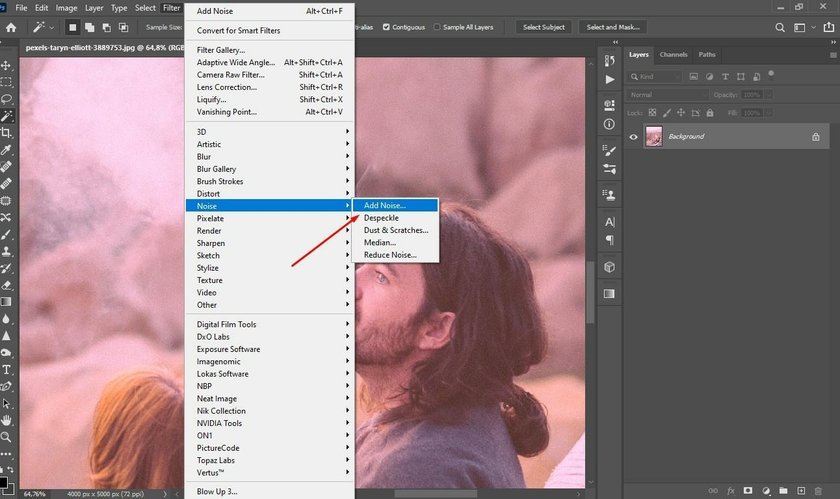 Move the slider until the grain is barely visible. I zoomed in on the image to make it easier for you to see the difference: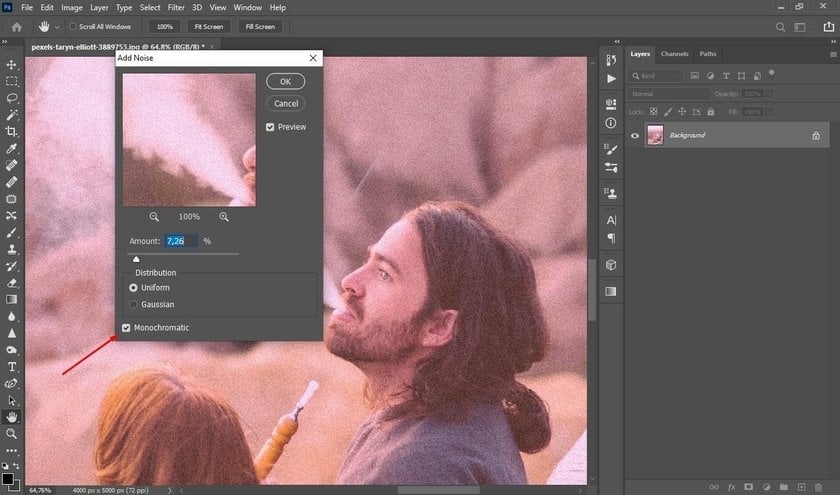 As you can see in the screenshot, I also made the noise monochromatic to make it less flashy.
Now we can compare our result with the original photo: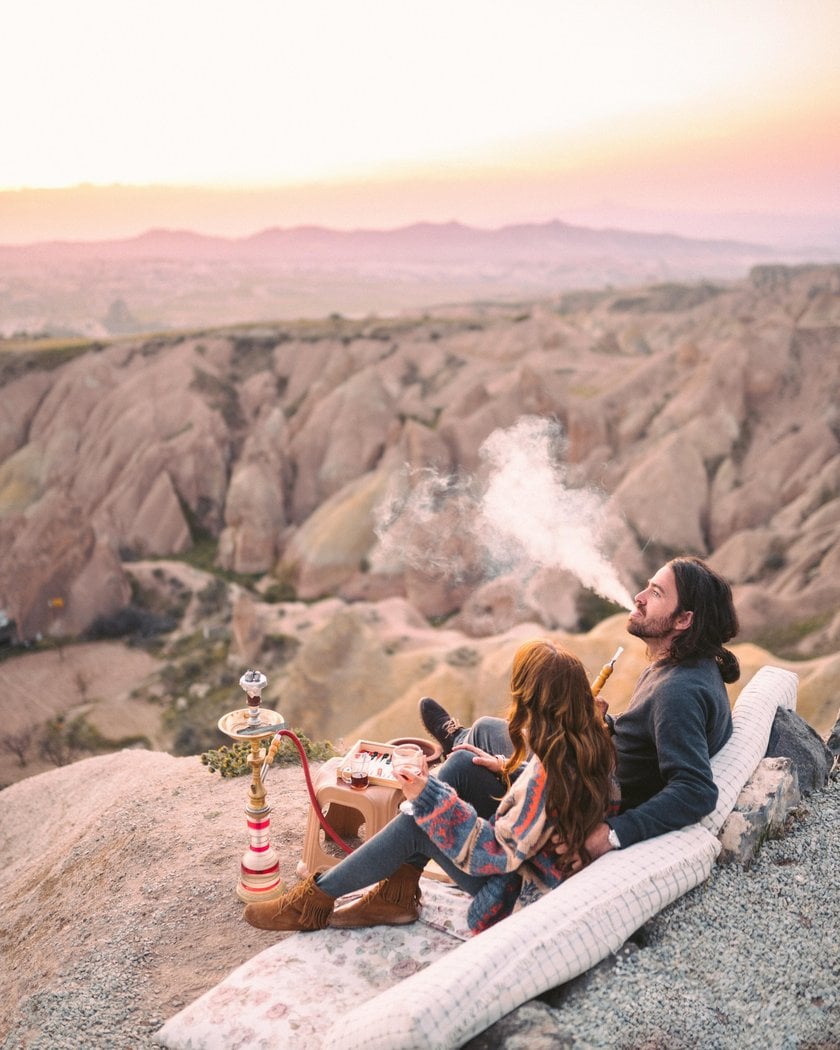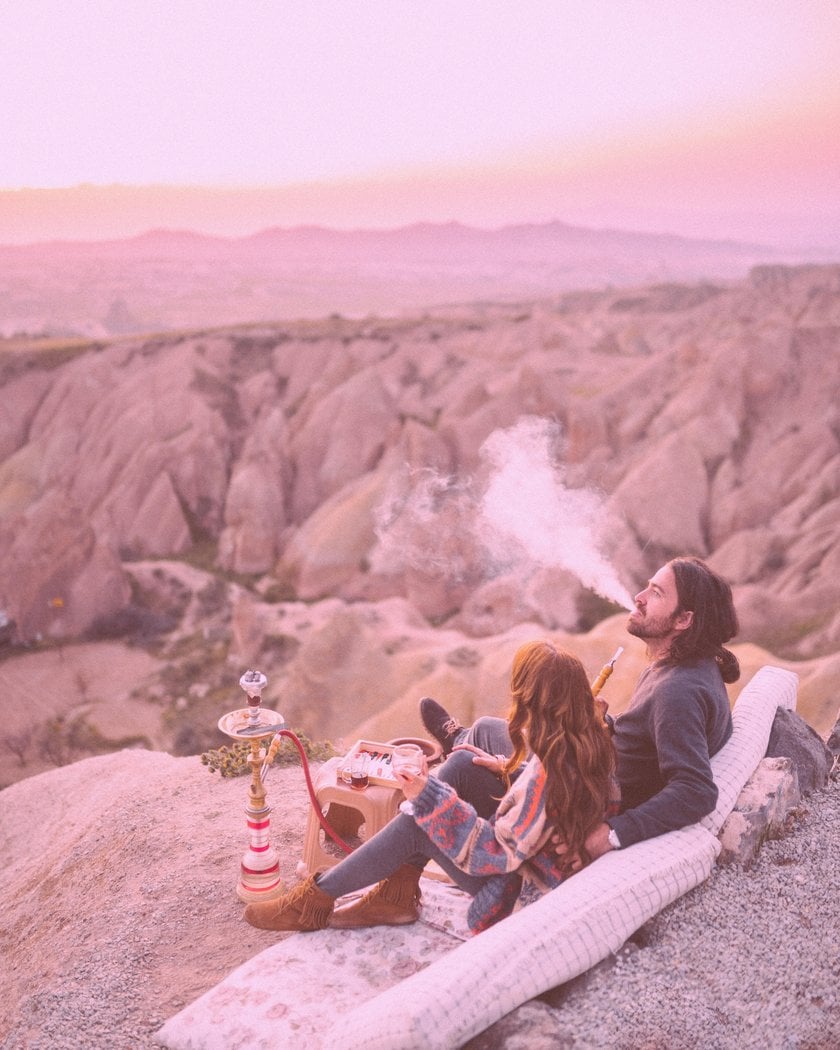 Excellent! It looks like an old Polaroid drawing! Now let's add a frame. To do this, click the house icon in the top-left corner of the screen. Click "Create New" to create a blank sheet in a separate tab. Pay attention to the parameters marked with arrows in the screenshot: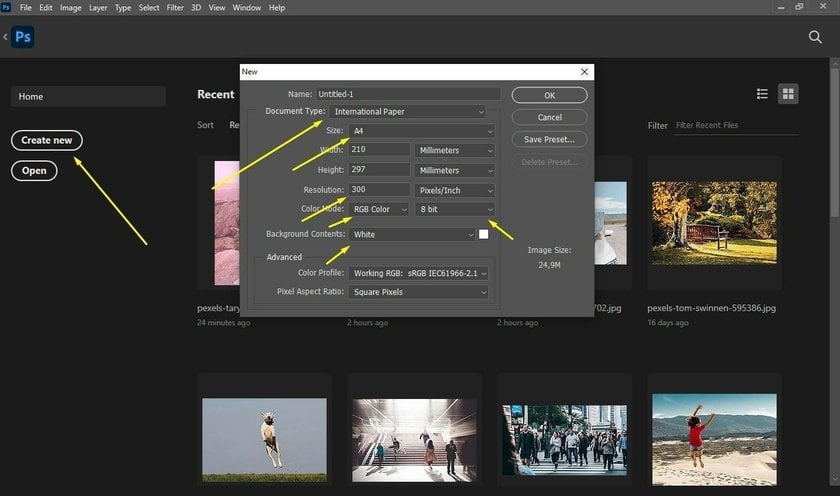 These settings are essential if you later want to print your polaroids and use them as home decor. Almost any copy center has glossy A4 paper that you can use for printing. Other paper sizes may be difficult. To make it more convenient, rotate your sheet 90 degrees, giving it a landscape orientation: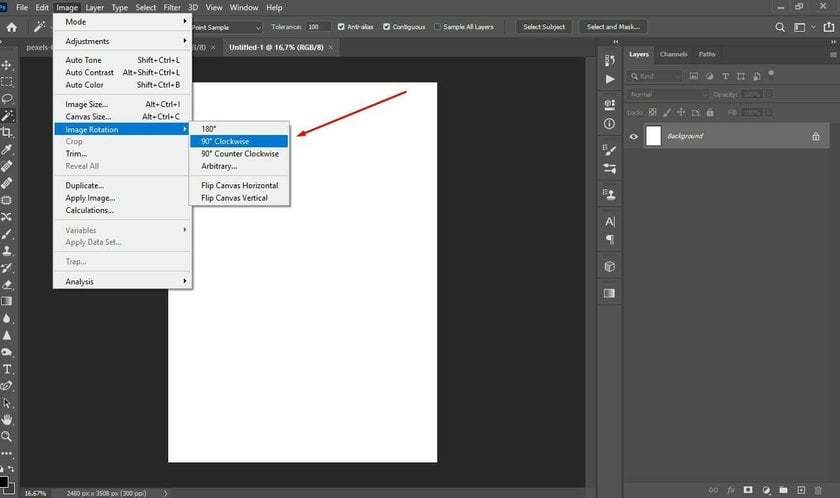 Find Rectangle in the toolbar, then select the white fill and one-pixel black stroke: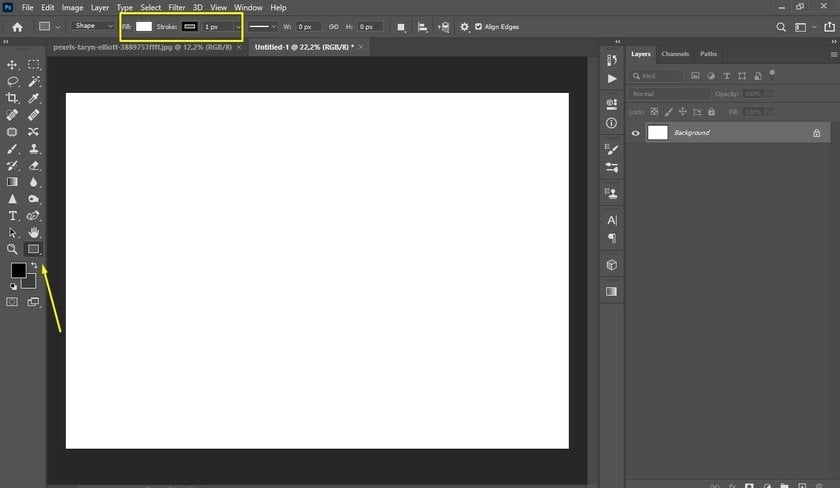 Now we need the dimensions we explored earlier. I want to make pictures into polaroid in the original Polaroid 600 film format, so I set the frame size to 3.4 x 4.2 inches: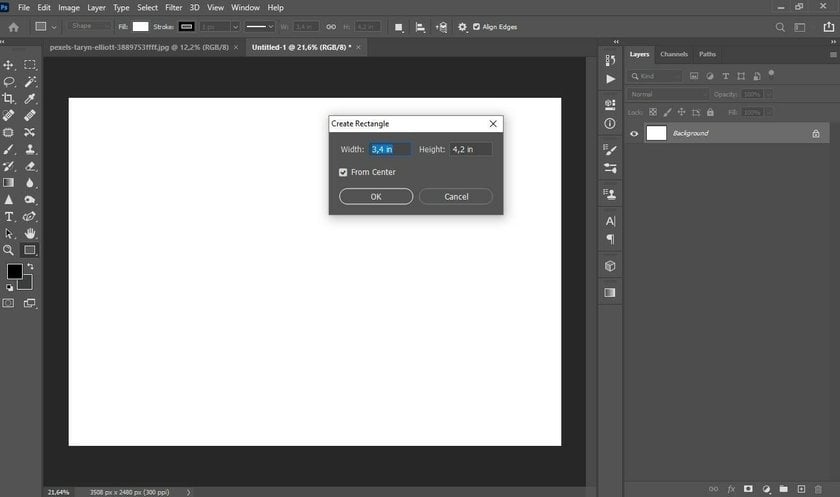 After that, we mark the boundaries of the photo itself (3.0625 x 3.125 inches). Create a new layer where we will place another rectangle. Unfortunately, Photoshop doesn't allow numbers with more than two decimal places, so the correct size is 3.06 x 3.12 inches: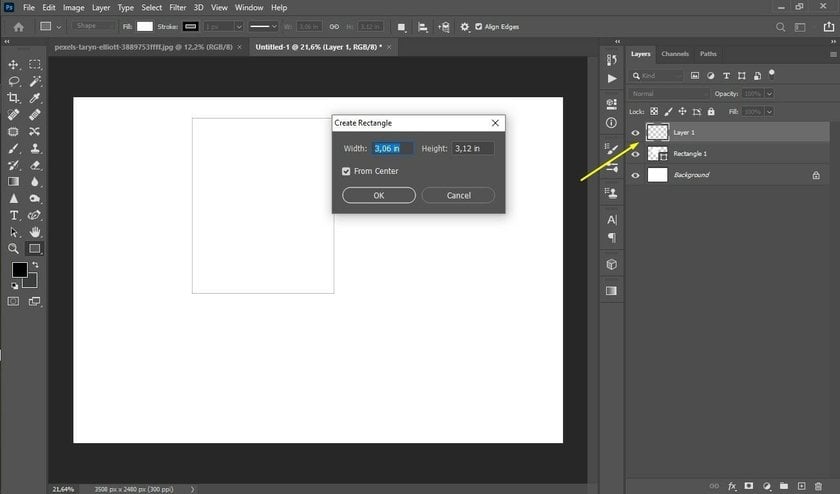 Place the small rectangle inside the big one, as it looks on a physical card. Photoshop will automatically center objects relative to each other, so you don't have to worry about that: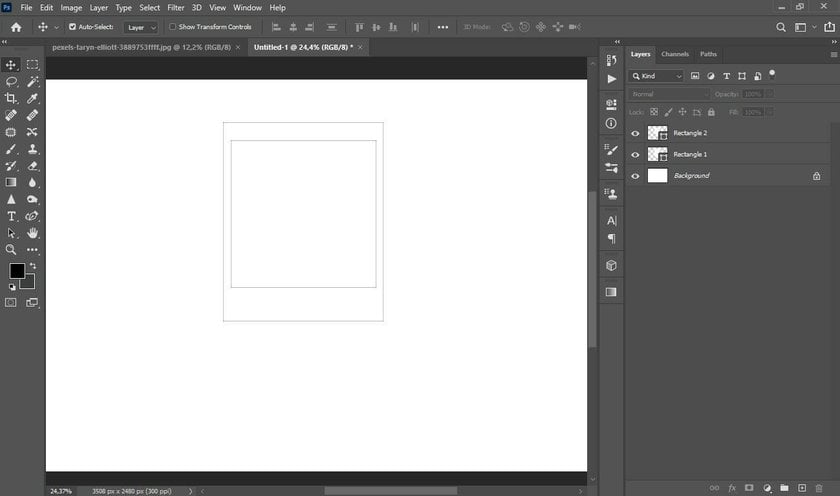 If you are going to print photos, place several of these templates on one sheet to print everything together.
So, we just need to add a photo. Open the one that we processed earlier in a new tab. Holding the left mouse button, drag the tab somewhere to the side. Here's what you'll see: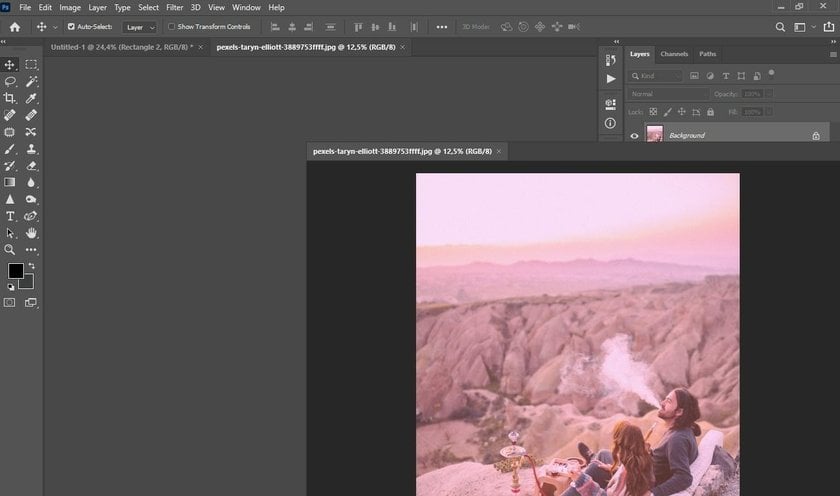 When you release the button, the tab will disappear from Photoshop but will remain in the open window next to it. Now you can drag it to the small square to turn the photo into a polaroid.
Oops! The photograph covered the squares. In addition, it is very large. But there is no problem with this. The main thing to pay attention to at this stage is the position of the photo layer. It should be above the rest: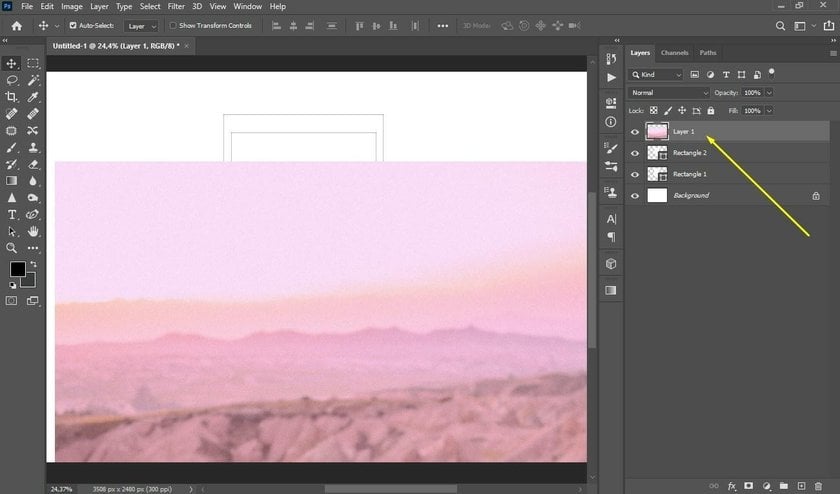 Right-click on this layer and select "Create Clipping Mask." Our photo is now framed, but it's still too big. Hold Ctrl + T to resize: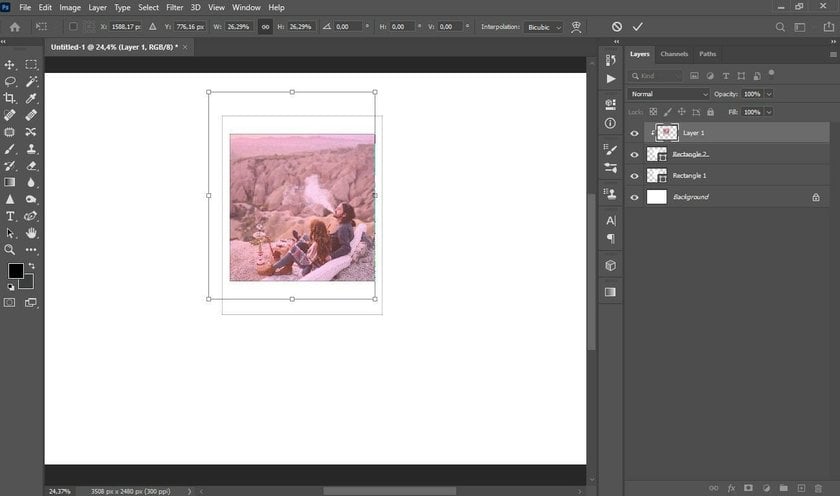 Since the original photo is vertical, you will have to choose which area you want to keep and which parts to crop.
We're almost done! The last thing to consider is whether your frame will be white or off-white. I recommend slightly off-white for the web. But if you only want to print the photo, you can leave it white as it won't be as bright anyway.
You can change the fill color in the Rectangle Tool Options Bar. I chose a barely noticeable beige color and removed the black stroke: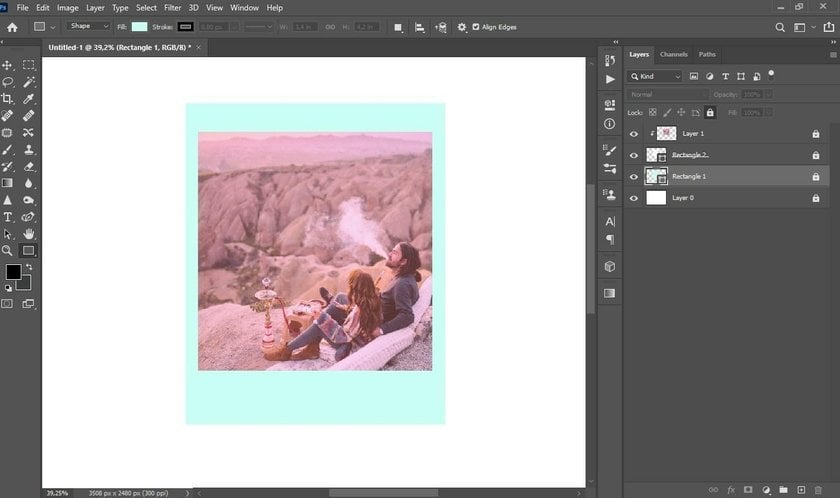 OK, it's all over Now! Now you know how to make a photo look like a Polaroid in Photoshop!
I showed you how to make a printable image exactly the same size as the original Polaroid, but you can also take those proportions and make the Polaroid picture bigger, so you don't lose quality when you post it online.
Make it easier using Luminar Neo
You ask me, what is the third way how to turn pictures into polaroids? Well, I saved the best for last. This is the Luminar Neo program.
The hardest part about editing photos in Photoshop is finding the right tone that looks like a real instant camera from the 70s. But there is a more straightforward way how to make photos look like Polaroid. Luminar Neo is a software that is as functional as Photoshop but uses artificial intelligence technology to make the job easier for the user. Most of what you used to do manually can be done with just one click and without worrying about processing quality in Luminar Neo.
Like Instagram filters, there are over sixty vintage presets that automatically adjust to the lighting of your photo. At the same time, each preset can be further adjusted if you do not like how it lays down in the picture. And it's not just about changing the preset's intensity: Luminar Neo gives you complete control over every detail of the image.
What is incredibly fantastic is that this program can create not only the perfect polaroid filter for your photos but also make them look like any of the photo printing technologies of the last century, such as daguerreotype, calotype, ambrotype, etc.
Black and white filters are incredibly cool here. With them, you can make any photo much more dramatic and richer. = And the "Black-and-White" function allows you to give your photo the unique style of documentary photographers of the last century!
Of course, if you like to tinker with photo editing, you may not want to use presets at all. Use adjustment curves, saturation, temperature, contrast, and other settings to find your unique retro style.
You can also use the "HSL" controls to adjust each color. And intelligent texture mapping and the ability to adjust the transparency as you want will allow you to create spectacular film defects, which are so popular lately.
On a final note
Like any other art, photography is designed to evoke a storm of emotions in the audience and not be technically perfect. The vibe of old photos with all the scuffs, grain, scratches, and other imperfections is an excellent example of how powerful this can be. And especially now, when most photos are too perfect, and modern cameras do not allow you to do something wrong.
There is another way how to make Polaroid pictures, and I think it's the best one. This one is to buy a real Polaroid because this vibe is second to none.