Our selection of the most popular and powerful GIMP alternatives will help you find the one that best meets your creative needs. This list also includes some apps for drawing. Find the best GIMP alternatives to use!
GIMP is one of the most powerful all-purpose image editing apps and is beloved by many creatives. It's free, feature-rich, and available for macOS, Windows, and Linux. It brings a vast selection of editing tools that allow you to do even the most advanced editing.
There's hardly any reason not to use GIMP. However, due to the abundance of features, its interface can be a bit confusing, especially for beginners. If you don't want to spend hours coming to grips with GIMP, you might want to consider other free photo editors for Mac and Windows that can do the editing job just as well. Our selection of the most popular and powerful GIMP alternatives will help you find the one that best meets your creative needs. This list also includes some apps for drawing. GIMP alternatives you can find in this list have a large feature set and a very user-friendly interface.
What Is GIMP
So, GIMP is a free and open-source photo editor that works with a variety of file formats. The GIMP was developed in 1995. The project does not have an official company responsible for releasing new versions and maintaining old ones. This function is performed by a community of developers consisting of a group of volunteers. For the first 10 years of its existence, the project did not have a single idea of what it should be for the end user. It was not until 2005 that a unified standard was developed and a set of principles was established that the developers try to follow to this day. The program is completely free and works with raster graphics. GIMP is distributed under an open license. This means that if you want to, you can become part of the developer community and release your own modifications without violating copyrights.
Many people will see GIMP as a full and completely free replacement for Adobe Photoshop. And indeed, why pay a lot of money for Adobe software when there is a free GIMP. In addition, many of the features of the well-known photo editor are repeated, and there is also support for its original PSD format, albeit somewhat limited. The names of the features and the available tools are also largely the same. As mentioned above, GIMP has one drawback: its interface is not very user-friendly. That is why many users are trying to find a good replacement.
So, what are the best GIMP alternatives to use? Today we will look at free and paid versions with unique filters and effects, so everyone can find the perfect option for themselves.
1. Luminar Neo (Subscription or Lifetime License)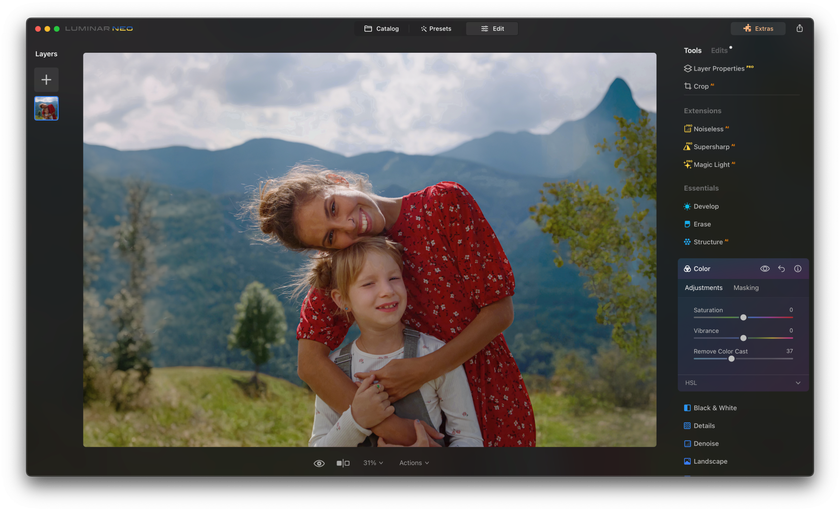 This is the best GIMP alternative. If you hate spending hours tweaking all kinds of controls to refine your photos, Luminar Neo is the app for you. It has a great interface that's fully customizable according to your needs and skill level and is available for Windows and macOS. Luminar Neo, like Photoshop Elements, is ideal for beginners. This editor enables you to create the most beautiful pictures and allows you to manage all photos. To make sure of this, visit the Luminar Neo Review page.
Luminar Neo is an all-in-one photo editor that can help to enhance your photos in the blink of an eye. If you're not very experienced in photo editing, use the Accent AI feature to make your photos stunning. Accent AI automatically enhances what needs to be enhanced in less than a second with non-destructive editing. But that's not the only thing Luminar Neo has to offer. You can also improve your pictures manually using three tabs:
Essentials, which contains all the necessary tone and color adjustments. Within this tab, you can adjust exposure, contrast, highlights, shadows, whites, and blacks. Color correction tools, such as temperature, tint, and saturation adjustments, allow you to balance and enhance the colors in your images. You can also find essential cropping and straightening tools here.
Creative, which can be used to add spark and interest to your image. You can experiment with sky replacements, sun rays, fog, textures, dramatic mood, and color styles. This tab offers tools that let you add unique and compelling touches to your photos, transforming them into works of art.
Portrait, which improves any issues in portrait pictures. These tools include skin enhancement for smoothing and removing imperfections, eye enhancement for adjusting the size and brightness of eyes, and face slimming. You can even relight faces to achieve a more flattering look. With these tools, you can ensure that your subjects look their best, capturing their true beauty and character.
Luminar Neo is packed with different tools and features including customizable Presets, and support for layers and masks. This photo editing software is not free, but it's worth the money. And, of course, you can check out all of its features without having to buy it.
Download Luminar Neo and Get a 7-day Free Trial
I'm for it!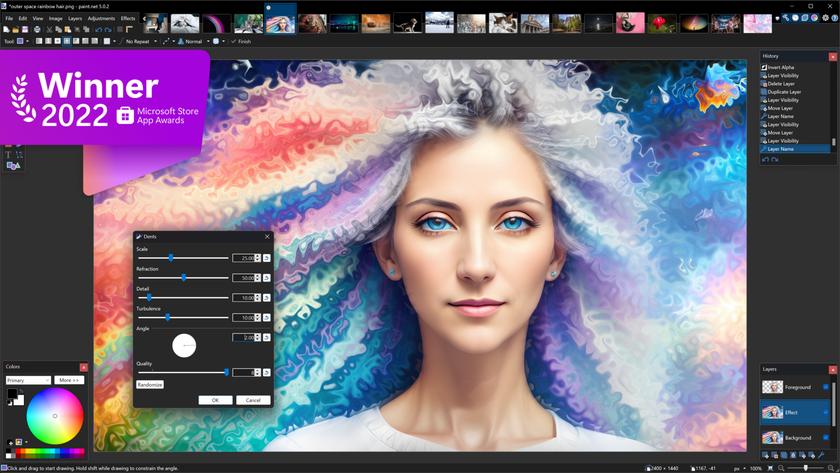 Paint.NET is a simple image and photo editor. It was meant to be a more powerful version of Microsoft Paint and as such brings a lot of the features from Microsoft Paint. Naturally, Paint.NET is nowhere near as feature-rich as GIMP. However, it's a decent alternative for someone seeking a free photo editing app for Windows. Though its interface may seem a bit dated, it's intuitive and easy to get a handle of. So, this is also a great and completely free alternative to GIMP.
Paint.NET features layers with blending modes, unlimited history, and lots of special effects like blurring, red-eye removal, noise, and sharpening. It also has lots of useful tools for drawing shapes, splines, and Bezier curves. Other powerful tools include a gradient tool, a recolor tool, a selection tool, a magic wand tool for selecting areas of a similar color, a clone stamp tool for erasing or copying particular areas of an image, a text editor tool, and, of course, a zoom tool. Paint.NET also features essential controls for enhancing a picture's contrast, saturation, brightness, and hue.
3. AirMagic (Free version with watermark)
If you're a fan of drone photography and want full control over your editing, you'll probably find AirMagic useful. This app was the first to use Artificial Intelligence to automatically enhance aerial photos. It brings a bunch of innovative and unique features to make your drone shots look breathtaking.
Since AirMagic is fully automated software, it doesn't matter whether you have any photo editing experience. This image editing software does the job for you. It automatically removes haze, adds sharpness and color to the sky, boosts details, recovers hidden details, and improves colors. Plus, you don't need to spends hours opening, editing, and saving every single image. The user interface is very simple. Simply import all the photos you want to enhance and AirMagic will do the job. In about a second, your photos will be ready to share with the world.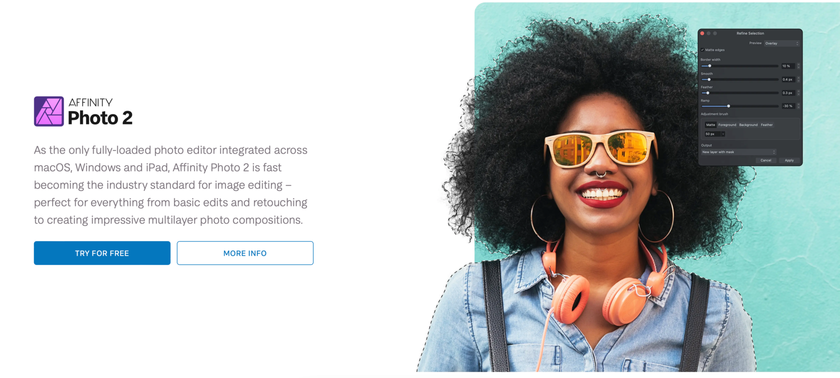 Affinity Photo is not only a great GIMP alternative but one of the most powerful image editing apps out there. Its nearly limitless features will leave you open-mouthed. This app like GIMP is probably not the best choice for beginners, however, as its slightly overwhelming interface and abundance of features take time to come to grips with.
Affinity Photo is no less rich in features than GIMP. It supports limitless layers and brings a huge library of adjustments, effects, and filters, which can be blended, clipped, grouped, and even masked together. You'll also be able to create real artwork. It provides a vast selection of instruments that enable you to get creative and bring your craziest ideas to life. Affinity Photo allows you to merge HDR photos, edit PSD documents, edit RAW and 360-degree images, and do much, much more. It's suitable not only for photo editing but for drawing too. Affinity Photo supports drawing tablets and offers an extensive library of brushes that you can use to create artwork. The only downside of Affinity Photo is that it's paid. Luckily, there's a free trial version available, so you can try it out to see whether it meets all your creative needs.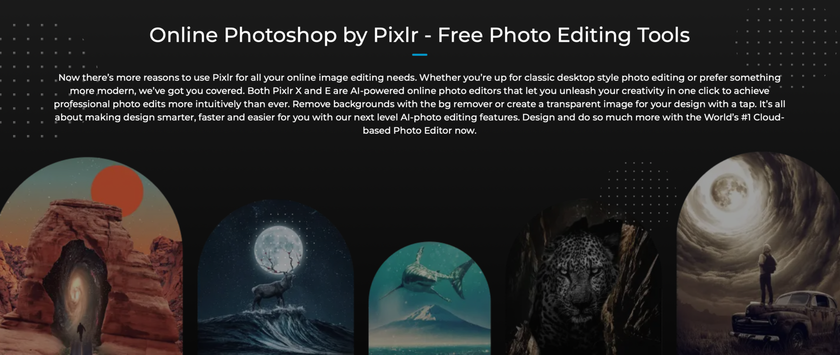 Pixlr Editor is one of the coolest alternatives to GIMP, and there are a couple of reasons for that. First of all, it's free. Secondly, it's an online tool, which means you don't need to download anything: simply open your browser and get down to editing. This makes Pixlr Editor suitable for all platforms – macOS, Windows, and Linux – which is simply amazing. You'll also be able to edit photos directly from your iPad or smartphone.
With many useful and powerful tools, Pixlr is one of the best web-based GIMP-like tools on the market. Pixlr Editor boasts support for layers and blending modes, a bunch of filters including Gaussian blur, Vignette, Sharpen, Noise, and Pastels, and tons of tools for selecting, drawing, cloning, dodging, smudging, and more. This powerful online image editor is suitable for beginners and pros. This editor is free to use.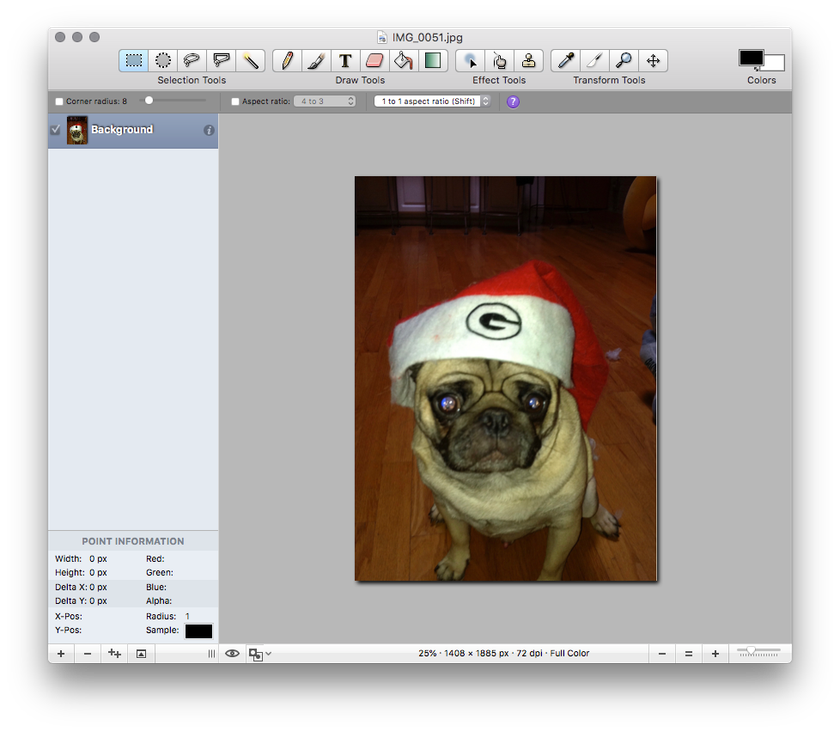 Seashore is one of the best GIMP alternatives for Mac users. It fully supports many file formats including JPEG, PNG, TIFF, and even GIMP's native XCF. Seashore was intended to be a simpler and easier version of GIMP that would run natively on Macs. As such, it brings some of the most essential features from GIMP with a simple workflow. It supports multiple layers and layer merging effects, editing of alpha channels, transparency effects, gradients and gradient effects, and plug-in filters. Additionally, Seashore offers a decent selection of tools including for cloning, smudging, creating basic shapes, cropping, zooming, selecting, and drawing.
If you like creating illustrations using a pressure-sensitive tablet, Seashore free software can become your go-to app, as it comes with support for drawing tablets. The app's interface looks a bit old-fashioned, but it's super easy and intuitive. Seashore is an awesome alternative to GIMP if you don't need to do any advanced editing. And the coolest thing about the app is its price – it's free.
One of the best image editors. If you're looking for a powerful tool for drawing or sketching, you'll love Krita. It's a free open-source app designed for creatives who love spending their time making digital art. Unlike GIMP, which can be used for both photo editing and painting, Krita is focused on the latter. It adopts the best of GIMP's creative features and adds tons of unique ones. In addition, it supports a number of drawing tablets including the most popular ones from Wacom and Huion, allowing you to express your inner artist without limits. If you've been a long-time GIMP user, you'll probably need some time to get a handle on Krita because its layout is entirely different. In fact, it looks and feels more like Photoshop. If you're familiar with Photoshop, you won't have any problems.
Krita features tons of different brushes to satisfy specific needs and allows you to create your own. Organizing drawings in Krita is easy with a layer management tool that's even more functional than in GIMP. Krita is one of the best apps for getting creative and is totally worth checking out. It's free, but if you want to support the developers, there's a paid option available.
8. Sumopaint (Free or Pro version)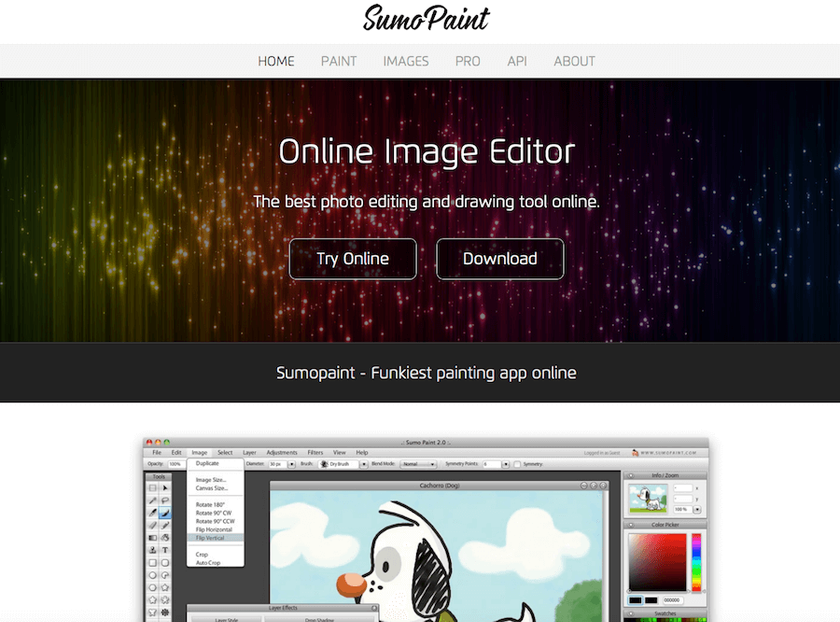 Sumopaint is another web-based GIMP alternative you can use for getting creative for free. It might not be the best option for complex projects, but it has all the essentials. Since Sumopaint is an online tool, you don't need to worry about operating system compatibility, which is probably the coolest thing about online editors.
With support for layers, layer effects, and blending modes, Sumopaint enables you to do more than just cropping and resizing. It includes over 300 brushes to suit your creative needs; some of them are even animated! Plus, Sumopaint allows you to create not only your own brushes but also shapes of any size and appearance. Sumopaint has tons of mind-blowing effects and filters and features all the necessary tools for creating whatever you have in mind. It's not as feature-rich as GIMP, but it's a great option for basic to slightly advanced editing. There are free and paid versions.
9. PhotoLine (30 days for testing)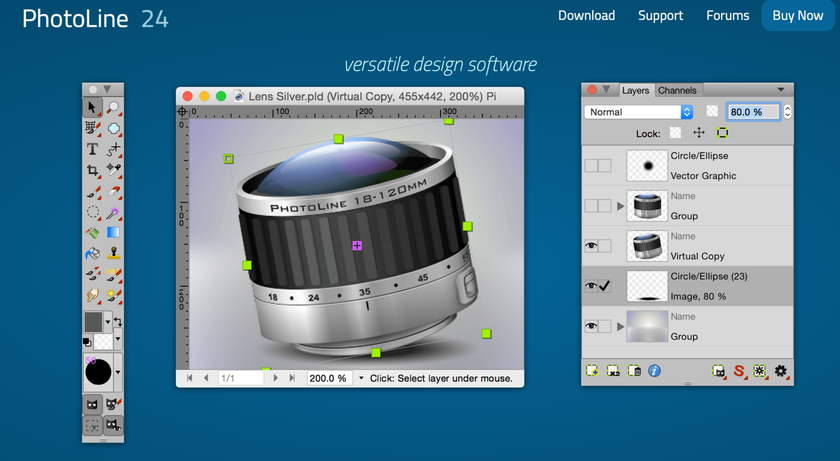 PhotoLine is a versatile image editor for macOS and Windows that may be what you need if you're looking for a decent GIMP alternative. It brings support for both raster and vector graphics, which is pretty awesome. The interface of this editing software looks a bit old-fashioned, but the toolbars are arranged in a way similar to most editors.
Unlike GIMP, PhotoLine can't boast a plethora of fancy features. However, it supports layers, grouping, and blending modes, as well as RGB, CMYK, and Lab color models. The app is packed with a decent selection of tools, including for liquifying, zooming, cropping, painting, selecting, erasing, and touching up. It has pretty much everything you need for basic image editing, including dozens of effects and filters. You can try PhotoLine free for 30 days. However, you'll have to pay to use it after the trial period.
10. PicMonkey (7-day Free Trial)
PicMonkey is yet another online editor that can be a great replacement for GIMP if you're looking for something simple but powerful. The awesome thing about PicMonkey is that you can use it on any operating system as it works completely online. The software is free; however, you can't export your images unless you subscribe to a pro version, which is a real bummer.
PicMonkey comes with a ton of filters and effects and even customizable touch-up tools for whitening teeth, recoloring hair, and removing blemishes. Another cool thing is that PicMonkey has about 2,500 customizable templates and over 70 preset blank canvases that you might find useful. It allows you, among other things, to adjust levels, brightness, highlights, hue, saturation, and curves. It also features a powerful text tool and comes with over 200 unique fonts. Naturally, PicMonkey isn't as fancy as GIMP. But it still can come in handy when you need to do some quick corrections that don't require any advanced tools.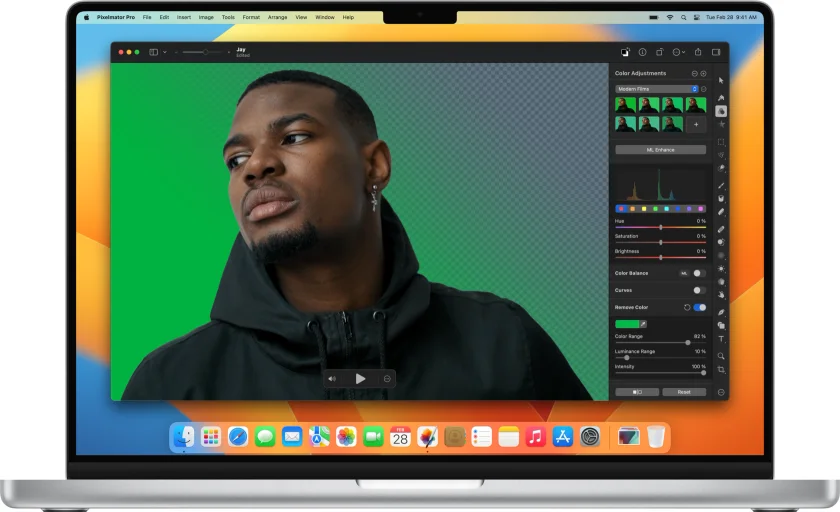 Pixelmator is another GIMP alternative worth checking out if you work on a Mac. This app is entirely intuitive for Mac users and is probably the most user-friendly app to work with on Mac, even though its interface is radically different compared to most photo editing apps.
Pixelmator is packed with a comprehensive selection of tools and presents for enhancing and retouching photos, painting, drawing vector illustrations, and creating graphic designs. It also comes with standard features like layers, clipping masks, and blending modes, over 40 tools for selecting, navigating, cropping, typing, and creating shapes, over 50 filters, and over 15 color enhancement tools. Like most really powerful photo editors, Pixelmator is rather pricey. There's a 30-day free trial available, though.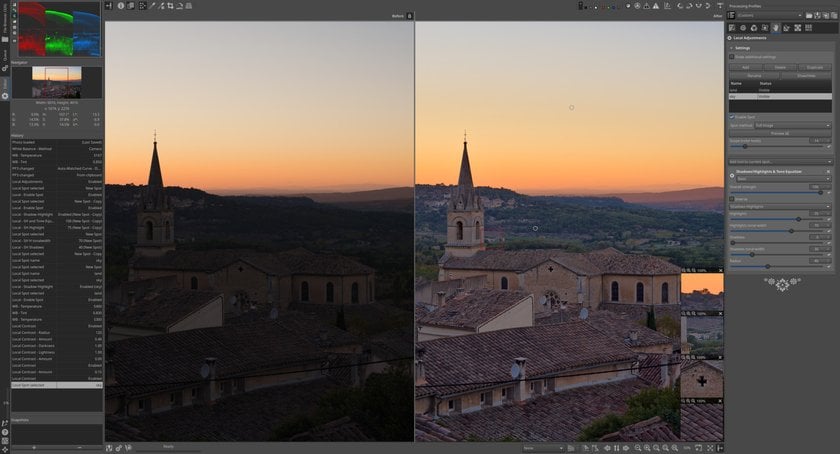 This is a free RAW photo editor. The peculiarity of this software is the ability to edit without losing image quality. Most of the functionality of Raw Therapee is color and light correction, but you can also enhance images: remove noise, and improve clarity. There is also a batch processing mode. The photo editor is designed for both beginners and professional photographers. Raw Therapee provides a powerful set of tools for creating amazing photos.
Conclusion
While GIMP is a powerful free image editor, it's not for everyone. For those looking for a more user-friendly alternative with a customizable interface, Luminar Neo is an excellent choice. With features like the Accent AI tool for quick enhancements, as well as specialized tabs for Essentials, Creative, and Portrait editing, Luminar Neo offers a comprehensive suite of tools that cater to both beginners and experienced editors.
In fact, each of the alternatives listed here has its own unique features, so you're sure to find one that fits your creative needs. It's important to try different things and find your own. Good luck with that!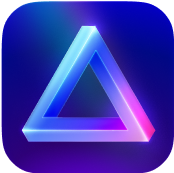 Advanced yet easy-to-use photo editor
view plans