Modern photo editors provide a wide range of special effects that transform an ordinary image into a work of art. Subtle effects are used to enhance image qualities and deliver natural-looking results. Artistic effects are used to create a specific style such as oil painting, crayon drawing, fantasy, film noir, or watercolors. A vintage look preserves the natural feel of an image but adds a temporal dimension: it transforms a new digital image into an old, analog photograph.
Photographers often use a vintage style for portraits, wedding photos, still life shots, and architectural images. The artificial aging process enhances the composition and helps to create a credible story. Besides, the vintage look flatters the skin and hides imperfections.
What is the vintage look and why do you need it?
Why should a new picture look like an old one? Because artificial aging adds a new dimension to a composition and allows you to locate your visual story not only in space but in time. A vintage effect is used for complex compositions that create full narratives. It creates a special mood that may be romantic (for wedding photo sessions or vow renewal portraits), nostalgic (for pictures of old buildings or objects), or dramatic (for pictures featuring age, destruction, or sorrow).
Characteristics of the vintage look
While you have full control over this effect and can give it different meanings, the basic characteristics of the vintage look are the following:
Low color saturation – Color photography became available in the 1950s. Prints from that period tend to have faint colors, washed out by time. So the first step in making a photo look vintage is to reduce the saturation. If you want to recreate an even older style, you should begin by eliminating colors altogether and converting your image to black and white.
Low contrast – Over time, prints lose contrast, structure, and details. Their edges become blurred and faded. To make a photo look vintage, you have to decrease the contrast while slightly increasing the brightness to create a haze effect.
Noise – All old photos have a high level of noise due to bad cameras and lenses. You can use film grain noise or HSV noise to alter your image and simulate camera noise. Also, you can overlay a texture that imitates noise. Create your own texture or use one from the many free texture libraries available.
Yellow tint – Photo paper and chemicals deteriorate over time and change their properties. The most common effect is a yellow tint that appears in black and white pictures. The easiest way to recreate this effect is to adjust the color balance by favoring yellow and red. You can also use other tools such as color temperature, curves, and the channel mixer.
Vignetting – Vignetting occurs when the lens fails to focus well enough across the whole image and the edges of the photo remain underexposed. It's sometimes used intentionally because it creates a natural frame and enhances the subject in the center of the photo. Most editors have predefined filters for vignetting. You can create a vignette by gradually darkening the edges of an image while keeping the subject brighter.

How to make a photo look vintage with Luminar
Choose your image wisely, as not all images match the vintage look. You can start with a photo taken in black and white that already has dramatic, aged aesthetics or with a color photo with a suitable subject.
Luminar provides full control over the editing process. It works with layers, masks, blending modes, and opacity, and it allows for selective editing. You can create a vintage look from scratch using only Luminar's filters and adjustments. But a faster way to make your photo look vintage is to use Luminar Looks — presets designed by professional photographers to recreate the most popular photography styles.
Create a vintage look by individually adjusting each aspect of the effect
If you choose to create your own vintage look, you'll have to transform the image according to the characteristics listed above. Make sure you create a new layer at each step of your editing process. Luminar allows you to fine-tune each layer separately and preview the result of each step. Use the Before/After preview tool to keep track of your adjustments.
Step 1: Open your image in Edit mode and apply all the basic adjustments it needs (fix the exposure, correct the perspective and any lens errors, adjust brightness and shadows, etc.). The vintage effect is the finishing touch. You should retouch and enhance your image before applying this effect.
Step 2: Add a new adjustment layer called Saturation with Opacity = 100% and Blending mode = Normal.
Step 3: With the Saturation layer selected, reduce the color saturation using either the B&W Conversion filter or the Color filter, both from the Essentials category.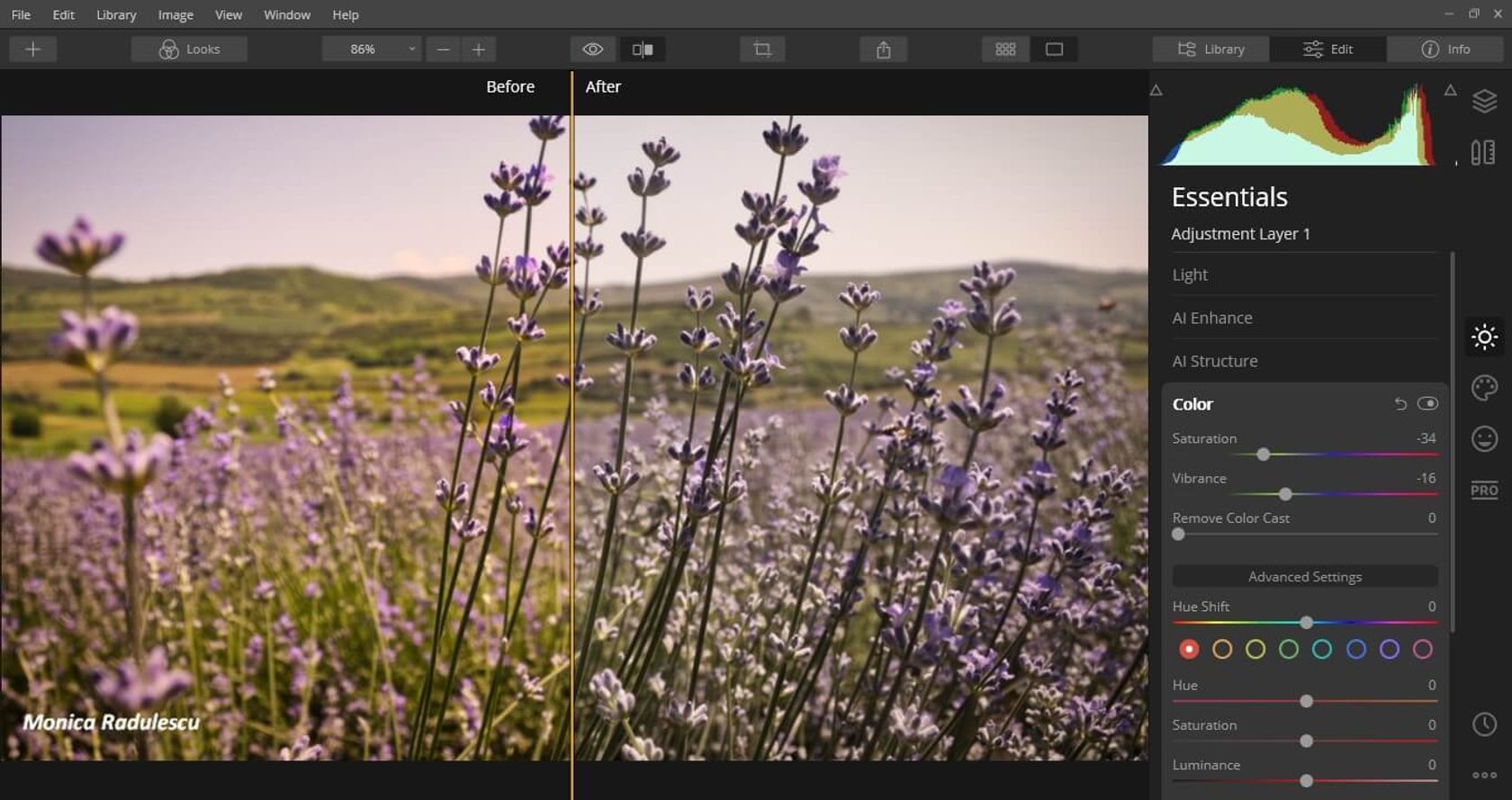 Step 4: Add a new adjustment layer called Contrast with Opacity = 100% and Blending mode = Normal.
Step 5: With the Contrast layer selected, reduce the contrast either by using the Light filter from the Essentials category and adjusting the Smart Contrast slider or by using the Advanced Contrast filter from the Professional category.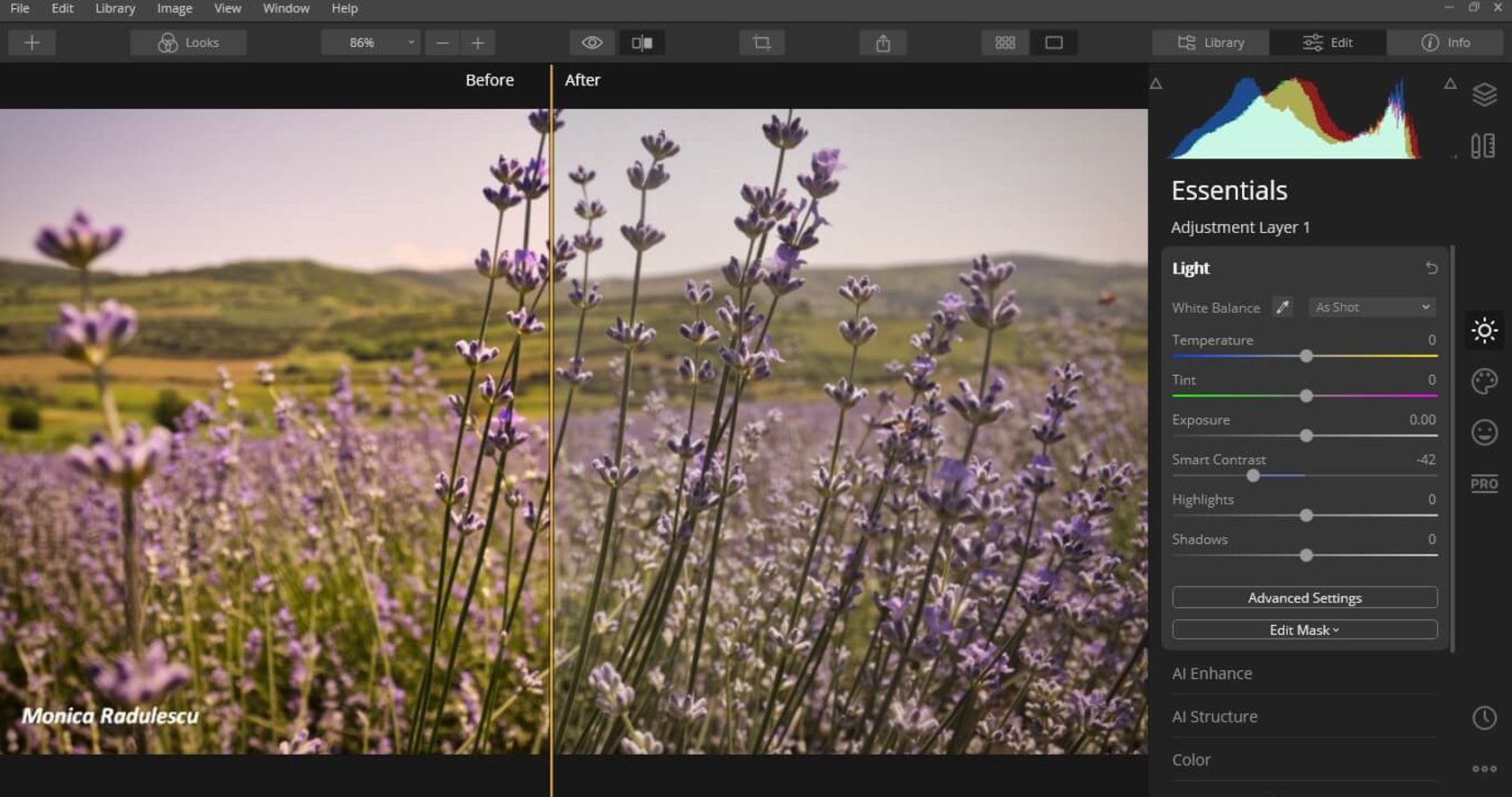 Step 6: Add a new adjustment layer called Noise with Opacity = 100% and Blending mode = Normal.
Step 7: With the Noise layer selected, add noise using the Film Grain filter from the Creative category. Adjust the filter's parameters (amount, size, and roughness) until you achieve the level of noise an old picture would have. Instead of noise, you can use a texture image you've previously created or downloaded from a library. In this case, you'll have to apply the Texture Overlay filter from the Creative category, load the texture file, and set the opacity, blending mode, and position.
Step 8: Add a new adjustment layer called Tint with Opacity = 100% and Blending mode = Normal.
Step 9: With the Tint layer selected, change the color balance and add a yellow tint and warmth. You can use several filters to do this: Light from the Essentials category has sliders for adjusting color temperature and tint; Color from the Essentials category allows you to adjust hue and saturation for eight individual colors; Color Enhancer from the Professional category provides tools for adjusting warmth, color contrast, and brilliance.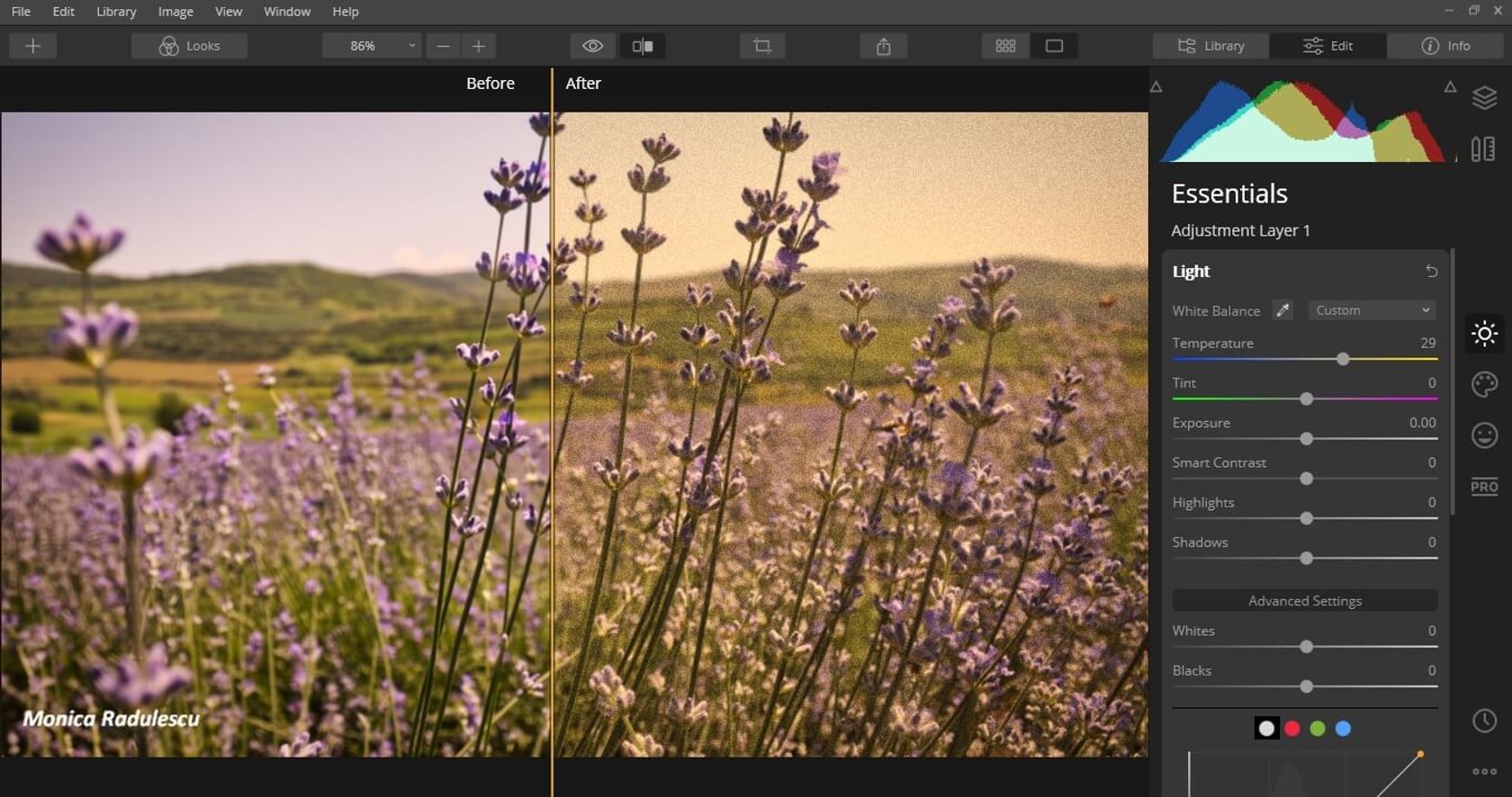 Step 10: Add a new adjustment layer called Vignette with Opacity = 100% and Blending mode = Normal.
Step 11: With the Vignette layer selected, add the Vignette filter from the Essentials category and create a circular mask to simulate lens vignetting. This filter provides several parameters for fine-tuning the effect, such as amount, size, roundness, feather, and inner light.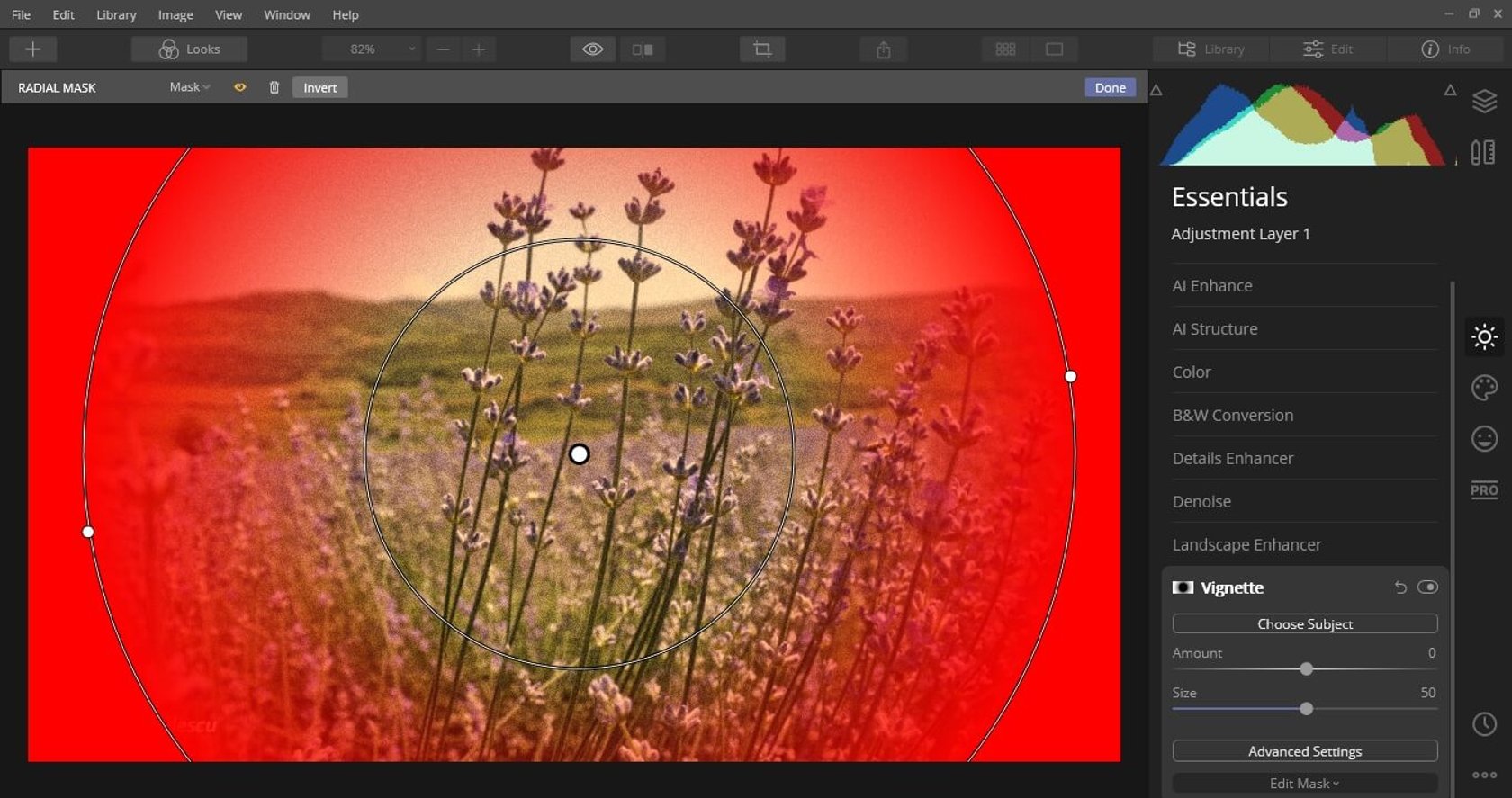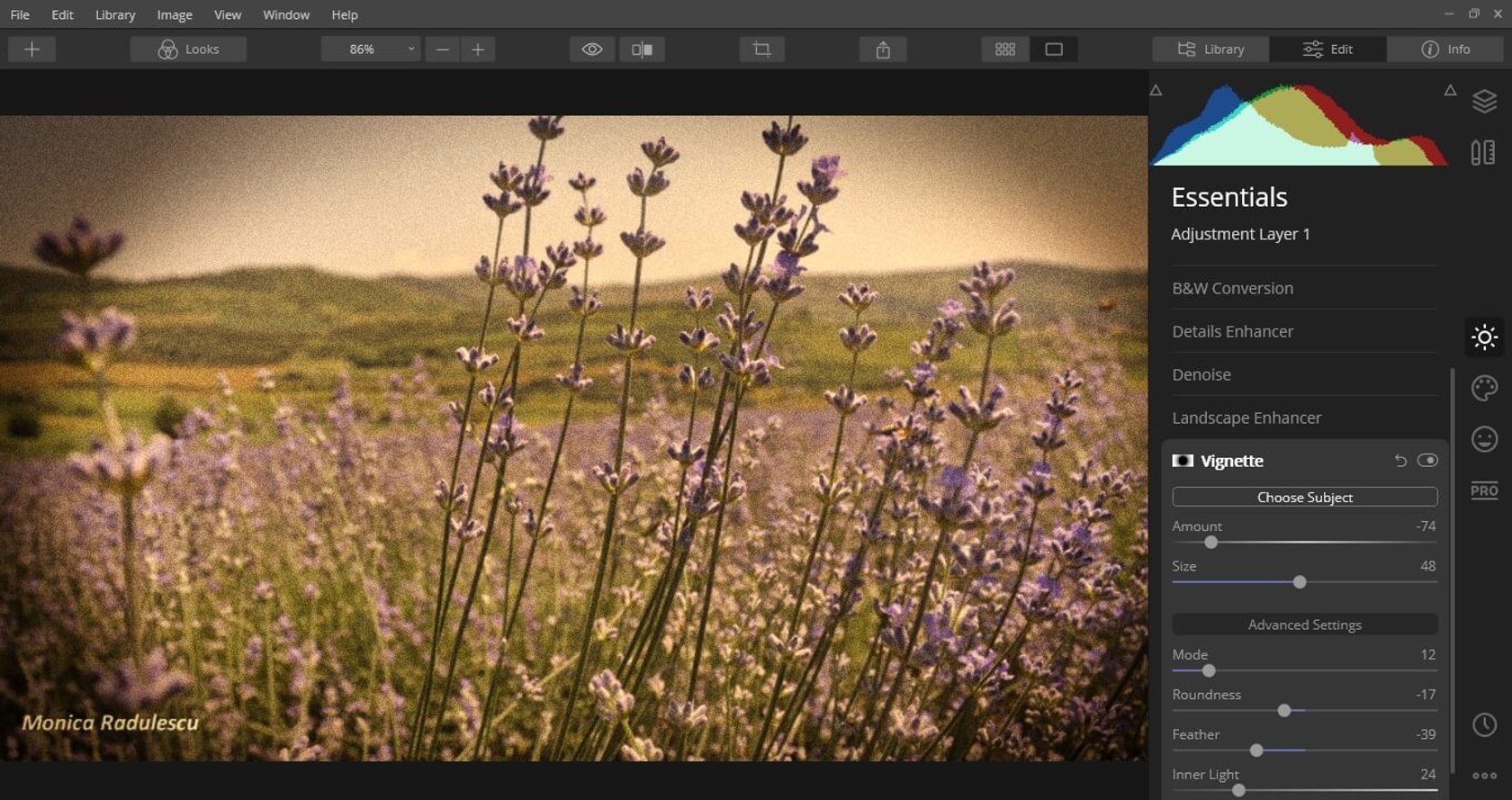 Create a vintage look using Luminar Looks
Looks are sets of adjustments that automatically create a specific style and add atmosphere to a picture. Luminar 4 offers more than 80 built-in Looks divided into seven categories: Essentials, Street, Landscape, Portrait, Lifestyle, Dramatic, and Aerial. In addition, you can download more Signature Looks from the Luminar Marketplace.
If you don't want to spend time working with layers and filters, you can make a photo look vintage by applying the Vintage Look from the Dramatic category. After applying a Look, you can see in the right panel what filters were applied and adjust their settings according to your artistic vision. The Luminar Vintage Look uses the Dramatic, Color Styles (LUT), and Film Grain filters from the Creative category and the Vignette filter from the Essentials category.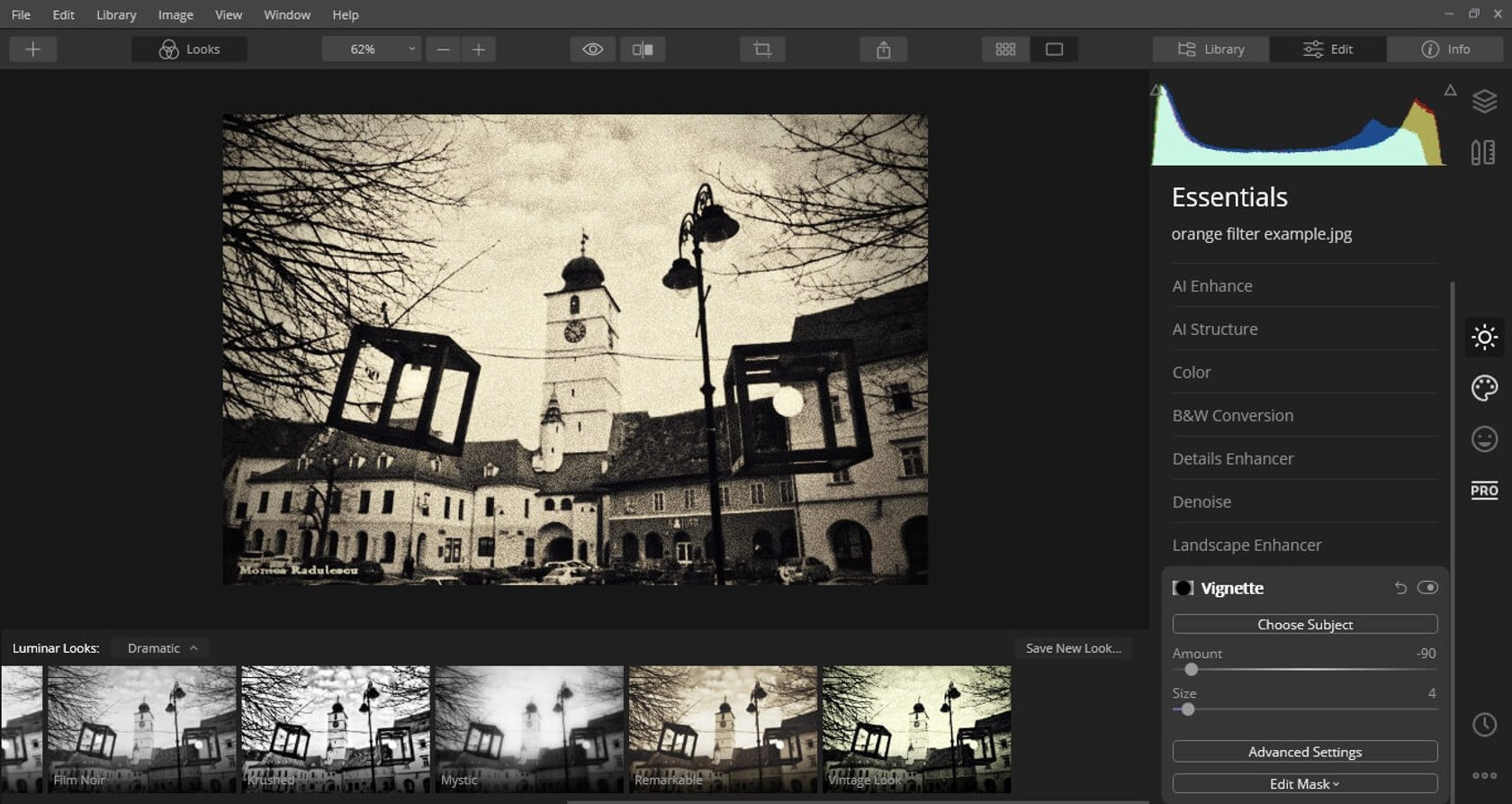 After you've created your unique vintage look, you can save it for future use or apply the same set of adjustments to multiple images at once.
You can also use Luminar Looks for black and white conversion. There's a customized black and white conversion for each type of photography (landscape, portrait, aerial, etc.), which guarantees natural-looking results.
In conclusion
Creating a vintage look is popular, as it adds meaning and depth to a visual story. It's also easy to achieve, as many photo editors offer presets you can apply in seconds. But to get high-quality results and subtle transformations, you need to choose an editor that works with layers and gives you full control over the editing process. It's good to have smart and automatic tools, but it's even better to fine-tune each adjustment by hand and create your unique effect.