From a simple editor to quickly enhance your photos to a professional editor equipped with cutting-edge features, you'll find something in the list below that suits your needs.
If you don't care about your images, you don't get attention. This rule now applies not only to businesses but to individuals. Whether you're a professional photographer photo retouch for a client or an average Instagram user, you know how important it is to give your images a polished look before showing them to the world. The good thing is that you don't have to spend a fortune on powerful photo editing software to make your photos look perfect.

This article lists the best photo editing software for PC that you can download for free. Whether you're looking for a professional editor equipped with cutting-edge features or a simple editor to quickly enhance your photos before publishing on social media, you'll find something in the list of best photo editing apps for PC below that suits your needs.
Download Luminar Neo and Get a 7-day Free Trial
I'm in!


Let's Take a Closer Look at the Best Free Photo Editors Below

Features: Improving pictures with AI-powered tools, and original Presets. Supports different formats.
Verdict: Has an extensive list of features, great for professional image retouching.
Price: Monthly ($14.95/mo), Yearly ($8.25/mo), or Lifetime ($199 per user) purchase options.
Luminar Neo is a desktop photo editing software that uses cutting-edge AI technologies to help you edit your photos automatically. In addition to fundamental features like layers, masks, blending modes, transformation tools, editing brushes, and clone tool, Luminar Neo offers advanced AI-powered tools to enhance photos with just a click. These tools include Sky AI, Structure AI, Skin AI, other portrait enhancement tools, Sunrays, Accent AI, and Smart Contrast. Although almost all of Luminar's tools are automated, you remain in full creative control over your images.
AI helps you achieve your editing goal efficiently and saves you hours of manual work. Moreover, there is a minimal learning curve thanks to an intuitive interface and simple AI tools, so you can start creating masterpieces on the first try without any previous experience. It also comes with over 70 creative styles, called Presets, that you can apply to your photos to make them appear more sophisticated. If you're unsure where to begin with your editing, open Presets tab, and the "For this photo" feature will suggest best-suited presets based on the content of your image. You can even create your own Presets and share them with others. You can find more information about the software on the Luminar Neo Review page.
For more advanced and precise editing Luminar Neo can be powered up with Extensions — pro-level tools designed specifically to expand Luminar's already vast possibilities. Remove misfocus and motion blur, merge up to 10 bracketed images, easily remove background, reduce noise, upscale a photo up to 6X, and enhance image resolution with Extensions.
Photos is a free built-in photo editing app that comes with Windows 10. Few people use it for more than viewing photos, though Microsoft has included a bunch of features in their Photos app that can come in handy. This app allows Windows users to sort your photos into collections, albums, and folders. A useful people tagging feature uses facial recognition to organize your photos, making it easier for you to browse photos of specific people on your PC. This feature is disabled by default, so if you want to use it, you should enable it manually in the People tab. There are a number of basic image editing functions in Photos too, including crop, rotate, photo enhancing filters, basic light and color adjustments, blemish removal, and red eye correction. Also, it has got a simple interface and can be used with cloud storage.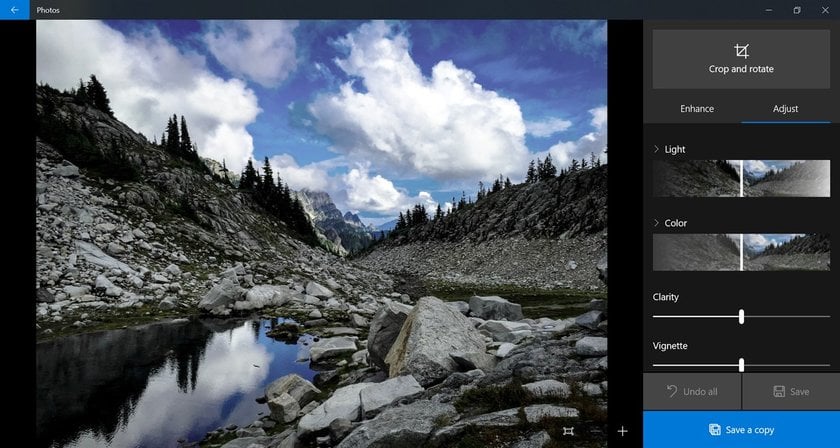 3. GIMP (open-source)
Features: Supports different formats, and a variety of functions ranging from file creation and processing to drawing and animation.
Verdict: Can be used as a Photoshop alternative, but with fewer functionalities.

GIMP is one of the most popular photo editing tools for PC that you can download for free. It's recently been updated with a whole lot of new features and improvements to existing features, so now it's one of the best free photo editors for PC. GIMP feels like Photoshop in terms of its interface and functionality, with a bunch of different tools for different needs. It's packed with tools for simple editing, like transform and crop, as well as tools for more complex work: layers, masks, blending modes, color management tools, retouching tools, blur and sharpen tools, and more. However, GIMP doesn't support the CMYK color profile, so it might not be the best option for printing.
4. LightZone (free, open-source)
Features: Editable even after the image has been saved, creating your styles or using already existing ones.
Verdict: Convenient and easy-to-use application with creative ways to process.
This open-source photo editor was designed to work with RAW files. LightZone offers a non-destructive way of editing photos: changes are applied to a copy of the photo, leaving the original unchanged. With LightZone, you can always undo edits after they're saved, even if you've started a new editing session. LightZone boasts numerous tools for basic and advanced photo editing: ZoneMapper, White Balance, Color Balance, Sharpen, Relight, Clone, and others. One of the most interesting features of LightZone is Styles, or combinations of photo adjustments that can be applied to one or multiple photos. There are a bunch of built-in Styles, and you're free to create your own.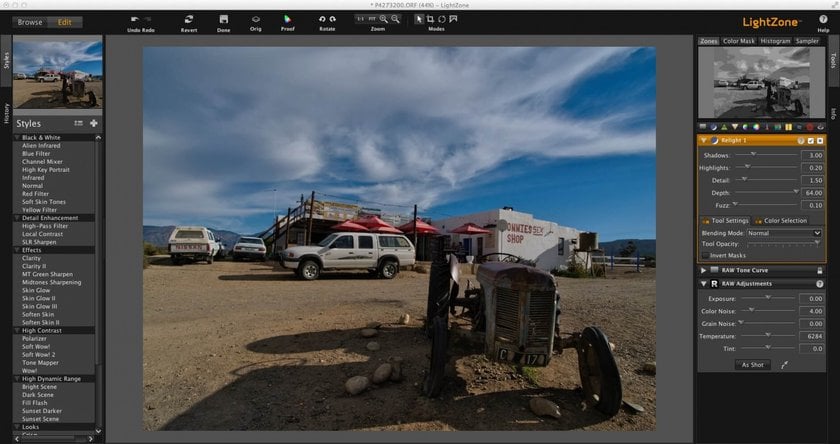 5. Paint.NET (completely free)
Paint.NET is one of the best pieces of photo editing software for PC that's completely free. This photo editor was initially developed as an alternative to Microsoft Paint but has surpassed it in many ways. Paint.NET boasts a user-friendly interface that requires little time and effort to learn. It comprises a good range of tools for making selections, moving selections, retouching, recoloring, and more. It also contains essential tools for adjusting levels, brightness, contrast, curves, hue, and colours. Paint.NET is packed with a huge number of effects and filters for basic editing that allow you to play with noise, glow, distortion, sharpening, and blur. It`s an easy image processing software for beginners.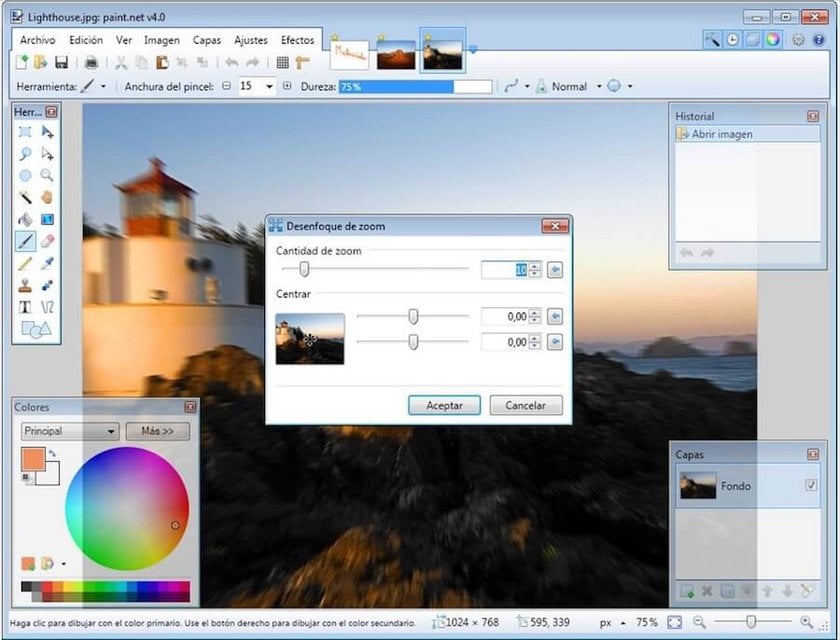 6. Photo Pos Pro (free)
Photo Pos Pro is a powerful picture editing tool that combines a simple and user-friendly interface with high functionality. It's suitable for users of all levels and allows high-quality image processing by offering a wide range of functions. The app is packed with all kinds of tools for comprehensive photo editing with any level of expertise. In Photo Pos Pro, you can enhance your photos using a vast selection of color management and retouching tools including Curves, HSL adjustments, Color Enhance, Red Eye Reduction, Sharpen, Clone Brush, Blur, and Reduce Noise. You can also play around with dozens of built-in filters and effects. Photo Pos Pro comes with support for layers and masks, giving you precise control over the editing process. Download this free photo editor for PC and test all these outstanding features. You can get it for free or buy Premium for $49.90.
PhotoScape X is all-in-one photo editing software that enables you to improve your photos using a range of professional yet intuitive tools. This app is packed with essentials for in-depth photo editing such as masks, layers, and color management tools. In PhotoScape X, you won't have any difficulty changing the background, removing noise, recoloring, or straightening an image. It also offers a ton of retouching tools like Spot Healing brush, Clone Stamp, Red-Eye Correction, and Remove Stain, enabling you to make your portraits look perfect. Additionally, this computer photo editing app comes with hundreds of effects and filters to make your photos stand out. With its simple and functional interface, this app is perfect for complex image manipulation and retouching needs.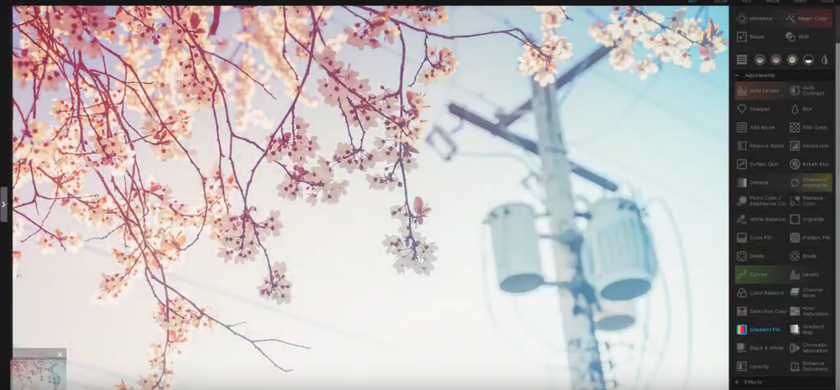 Features: Batch processing feature, spot healing, colour management.
Verdict: Powerful and unique features make it one of the best photo editing apps on the market, but it is more suitable for professionals than beginners.
Price: 7-day free trial, then $9.99/month
Lightroom is one of the world's most popular professional photo editors, beloved by photographers of all skill levels for its non-destructive approach to editing images and lots of unique and powerful features. In Photoshop, you can speed up your workflow immensely by creating your own presets that you can apply to other photos with just one click. And with the Batch Processing feature, you can apply presets to multiple photos at once, which saves even more time. Naturally, Lightroom computer photo editing software is packed with high-end tools for camera and lens-based corrections, color management, color and luminance masking, perspective correction, and spot healing.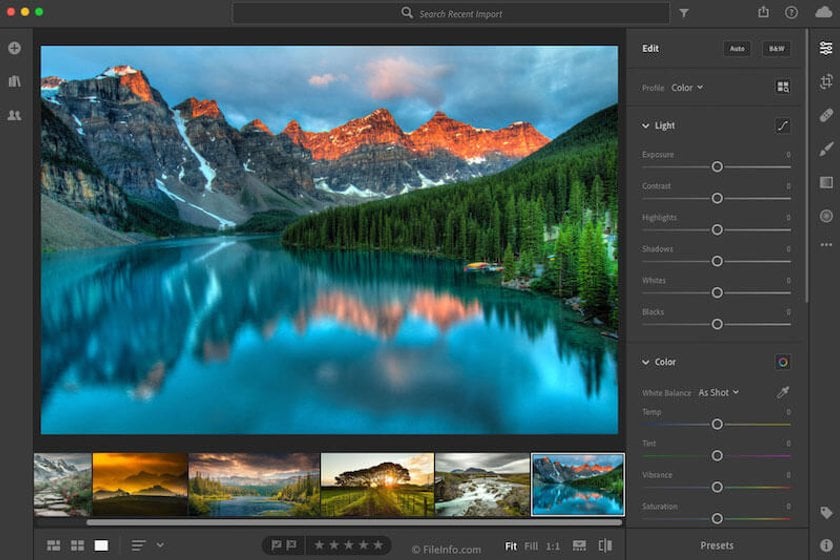 9. Pixlr (free, online)
Features: Easy online editing, ability to import images from Facebook, variety of visual effects.
Verdict: One of the most user-friendly applications.
Price: Free standard version, Premium — $14.99/month
This best free photo editing app for PC is so well-equipped with unique features that it's become a popular choice for photo manipulation. Pixlr is a web application that offers a handful of unique features for optimizing the editing process. You can start by uploading a photo from your desktop or a URL, or you can import a picture right from Facebook. Pixlr has all the core tools you need to adjust your photos quickly and easily, and, most importantly, online. Along with basic transformation tools, Pixlr offers advanced ones for fixing blemishes and spots, removing objects, managing colors, and more. Additionally, it comes with a selection of cool filters and effects to brighten up your photos.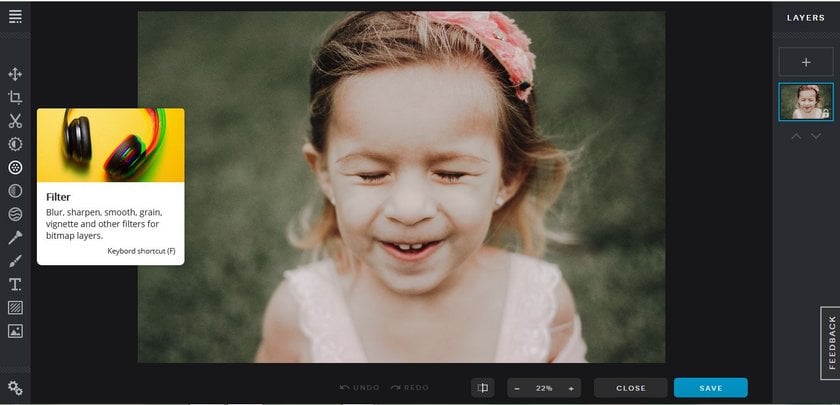 10. RawTherapee (free, open-source)
RawTherapee is high-end RAW photo editing software for PC that you can download for free. Like many other RAW editors, this open-source photo editor enables you to edit RAW photos non-destructively. Its interface may look a little overwhelming with the abundance of tabs and icons, which makes it difficult for newcomers to use, but it's packed with all you need for processing photos like a pro. In RawTherapee, you can adjust a photo's exposure, highlights, shadows, tone mapping, sharpness, and noise, use algorithms and wavelet levels, fix hot or dead pixels, and try out a solid number of other tools and features. RawTherapee desktop software also allows you to create presets and apply them to your photos to save considerable time and work more effectively. Get it for free!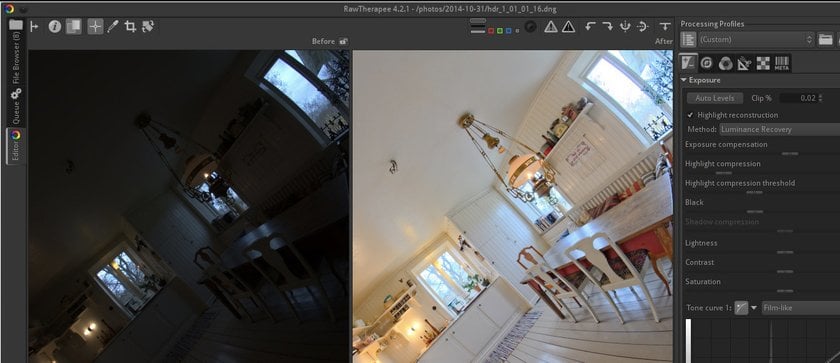 11. darktable (free, open-source)
This is another open-source RAW photo editor aimed at improving a photographer's workflow by simplifying the bulk editing of photos. darktable offers a powerful suite of photo editing tools for non-destructive editing of RAW photos. In this app, you can play around with color and tone corrections including levels, curves, brightness, white balance, velvia, and color channels. darktable contains a number of tools for fixing visual imperfections like Sharpen, Denoise, Liquify, Spot Removal, Defringe, and Haze Removal. You can also work with visual effects and editing options including Watermarks, Grain, Bloom, and Soften.
It offers many tools for mass image processing. You can get it for free.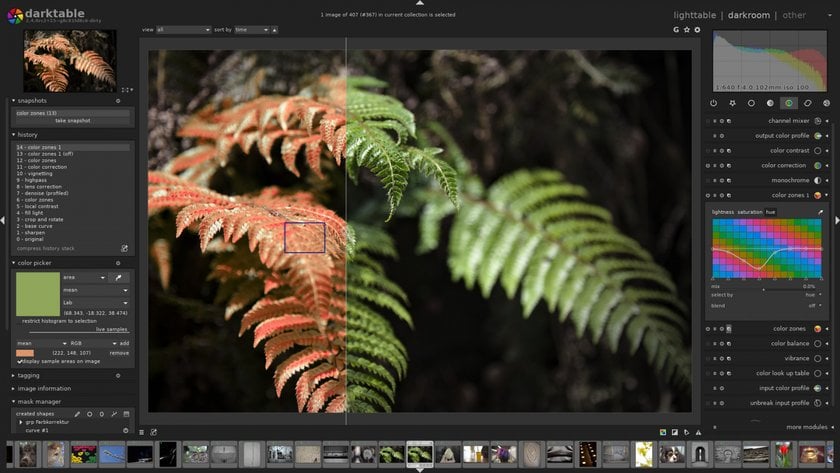 With a simple interface and basic yet powerful photo manipulation tools, InPixio photo editing app for PC is designed to help photo enthusiasts make their photos look better without putting in too much effort. Packed with tons of useful tools for photo editing, InPixio is a great tool for improving your photos and making creative montages. It allows you to manually or automatically remove backgrounds or unwanted objects from photos, adjust the hue, brightness, contrast, shadows, and temperature, transform images, fix red eye, retouch photos, and add various effects, textures, styles, filters, and frames. InPixio also comes with a bunch of built-in presets.
Although the interface is simple, the app has a wide range of features to help you improve your image quality. Great for users of all levels. You can buy free standard version or buy Premium. Price is $49.99.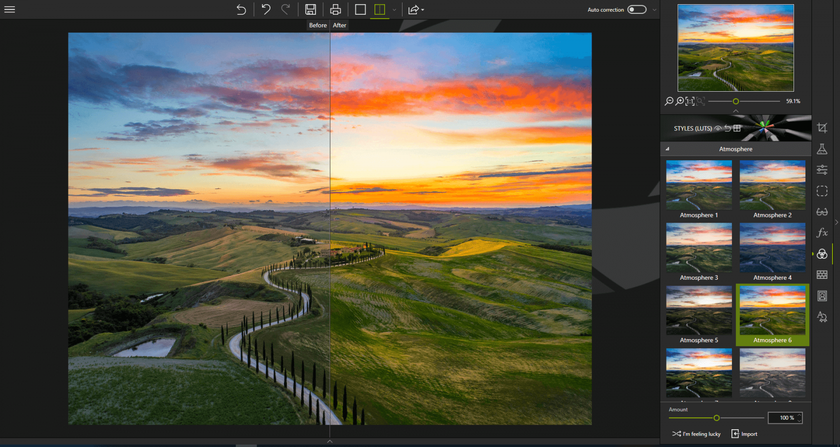 Features: Spot image correction capability, full set of advanced features for processing every photo detail.
Verdict: In addition to its photo editing capabilities, it allows you to make unique presets.
Polarr is a browser-based software that brings a complete selection of advanced photo editing tools in a minimalist and completely customizable interface. In Polarr, you can not only apply adjustments to the entire photo using Color, Light, Detail, Noise, LUT, and other settings but also adjust specific areas in your photos with the help of Depth, Brush, Luminance, Radial, and other masks. Polarr is free downloadable photo editing software that offers a wide selection of blending modes, filters, and photorealistic effects that you can use to add creativity to your photos. Plus, it allows you to create your own filters and presets and share them with the world.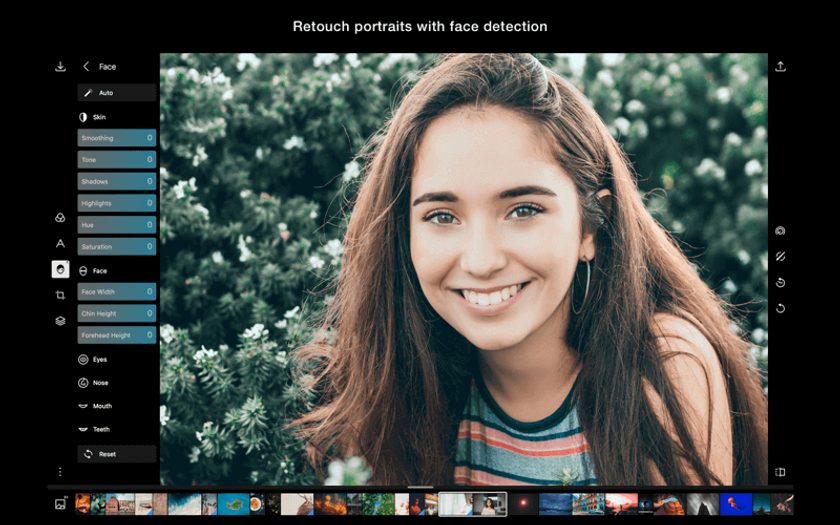 14. Photopea (online, free)
Features: Offline use is possible, a lot of brushes, masks, filters and smart objects are available.
Verdict: Suitable for both minor image correction and major retouching. A great choice for beginners as well as advanced users.
Photopea is a free online editor that runs locally without requiring you to upload files to a server. If you get disconnected from the internet while working in Photopea, you can still use it completely offline. Photopea free photo editor for PC is suitable for basic editing skills and advanced editing alike, enabling you to work with different types of layers, masks, smart objects, adjustments, filters, layer styles, etc. This editor comes with a great set of brush tools including Eraser, Clone Stamp, Dodge, Burn, Smudge, and Sponge. Photopea free software supports PSD, XCF, Sketch, XD, and CDR files.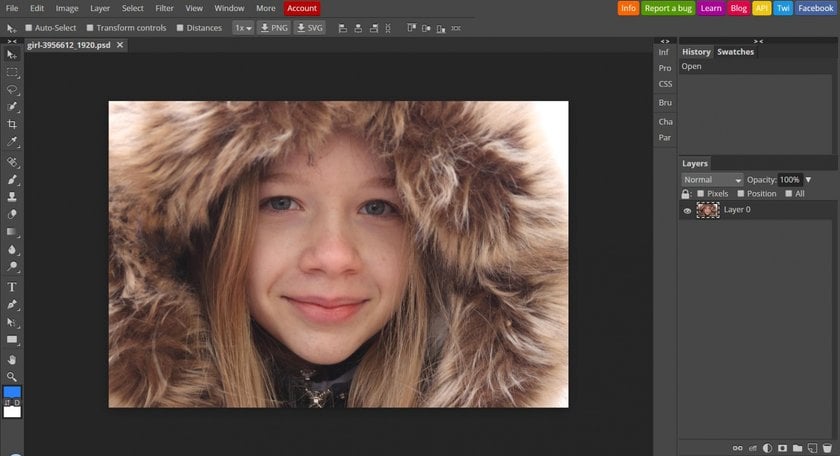 To Sum Up
The list above of the best free photo editing software will help everyone find something suitable for the different tasks they need to complete. Whether you want to transform an image drastically, tweak it slightly, or express your creativity, choose one of the free picture editing software for PC and enjoy the experience. Luminar Neo can provide the highest quality results in the shortest time and can be easily incorporated into any editing routine as a stand-alone app or plugin.
FAQ
1. What are the top PC photo editors in 2023?
If you're looking for some great free photo editing options for PC this year, check out GIMP for its versatility, Paint.NET for easy use, and darktable for those RAW photo needs. Plus, Luminar Neo offers a 7-day free trial, which is perfect for testing its advanced features.
2. Can I use these free photo editors for commercial purposes?
Many free photo editors are open-source and allow commercial use, but you should review the individual license agreements for each software to ensure compliance.
3. Is the built-in Windows Photo Editor sufficient for advanced photo editing?
The Windows Photo Editor is a convenient tool for quick and basic edits, but if you're looking to dive into more advanced photo editing, you might want to explore third-party options like GIMP or Luminar Neo.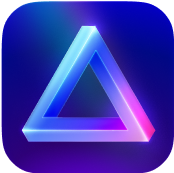 Advanced yet easy-to-use photo editor
view plans