Photography has become an integral part of our lives in today's digital age. Whether you are a pro or a hobbyist exploring options to retouch your snapshots, access to the right image editing tools is paramount. However, most commonly used editors are unaffordable for most users.
Does it mean one should give up their passion for photography because of their limited financial abilities? Not at all! It is possible to get photo editing software for free. The article will help you choose the best photo editing software for free. This guide will help you understand what defines the best free photo editing app and what criteria are essential while selecting the best free photo editor.

So, let's not limit our freedom regarding enhancing your pictures!
What Defines The Best Free Photo Editing App?
In order not to be lost among numerous free photo editors, we consider it necessary to highlight some basic points that should be regarded by those who are seeking the best free photo editor.
Intuitive Interface
The best free photo editing software should be accessible to beginners and experienced photographers. It should allow you to navigate effortlessly through its functions, making editing much more enjoyable.
Versatility
The ideal photo editor should cater to photographers' different tasks and goals when they start the editing process, whether they need some primary adjustments or advanced enhancement. It should also support various file formats to ensure compatibility with the device you use to take pictures.
Wide Range of Tools
Comprehensive editing tools lie at the core of every photo editor. Seek a variant with a wide range of tools to comprehend as many editing tasks as possible, from color balancing to headshot beauty retouching. These tools should empower you to fine-tune your images to perfection.
Efficient Performance
A good image editing tool should run smoothly on your computer or mobile device, ensuring you can edit your photos without frustrating crashes. Quick rendering times and the ability to easily control every step of the editing process are the defining signs of a good tool.
Non-Destructive Editing
This point means that the photo editor you choose should include an option of applying changes to the image without altering the original permanently. So you can experiment with different tools and return to the original anytime you need.
Support Network
Machines are our helpers, but humans are still social creatures constantly relying on each other's experience to solve different tasks. Using photo retouching software makes no exception. We recommend you seek software with an active user community, tutorials, and customer support to help you navigate challenges and continuously improve your editing skills.
Free Means Free
While some free photo editors offer paid upgrades with additional features, the free version should still provide robust editing capabilities without asking the users to pay.
Now that we have established the best free photo editor criteria, it is time to explore the top ten options that meet these standards. Our list includes the advantages and disadvantages of each software, providing you with valuable insights to make an informed choice for your photo editing journey.
Top 10 Free Photo Editing Software
1. Skylum Online Photo Editor
Skylum Online Photo Editor offers a wide array of professional-grade editing tools that empower you to transform your photos precisely. Its intuitive user interface makes it accessible to both beginners and experienced photographers. Additionally, it supports non-destructive editing, allowing you to experiment without fear of losing your original image. Skylum also provides regular updates and customer support, ensuring you have access to the latest features and assistance when needed.
While Skylum's free version meets basic needs, for more advanced editing, we suggest opting for Luminar Neo, Skylum's AI-powered photo editor. It offers a 7-day free trial, allowing you to experience its capabilities without any strain on your wallet. Among Luminar Neo's standout features are sky replacement, AI background remover, portrait enhancer, and more.
We're bet that with these tools, your lengthy editing routines will become a delightful experience. Even the most challenging edits can now be achieved in just two clicks.
Download Luminar Neo and Get a 7-day Free Trial
I'm in!
2. GIMP (GNU Image Manipulation Program)

GIMP is a powerful, open-source photo editor known for its versatility. It boasts extensive editing features and supports a wide range of file formats. With a thriving online community and numerous plugins, you can further enhance its functionality.
But it should be considered that GIMP's learning curve can be difficult and confusing, particularly for beginners unfamiliar with advanced photo editing software.
3. Photopea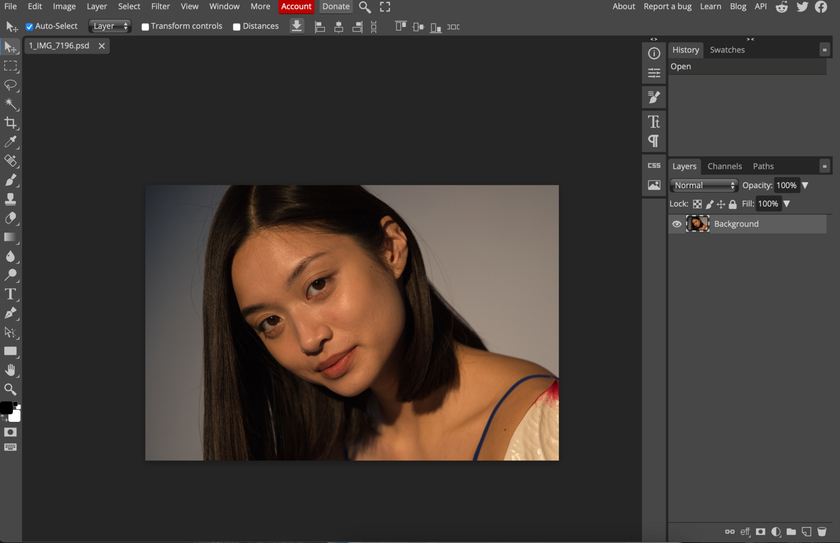 Photopea is an impressive online photo editor that closely resembles Adobe Photoshop in terms of functionality. It offers advanced editing features, including layers, masks, and a wide range of filters. It supports various file formats and is accessible from any web browser.
But as this editor carries the functionality of Adobe Photoshop, a learning curve that stops many newbies from mastering this kind of software is also quite similar here.
4. PhotoCat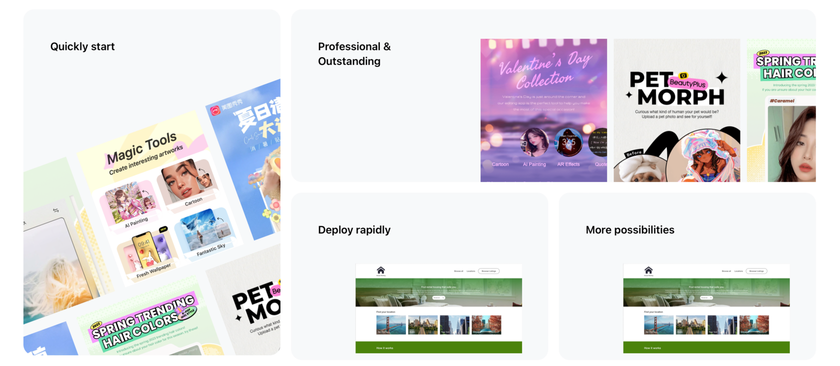 PhotoCat is a user-friendly online photo editor that caters to beginners and intermediate users. It provides various editing tools, including filters, retouching options, and text overlay features. PhotoCat also offers collage-making capabilities.
However, the tool's advanced editing features are limited compared to professional-grade software.
5. RawTherapee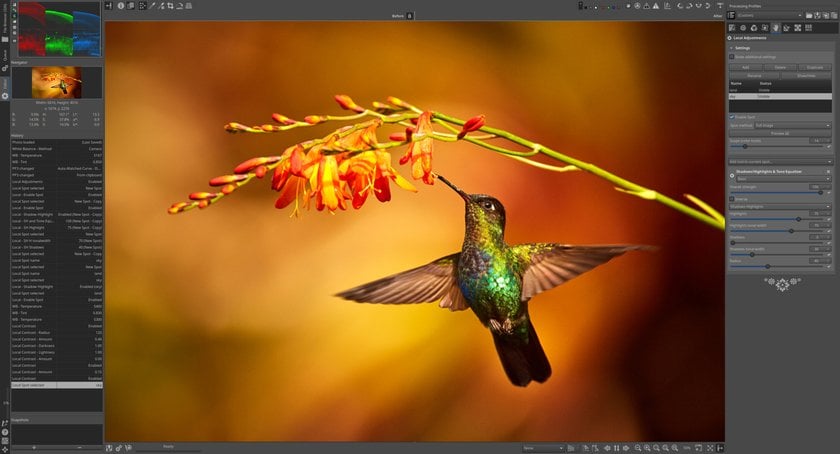 RawTherapee is an open-source, cross-platform photo editor primarily designed for processing raw image files. It offers advanced editing options, including color correction, noise reduction, and sharpening. It's an excellent choice for photographers who shoot in raw format.
Powerful and Feature-Rich RAW Converter
Try it Now
6. LightZone

LightZone is known for its unique zone-based editing approach. It offers a range of editing tools, including exposure adjustments, tone mapping, and color correction. The software emphasizes non-destructive editing, allowing you to experiment without harming your original image.
It may have a less extensive feature set than other photo editors, which is especially noticeable in complex retouching.
7. PhotoFiltre
PhotoFiltre is a lightweight photo editing software with a straightforward interface. It provides various tools for basic editing tasks like cropping, resizing, and adjusting brightness and contrast. It's easy to learn and suitable for quick edits.
However, just like in the previous option from our list, the advanced editing features are limited in PhotoFiltre, making it less suitable for complex image manipulations.
8. Photoshop Express
Developed by Adobe, Photoshop Express benefits from Adobe's reputation for quality. It offers a simplified, user-friendly version of Photoshop, making it accessible to a broad audience. Additionally, it's available as a mobile app and provides cloud integration for easy access to your images.
Photoshop Express has limitations compared to Adobe's premium offerings, making it less suitable for advanced users with complex editing needs.
9. PhotoDirector
PhotoDirector is a feature-rich photo editor with a user-friendly interface. It offers editing tools, including AI-powered enhancements, layer support, and creative effects. It's also known for its robust color correction capabilities.
While PhotoDirector provides an impressive free version, some advanced features may require a paid subscription.
10. Photo Pos Pro
Photo Pos Pro is rich in advanced editing tools and supports layers and masks, making it suitable for beginners and advanced users. Frequent updates and bug fixes ensure a continually improving experience.
Due to its feature-rich nature, Photo Pos Pro might be overwhelming for beginners yet to become familiar with advanced photo editing concepts.
Bottom Line
We embarked on this journey to explore the top ten free photo editing apps, each with advantages and disadvantages. From Skylum Photo Editor's efficiency to the professional-grade capabilities of Photopea and the versatility of RawTherapee, we've covered a diverse range of options to cater to photographers of all levels.
In your quest for the best free photo editor, remember that the choice ultimately depends on your needs and preferences. Some offer simplicity and ease of use, while others provide advanced tools for intricate image manipulations. Whether you require basic enhancements or seek to push the boundaries of your creativity, free photo editing software is tailor-made for you.
As you embark on your photographic journey, keep experimenting, learning, and pushing your editing skills to new heights. Whether you choose a user-friendly option like PhotoCat or a more advanced tool like LightZone, remember that the world of photography is as much about the journey as it is about the destination.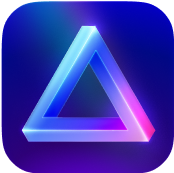 Advanced yet easy-to-use photo editor
view plans