There are a whole handful of reasons why you may wish to make pictures bigger, including upload requirements for a website or because you're preparing to print a digital image. If you've never done it, we're here to help! If you're looking to go in the opposite direction, here's a helpful article on how to make a picture smaller or upsize it. How to make an image size bigger? Luminar is a program that can help with making a picture bigger or smaller without quality reduction, as well as cropping, editing, and organizing your photo library. Sounds like a lot of useful features, doesn't it? You can give Luminar a try to make images bigger right now by clicking the button below.
Basics of making pictures bigger
Why do people want to resize pictures?
Here are some reasons for shrinking a picture:
It takes up too much space
It's not an ideal size for your blog post, so you need to crop it
It takes too long to load
Here are some reasons for making a picture bigger:
To optimize it for high-quality printing
To increase the quality
To make it look better on the web
You need a specific image size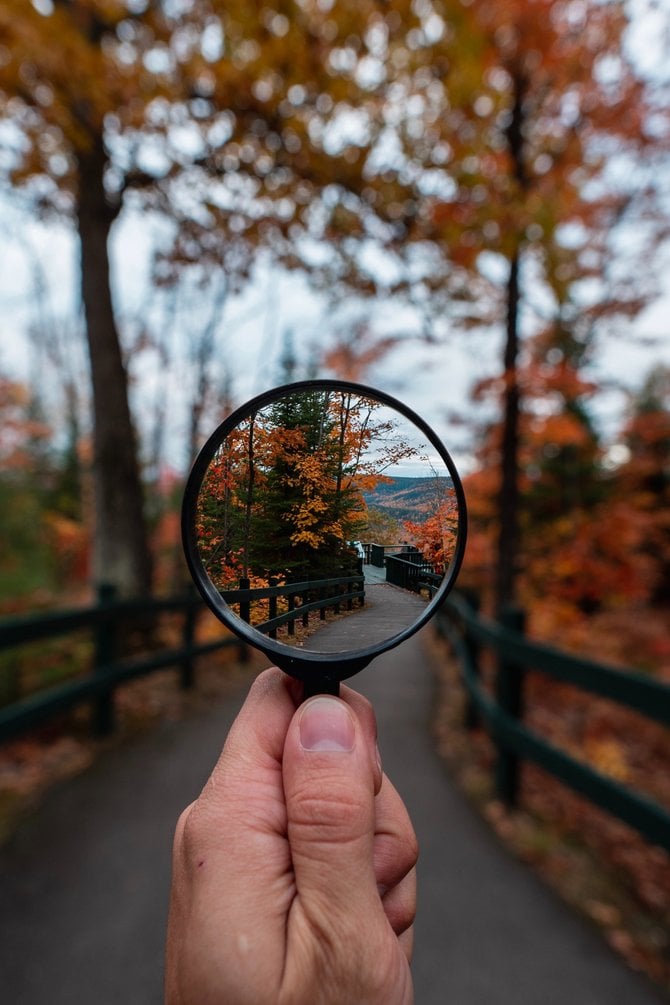 Before you enlarge an image, check the properties of the file to see its size. Another tip is to always experiment with resizing using a copy of the original image, especially if you're trying to make a photo larger and don't know what the results are going to be like.
Preserving quality
Sometimes when making photos bigger, you may notice some loss of quality. What can you do to prevent it?
Loss of quality usually happens when you enlarge an image in the bitmap format. Most JPEG and PNG images are in bitmap format. This means they're made up of thousands of pixels. Zooming in on a PC or smartphone, you'll see that those pixels are actually tiny squares. The image is composed of these squares (pixels) which are each mapped to a fixed location on the image. This is where the name "bitmap" comes from.
So, how to make a photo bigger and preserve details? When you resize an image, the software adjusts the size of the pixels according to your needs. When you shrink an image, there's no visible quality loss because the number of pixels is reduced. However, when you make an image bigger, the number of pixels increases, but the nearest pixels all take up the same color, making the image look blurry and pixelated. That's why the ideal way to enlarge the photo would be to increase the number of pixels, but detalize them well.
6 Practical Ways on How to Make an Image Bigger
In this article, we'll review six ways how to make a picture size bigger without losing quality. Here is a list of suggested apps:
Luminar Neo

Lightroom

Adobe Photoshop

MS Paint

Preview

Gimp
With these applications, you can easily change the image's size and achieve the best results. Whether it's JPEG, PNG, or any other image format, these programs will help minimize the loss of quality during editing.
How to make a picture bigger in Luminar Neo
Skylum's Luminar is great editing software that can help you tackle different tasks from adjusting saturation to adding a special look to resizing images and your photos. Here's how to enlarge a photo in Luminar.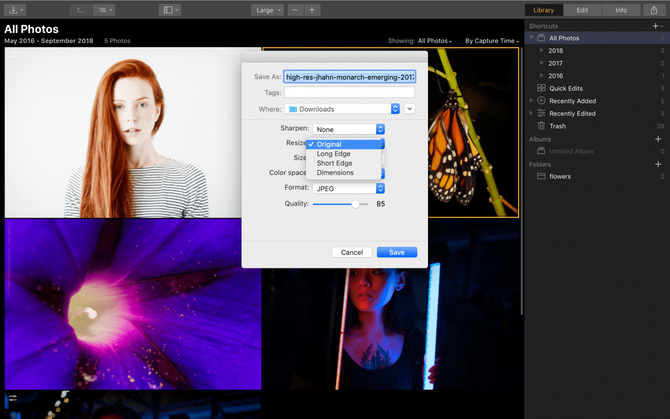 First, find the picture you want to resize in your Luminar 3 library. Thanks to the handy organization system, you can find an image by the date you took it or the color tags you assigned with it previously.
Next, press the keyboard shortcut Shift-Cmd-E for Mac or Shift-Ctrl-E for PC. This will bring up the export menu. There will be options to sharpen or resize the image.
Click on resize. You'll see options to keep the original size or set the number of pixels for the long edge or short edge. You may also define the size freely by entering pixels for the height and width.
That's all you have to do. Luminar allows you to store, organize, resize images larger, and edit your photos quickly and intuitively.
Enlarge a picture in Lightroom
Here's how to make pictures bigger in Lightroom.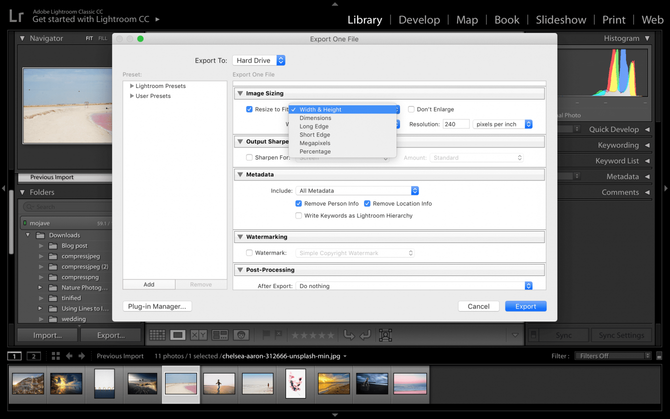 Select your image in Lightroom.

Navigate to

File

–>

Export

or press

Shift-Cmd-E

for Mac or

Shift-Ctrl-E

for PC on your keyboard. The export window will come up.

Select the

Export

Location

by choosing Specific folder from the drop-down. Next, click the Choose button and select the folder on your computer where you want your enlarged image to go.

In

File Settings

, select the desired format and quality. Note that the higher quality you choose, the larger the file size will be.

Under

Image Sizing

, make sure to check

Resize to Fit

.

In the sections

Metadata

,

Watermarking

, and

Post-Processing

, select the changes that you want to apply in order to make an image larger.

Click Export to finish the process and enlarge your image.
Increase the size of a picture in Photoshop
Here's how to resize a photo in Photoshop.
Open the photo in Photoshop.

Click on the Image menu and then click on

Image Size

.

In the

Image Size

dialog box, make sure the

Constrain Proportions

box is checked.

Adjust the photo size by width or height, entering a larger number.

After you've entered a new size, press OK.

The changes will be applied, and now you need to retain and export your photo if you want to use it for printing or for the web.
Photoshop also gives you the option to adjust the size by adjusting the pixels or the resolution, instead of inches, making an image bigger without loss of quality and keeping the proportions unchanged.
Perfect Resize Photoshop plugin
Perfect Resize isn't a third-party tool. It's a standalone piece of software as well as a Photoshop plugin that allows you to resize an image
in high resolution smartly. It will cost you money, but if you resize pictures on a regular basis, it's worth the investment. If you're using Perfect Resize as a plugin, here's how to resize a photo:
Go to File –> Automate and select Perfect Resize.

After

Perfect Resize

opens, you can choose a preset from the left-hand menu or enter your own size in

Document Size

.

After entering the size, go to

File

–>

Apply

and save your image in Photoshop.

Export your image.
We recommend using this software if you need to resize pictures frequently and are an expert Photoshop user who uses Photoshop on a daily basis.
How to make a picture bigger in MS Paint
If you use Windows, MS Paint is a program that has probably been in your life since forever. It's a simple Windows-only program for modifying, resizing, cropping, and performing basic editing.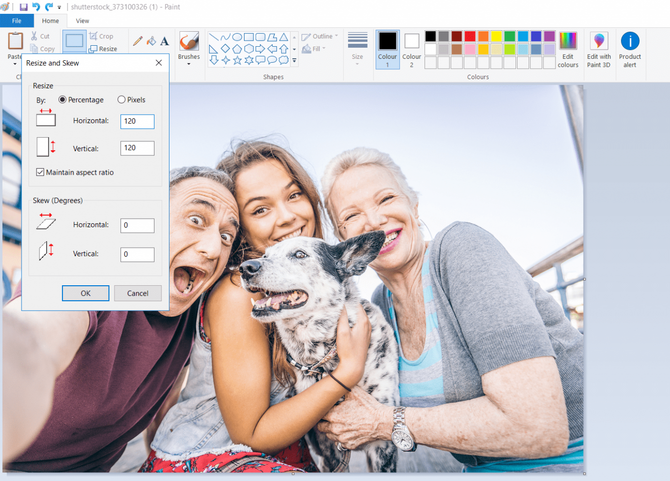 You can easily use it to make a picture bigger:
Right-click on an image file in File Explorer and select in the dropdown menu Open With –> Paint.

Select

Image –> Resize/Skew

in the main menu to make it larger.

Change the

Horizontal

and

Vertical

percentages to something more than 100. Keep the percentages equal to preserve the aspect ratio.

Select

File –> Save As

to save the bigger image.
The perk of this program is that it's free and comes with Windows, so you don't have to look for another program elsewhere if you want to learn how to make an image bigger.
How to make a picture larger in Preview
If you have a Mac, Preview is a built-in program that can help you make a picture bigger.
Here's a quick way to do it:
Navigate to the image you wish to resize.

Drag the image to the Preview icon in the Dock or Finder.

Click the edit button (a square with a pencil) to switch to Edit Mode.

Click the

Tools

menu and select

Adjust Size

.

Change the resolution, and make pictures larger or smaller.

Type your desired width and height in the boxes, making the image bigger.

Check

Scale proportionally

to avoid warping the image.

Click OK to view the image at its new size.

Press

Cmd + S

to save your changes.
Enlarge a photo in Gimp
Gimp is another piece of editing software that has the ability to make a picture bigger without degrading the quality.
Open the image you want to resize in Gimp.
Go to Image –> Scale Image. Enter your desired dimensions.
Under the Quality section, choose Sinc (Lanczos3) as the Interpolation method and click on the Scale Image button.
Export your image for the web. Great, so you've managed to make the file size larger.
The perks of Gimp are that it's simple, easy to use, and free. It's the perfect software if you want to learn how to change the dimension and make an image bigger. However, we have to warn you, it lacks a lot of professional features that you might need if you're serious about photo editing.
To sum up
This article covered many types of editing software that can help with making photos bigger. There are many plugins and standalone pieces of software that can aid you in this task.
We recommend Luminar because it's fast, intuitive, and lets you do a quick and efficient job. This program will be a great helper to make a photo bigger without loosing quality. If you're hesitant about whether this software is for you, simply download a trial by clicking the button below.