Today we announce Luminar. It's the most fantastic photo software we've ever created.
Update:
Luminar photo editor is now available for pre-order. Claim your Luminar copy today!
Today we announce Luminar for Mac.
"What's a Luminar?" - You may ask. (besides a cool word!)
Simply put, it's a new photo editor that has kept us awake longer than any other product we've ever released. Luminar is a universal all-in-one photo app designed to tackle any of your photography needs, and provide you with the ultimate photo editing comfort. It's the most fantastic piece of software we've ever created.
Two words best describe Luminar: Simplicity & Creativity.
Everyone will be able to use Luminar without special training, and everyone can achieve many, many beautiful looks to their photos using only Luminar. Here's a sneak peek at what you should expect.
Innovative Adaptive User Interface
We all like to mess with photos, but we are all different.
Some folks want to get results fast in a single click; others prefer to control every change and dive deep into advance photo editing; and still others want to simply make corrections to get rid of the noise or remove an object and look no further.
We've built the Luminar User Interface to adjust to your skill level and preferences. Make it look exactly the way you want to access only the tools you need.
Filters, Presets and Workspaces
Everything in Luminar is built for your convenience.
Over 35 custom filters help you enhance and change the look of your photos in all possible ways. And the range is impressive: from classic Tone & Exposure, to Bi-Color, Photo Filter Emulation, Cross-Processing and dozens of others. Each filter offers a set of precise & easy to use controls, and includes built-in visual tips to help you out.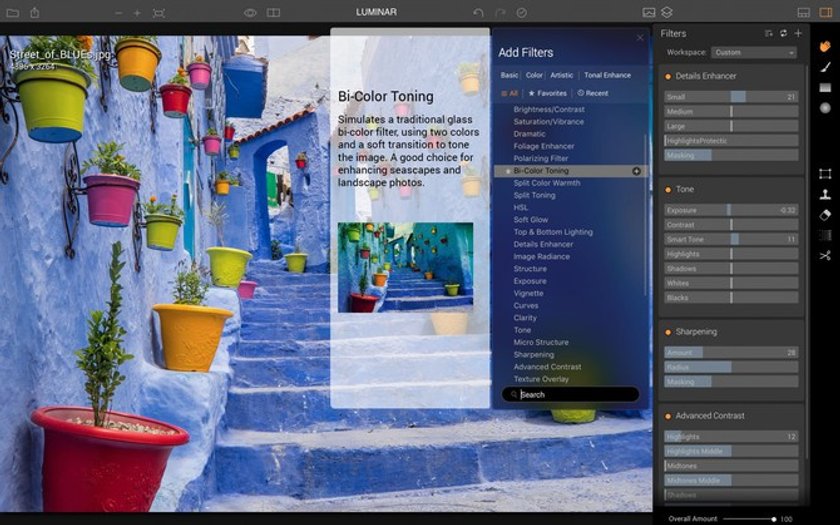 Presets give you the look you want in a single click. Just pick a category and then find the preset that works best for your photo. If you can't find the right preset, create your own to use and even share them with other Luminar users!
You'll be very excited about Workspaces. These are like "personalized darkrooms" that feature only the tools most suitable for your type of photography; they are saved sets of different filters, logically grouped.
Workspaces that come by default include Portrait, Black & White, Landscape and Street. Of course, you can always add new filters to a given Workspace, or even create your personal Workspaces tailored exactly to your needs. Plus, you can even share and import Workspaces by other photographers.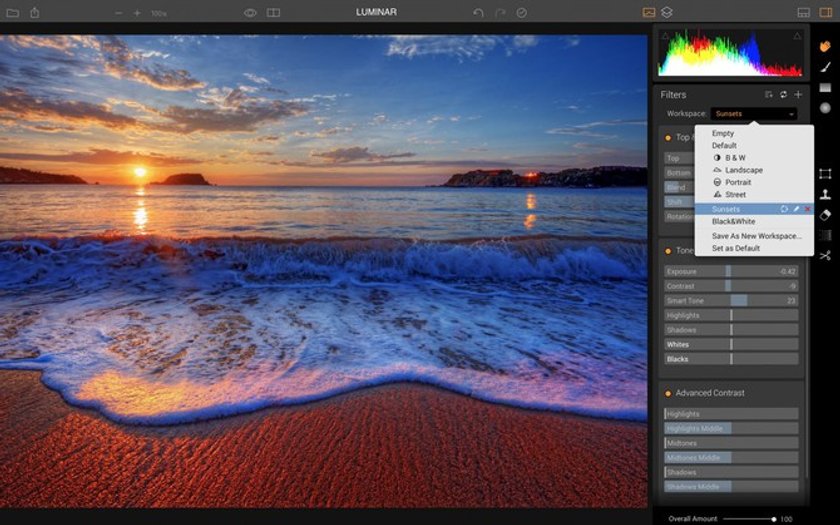 Easy sky replacement
We threw this in to get your creative juices flowing. Adding textures and even skies is just one of many cool tricks you'll be able to perform with Luminar. With a ton of tools, layers, blend modes, brushes, masking and more, you get the ultimate freedom to perform complex edits normally done only in Photoshop, with a lot more effort.
Native RAW processing is only a small part
We believe that in the modern world the perfect handling of RAW format should not be something extraordinary.
It's a must have for any decent photo software, so with Luminar you can be sure your RAW files will get the necessary pixel perfect treatment. But RAW converter is only a small part of the myriad of the amazing features and tools you'll get with the new software.
We wouldn't ship Luminar without a host of excellent technology.
In addition to flawless RAW support, you'll get Layers and Custom Textures, Brushes and Masking (including automatic Luminosity, Gradient and Radial Masks), pixel-perfect Noise Reduction, a Healing tool, Crop & Transform, History Panel, Selective Top & Bottom adjustments, plug-in support, and a whole lot more. To make a long story short, it is a truly complete photo editing powerhouse.
We can talk non-stop about Luminar.
But we also know that people don't like reading long posts. Luminar pre-order starts on the 2nd of November. And the launch is scheduled for November 17. You can enter your email below to stay up to date about the Luminar news.
BONUS! After you sign-up, we will send you an exclusive video from Skylum and Sarah Ann Loreth, an amazing photographer with over 230,000 Facebook fans and a sincere passion for conceptual creative portraits.
And one more thing...The price
Luminar pre-order will begin on the 2nd of November. If you own a Skylum app for Mac, you'll pay only $49 to get Luminar & exclusive bonuses. For new users (who don't own any product by Skylum) the price will be very compelling as well - just $59.
You'll love the bonuses. Everyone, who pre-orders Luminar will get the Skylum exclusive video series, called "Photography Essentials", as well as the Marketing Guide for Photographers from Will Burrard-Lucas, award-winning wildlife photographer with over 1 million fans on Facebook.
Stay tuned. Luminar is coming soon...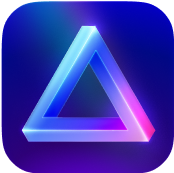 Advanced yet easy-to-use photo editor
view plans