While Affinity Photo is a powerful photo editing tool, it may not have all the features that some users need for their specific needs. In this case, they may need alternatives and competitors that offer a more comprehensive set of features or specialized tools. So, get the most from photo editing with the help of Affinity Alternative.
There are many Affinity Photo alternatives and graphic design software. Image editing is a significant part of photography, and software developers know it. That's why there are so many image editing programs available today, ranging from basic ones like Fotor and Pixlr to advanced ones with RAW editing capabilities like Photoshop and Luminar Neo. Most of these programs have similar capabilities when it comes to editing photos, but they differ in their design. Luminar Neo, for example, is known for its fresh and simple design, which is why many people prefer it over Photoshop.
Wanna try?
A new entrant — Affinity Photo
Today, we'll talk a little about a hot new editor on the market that goes by the name of Affinity Photo. This advanced image editor is available for Mac, iPad, and Windows, and has been created from scratch with a ton of editing tools and features. It's a sleek-looking application that promises all the features any professional photographer could want.
But while the app has garnered much praise over its short lifespan, it has also been criticized by many for not having enough to differentiate it from other editors like Photoshop. However, Affinity Photo does have one key thing going for it, and that is its price, which is lower than the price of Photoshop. Combine that with an interface and set of controls that are similar to Photoshop's and you end up with a very intriguing and inexpensive alternative. Still, if you're not really worried about spending a little extra, Photoshop might be the better overall choice.
Alternatives to Affinity Photo
We have put together a list of the best Affinity Alternatives for you. While most Affinity Photo reviews across the internet are positive, there are certain aspects of the program that aren't ideal. The complicated interface is one shortcoming. If you would like to use something simpler, consider the following alternatives.
1. Luminar Neo
Luminar Neo is a powerful entrant in the photo editing world and has also made quite a few waves with similar tools to Affinity. It's preferred by those who want a simpler yet highly effective interface, which Luminar Neo provides in the form of 3 top tabs.
Catalog stores your photos;
Presets are one-click editing templates with a variety of effects;
Edit contains different powerful tools for your editing.
It also has Layers, which means you can do selective adjustments and accurate edits. On top of that, there are a lot of AI tools that can help you achieve results faster and without needing to use masking. So, this is one of the best Affinity alternatives.
Want to take a closer look? No problem!
A 7-day Free Trial of Luminar Neo With No Obligation
Get it now!



2. Krita

If you're more of a painter than a photographer, then Krita is the software for you to try. It's developed by artists who wish to make painting tools accessible to everyone at an affordable price. With Krita, you can choose different brush sizes and even add more mass to your digital brush strokes to make them look more realistic.

3. MyPaint

Another software for the digital painters among you is MyPaint. It supports Wacom tablets as well as other devices. MyPaint gives you access to a variety of brushes to really give your art the look you want.

4. ACDSee

If all you need is an image viewer so you can quickly open your images rather than having to open them in something like Affinity Photo, then ACDSee is the best lightweight photo viewer we can recommend.

5. CorelDRAW Graphics Suite

Try this option if you are looking for Affinity Designer alternatives. If you're using Affinity to create graphical or artistic images, then you should give CorelDRAW a try. This program is one of the most capable design suites you can get, with multiple input methods for your convenience. So, this is a great software that helps in graphic design.

6. Sculptris

For digital artists, Sculptris is one of the best ways to develop digital sculptures. The tools are simple to get used to and the interface is streamlined and user-friendly. It allows users to work with virtual clay like you would work with clay in the real world.

7. Blender

Software is developed with input from artists, students, animators, scientists, and other professionals, Blender is free and can meet all your graphic design, 3D modeling, animation, and video game development needs. This is one of the best Affinity Designer alternatives.

8. Easel.ly

Easel.ly is a program that makes it easy for you to create infographics. It contains many different templates that you can use to get started with your designs, making it very simple for those without any design experience to get their ideas across.

9. Pixelmator Pro

Pixelmator Pro, like Photolemur, boasts machine learning to make photo editing quick and easy. In addition, it contains many advanced editing tools as well as a fresh workflow that's bound to attract many users.

10. Vectr

Another free graphic design tool, Vectr makes it easy for you to bring your imagination to reality. There's no learning curve, and the user-friendly tools in Vectr make it fairly simple for you to start developing your own graphics. Be sure to try one of the best Affinity Designer alternatives.
What makes Affinity Photo special
Affinity Photo has been designed to help users create exceptional images with a seamless workflow. Everything you'd expect in a solid image editor is here. It's much better overall than options like GIMP, which despite being free isn't preferred by many people because of its complicated interface.
However, like any software, Affinity Photo isn't perfect. Its interface is difficult to get used to and might scare away beginner photographers who are new in using photo editing software. If price isn't really a big concern for you, then Adobe Photoshop might just be the better image editor.
But if you do care about the price, then you should know what makes Affinity Photo stand out. Let's take a quick look at Affinity's four Personas, which are workspaces that the program has by default. Each Persona has its own set of tools.
1. Develop
The Develop Persona is mainly focused on editing RAW image files. Affinity Photo supports various cameras and lenses. Inside the Develop Persona, you can edit image details, try overlays, play around with colors, perform lens corrections, and do even more. However, many Affinity Alternatives have a similar feature.
2. Photo
The Photo Persona is where things get more impressive. It not only allows you to work in layers and perform non-destructive edits to exposure, color balance, white balance, and contrast but also contains selective adjustment tools like a healing brush and a blemish removal tool. A good Affinity Photo alternative should include all of these tools.
3. Liquify
If you want to give your photo a painterly twirl or make it look completely crazy by adding a pinch effect to it, then Liquify is the Persona where you'll feel most at home. These Affinity Photo filters are also quicker to use than those found in Photoshop. Affinity Alternatives also has this feature, but it can be more complicated to manage.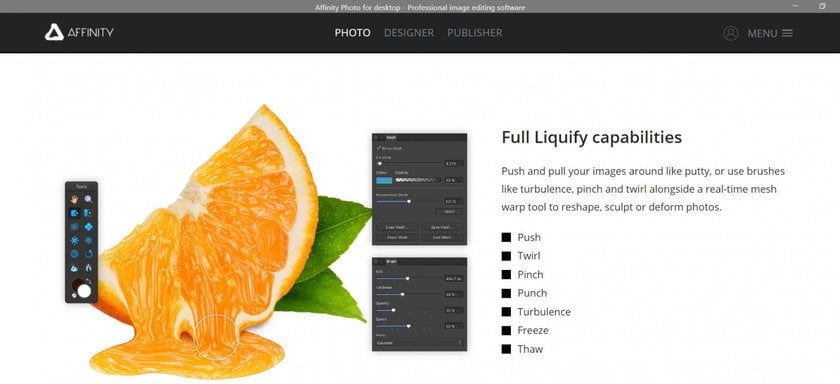 4. Export
Finally, when you're done with all your edits, the Export Persona helps you convert and save your images to many formats.
Wrap-Up
So there you have it: A detailed overview of the excellent Affinity Photo for those of you looking for a full-featured image editor. And for those who would rather invest their money in something else, we've offered a list of alternatives with different specialties. Each of the programs on this list has been praised by users and critics alike. Just choose the Affinity Photo alternative that meets your expectations and requirements and start creating stunning images.
FAQ
Is Affinity the Best Photoshop Alternative?
Ultimately, whether or not Affinity Photo is the best Photoshop alternative depends on the user's needs and preferences. For those who need advanced features beyond what Affinity Photo offers, Adobe software may still be the best option.
Is there a Free Version of Affinity Designer?
No, there is no free version. Affinity Designer is a professional vector graphics editor and it is paid software. However, there is a free trial version of Affinity Designer that users can download from the official website.
Do Companies Use Affinity Designer?
Yes, many companies use Affinity Designer for various design tasks. This software is suitable for creating logos, illustrations, marketing materials, user interface designs, and other types of graphic design work.
Is Affinity Designer a One-Time Purchase?
Yes, Affinity Designer is a one-time purchase. This means that once you buy the software, you have unlimited access to it, including any future updates and upgrades that the developer releases.
Is Affinity Owned by Adobe?
No, Affinity is a brand of professional design software developed by Serif, a UK-based company.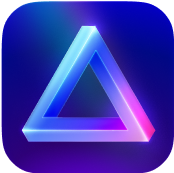 Advanced yet easy-to-use photo editor
view plans