Looking for the Best Auto Photo Editors in 2023? Discover the top tools to enhance your images effortlessly. Explore innovative features and simplify your editing process with the best auto photo editors of the year.
The year 2023 has seen an impressive surge in state-of-the-art photo editing technology, specifically with automatic editing and retouching tools designed to simplify the process while delivering professional results. Among these, the automatic photo editor app Luminar Neo, developed by Skylum, is pioneering new possibilities with its innovative features.

As we navigate through this article, we'll explore the best auto photo editor apps of 2023, highlighting their standout features and showcasing why auto photo editing has become an indispensable part of digital photography. Let's embark on this journey to enhance your images effortlessly.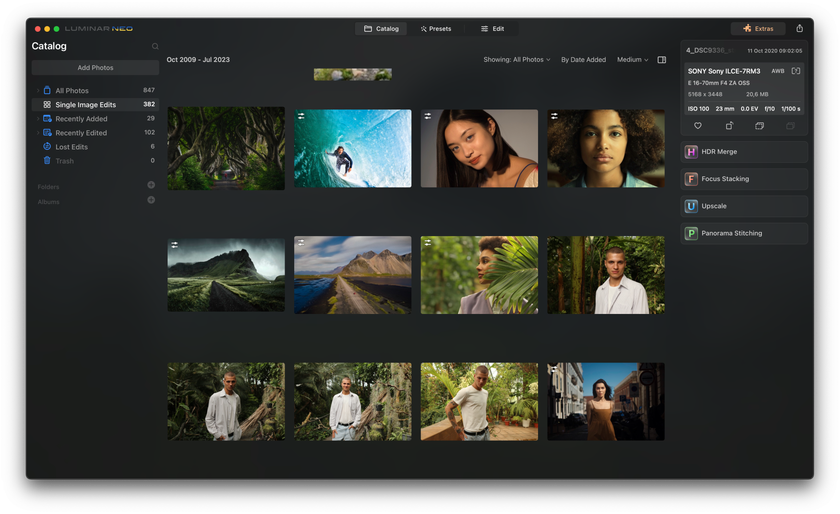 Luminar Neo stands tall in the realm of automatic photo editing, offering a brilliant amalgamation of simplicity and power. As the best automatic photo editor app of 2023, it distinguishes itself through its AI-driven features designed to augment your creativity and streamline your editing process. Whether you're dealing with digital noise, looking to replace a dull sky, or desiring to remove unwanted elements, Luminar Neo can perform photo editing automatically, with minimal effort from the user.
Its innovative 'Layers' feature allows photographers to edit images on multiple planes, offering greater control over the final result. This feature is complemented by the integration of AI technologies that can analyze each layer separately, facilitating intricate edits that were previously time-consuming or required advanced skills.
A 7-day Free Trial of Luminar Neo with no obligation
Get it now!
Furthermore, Luminar Neo keeps the user experience at the forefront. Its sleek, intuitive interface ensures that both novice and seasoned photographers can navigate the software with ease. It's also compatible with both Windows and Mac operating systems and can function as a standalone editor or as a plugin for Adobe and Apple products. Truly, Luminar Neo redefines what we can expect from an auto photo editor in 2023. For more information, you can also visit the Luminar Neo Review page.
2. Adobe Lightroom CC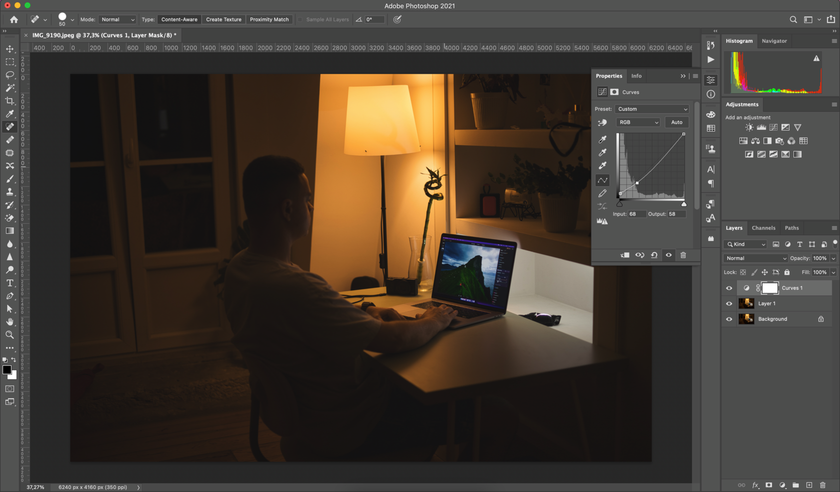 Adobe Lightroom CC has long been a favorite in the photo editing industry, and with its continued improvements in automation, it remains a strong contender in 2023. Recognized as one of the best auto photo editors, Lightroom CC offers cloud-based services that let you access and edit your photos from any device, anywhere.
This automatic picture editor excels in organizing and managing photos. Its sophisticated AI technology can recognize and tag your photos based on their content, making it easier to find specific images in your collection. The auto edit feature is also noteworthy, as it can automatically adjust lighting, contrast, and color in your photos, creating a professional look with just a single click.
However, Lightroom CC's strength lies not only in its automatic photo editing features but also in its comprehensive learning resources. Adobe provides an extensive range of tutorials and guides, making it a perfect choice for beginners who wish to learn while they edit. It offers a seamless balance of automatic edits and manual controls, ensuring that users can grow their skills while achieving top-tier results from the get-go.
3. Snapseed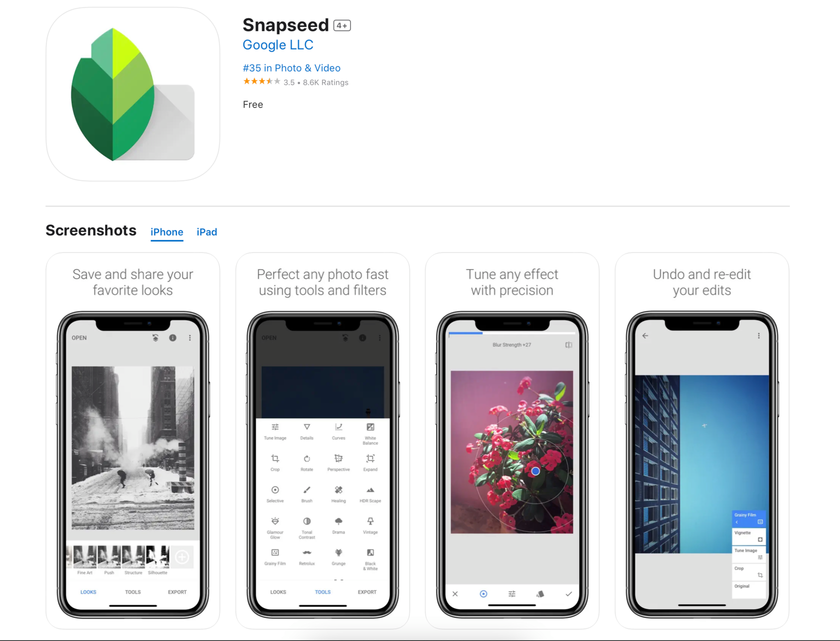 Google's Snapseed continues to hold its position as a top choice among mobile photographers as one of the premier auto photo editor apps in 2023. Its strength comes from its successful integration of advanced editing capabilities in an accessible, mobile-centric design. With a comprehensive collection of filters and tools, Snapseed empowers users to craft breathtaking visuals wherever they may be.
Snapseed's 'Tune Image' function serves as its automated image editor, providing a multitude of automated enhancements. A mere tap can enrich brightness, contrast, saturation, or ambiance, transforming your images in an instant. Moreover, the 'Details' function automatically amplifies sharpness and structure, lending your photos a polished finish.
However, the standout feature of Snapseed is its 'Selective' tool. This unique feature allows users to apply automatic edits to chosen areas of a photo, a function typically seen in more sophisticated, desktop-centric photo editors. Coupled with the 'Healing' tool, which automatically erases undesired components from an image, Snapseed truly offers a comprehensive mobile editing suite. In conclusion, Snapseed encapsulates the strength of a professional-grade editing suite in a mobile format, making it a favored choice among users.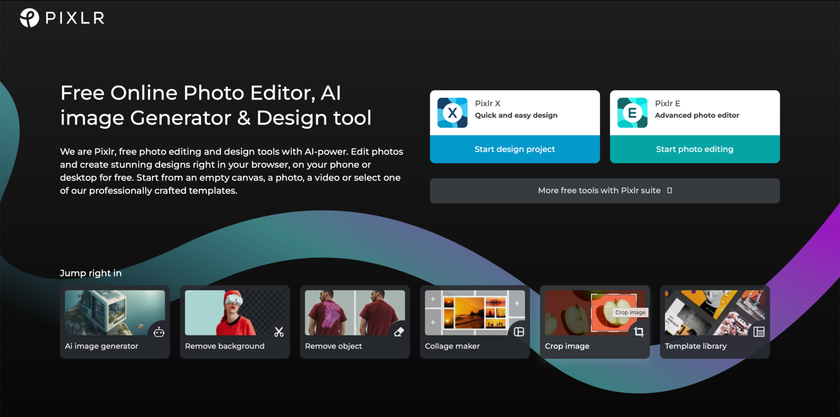 Pixlr shines through as an exceptional choice for those in search of a web-based automatic picture editor in 2023. Equipped with a host of impressive functionalities, Pixlr offers a potent editing platform without the need for software or app installation. Its intuitive interface, coupled with sophisticated editing tools, positions it as a preferred option for novices and experienced photographers alike.
At the heart of Pixlr's appeal is its 'Auto Fix' feature, which can optimize the color, contrast, and brightness of your photos in one simple click. Additionally, its 'Heal' tool enables the automatic removal of blemishes and spots, while the 'Clone Stamp' tool can copy, paste and blend elements within your image.
Moreover, Pixlr offers a library of overlays, borders, stickers, and icons, making it a breeze to add creative touches to your photos. As a cloud-based tool, Pixlr allows for seamless sharing and collaboration. Whether you're looking to make quick adjustments to your photos or delve into more creative edits, Pixlr offers a versatile platform that caters to a range of editing needs.
5. Fotor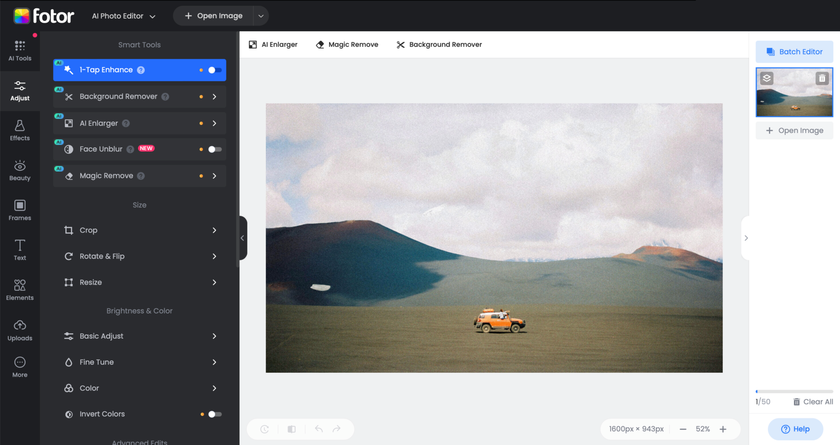 Fotor is a formidable player in the field of automatic photo editors. The platform skillfully combines basic editing tools with advanced options, making it an attractive choice for both novices and seasoned editors. As an all-in-one visual content solution, Fotor stands out not only for its photo editing capabilities but also for its graphic design and collage features.
In the realm of auto photo editing, Fotor's '1-Tap Enhance' tool is a standout. With just a single click, this tool can analyze your photo and make automatic adjustments to brightness, contrast, saturation, and other key elements, instantly improving image quality. Fotor also boasts an 'Auto Retouch' feature, allowing for effortless portrait editing and blemish removal.
Fotor's straightforward interface, coupled with its broad array of tools, positions it as a strong contender for individuals looking for an automatic photo editing solution. The platform is enriched with a wide variety of effects, frames, and stickers, along with superior text editing features. Available as an online application as well as a downloadable app for Windows, Mac, iOS, and Android devices, Fotor provides the flexibility of editing on-the-go, anytime, anywhere.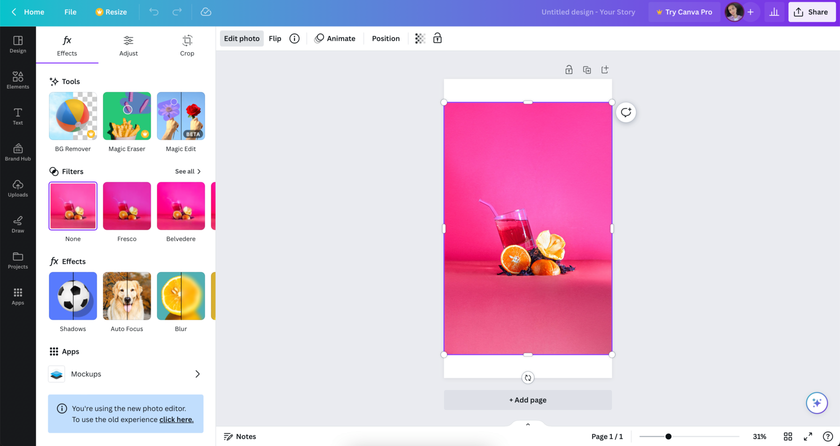 Canva, while predominantly known as a design tool, has also proven itself as a powerful automatic picture editor. Its easy-to-use interface, coupled with a robust selection of editing tools, makes it a go-to choice for those wanting to quickly enhance their images in 2023.
Canva's photo editing features are largely automated, simplifying the editing process. The 'Auto Adjust' feature instantly enhances photos, adjusting brightness, contrast, and saturation to optimal levels. It also offers a wide range of filters that can be applied with a single click, instantly transforming the mood and aesthetic of an image.
However, Canva's true strength lies in its versatility. Beyond photo editing, it's a powerful tool for creating infographics, presentations, posters, social media posts, and more. It offers an expansive library of templates, images, fonts, and icons, making it a one-stop shop for all visual content creation needs. Available on both web and mobile platforms, Canva ensures you can create stunning visuals wherever you are.
7. Polarr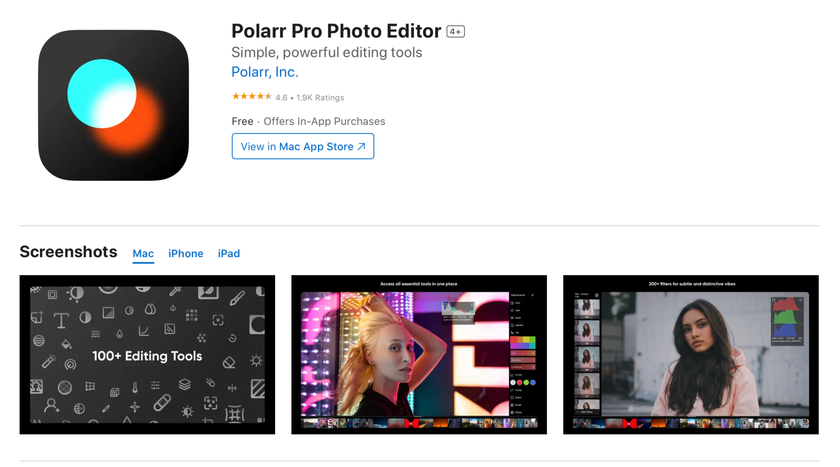 Polarr is a high-powered automatic photo editor that caters to all types of photographers, from casual smartphone snappers to professional artists. Its broad range of tools, combined with a clean, user-friendly interface, puts it among the top auto photo editors of 2023.
Polarr shines in its automatic enhancements feature, allowing users to make instant edits to photos with a single click. These adjustments can include improvements to lighting, color, detail, and vignetting. It also offers an 'Auto Face Detection' feature, which can recognize faces in a photo and enable automatic retouching.
Apart from these automatic features, Polarr offers an advanced set of editing tools, including gradient masks, blending modes, and overlays, allowing for more precise, manual adjustments if desired. Available on various platforms including iOS, Android, Mac, Windows, and even as a Chrome extension, Polarr provides a flexible and powerful solution for automatic photo editing on the go.
8. AirBrush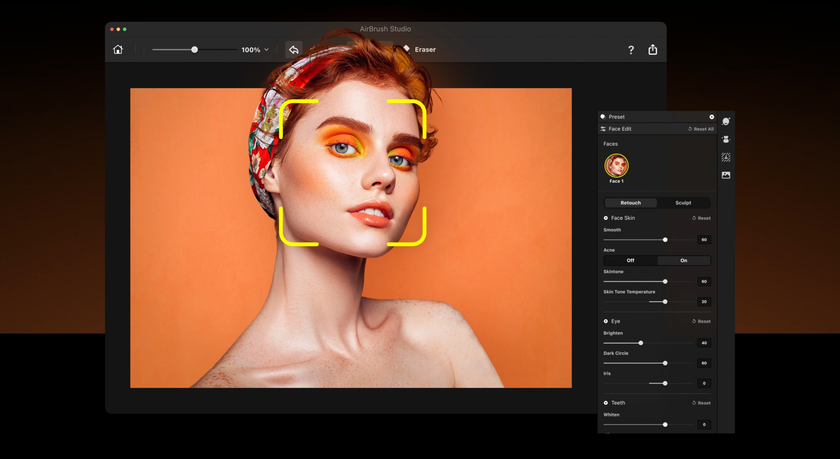 AirBrush firmly establishes itself as one of the best automatic picture editor apps for enhancing selfies and portraits. It's been specifically designed to help users easily retouch and edit their portraits, offering an array of tools that can smooth skin, whiten teeth, remove blemishes, and even adjust facial features.
The app's 'Auto Retouch' tool can edit your photos with a single tap, applying a predetermined set of enhancements that can instantly improve the quality of any portrait. The 'Beautify' tool, another of AirBrush's standout features, automatically smooths skin, removes acne, and brightens eyes, resulting in an effortlessly polished photo.
In addition to these features, AirBrush also provides a variety of filters, backgrounds, and makeup effects to further enhance your photos. While it specializes in portrait editing, the app also includes basic photo editing tools, making it a comprehensive choice for all your editing needs. Whether you're looking to post the perfect selfie or need an efficient tool for portrait photography, AirBrush is a powerful, easy-to-use option.
9. PhotoDirector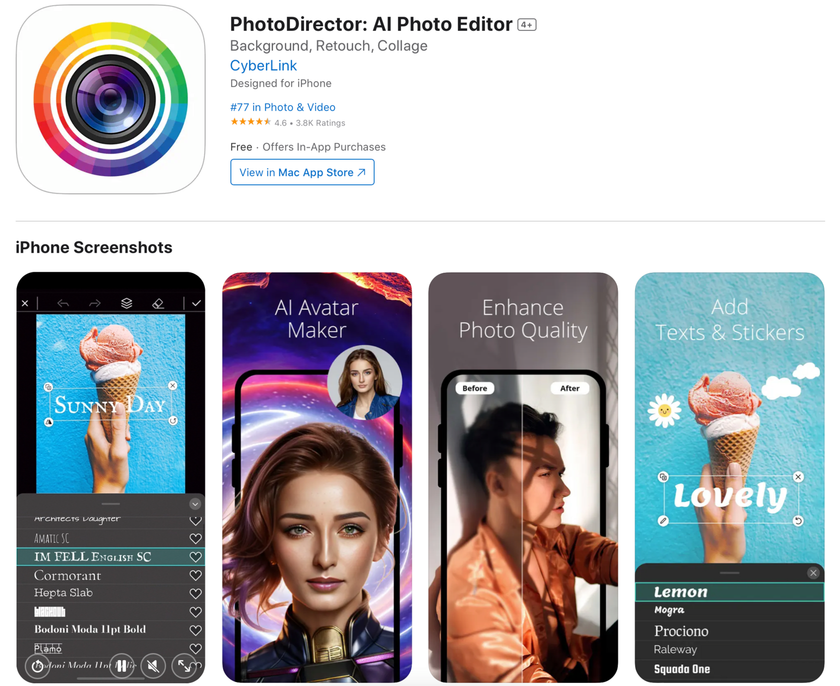 PhotoDirector is a versatile photo editing application that packs a powerful punch. With its wide array of features and tools, it's an excellent choice for those looking to combine photo editing, graphic design, and even video editing in one platform.
One of the standout features of PhotoDirector is its AI-powered tools. The 'AI Deblur' feature can automatically fix blurry images, while the 'AI Style Transfer' can transform your photos into artistic masterpieces. Furthermore, the 'AI Sky Replacement' tool can automatically detect and replace the sky in your photos, adding a dramatic touch to your outdoor images.
Another compelling feature is PhotoDirector's content-aware removal tool, which can automatically identify and remove unwanted objects from your photos, leaving no trace behind. In addition, PhotoDirector offers a multitude of filters, effects, and adjustment tools to fine-tune your images. Available on both desktop and mobile platforms, PhotoDirector presents a comprehensive suite for all your photo editing needs.
10. BeFunky
BeFunky wraps up our list of the best automatic photo editors of 2023, but don't let its fun name fool you. This powerful editing tool offers a range of features that make photo editing, graphic design, and collage making a breeze.
The heart of BeFunky's photo editing capabilities lies in its 'Auto Enhance' feature. With a simple click, this tool can automatically adjust the light, color, and details in your photo, instantly improving its quality. The 'Auto Retouch' tool can seamlessly fix common issues in portraits, such as red-eye, blemishes, and skin tone irregularities.
Beyond these automatic features, BeFunky also offers a range of creative tools. From an array of effects and filters to advanced editing tools like the 'Cutout' feature, BeFunky caters to both basic and complex editing needs. Furthermore, its user-friendly interface makes it accessible to users of all skill levels. Whether you're editing on your desktop or on the go with the mobile app, BeFunky is a flexible, fun, and powerful choice for automatic photo editing.
Conclusion
As we step further into the digital age, having a top-notch automatic photo editor at our disposal is more crucial than ever. These tools, each unique in their own right, have the potential to transform everyday photos into extraordinary visual narratives. From the cutting-edge AI technologies of Luminar Neo to the mobile convenience of Snapseed and the portrait-perfecting prowess of AirBrush, there's a tool out there to match every photographer's needs and skill level.
Remember, the best automatic picture editor for you is one that not only offers the technical capabilities you require but also resonates with your creative style. It's the tool that transforms photo editing from a task into a joy, letting you express your vision and tell your story with ease. So go ahead, explore these editors, and let the journey towards your most stunning images begin.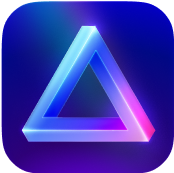 Advanced yet easy-to-use photo editor
view plans