Great opportunities for yielding excellent landscape images can be found at midday when the sun is high overhead.
We recently reconnected with landscape photographer, Sherwin Magsino, to pick his brain and get his secrets to capturing impressive images that were shot at midday.
Midday is probably a photographer's least favorite time of the day to take photos. With the light harsh, flat, and unflattering, midday is simply not ideal for some types of photography especially landscape photography.
Or is it? The fun of photography doesn't always start and end during the golden hour. Great opportunities for yielding excellent landscape images can be found at midday when the sun is high overhead. This is great news to those who can't always shoot during the golden hour.
These are some extremely useful and proven reliable tricks I employ myself when I have no choice but to shoot at midday. Try using them as well, and you'll get better, more pleasing images too—almost as if you've shot them during the golden hour.
Shoot Raw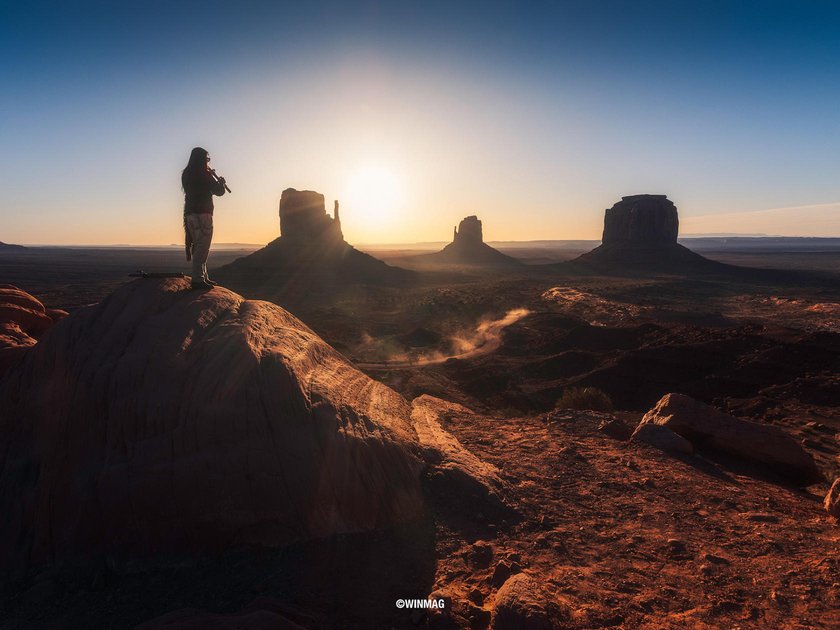 When you're shooting in Raw format, your camera records all the data from the sensor, from shadows and highlights to the white balance, and preserves all of them in the file. Unlike in JPEG format, when the image is compressed, losing much of its valuable data, images in Raw format have all the necessary information you need to recover in post processing, making the process easier and giving you a lot of flexibility to improve the image.
READ MORE: Raw vs JPEG: Which file format should you shoot in?
Get Intimate with Your Subject
If wide doesn't work for some reason, then try getting close. Midday is probably the best time to get intimate with your subject, especially when landscapes and cityscapes are too harshly lit and you don't have a lot of time to spend on editing. Look for details and patterns in nature with a macro, in the city using a telephoto lens, or your subject with a portrait lens.
Work with the Light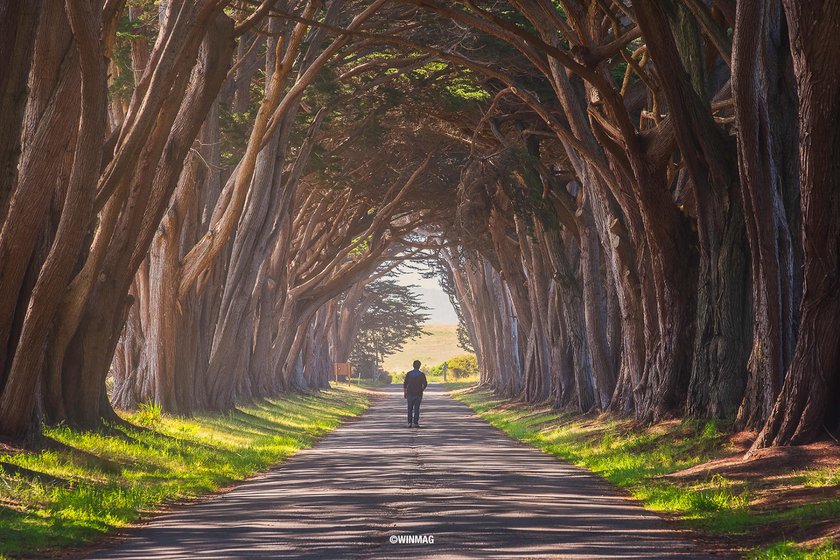 Don't be afraid of the sun; instead, use it to your advantage. The direction of light matters when shooting during midday. If the angle is wrong, then your photo will fall short. A couple of ways to use midday light to you advantage is by backlighting or by side lighting.
To capture backlit images, position yourself so that your subject partially blocks the sun. This will let you yield a more dramatic or moody effect on your image. For side lighting, on the other hand, which gives the scene stronger highlight and shadows, and more depth as it reveals shape, form, contour, and texture, position your subject so that the light is illuminating it from the side.
READ MORE: Using Natural Light in Photography
Do Long Exposures in the Daytime
Don't be afraid of the sun. This is the best time to bring out and play with your ND filters, whose job is to reduce the amount of light entering the lens, enabling you to expose longer in daylight. Practice with it and experiment; you'll be surprised at the difference they can make to your midday shots. Soon, you'll know how to use it to your advantage!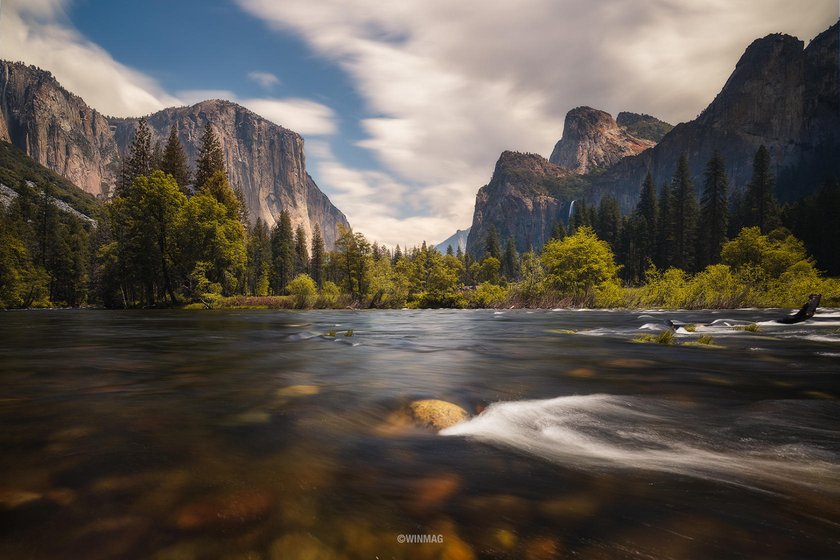 Shot with a 6-stop ND filter, 3-stop Soft GND filter, and a Polarizer
Other useful filters are the polarizer, which is perhaps the most important tool you can have for a midday shoot, and the GND filter, which has a gradient that gradually goes from dark to light. A polarizer manages reflection, and can cut through glare on shiny surfaces to reveal more details underneath. On the other hand, a GND filter can darken skies without affecting the landscape, allowing you to prevent that midday sky from getting overblown and to capture more details.
Edit with Luminar
Of course, you might have to do some post processing to really get a stunning image. Try using Luminar, which allows you plenty of options for editing whether you're a beginner, a pro, or just feeling a little lazy.
One of my favorite features in Luminar 2018 is that it has readily available presets to get you started. A Luminar preset can give you the look you want with just a click of a button. In fact, I always use presets as the starting point in my editing process.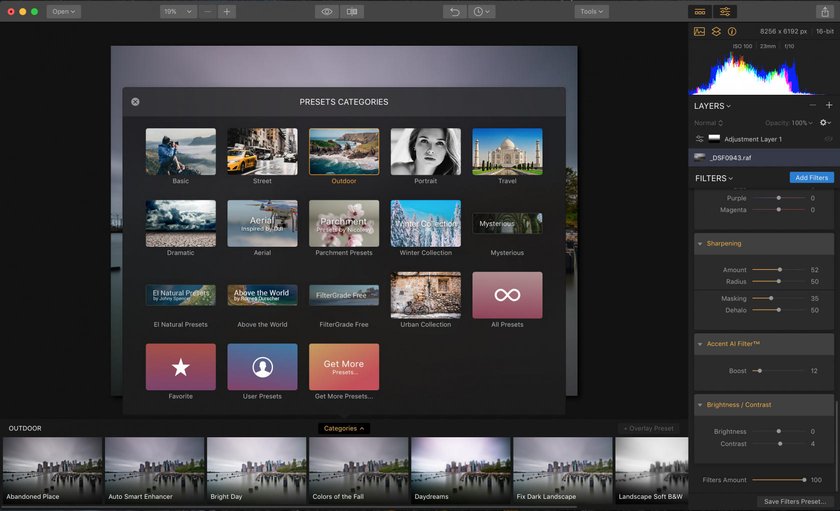 I then fine tune using the filters panel. Luminar's filters are what make the editing software so powerful. They are non-destructible and highly customizable. Luminar also gives you the ability to fine tune, adding more filters and layers in the side panel.
For more pleasing midday images, experiment with the Raw Develop filter. Using this filter, you can adjust the Temperature and Tint, reduce the Highlights and Shadows, and maybe add a bit of contrast. The Foliage Enhancer filter will also come in handy as well if you're shooting landscapes or your images have some flora in them.
If you're an editing newbie, you might start with the AI Accent filter as it automatically analyzes every image and makes the necessary corrections for shadows, highlights, contrast, tone, saturation, exposure, details, and more.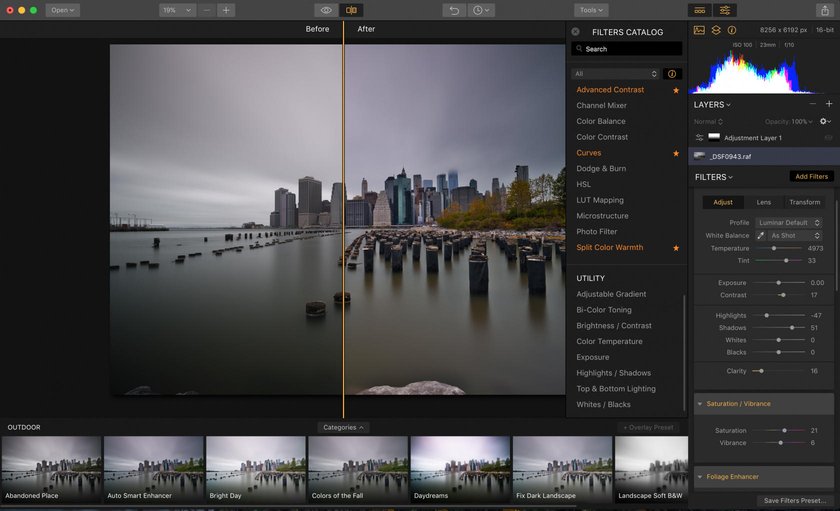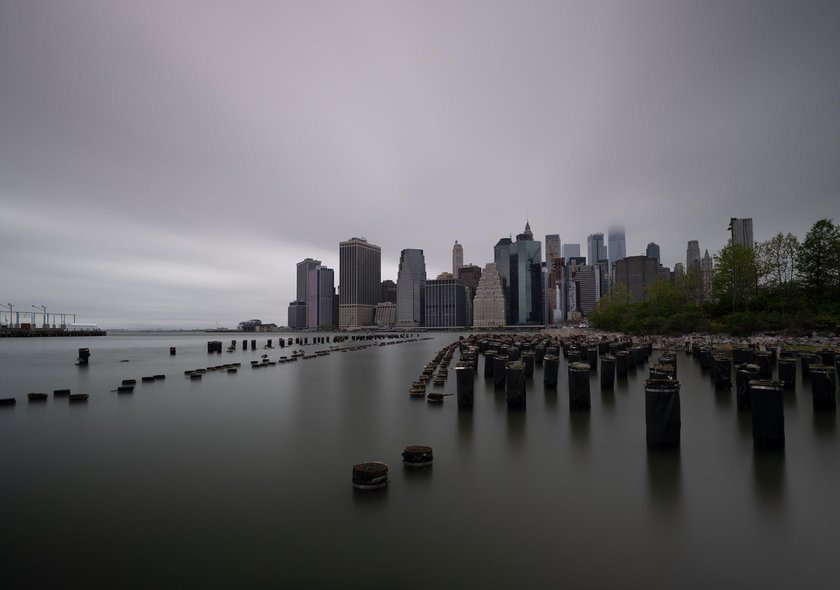 Before Luminar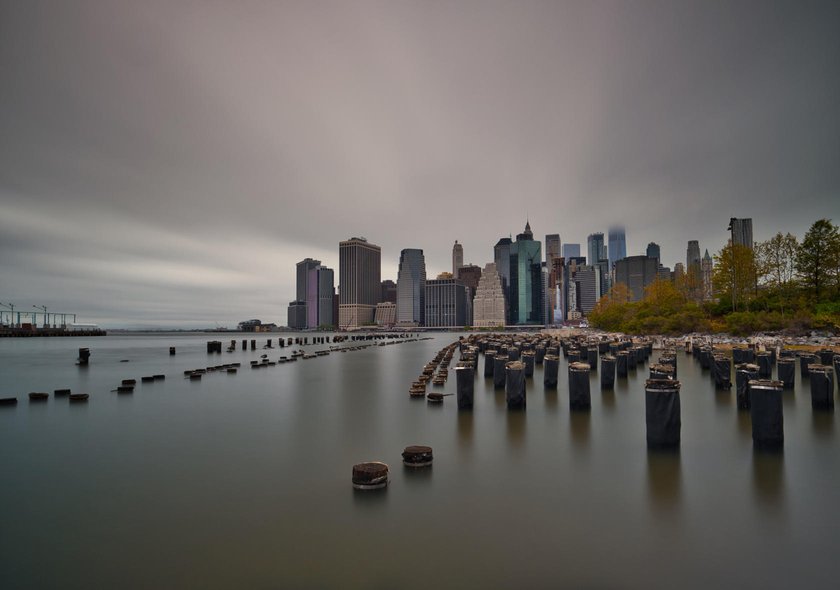 After Luminar
Sherwin Magsino is a Philippine-based graphics designer and landscape/commercial photographer. He was the grand prize winner of Skylum's 6-month MEGA photo contest. Follow his adventures on Instagram.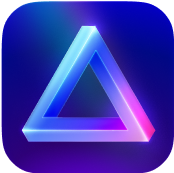 Advanced yet easy-to-use photo editor
view plans