The world is beautiful. There are so many things, places and people that deserve to stay in our thoughts and memories forever. Sure, we can photograph all sources of pleasure and inspiration. But we want our pictures to look smooth and sharp. We want to share and exhibit them.
With AI photo editing software you can enhance photos in a few clicks, thanks to the help of AI photo enhancement. We have created a list of the Top 10 Artificial Intelligence photo editors in the industry.
It is not enough to be intuitive, clear and functional for a program to be a good program. We need a good photo editor that will help us get perfect images. Nowadays software should be automatic, it should do the job for the user. It should give the freedom from spending time on confusions with curves, layers, white balance, and other manual customs.
We have created a list of the Top 6 Artificial Intelligence photo editors which can do all the editing work for you and make your pictures beautiful in a few clicks. Take advantage of these best online photo enhancers and you won't regret it!
Have you ever tried to retouch a portrait? To remove all those wrinkles, pimples, and spots, to make skin color smooth and clear? You can spend 2-4 hours working with brushes, masks, filters, and patches in Photoshop. However, everything can be much easier if you use one of the best AI photo enhancers!
Luminar Neo solves this problem with Skin AI & Portrait Enhancer.
Skin AI removes unwanted blemishes, such as acne, from a subject's face while leaving intact desired attributes like freckles, texture, and hair. It also detects faces on a group and environmental photos and lets you edit them without masking.
Another smart filter, Structure AI, adds clarity rather than overall sharpness, preserving the natural colors and texture from overburning.
Last but not least, the Sunrays Tool adds realistic-looking beams of light for dramatically improving outdoor images.
Luminar Neo will please you with an intuitive interface. Tools are sorted by Essentials, Creative, Portrait, and Professional categories and displayed into a panel along the right side so they're easy to find. We can confidently say that one of the best AI photo editors will appeal to professionals and beginners alike.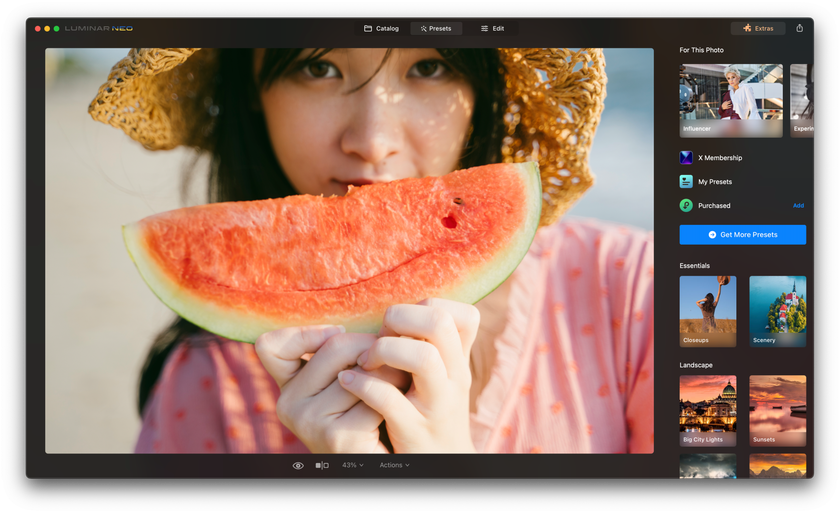 Topaz Studio is a simple semi-automatic photo editor with a Free version available. Hard to say, can the photo editing be more hassle-free than with Topaz Studio. All the process looks as follows:
1. Importing pictures
2. Choosing the right Look (it is similar to Lightroom presets)
3. Moving a slider and changing customs.
Sharpen AI technology in Topaz Studio includes multiple processing modes, such as Sharpen, Stabilize, and Focus. Not surprisingly, this application is considered one of the best free AI photo enhancers.
You can remove the sharpness from the areas where it's not needed, and tone it down in others. Remove the sharpness from the clouds if you want them to be a bit blurry and soft. Remove the sharpness from the peaks in the background and add it up for the peaks that are in front. Like this, you can get a nice progression, with the sharpest things close to you, losing the sharpness the further away you look.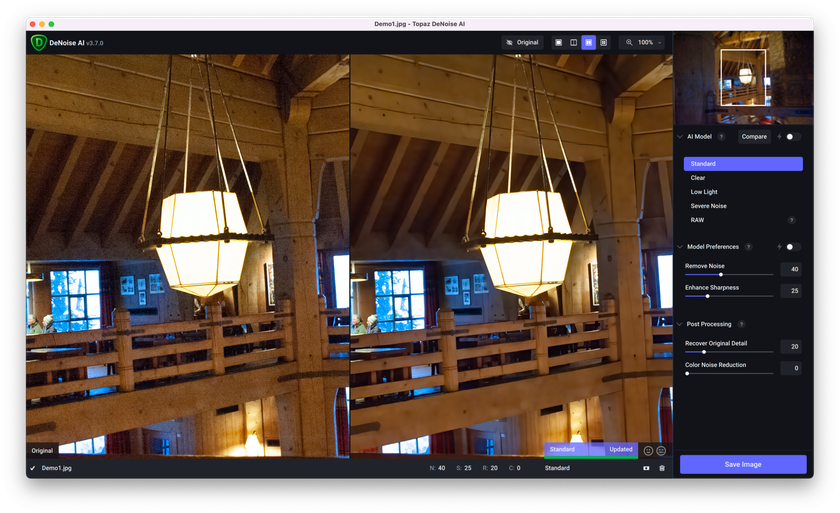 Very simple and portable AI Photo Editor. Free but available only for iPhone, Youni is constructed like a set of presets and filters for processing pictures. The program is completed with a pack of trendy styles like HDR or Neon. You can work in different Modes to achieve different goals like Beauty for Fashion and Fine Art photography – it will fix a problem skin, and make a picture clear and soft. Youni can add a make-up effect to your photographs or a magic effect that will make your model looks like the Mermaid or Indigo. It is rightfully considered one of the best AI photo enhancers online for smartphones.
It is a good program for fast and simple photo editing. If you need some smooth pictures for Instagram and don't have time to work with PC editors, install Youni on your phone. Maybe the final result's quality won't be perfect, but it's gonna be fast and simple for sure.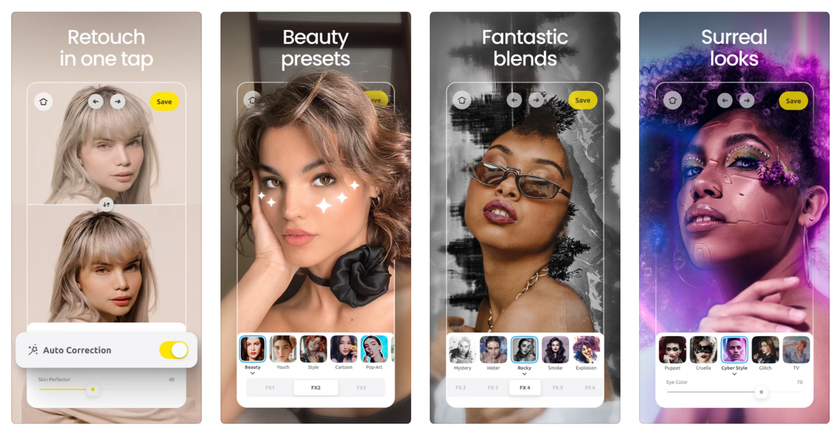 This is one of the best AI photo editing software designed to improve real estate photos.
It has such features:
Sky replacement. Allows you to improve the overall appearance of your photos.
Perspective correction. Allows you to draw the viewer's attention to the interior and exterior.
Contrast enhancement, as well as highlighting and darkening certain areas.
This app cannot be called the best photo enhancer online for free because it only allows you to edit 15 images, after which you have to buy a subscription. However, it has another advantage. Although it is designed to process real estate pictures, it can be used by photographers who work with product and commercial photography. Without a doubt, it's worth using this software that helps you make almost any pic better.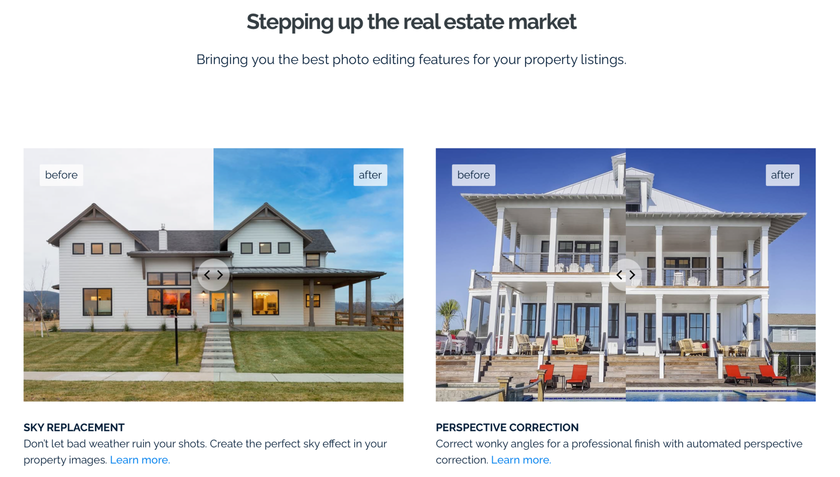 Let's move on to one of the best free online photo enhancers. Strictly speaking, you can't call it completely free, because the user's account is deducted credits for each edit. However, thanks to the Twitter bot, photographers can edit multiple images without paying for it. Let's see what this photo editing tool can do:
Remove objects;
Remove backgrounds;
Upscale pictures;
Turn pictures into art;
Replace colors and colorize photos;
Enhance face.
Well, it's no wonder that Hotpot Tools is recognized by users as one of the best photo quality enhancers online. In addition to working with pictures, it can also write a short text or song for you.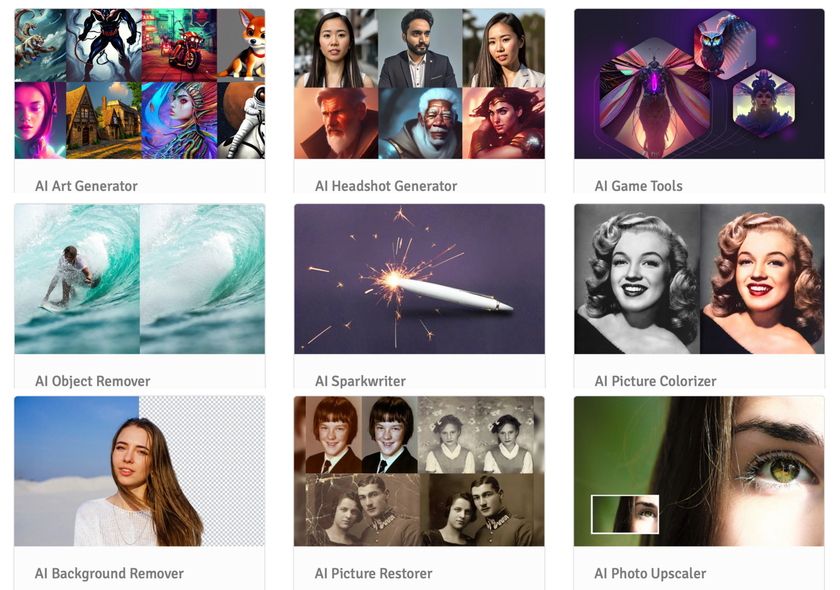 Well, here we get to the last of the best AI software for photo editing. Just because LunaPic closes our list doesn't mean it's in last place at all. It's worth starting with the fact that this software is completely free. The user doesn't even need to create an account on the site to get started with powerful editing.
With just one touch you can make your photos much better. Remove objects or backgrounds, color pictures, or make your photo look like a pencil-drawn portrait! If you want to make a great collage, LunaPic has something to offer too.
7. DeepArt.io
DeepArt.io is a unique AI-based photo editing tool that turns your photos into an artistic masterpiece in the style of famous painters. The software uses a convolutional neural network to learn artistic styles and apply them to digital images. If you've ever wanted a photo of yourself that looks like a Van Gogh painting, DeepArt.io is the tool to use. Just upload your photo, choose your desired artistic style, and let the AI do the rest.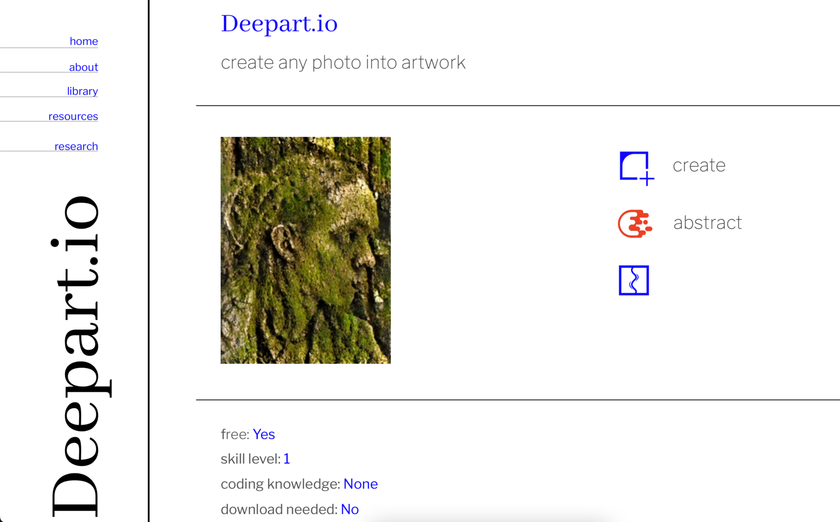 8. Adobe Photoshop Express
Adobe Photoshop Express is a robust AI-powered photo editing tool that packs a lot of features in a simple, user-friendly interface. The AI capabilities of Adobe Sensei provide automatic options to adjust the color, light, and photo composition in just one click. It also offers additional features like object removal, perspective correction, and intelligent cropping. Although not entirely free, it provides a substantial amount of features in its free tier.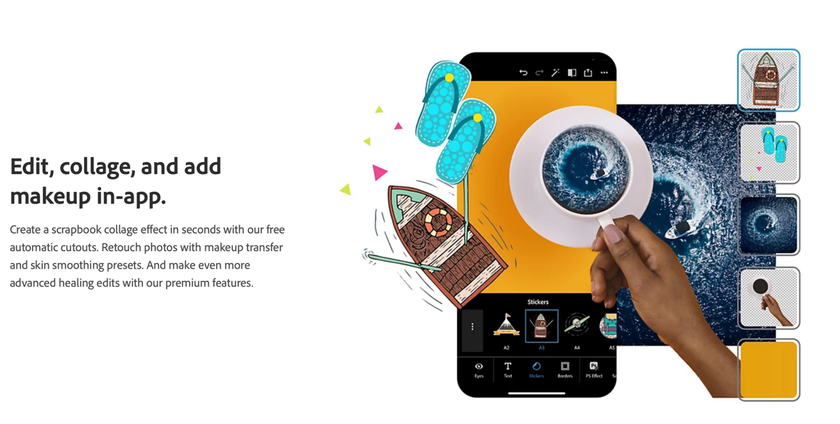 9. Remove.bg
If you're looking for an AI photo editor that specializes in background removal, Remove.bg is your go-to tool. This AI-powered tool can remove the background of any photo in seconds, leaving you with a clear, professional-looking image. It's incredibly user-friendly–all you have to do is upload the photo, and the AI does the rest. It's free to use, with optional paid plans for higher resolution images.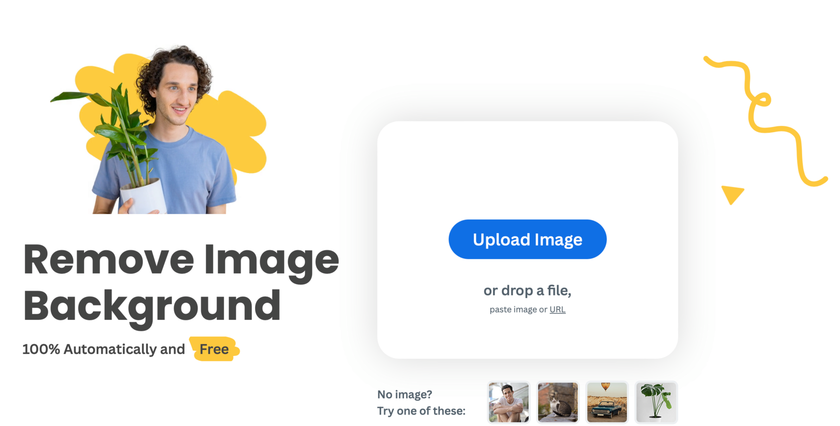 10. Photolemur
Photolemur is an AI photo editor that aims to simplify photo editing to the point where it's practically automatic. With its user-friendly interface, Photolemur automatically enhances images as soon as you import them. The AI engine analyzes every aspect of the photo, from colors to details, to shadows and objects, and adjusts them for optimal results. It can also correct distortions in photos, enhance sky and foliage, and remove noise.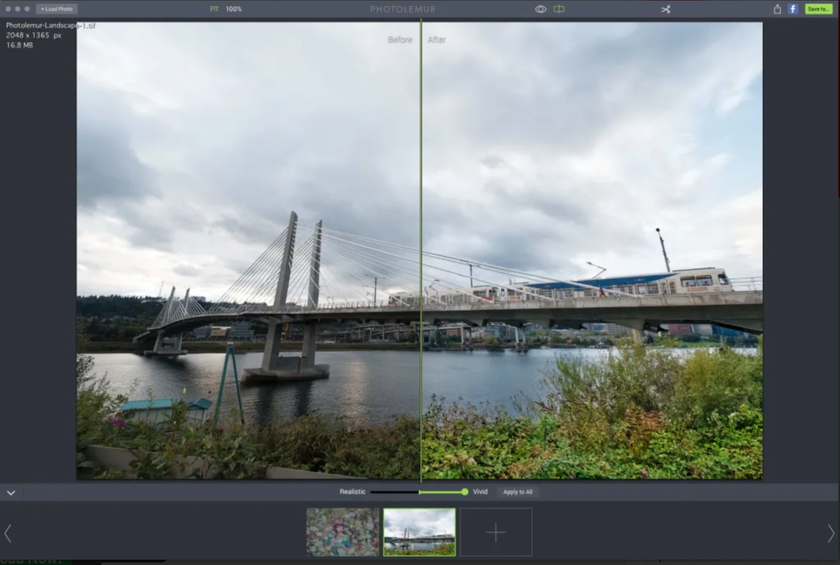 AI Photo Editors when time is in the first place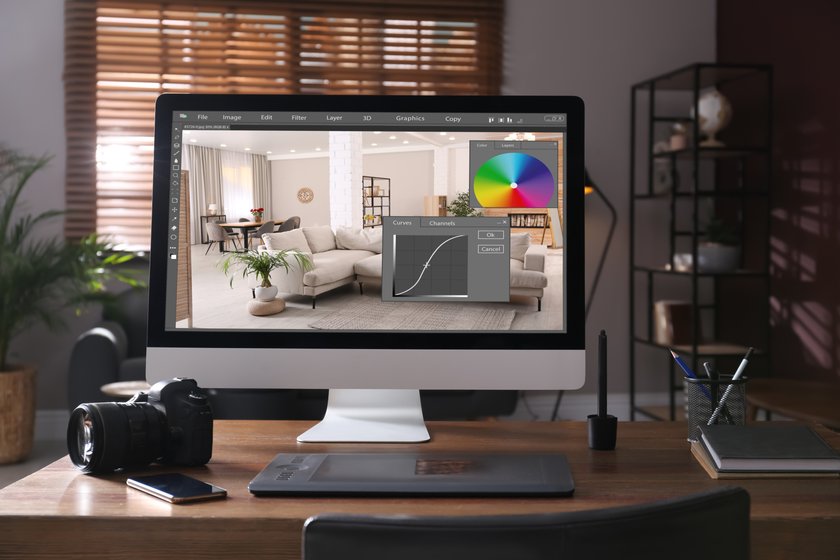 Picture this: pros spend around 5 to 10 minutes to tweak a single photo in Photoshop's Manual Mode. That's the time they take for the basics like retouching, adjusting layers, curves, tones, light, and shadow. For folks who aren't quite pros, it might take 15 to 30 minutes to get the same results. That's a good chunk of time, right?
Well, guess what? AI Photo Editors are here to mix things up! These smart tools cut down the editing time to a speedy 1-3 minutes. No more fumbling with complex settings and endless customization—AI simplifies all of that. It takes care of the heavy lifting, freeing you from routine tasks and letting you avoid any confusion with manual adjustments in traditional photo editors.
So, whether you're just starting your photo editing journey or you're a seasoned pro, AI Photo Editors are definitely something you should check out. They're quick, they're efficient, and they're super easy to use.
So why wait? Try AI photo editing today and experience the difference for yourself!
FAQ
What Is the Best AI Editing Software?
All of the software we've added to our top is definitely worth checking out. Of course, the highest place is not taken by Luminar Neo for nothing, because it opens up the widest possibilities to improve your photos.
Is Luminar Neo suitable for beginners?
Yes, Luminar Neo is suitable for both beginners and professionals. The AI-powered tools simplify many complex editing tasks, and the intuitive interface makes the software easy to navigate. There are also numerous tutorials and guides available to help new users get started.
How Can I Fix Pixelated Photos Online?
When it comes to the tools on our list, you should use Hotpot Tools. There are also other photo editors that you can use to fix pixelated photos (PicWish or Fotor, for example). However, they are not able to make the result as impressive as desktop or smartphone software. If you choose such software, we recommend using Luminar Neo.
How Can I Improve Picture Quality Online for Free?
If you don't want to install the software on your computer or smartphone, you should use Autoenhance.ai, Hotpot Tools, or LunaPic. If you're specifically interested in editing selfies, there's no better choice than Youni.
What Is the Best Free Photo Enhancer?
If you don't want to buy a subscription, LunaPic is your best bet. Remember, however, that a subscription gives you a lot more options. for example, access to more features.
How Do You Digitally Enhance a Photo?
Of course, we use AI tools. The most frequent ones are the Face AI and Skin AI, which allow us to turn portraits into real works of art. We also use Removal Background AI and Powerlines Removal to make our landscapes unforgettable.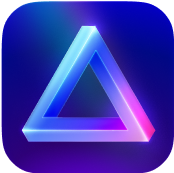 Advanced yet easy-to-use photo editor
view plans