Meet Matthew Jordan Smith, one of our new Skylum Ambassadors.
Matthew Jordan Smith
Matthew Jordan Smith is an American photographer, specializing in celebrity portraits & commercial beauty. Based in Tokyo, he works between Japan and the United States. Some of his celebrity subjects include George Lucas, Aretha Franklin, Tyra Banks, Martha Stewart, Samuel L. Jackson and Angela Bassett. His commercial clients range from Olay and Pantene beauty to Wells Fargo. He hosts the Master Your Lens Podcast. Matthew is a proud Nikon and Skylum Ambassador.
Homework
Matthew's approach to creating a great portrait begins with research. He believes research is one, if not the most important elements required for making a powerful image. While every image should have the fingerprint of the photographer, the inspirational aspects are most often found knowing all that can be known about the subject before the actual shoot. Once he has an idea of what he wants to create, he visualizes the lighting then dives into preproduction with his team of assistants. This includes discussing the gear needed to accomplish his goal.
Post-production
Matthew relies on Luminar to enhance his images. It cuts down on post-production time, too.
"Short-cut keys are your best friend when it comes to editing and working efficiently. I will toggle back and forth quickly looking at the image before and after. Looking at the image quickly keeps your eyes fresh as you look to enhance the image. I never like dwelling too long on an image because as a photographer we can get carried away trying to make it perfect. The beauty of any image is that it is not perfect. Every image needs a bit of humanity to look realistic. As I work with images in Luminar, I look at several presets as a starting point, and then adjust them to fit my personal style."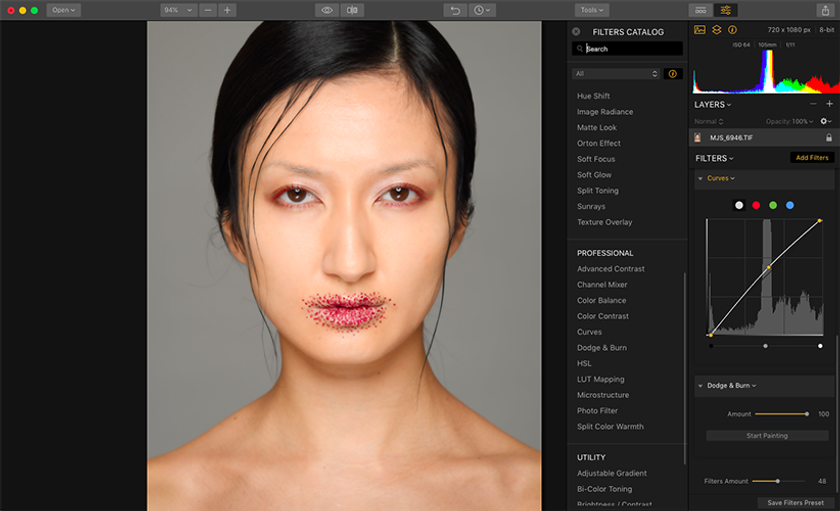 The Luminar Interface
Advice
The best advice I can give to photographers looking to enhance their portraits is to first do your best work to create a powerful image in the camera, then let Luminar enhance your work to bring out the best version of your vision.
Why do I use Luminar?
I love working with Luminar because it makes my life easier. Working to adjust my images is super fast. Luminar works in an efficient manner. I have presets made for portraits that make adjustments fast.
Interface
The interface is one of the best I've seen. It's really simple to navigate. I love that Luminar gives me the freedom to hide the tools I don't need when I'm working on my images.
Tips for using Luminar
Start enhancing your photographs with any one of the presets that  fits your type of image. Then use the slider to adjust from 100 percent down to the amount you'd like to use. Less is usually more in my opinion. No matter what, do what makes you feel good. Finally, adjust the tone and structure levels to make your photographs come to life.
The Lip Sprinkles Project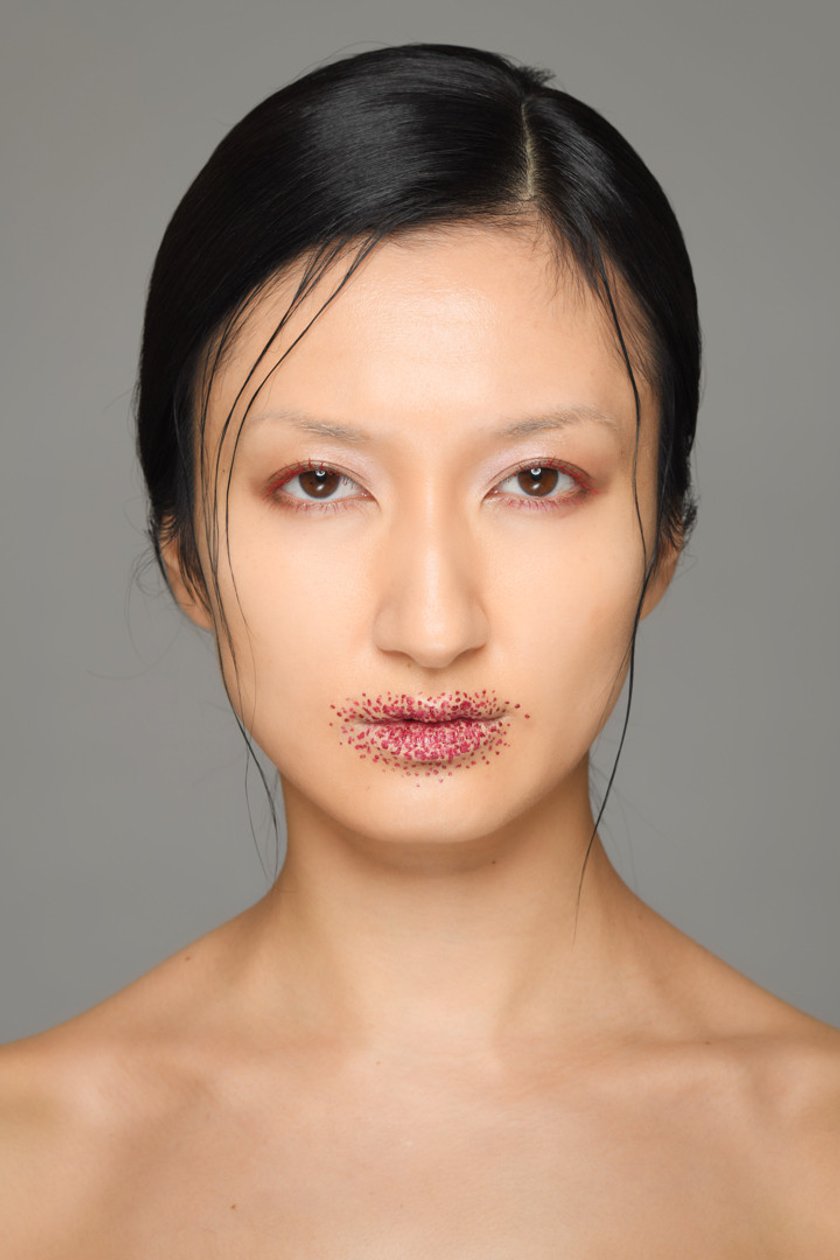 © Matthew Jordan Smith
The project with the lip sprinkles is brand new and on the fashion/forward level. It was part of a test shoot project to show new trends in makeup. I'm always trying to push the boundaries and create images that spark curiosity. I've worked on tests like this my entire career and they always lead to interesting assignments. For this test project, we also shot a look based on the eyebrow trend going on at the moment as well. Each look was a bold look and inspired by the "ghost look" scene in Japanese horror films.
Before we started shooting this project, the makeup artist and I worked on the concept for about a week prior to shooting. The Hair Stylist also contributed by keeping the hair with the same feeling as well. The hair is only a small part of the shoot, but still an important supporting element.
I love working on conceptual beauty stories and they almost always come from an element in my personal life that sparks an interest in some way. I live in Tokyo and work in both the States and Japan, so I get to see trends happen quickly as I walk the streets of NYC and Tokyo.
To create striking images, photographers should look deeper into their lives and find elements that inspire or excite them in some way. Photography should always evolve in the same way life evolves. I love living in big cities because inspiration is everywhere. Put your life into each and every image, and then when you are on set shooting your ideas, direct your subjects based on your inspiration. Find visual support to help your images come to life as well. For this beauty shoot, we looked at images of Japanese ghost girls and I directed my model with this in mind. It was a very different shoot but fun to push the boundaries.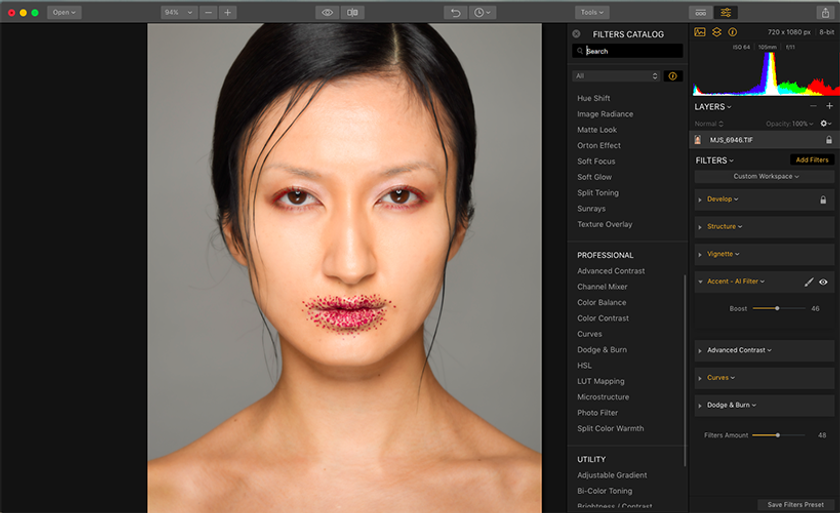 Working in Luminar to enhance the portrait to match Matthew Jordan Smith's vision
Looking Directly into the Camera
© Matthew Jordan Smith
The image of the subject looking directly into the camera was a portrait of an actress in Los Angeles. I have photographed her many times over the years when we both lived in New York. Now I watch her on TV and try to shoot her whenever I'm in L.A.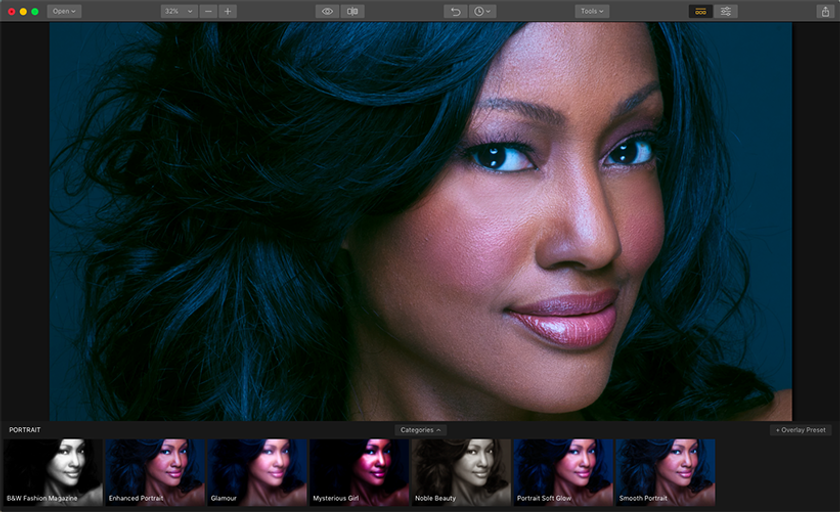 Working with Presets in Luminar to quickly find the look Matthew was going for
Against the Wall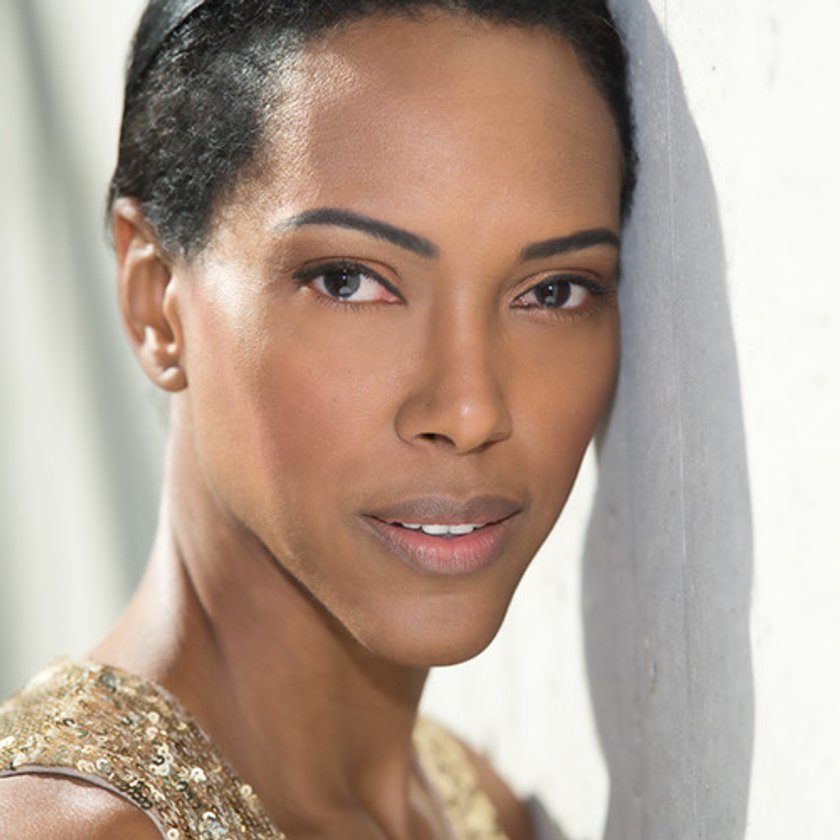 © Matthew Jordan Smith
The image of the model with her face against the wall was taken during the Photo Plus Expo exhibit during a very small window when I had a 30-minute break. I wanted to test our the new Profoto A1 strobe and called a model I knew and asked if she was free for a quick shoot. I quickly found a location, used my Sekonic light meter to measure the light and shot this image using a Nikon D850 and a Nikkor 105 lens. It was a very fast shoot but I loved the images I was able to create on my first test with the A1.
With this final image, I used Luminar to really enhance the image and make it exactly what I wanted. When I first opened the raw file image in Luminar, I used the Smooth Portrait preset and started at 25 percent, then worked my way up using the slider until I found the right amount of enhancement at 84%. Then I used the Boost level to give the image just a little more punch and I was happy.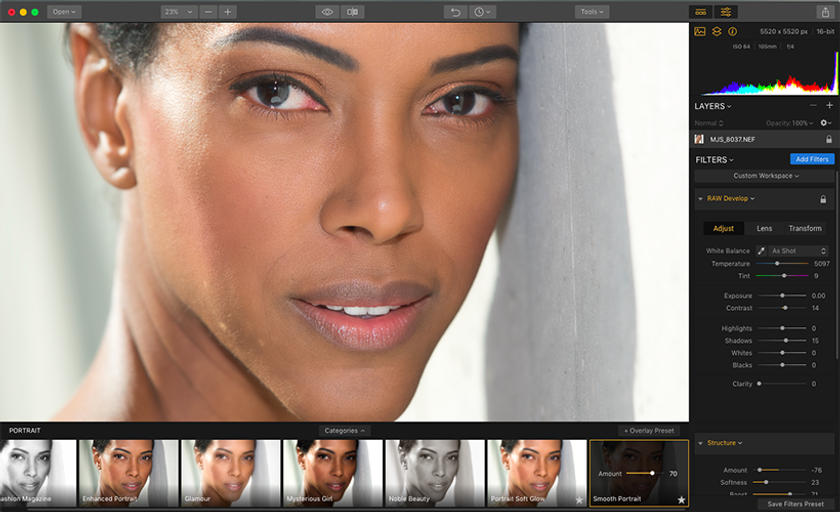 Finding the right amount of enhancement is easy with Luminar
My favorite feature in Luminar is the adjustment slider. No, I think it's the boost feature… No, wait. It's really the ability to add my own custom Presets. Okay, I guess there are too many features I love to select just one of them. How about: "I love Luminar and the results I get using it."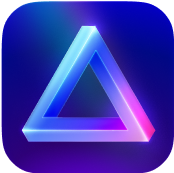 Advanced yet easy-to-use photo editor
view plans