To truly get this effect involves many different things, so we enlisted his help once again to share with you some useful tips on how to create cinematic portraits, from setting up the scene to shooting it.
Los Angeles-based photographer Ilya Nodia's love of movies, computer games and storytelling is no big secret. You need only take a look at his work to see it.
Though he wasn't always a cinematic photographer, his photographs have always exuded a certain movie blockbuster quality to them. And it's in the commercial and advertising field, weaving cinematic photographs with grand narratives, whether it be of an epic action showdown, guns a-blazing or a portrait of a Russian railway worker, where he found his calling.
"I love to create stories in one shot, and I always want to make something in line with Gregory Crewdson, but using commercial style of light and colors. Moreover, all my pictures I make for commercial projects — shows, performances, small business and escape rooms. I also have a lot of experience in staged sets and working with actors," Ilya says of his work.
It's a genre of photography that's not as common, perhaps because it takes a lot more setup and post work, but you don't need to be a pro to achieve the same effect. Which is why we partnered with Ilya to create his Luminar preset series, aptly named The Big Screen, to help you to get that epic cinematic quality in your images in less time and with less effort.
Of course, that's only one part. To truly get this effect involves many different things, so we enlisted his help once again to share with you some useful tips on how to create cinematic portraits, from setting up the scene to shooting it.
Hi everybody! My name is Ilya Nodia. Together with Skylum, I am launching a new presets pack that will help make your photos look more cinematic. However, in addition to post-processing in the Luminar, taking cinematic photographs is more involved. There's a lot of other things you, as a photographer, need to do to achieve such effects.
Here are some interesting and useful tips I, myself, follow when creating a truly cinematic photograph.
Shooting a dramatic actor
The use of 50mm, minimalism, symbolism, clothing, light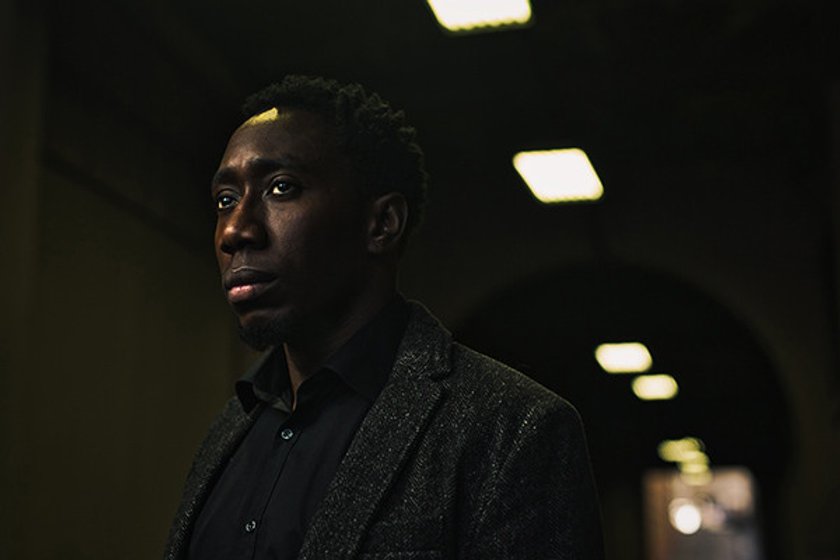 The whole point of any cinematic photo is creating still images that look like a movie! This means that when you build a picture, you need to imagine yourself sitting in the chair as the film director.
In a sense, it is more difficult and, at the same time, easier to start from a cinematic portrait or even a dramatic-cinematic portrait. In drama, there is always a conflict, which means that you first need to find a good artistic model or even better, a real actor.
For this shot, I asked Sydney to bring dark clothes and act a little gloomy. I don't want to distract somebody with unnecessary details in the frame so I found a long tunnel with the lamps hanging off the ceiling for my location. Of course, a dark alley, a road under the bridge, an empty night apartment and a garage are also great location alternatives.
Next, I needed to figure out the right angle. I wanted the actor to look past the camera in the direction of the lamps that lead deep into the tunnel. I put the camera low to make the 'hero' look taller and stronger. A light squint and tight lips added some strain, but we don't know who is in the front of our hero—an opponent, a target or another story scene—so we can use as a cliffhanger, which we can use for the continuation of the series.
To create such a cinematic picture, it's best to use a 50mm lens because the cinema operators do not often use a wide angle.
A natural story
Shooting the actors in motion, eyes in the frame, dynamics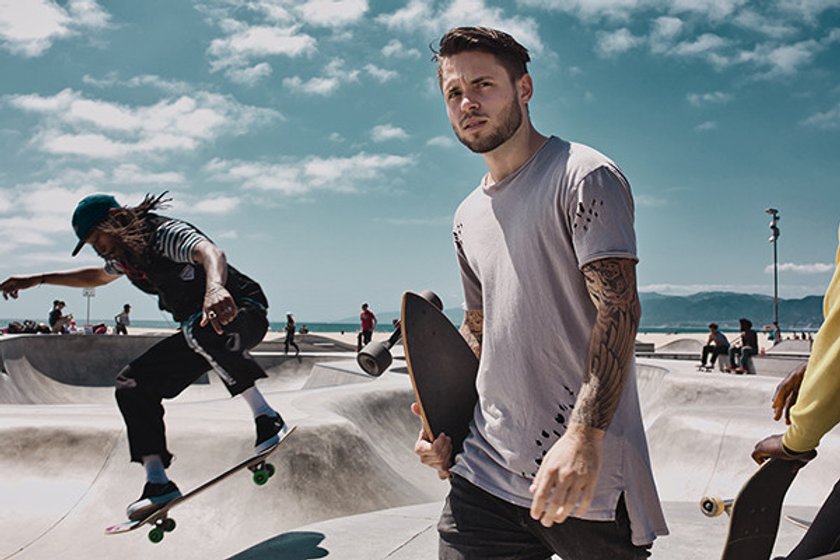 Catching the real dynamics in which a person makes natural movements is another cool technique that should be used to shooting actors and models in action.
In fact, this is really a big problem. A static model immediately thinks about how his hands lie, how his legs stand, where the head looks; and some part of the body are not fluid and natural looking. This makes a photo boring and not believable.
Even if your actor is very natural in his/her poses and movements, it helps to add more dynamics to the picture. Moving people in the background, for example.
It's not always about the people
Examples from old movies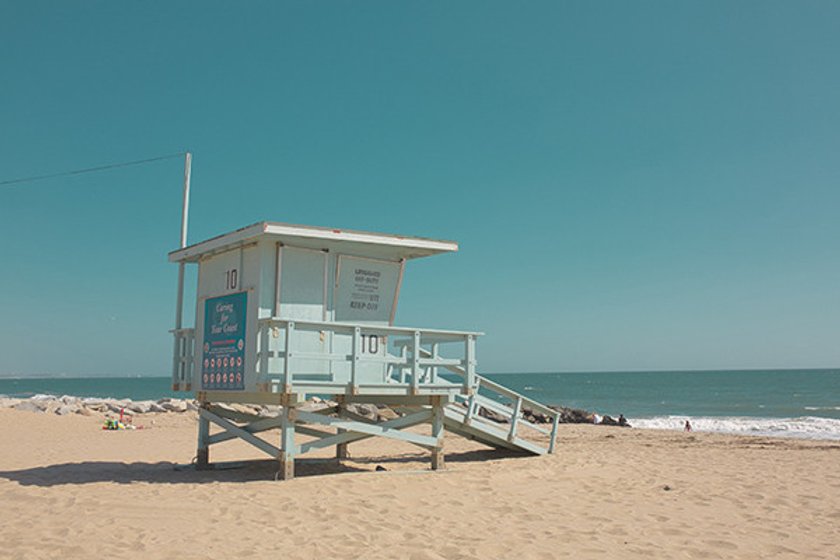 Of course, when it comes movies, it's not always about the people. When I created this shot, I was thinking about of many movies and videos that were shot in California near these famous lifeguard towers. It is almost a symbol of American beaches, and like any symbol, it has its own color style.
I love old movies so I like the color of the cinema film, which is often a low-contrast picture with the color of the sky more turquoise-leaning. The blue color in movies is incredibly common, but it is almost never "clean". If you use a clear color like 0,0,255, your photo or movie will look more like a cartoon. So I always shift the tone of clean colors of the sRGB space. The main thing is to know the limit and not accidentally make the sky look like it's on Mars.
To complete the cinematic look for your portraits, download Ilya Nodia's cinematic preset series for Luminar.
Charismatic character and details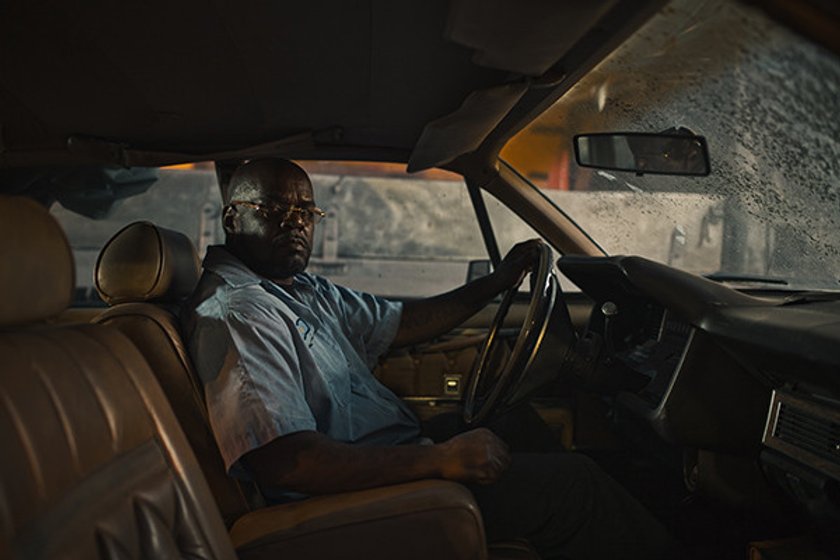 Trust me: there is no any color settings, light schemes or plug-ins that can make your pictures more cinematic than a great character, the right locations and realistic details. Just look at this guy driving an old Lincoln Continental. I'm sure some of you can easily imagine it as a screenshot from a movie: a scruffy old shirt, a dusty dashboard, cloudy light, a wet windshield, and realistic colors—all this makes you believe in the reality of what is happening.
This is the main trick to make your photos look like a movie. The only secret is that you as a photographer don't need an army of artists, production talents and assistants.
By the way, notice our hero looking at the camera in this shot. That's done on purpose. This trick helps you capture the attention of your audience even more. One second, you—as a viewer—are sitting on the passenger seat, the actor looking at you. The next, the director is yelling: Light! Camera! Action! And the dialogue begins.
Adding detail and matching light to the story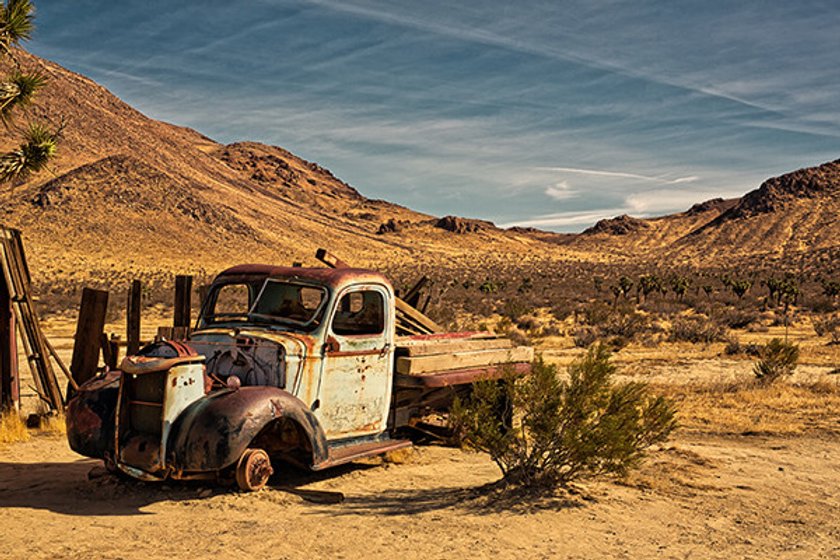 Any movie set in the wasteland—from a post-apocalypse setting to a classic western—can't look realistic without the usual characteristic details. For example, this old, ruined car is part of a real desert cinema decoration. To enhance the artistry of this frame, I choose a really hot day with an orange sun and a textured sky.
All I had to do was take a 50mm lens so that the distant plan of the mountains did not seem very remote, choose the right angle by placing the car in the left third of the frame, and modify the sneak in the editor to add more detail, local contrasts in the rusty parts of the body and bushes around the location.
Pastel tones
Recently I've become a big fan of soft pastel colors, and in some cases it works perfectly. When I first saw Carol's pink apartment, I immediately realized that we need to shoot something in a harmonious pastel color.
In order to normalize the colors, I used the smoke machine on set. You may be surprised, but this method is used by clip makers and filmmakers to add more volume in the photo and normalize the color. After that, it just needed a bit of post work to finalize the color and reduce the contrast. The most important thing, however, is that the clothes of the model as well as all the environment were composed in the right color scheme.
B&W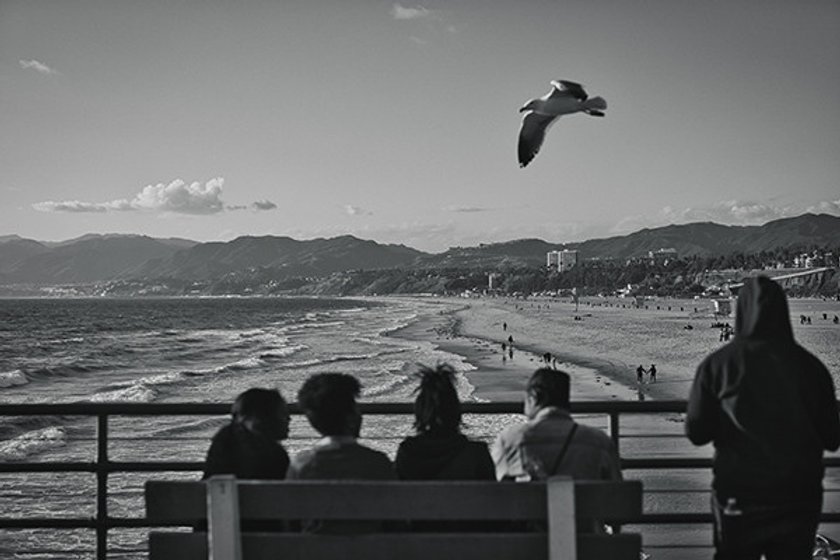 As you know, photography and cinema are beautiful in their diversity. So while colors are great, the use of black and white plugins is also beneficial. And in addition to the usual hard and sharp B&W pictures set in quiet frames and scenes, you can use the opposite low-contrast settings, especially in cases where there is a lot of air in the frame and long-range ones.
To complete the cinematic look for your portraits, download Ilya Nodia's cinematic preset series for Luminar.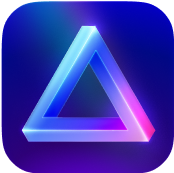 Advanced yet easy-to-use photo editor
view plans