Learn how Luminar AI can replace the need for an expensive makeup artist on your next portrait shoot.
Wouldn't it be nice to have a dedicated makeup artist assist you during a portrait session? What we do in Luminar AI — hide blemishes, smooth skin and sculpture the face — they do on the subject. But not everyone has access or the budget for a makeup artist when shooting a portrait.
Here are a few tips to get great results when editing a portrait of everyday people using Luminar AI instead of a makeup artist.
Let's use a portrait session I did for Sandy Parks, an action-adventure author. Sandy needed a portrait for her new book and we didn't have time to book a makeup artist.
Step 1: Start with good quality of light. The quality of light is different from the quantity of light. Sandy wanted an outdoor portrait and the light conditions we great. The only issue, we were in direct sunlight. The solution was simple. We used a circular diffuser to soften the light. It was placed out of the frame between her and the sun.
Step 2: Soften skin and remove blemishes. Luminar AI makes it easy to smooth a subject's skin and remove blemishes. Working in the Portrait tools, select the Skin AI tool and adjust the slider until the skin looks smooth. If you notice blemishes, check the Skin Defects Removal AI box. Blemishes magically seem to disappear. In our example, Sandy didn't have any hot spots of light that caused shine on her skin. If she had, a simple adjustment of the slider would help blend and soften the shine.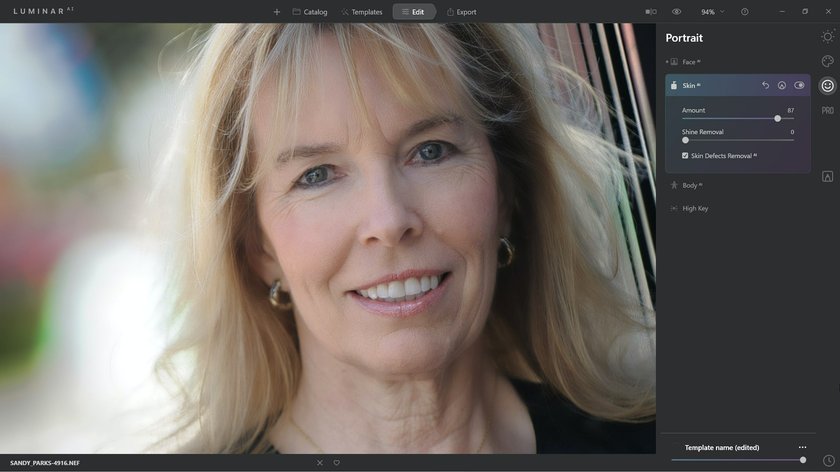 Step 3: Focus on the face. The Face AI tool consists of three sections — Face, Eyes and Mouth. Face Light is useful when you need to bounce or add a little more light to the subject's face. In Sandy's case, I added a little fill light to mimic a reflector. I also added a little Iris Flare to add light to her iris. This imitates an additional light source such as a reflector, a strobe or even a reflection from the sidewalk. Overall, it adds more life to the eyes.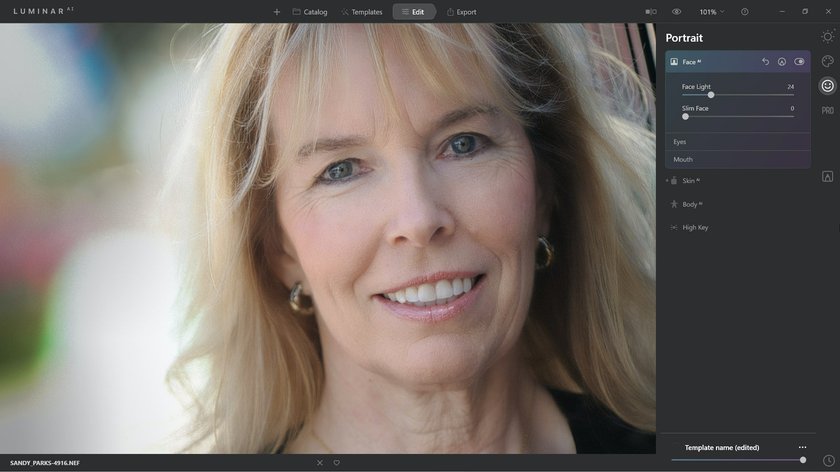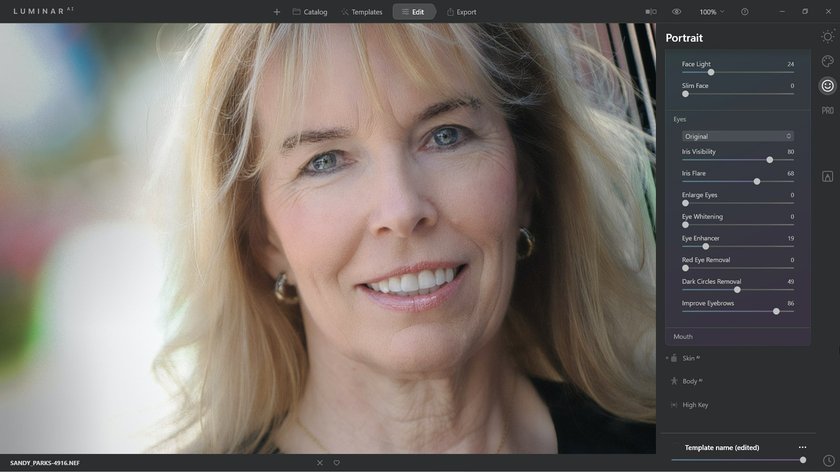 To finish off adjusting her face, I like to adjust the Dark Circles Removal slider to lighten the area underneath the subject's eyes — you may not notice them at first, but once you adjust the slider, you will see the difference — and adjust the Improve Eyebrows slider. I find it completes the look I'm going for.
Last, adjust the Mouth. If a female subject didn't wear lipstick or lipgloss, we can add it naturally without it looking fake. Don't forget the teeth. A little teeth whitening goes a long way. Adjust the Teeth Whitening slider until the teeth look natural and not too bright.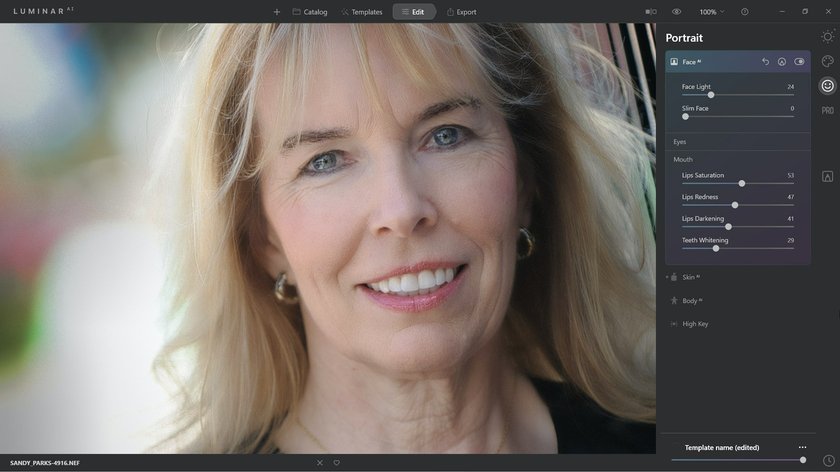 Since Luminar AI does an incredible job at portrait retouching, does this mean a makeup artist is obsolete? No. A makeup artist is still needed for commercial shoots, weddings and when there is money in the budget to hire one.
In Sandy's case, time prevented us from hiring one and in the end, we are glad we didn't. Her portrait came out natural and she is easily recognized by her loyal fans. Had we gone overboard with a makeup artist or while editing her portrait, it would have been obvious to her fans when they attended a book signing.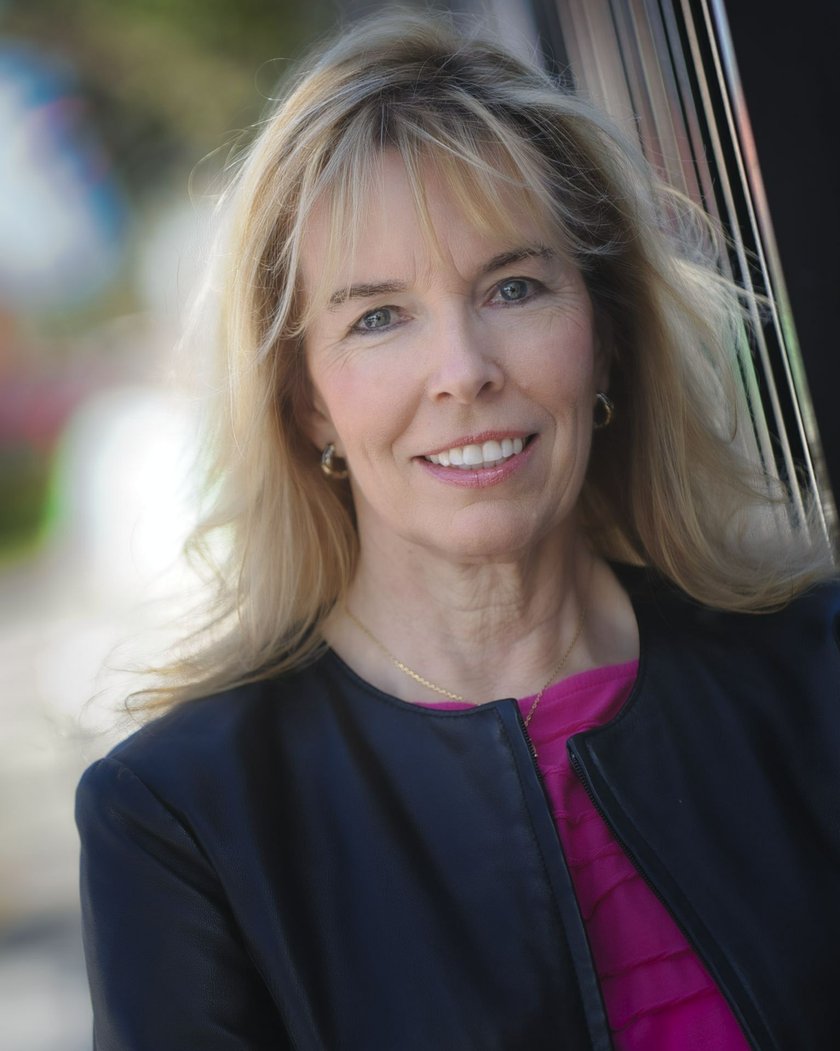 One of the best features of using Luminar AI to edit portraits is you don't have to follow these steps in order to get great results. If you forget to remove dark patches under the subject's eyes, you can always go back and make the adjustment without ruining the portrait.
Plus, by using AI tools, you can save the changes as a template and apply them to future portraits. AI will analyze each photo and apply the proper settings. Try Luminar AI's portrait tools and you will see how easy it is to make everyday people look their best.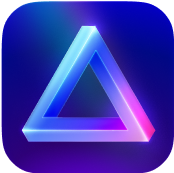 Advanced yet easy-to-use photo editor
view plans