Discover best Adobe Photoshop alternatives for Mac to enhance details, remove or heal imperfections, add filters with one click.
Adobe bought Photoshop in 1988 from Thomas and John Knoll. The original Photoshop program was developed for the Macintosh Plus to display grayscale images on a monitor. Photoshop has come a long way since then. Today, it's the most famous and popular photo editor among photographers and graphic designers. Adobe Photoshop is so well known that it's responsible for the verb to photoshop. According to Merriam-Webster, to photoshop is "to alter (a digital image) with Photoshop software or other image-editing software especially in a way that distorts reality (as for deliberately deceptive purposes)."

In its more than three decades of existence, Adobe Photoshop has acquired new functionalities and state-of-the-art technologies, courses, books, tutorials, experts, and important clients. You can find a wide range of plugins that run in Photoshop. But the new millennium has brought a new wave of photo editors and apps like photoshop for Mac, and they might be a better option for you.
Why Choose an Alternative to Photoshop?
Young, fresh, and smart, the editors of the twenty-first century have grown into strong Photoshop competitors. They use artificial intelligence to detect objects, faces, and patterns and provide custom adjustments for each image. Modern photo editors include plenty of options such as digital asset management, cloud storage, and sharing capabilities. Mac users can now find programs that completely suit their purposes and don`t need difficult tutorials. They're also cheaper and easier to learn than Photoshop. Every customer, whether beginner or professional, can choose a Mac app that's right for them.
11 Best Photo Editing Software for Mac (incl. M1 Macs)
Developers offer a huge variety of apps that are Photoshop equivalent for Mac, and it's hard to choose just one photo editing software. Check out photo editing software for Mac and see if it's time for a change.
Luminar Neo is a powerful photo editor for Mac that's dedicated to professional photography. It doesn't have the graphic design capabilities of Photoshop, but it provides image retouching tools, non-destructive adjustments, and creative filters, fonts and effects. Moreover, it provides digital asset management to keep your images organized and save time.
Like Photoshop, Luminar Neo works with layers and masks and allows you to make selective adjustments. But it lets you do this without complicated selection tools that require lots of time and practice to learn. Luminar Neo's workflow is straightforward and intuitive: the workspace can be personalized to your skill level, and the interface is neat and clear.
Luminar Neo provides more than 70 tools for image retouching and creative effects. You can fine-tune their settings and mix multiple filters to achieve your artistic vision. Luminar Neo's functionality range from basic exposure and contrast adjustments to smart tools powered by artificial intelligence (AI). Sky AI, Skin AI and Accent AI are content-aware tools that adjust an image or sketch using custom settings. Luminar Neo also offers Presets that are designed by professional photographers. Presets recreate a specific style, adding atmosphere and transforming dull images into artworks. You can use more than 80 built-in Presets and download others from the Luminar Marketplace. Presets are also editable so you can create your own unique styles.
Luminar Neo also has Extensions - pro-level tools that let you achieve impressive results. For example, the HDR Merge Extension provides an impressive level of detail and color enhancement as well as reduces ghosts for moving objects when creating your HDR. Ideal for those times when movement is present between shots or when shooting with a tripod is not an option. There are also other Extensions available: Noiseless AI, Supersharp AI, Background Removal AI, and more.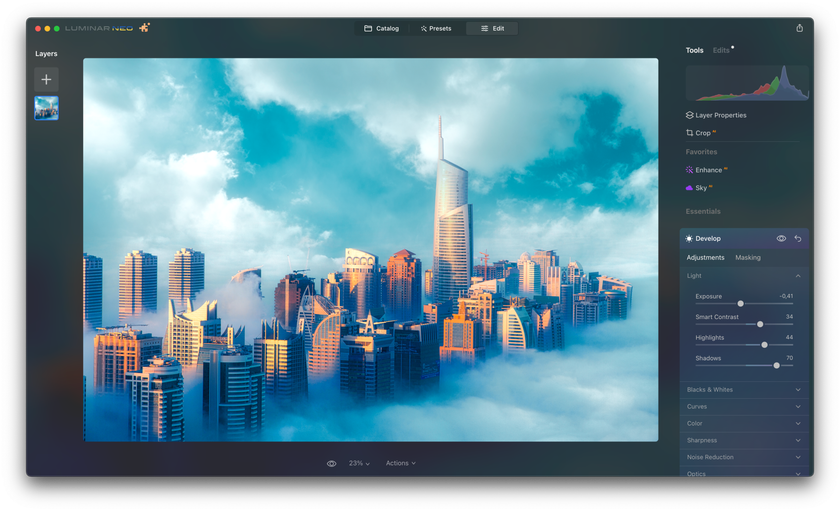 2. Fotor (Online)
Fotor is a free alternative to Photoshop. It's an online photo editor that comes with plenty of filters and special effects. You can use it to retouch pictures and enhance their features, but also to add text and design elements, create collages, and design cards and invitations.
Among the best features of Fotor are HDR editing, portrait retouching, background removing, basic image adjustments, and special effects such as AI photo effects, Lomo effects, color splash, and blur effects.
Although it doesn't have the complex functionalities of Photoshop, Fotor is fun and easy to learn, accessible from any device, perfect for quick fixes, and full of creative elements. After all, most of the time you want to enhance your photos and collages, create a specific style, resize and crop your images, and display your work in the best format. So Fotor may be a very good Photoshop alternative for Mac. Besides, it's free and available for mobile and desktop.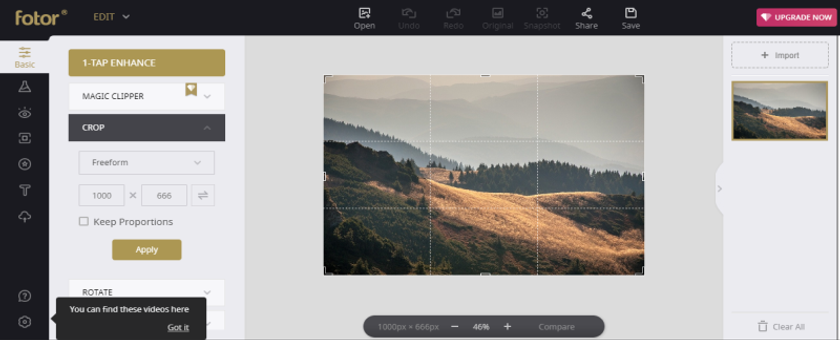 Developed by CyberLink, PhotoDirector is a complete solution for photo adjustment and design. Like Photoshop, PhotoDirector provides tools for image retouching as well as for image manipulation and creative artwork. It allows you to edit 360-degree images, stitch panoramas, create GIFs and motion stills, and apply textures.
Among PhotoDirector's best features are merging of multi-exposure photos, haze and fog removal, and support for layers and blending modes. PhotoDirector is a fun alternative to Photoshop for Mac and gives you tools to swap faces in group pictures, turn 360-degree pictures into spherical planets, and remove or clone objects, make overlays. While it doesn't have complex selection tools and filters, PhotoDirector stimulates your creativity and provides quick and fun tools for outstanding photos.
PhotoDirector costs €90, or €13.50 per month if you prefer a subscription plan.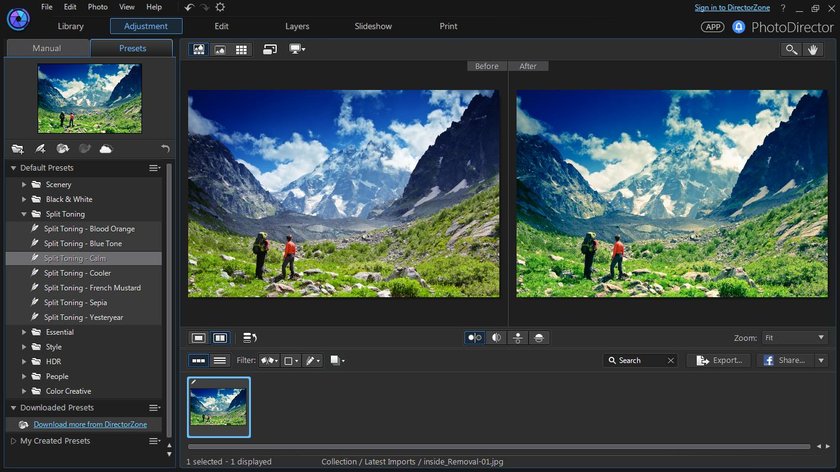 Capture One is a complete software solution for professional photographers. While it doesn't have Photoshop's graphic design capabilities, in terms of photo editing it doesn't miss a thing. This Photoshop competitor for Mac provides support for more than 500 cameras, custom lens and camera profiles, and tethered capture. Plus, its color handling is exceptional.
Among the best features of Capture One are advanced masking functionalities, automatic adjustments, and tools for clarity and sharpening, lens and keystone corrections, noise removal, color adjustments, and black and white conversion.
Capture One also provides geometrical transformations and predefined styles, digital asset management, and tools for organizing images, importing and exporting in different formats, batch processing, and editing metadata. It allows you to add watermarks and annotate images, preview files and create slideshows, and customize print layouts.
Capture One is a powerful Photoshop competitor for Mac. You can buy a perpetual license to Capture One for €349 and a subscription for €29 per month.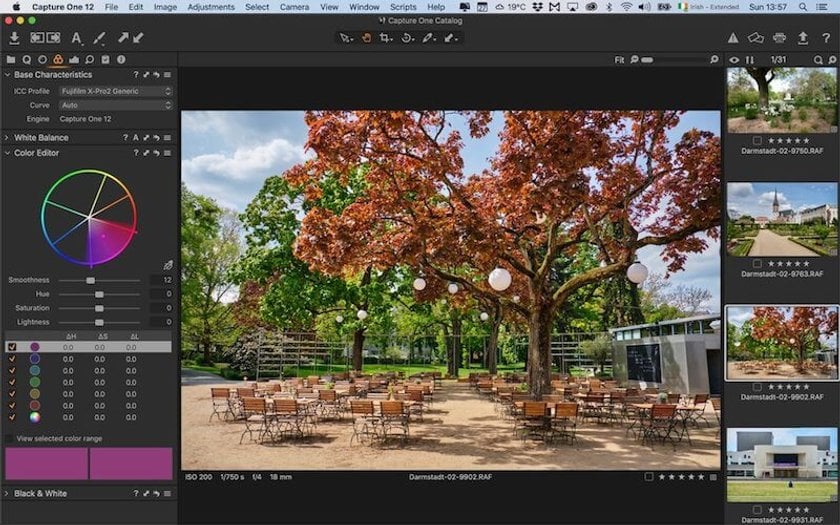 Photos is Apple's solution for editing and organizing images on Mac and iOS. It's the built-in photo editor for Mac, so you don't have to pay for it. Like any modern photo editor, Photos offers smart and fast photo management and includes sleek tools to search, sort, display, and share images. It also comes with tools for basic image adjustments, automatic edits, and geometric transformations, lots of filters and effects, and RAW support. You can even use Photos to create slideshows and videos from photos.
If you want to sync photos across Apple devices, you can buy iCloud storage space and use the Photos editor everywhere. Photos is well integrated with all Apple services and products. Moreover, you can install extensions to add functionality not provided by Photos.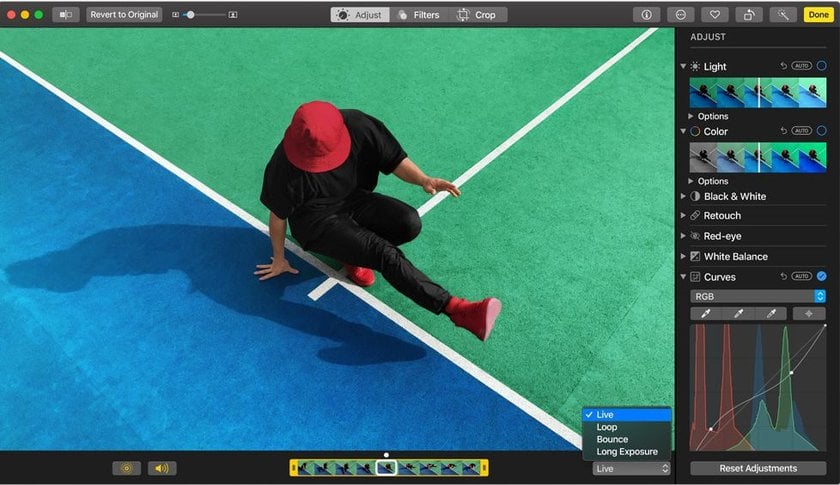 AfterShot Pro is a RAW photo editor developed by Corel that aims to be four times faster than Adobe Lightroom. AfterShot Pro provides camera profiles and lens correction, highlights recovery, skin retouching, and selective editing. It also offers powerful image adjustments, presets and creative effects, noise reduction, and HDR tools. In terms of photo editing, it has the same features as Photoshop.
AfterShot Pro is a good Photoshop alternative for Mac in terms of graphic design tools too. It offers easy integration with PaintShop Pro, which allows you to use painting and drawing tools. Like all modern editors, AfterShot Pro has digital asset management tools, a customizable workspace, and tools for creating web galleries and archiving images.
And while it has more features than Photoshop, AfterShot Pro is cheaper and doesn't require a monthly subscription. It costs €59.99.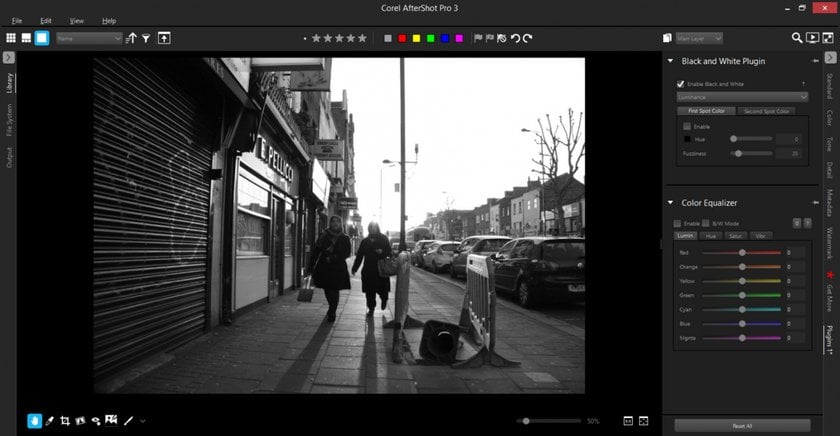 Affinity Photo and Affinity Designer are Serif's Photoshop alternatives for Mac. They're dedicated to professional photographers and graphic designers that want to edit photos and provide all the tools they need.
Affinity Photo has won many awards and is a complete solution for photo editing. It offers quick and subtle corrections and adjustments, creative tools for fine art photography, and optimal control through layers and masks. Among its best features are tools for HDR and RAW editing, professional retouching, and digital painting. Like Photoshop, Affinity Photo provides selection tools for cutting out objects and selective editing.
Affinity Photo works well with large files and supports .PSD files. It offers batch processing and focus stacking, panorama stitching, and editing of 360-degree images. It also provides a library of brushes for painting over images and supports graphical tablets, iPad and Apple Pencil.
You can buy Affinity Photo for €53.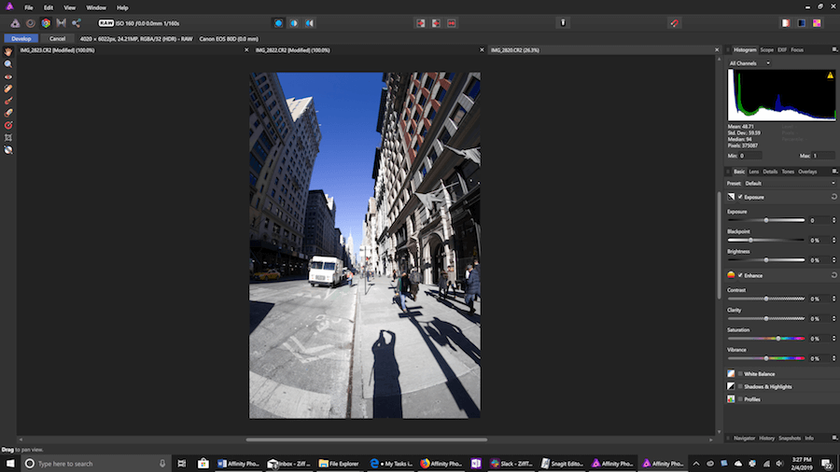 Designed by photographers, DxO Photo Lab offers accurate color profiles and adjustments. It matches the rendering of more than 60 cameras, provides optical corrections and lens profiles, and preserves all details from RAW files. In terms of photo editing, DxO Photo Lab offers full control and professional adjustments that exceed Photoshop's functionalities.
Among the best features of DxO Photo Lab are smart lighting for revealing details from underexposed and overexposed areas, cloning and spot corrections, automatic repairs, denoising, optimized contrast enhancement, and selective editing. DxO Photo Lab includes 40 presets for fast styling, works with layers and masks, and automatically corrects red eye.
DxO Photo Lab is a good Photoshop replacement for Mac not only for its photo editing functionalities but also for its digital asset management features. It provides fast and smart search tools, works with metadata and keywords, supports a wide range of file formats and batch processing, and allows fullscreen viewing.
DxO Photo Lab costs €99.99.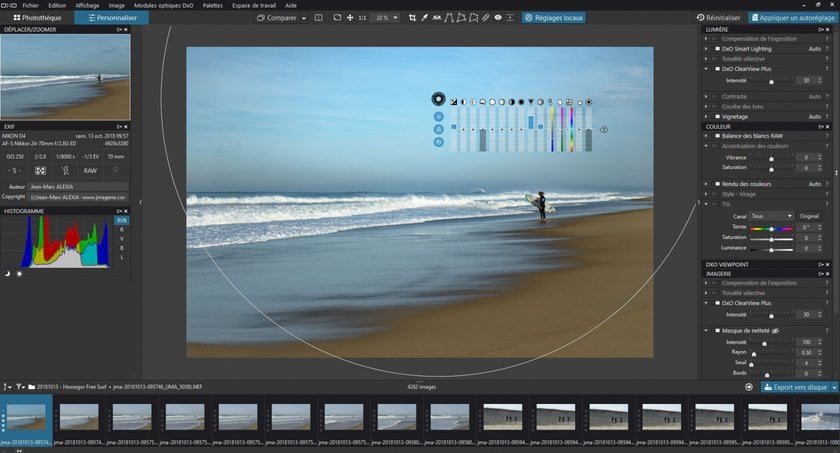 GIMP is a tool that will help with editing pictures and photos. It's a free alternative to Photoshop for Mac. This software started as an open-source photo editor for Linux and gathered a large community of developers, photographers and editors. GIMP looks a lot like Photoshop and provides the same functionalities for photo editing and graphic design. You can use it for retouching and enhancing images, manipulating images, and creating artwork.
GIMP is frequently updated and improved. There are many extensions, scripts, and plugins you can use for specific functionalities. Even though it's free, it includes advanced color management and photo retouching features. Moreover, it supports various devices and requires few resources.
The transition from Photoshop to GIMP is easy and intuitive. The interface and workflow are similar and GIMP even supports. PSD files, so if you need to import your works, you can do it.
Another free alternative to Photoshop for Mac, darktable isn't just a RAW photo editor; it's a virtual darkroom and light table for photographers. It supports digital negatives and allows you to view them like in your own studio.
darktable provides non-destructive editing, professional color management, tethered shooting, and support for a wide range of file formats. It includes tools for sorting, filtering, and searching through images and allows you to perform repetitive tasks using scripts. In terms of image editing, darktable offers functionalities similar to Photoshop: basic adjustments for exposure, contrast, and color, geometric transformations, white balance correction, noise and haze removal, lens and perspective corrections, and more. It also provides creative effects and filters, watermarks, and vignetting.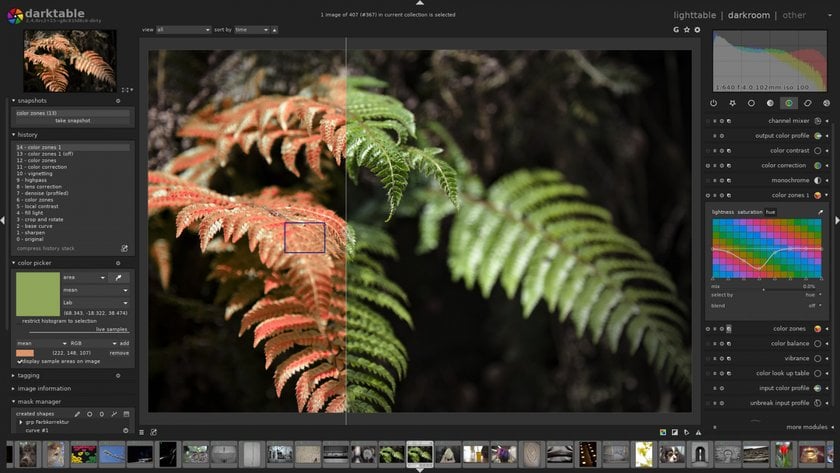 If you want both photo editing and graphic design functionalities, Pixelmator Pro is a good Photoshop alternative for Mac. It's accessible and easy to use and aims to deliver professional editing to everyone. Pixelmator Pro is designed exclusively for Mac. It has a stylish and neat interface along with tools for image retouching, painting, vector graphics, and more.
In terms of photo editing, Pixelmator Pro offers many of Photoshop's functionalities such as editing RAW image files, non-destructive adjustments, color edits, noise removal, geometric transformations, and layering. It also has amazing effects you can fine-tune and save for later use. Like Photoshop, Pixelmator has selection, shape, and drawing tools. You can use them to repair your photos or create artistic compositions.
Pixelmator Pro costs €36.
Conclusion: How to Choose the Best Alternative to Photoshop for Mac
Adobe Photoshop is no longer the only professional photo editor. You can find other basic and pro editors that offer the same functionalities in better interfaces and at lower prices and with free trial. These Photoshop alternatives require less time to learn and come with digital asset management tools for a complete workflow. Many of them even support the Photoshop file format, making for an easy transition.
If you're looking for software like Photoshop for Mac, download the editors we've mentioned and see which one fits your style and workflow. You can get trial versions of all the paid software to decide if you like it before you buy. You may decide to stick with the built-in Apple Photos or choose the free version image editors GIMP or darktable, or you may want a more sophisticated editor like Capture One. Regardless of your choice, remember to be creative and have fun!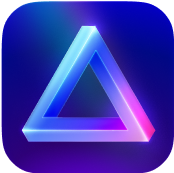 Advanced yet easy-to-use photo editor
view plans