From photography trends to AI adoption, Luminar Live will drive into the future of photography and offer insights on how to embrace the future.
NEW YORK, NY - December 1, 2020 — With excitement continuing to build over the upcoming LuminarAI software, Skylum has announced a brand-new event to provide creatives with a first look at some of the latest AI-centric tools. Luminar Live will feature world-renowned photographers offering tips and tricks for creatives to make the most of LuminarAI.
"With LuminarAI, we want people to be empowered to create cool images without spending hours and hours to create it," said Alex Tsepko, CEO of Skylum. "We've been giving previews of LuminarAI a lot lately, and during Luminar Live, attendees will see a full hands-on presentation and demo, showcasing all the creative tools present in LuminarAI."
Slated for December 10, 2020 beginning at 10 a.m. EST, Luminar Live will feature presentations from Elia Locardi, Pierre Lambert, Lucy Martin, Richard Harrington, CEO Alex Tsepko and many other creators who rely on Luminar for their daily photo editing needs. For registration please visit: skylum.com/luminar-live
Get a sneak peek at the future of photo editing
Luminar Live will kick off with a welcome from CEO Alex Tsepko, as he'll share a brief outline of his industry vision. Then, attendees will be treated to a keynote discussing the latest photography and photo editing trends from industry visionary Elia Locardi.
From there, workflows outlining landscapes and portraits will be demoed, showcasing some of the newest state-of-the-art AI features found in LuminarAI, before a full presentation of LuminarAI is showcased.
Finally, Luminar Live will conclude with a panel discussion on how photos enhance social media and our digital lives, followed by a closing speech.
The next evolution of photo editing arrives this December
Set to be released worldwide beginning December 15, 2020, LuminarAI will offer a workflow that centers completely around artificial intelligence, helping creatives get tasks done quicker and more effectively. Gone are the days of manually masking and dealing with hundreds of layers — LuminarAI makes it easy for anyone to get started and create impactful photographs.
It all starts with Templates, where LuminarAI recommends different styles that are based on the image. LuminarAI's built-in assistant scans each photo for subject and problem areas, and then presents Template options that boost creativity while also helping to speed up the editing process. Creatives can then select a Template or tweak it for a completely custom look.
"It's a very exciting time to be working in this space," said Dima Sytnik, CPO of Skylum. "The opportunities are everywhere; the future is very bright. LuminarAI is the cornerstone which sets a very strong foundation for years of innovation ahead at Skylum. We couldn't be more excited for creatives around the world to experience what we've been working on."
But that's not all. From there, brand-new tools like CompositionAI present the perfect crop, based on photography guidelines like the rule of thirds. This helps to automate one of the most tedious tasks in photo editing — cropping.
Landscape photographers will be able to take advantage of tools like AccentAI, SkyAI EnhancerAI and AtmosphereAI, which lets creatives add in elements like fog and steam into their photographs. Powered by 3D depth mapping and segmentation technology, LuminarAI intelligently knows where subjects lie in images, meaning that effects are applied to the background of the photograph, without impacting the main subject.
LuminarAI's portrait tools are truly groundbreaking, letting creatives dial in adjustments to perfect that headshot, wedding portrait or candid family moment. Tools like IrisAI let creatives change and enhance the color of the eyes, while also adjusting elements like Iris Visibility, Iris Flare and more. This is perfect for when a subject's eyes are a bit more subdued.
With BodyAI, subjects' bodies can be molded in a realistic way, adding or reducing volume as necessary. Finally, FaceAI and SkinAI let creatives reduce shine and blemishes, while also slimming faces or adding light to make a subject stand out just a little bit more.
All of these tools come together in Skylum's most exciting release yet. See all of what LuminarAI has to offer and get ready for its release by tuning in to Luminar Live.
Useful links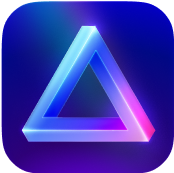 Advanced yet easy-to-use photo editor
view plans