This week, we touch base with Darren McBurnett, a retired US Navy SEAL, combat veteran and, now professional photographer and motivational speaker.
The elements. Wind. Water. Fire. Sand. And human determination in the face of them. These are the themes of Darren McBurnett's work. "I love working with the elements because they can't be controlled," he says with pure joy. "I love gray miserable days … when there's like no sun out, you know, you got that nice gloom look, but there's still something there."
That "something" goes deep. It taps into McBurnett's 24 years as a Navy SEAL, where his passion emerged for capturing a singular, often crushing, moment. And it resonates with his 97,000-plus followers on Instagram, his A-list clients like Nike, National Geographic and Rolling Stone, and with the thousands who own his top-selling photographic anthem, Uncommon Grit.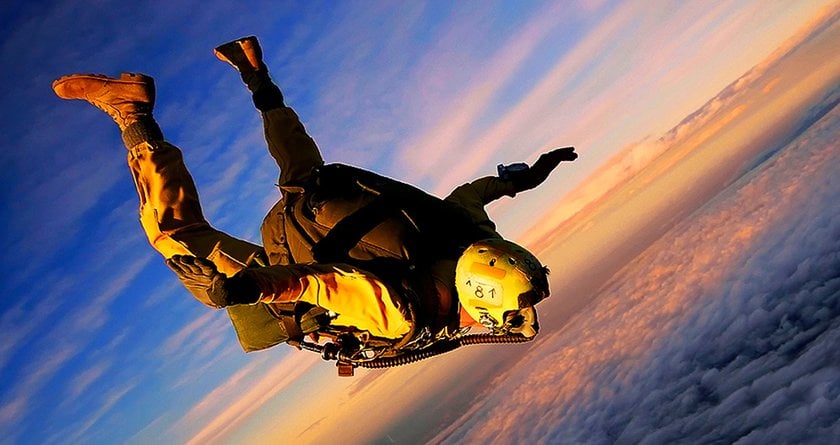 Fire at 16,000 feet
When you ask McBurnett what made him try photography, he can remember the precise moment. He suddenly felt the need to capture a shot while teaching SEAL teams to jump from 16,000 feet in military freefall school in Arizona. "I just remember one morning, the C-130 ramp, opening up early in the morning, I was in one of the earlier lifts of the day, and it was not even five o'clock, and the sun was just creeping over the desert. And it just made the entire desert, this bright red orange color. And I was like, Man, that's really, really cool. I was like, 'someone should take a picture of this.'"
Soon after, McBurnett taught himself digital photography. "I actually learned the digital darkroom and editing first for about six months. I bought a small 'how to edit your digital photo' digital discs on eBay for like $2, and I would sit there with the files and learn." Once he mastered the digital darkroom, McBurnett bought a Canon 30D, a used Tokina 12-20 lens, and a CF card reader, and drilled the rig to his helmet. "My first photos were at 16,000 feet."
Real and Raw
At first, McBurnett mastered the numbers. "When I was started, I looked at a scene, and I knew what the numbers would be, like, okay, that's gonna be 133, that's kind of up to 10, that's going to be you know, like 50. And I can see the histogram in my head of where the contrasts are going to be with the highlight blowouts. That helped me tremendously to create my style."
In his early photos during skydiving or military freefall, McBurnett focused on vibrant color. But as soon as he began composing photographs for his book on the SEAL experience, a new creative approach emerged. He wanted to reveal the gruelling training experience from the inside, as someone going through it. And that guy isn't noticing deep blue water or the purple of an evening sky. "If you're on the ground, every day is that emotional struggle. You are fearful every day, to be honest with you. Everything is dirty and grimy and dark, you know, and that pushed me to another creative level."
That raw emotional honesty — and McBurnett's compassion for what the trainees are going through — is what emerges powerfully through his work. His photographs bring us inside uncommon effort, superhuman resilience. But also very human failure. "With the whole book, I basically want to show you how this is what hard looks like, this is what pure raw emotion looks like. These are real human beings doing this". Through these images, you see McBurnett's evolution beyond color, into form and structure; the striking contrast of human flesh pressing against the elemental forces of nature.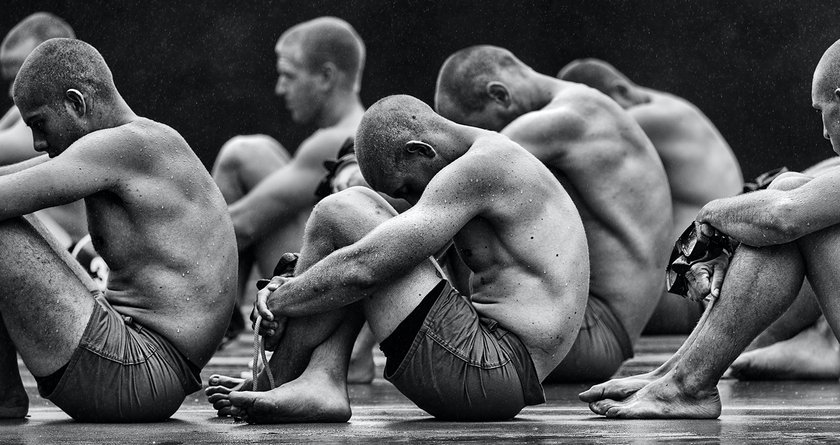 The Ruthless Select
McBurnett is the first to say that he learned photography as an editor, then evolved into a storyteller. He explains, "I used to just do everything to get the shot, make sure it's properly sized, cropped, resolution, proper color space and do your basic edits, fix what you need to in Photoshop, get the noise out where needed." Soon, he shifted to working from the end point—what did he want the final image to be, how many different sizes and resolutions might it need to be in? Where was the viewer going to be seeing this photo—in a book or on the side of a building? That's when he began to compose shots to tell a story.
Part of McBurnett's workflow has always been making ruthless selects while images are still on the card. His careful time management pays off. "I certainly don't go out and burn like a whole roll of pixels on every shot. Because who the hell has time to go through like 1500 shots? Yeah, I don't have that kind of time. But yeah, I kind of know what I'm looking for." Then he begins to make small edits, remove noise, remove artifacts, and anything else that doesn't fit. "I know that sounds kind of weird, but I've had really fantastic images of students on the beach and then then you look more closely at the image. And his hand is right near beach trash that just doesn't belong there." Only after this editing and cleanup process will he begin to work creatively with plugins and filters.
And that's where a tool like LuminarAI comes into play.
Decisions Define Artistry, Not AI
We asked McBurnett whether he shares some photographers' concern about AI. His answer was as honest as his photographs. "In my opinion, it's still your artwork. I took the image, you know, it's my intellectual property, I'm just editing it in AI. I already use plugins when I want to do things that are going to amplify the image. So I have no problem with that." That said, he still considers himself a "very hands on guy."
Keep Exploring
When asked what he would do with the extra time AI can give back by eliminating repetitive editing tasks, McBurnett laughs. "I tell you what I would do if I had that kind of time: I'd creatively explore other options [with that image]. You know, maybe this looks good as a duotone. Maybe … I can drop it over a different plug in and see where it goes. You know, I love exploring." In fact, McBurnett has often revisited images that he took years earlier, now with a new eye. So he sees how having more time for that exploration using AI tools can unlock new approaches to past subjects.
Parting Wisdom
What advice can this master of his craft give to emerging photographers? Always keeping it real, McBurnett offers that number one, you must like your subject. "Because if I don't like what I'm photographing, how can I expect anyone else to like it?" His second piece of advice is equally simple: "Master your craft and be patient, okay?" In particular, he recommends learning to operate your camera in the dark, without looking at it. Make it second nature, an extension of yourself. "Because if you can't master your craft, understand photography basics, then you're never going to be able to explore your creative side."
Thankfully for the rest of us, McBurnett has more than mastered his craft. He has pushed creative bounds to reveal a previously unseen story: of humanity facing down elemental forces, including the ones inside us all.
To see more of Darren McBurnett's work, check out his website, his book Uncommon Grit, and follow him on Instagram.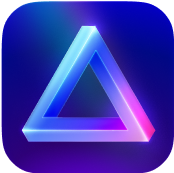 Advanced yet easy-to-use photo editor
view plans