A photoshoot for Courtney B. Vance and using Luminar
Image by © Matthew Jordan Smith
Project – Celebrity Photo Shoot
Subject: Courtney B. Vance
Photographer: Matthew Jordan Smith
Location: Los Angeles, California
This project was commissioned by the actor, Courtney B. Vance in order to update his commercial headshots, press and social media imagery.
Overview
The photo shoot had to happen quickly because of my subject's shooting schedule. I flew to Los Angeles from Tokyo the day before the shoot and shot the following day from 10:00 a.m. - 3:00 p.m. The actual photo shoot went smoothly and Courtney was a breeze to work with.
I was leaving the day after the shoot to fly back to Tokyo to prep for a job back in Tokyo and needed to use my flight time wisely. The flight is 11 hours and I'd need to sleep, and edit when I was rested enough.
I can always tell where the gold is during the shoot. You can just feel when your subject goes into what I call the "magic zone." The magic zone is where your best images take place. Sometimes it lasts for a period of time during a shoot and other times it's just a brief moment, but you can always tell when your subject is in that zone. With Courtney, he hit his zone about an hour into the shoot and it lasted until the very end. Even before I saw my images, I knew which would be the best shots.
As I started editing on the plane, I went to my magic zone and found my gems. Then I started editing my favorites in Luminar so I could get off the plane and email a finished file to surprise my subject. I find this always works well if you can promise a time to delivery and surprise your subject by delivering early.
The Luminar Interface
As I was on the airplane, I opened a few of my favorite images and started working away. For men, I like to enhance the photograph with the Enhanced Portrait Preset which is the perfect tool for this. Out of the gate, my image looked better. I always toggle between before and after by hitting the \ key. I started by using the adjustment slider and going from 100 down to 71 percent. Then, I went to the right-hand side bar and adjusted my contrast up to 38 percent. Next, I played with my black and adjusted down to -7 percent. The next step was the Vignette filter, which I think really works well to enhance an image. The vignette looked great around -55 and the size of my vignette to around 30. The roundness of the vignette is 47 and the feathering was not used at all on this image. The center of the vignette is placed at his nose and then I was finished.
When I got off the plane, I could send my subject my favorite images and just wait for his reply. Before I could get home from the airport, he sent an email saying he was blown away. Luminar makes my life easy, even on when I'm on the go.
The lessons I've learned while working in Luminar is to find the preset you like best and then change it so it fits your style of photography best. The Enhanced Portrait Preset was the perfect starting point for me on this shoot and then I could easily make a few slider changes and have my images completed. As you work, make sure to toggle back and forth so you can see your original image. I always find this works well as your eyes easily adjust for changes as you work on images.
Remember to always shoot what you love and then take your images into Luminar to enhance them ever more. For men's portraits, start with the Enhanced Portrait Preset and adjust the amount.
Good luck!
Matthew Jordan Smith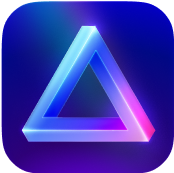 Advanced yet easy-to-use photo editor
view plans