With so many photo editors — all of which are adding new and smart functionalities every year — it's hard to decide which one is best for you. Find out what criteria to look for when choosing your professional photo editing software and which vendors are on top
In recent decades, photography has become accessible. Modern technologies have lowered the price of digital cameras and the selfie generation has put a camera in every phone. Photo gear is cheap and easy to use, and photo editors target not only professional users but the general public. So how can you choose professional photo editing software that fits your skills and requirements?

Surprisingly, price is no longer a criterion. You can find excellent free professional photo editing software and expensive software that doesn't meet your requirements. More and more developers are focusing on free, open-source software that's developed among communities of volunteers. They deliver cross-platform software and allow you to be part of the development process.
Choosing a well-known photo editor may offer a guarantee in terms of quality and compatibility. Nevertheless, it may be expensive and provide features you don't need.
Price and popularity are no longer the only criteria you should consider. A photo editor is a long-term partner, and you should make an informed decision.
Criteria for choosing the best professional photo editing software for you
Professional photographers should focus their attention on software dedicated to photography. Still, many other functionalities are helpful and good to have. To make sure you choose the right photo editor for your requirements, budget, and resources, consider the following criteria:
Camera compatibility – Make sure you choose software that supports your camera and lenses and provides custom manufacturer profiles, tethered shooting, and support for RAW files. Camera compatibility is important for achieving accurate colors, maintaining fidelity in the details, and having access to customized tools.
Hardware/operating system compatibility – Make sure your system meets the hardware requirements recommended by the photo editor's vendor. Verify compatibility with your operating system, graphics card, and processor.
Editing performance – Each photographer has a unique artistic style and needs different editing functionalities. There are photo editors dedicated to portrait photography or fine art photography. There are also editors with high performance for landscape and nature photography. You may want natural-looking images and look for subtle filters, local adjustments, and smart image enhancement tools. Or you may want tools for painting over images, support for graphics tablets, and rich brush libraries.
Workflow – Professional photo editors offer more than editing functionalities. They provide a fluid workflow that includes batch processing, support for different file formats, watermarks, backup plans, and more. A good workflow needs an easy-to-use interface and speedy performance. If you edit images from different places and devices, you might need cloud storage and a photo editor that can keep your pictures synchronized.
Digital asset management – Photographers work with large sets of pictures. Besides batch processing, fast editing requires a good image management system, sharing capabilities, and efficient search tools. If you don't want to use separate software for organizing your images, choose professional photo editing software that provides this functionality. Make sure it allows you to label, rate, sort, and share images.
Presets and filters – A rich library of presets and filters can save you time and energy. You don't have to recreate the same style over and over again. Make sure that you choose a photo editor that includes a wide variety of presets and allows you to fine-tune them and save your own for later use.
Where to look for the best professional photo editing software in 2021
There are many interesting photo editors on the market, most of them available for Windows and Mac with either perpetual licenses or monthly subscriptions. They have websites with documentation, tutorials, and video instructions. You can read reviews, compare features, and see how images look when edited with these programs. But keep in mind that however detailed a vendor's description might be, a free trial is the best way to decide which photo editor is best for you.
Skylum develops image editing software dedicated to amateurs and professional photographers. Among its products are Photolemur, Aurora HDR, and Luminar. Luminar is a complete software solution for photo editing and covers all the criteria mentioned above. The latest version, Luminar 4, has just launched and brings smart features based on Artificial Intelligence, more powerful digital asset management, and presets designed by professional photographers.
Luminar covers all types of photography and provides filters and presets for a large variety of artistic styles. It allows you to make subtle changes and create natural-looking images. Luminar uses artificial intelligence to create custom sets of adjustments for each image. It recognizes faces, people, and objects and personalizes adjustments.
It also includes image management, batch processing, and a customizable interface. Luminar is available for Windows and Mac and costs €79 during the pre-sale.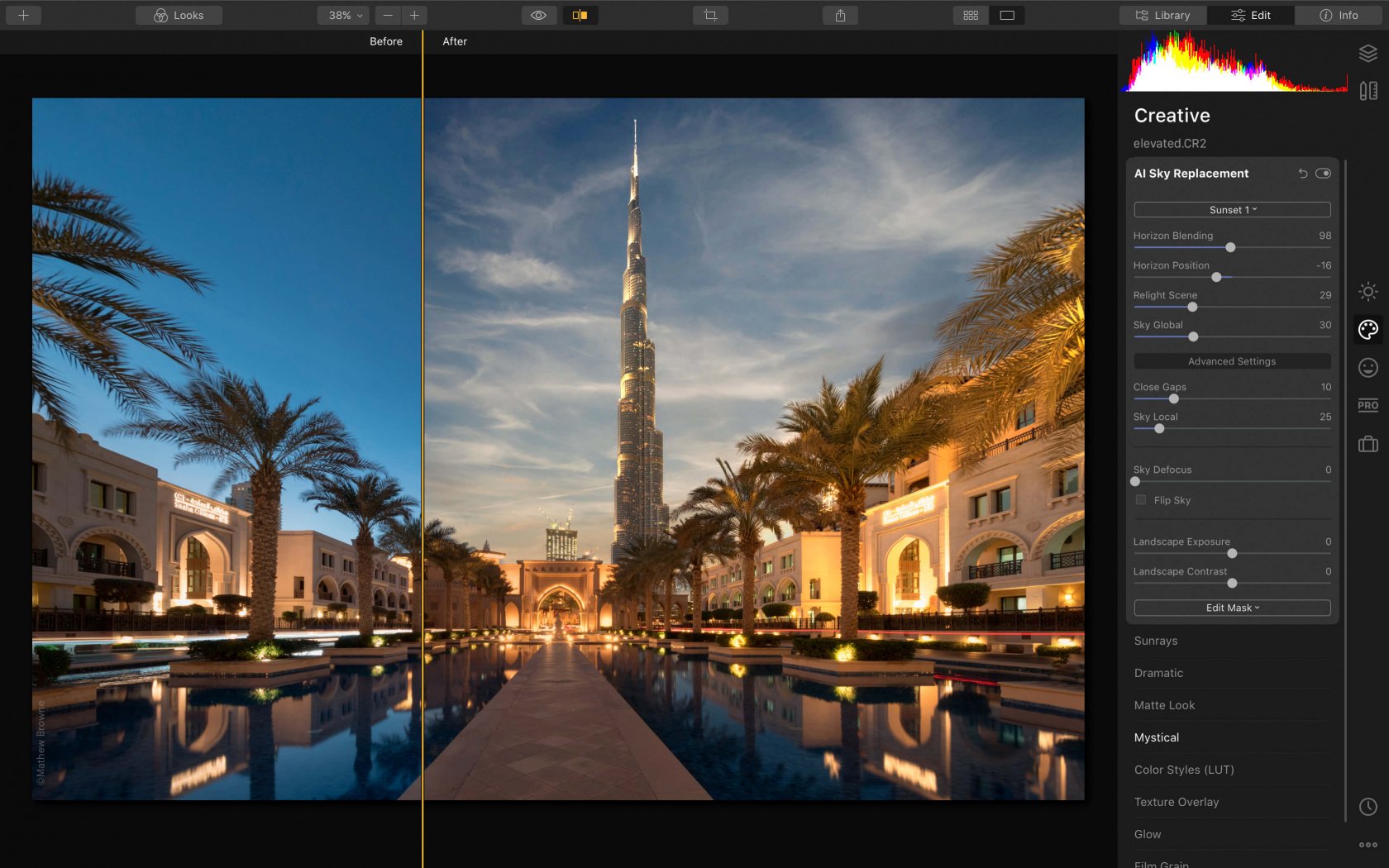 Adobe, the most famous name in photo editing with a long history and many customers, has two powerful image editing products: Photoshop and Lightroom. But Adobe's products are more expensive than others and require more time to learn and practice.
Adobe Photoshop is considered the best software for image editing and graphic design. It provides a wide variety of functionalities for basic image adjustments, geometric transformations, selections, drawing and adding text over images, filters, and special effects. Photoshop isn't exclusively created for photographers. You can use it to create banners, websites, and posters as well as fine art photography.
Adobe Photoshop is available for Windows, Mac, and iPad and offers cloud storage to keep your images synchronized and access them from different devices. Due to its longevity and popularity, Photoshop's default format is supported by many applications and there are many plugins available. Nevertheless, Photoshop doesn't offer image management tools.
Adobe Lightroom is a cloud-based service that provides photo editing on desktop, web, and mobile devices. Unlike Photoshop, Lightroom is designed for photography and offers tools for capturing, editing, and sharing images. It also offers digital asset management and helps you keep track of your editing history and photo albums.
Lightroom has a neat interface and easy-to-use sliders for fine-tuning. It provides advanced photo editing features such as focus shift, sharpening, noise removal, a healing brush, selective edits, and perspective correction. Lightroom also includes a lot of presets and allows you to save your own sets of adjustments for later use.
You can subscribe to Adobe Photoshop for $20.99/month and Adobe Lightroom for $9.99/month.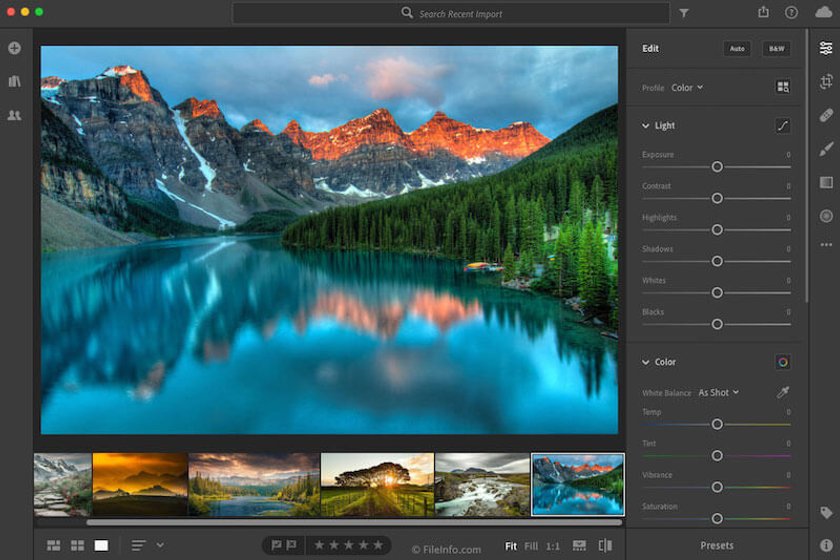 Capture One develops professional photo editing software dedicated to professional photographers. It offers custom products for different camera manufacturers (Capture One for Sony, Capture One for Fujifilm, and Capture One Express, which is free professional photo editing software for Sony and Fujifilm), a photo production solution for enterprise (Capture One Studio), an iOS app for tethered shooting (Capture Pilot), and a complete photo editing solution (Capture One Pro).
Capture One Pro supports more than 500 camera models. Thanks to all of its camera and lens profiles, Capture One Pro provides accurate colors, high-level details from RAW files, and fast and reliable tethered shooting. Capture One gives you full control over the editing process and a wide range of tools. Among its best features are precise color handling, extensive adjustments for exposure, contrast, and saturation, shadow and highlight recovery for images with high dynamic range, detail enhancement through clarity and structure controls, luma and film curves, layers and masking tools, and built-in style packs with predesigned visual adjustments.
Capture One Pro includes digital asset management functionality and allows you to organize your images in catalogs and sessions, rate and label them, work with batches and copy adjustments, and use layered .PSD files.
Capture One Pro is available for Windows and Mac and offers a 30-day free trial. You can buy a perpetual license for €499 or a monthly subscription for €29/month.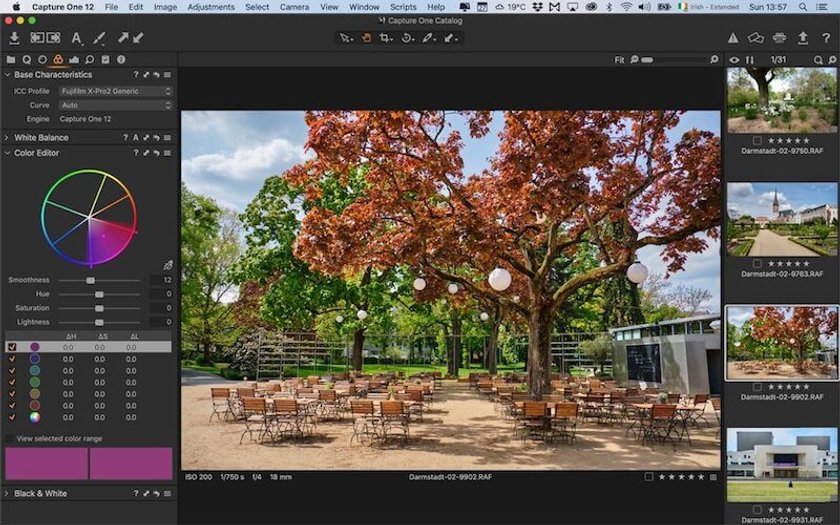 DxO develops a complete professional photo editing software solution called DxO PhotoLab, a set of plugins for Adobe Photoshop and Lightroom, the Nik Collection, and a plugin for fixing skewed perspectives from wide-angle lenses called DxO ViewPoint. All DxO products are dedicated to professional photography. While plugins cover specific functionality (color photo editing, black and white conversion and editing, HDR editing, analog photography, etc.), DxO PhotoLab aims to be the only photo editor you need.
DxO PhotoLab is designed by photographers and focuses on accurate colors, subtle adjustments, and camera profiles. It matches the rendering of more than 60 camera models to provide natural-looking results. PhotoLab also provides optical corrections and lens profiles, haze and noise removal, contrast optimizations, local adjustments, filters and special effects, brushes and masking tools, a repair tool for quick fixes, smart lighting for revealing details in overexposed and underexposed areas of an image, and presets for fast styling.
PhotoLibrary is the digital asset management tool provided by DxO PhotoLab. It facilitates image search using keywords, works with metadata, and allows for batch processing.
DxO PhotoLab is available for Windows and Mac and costs €99.99.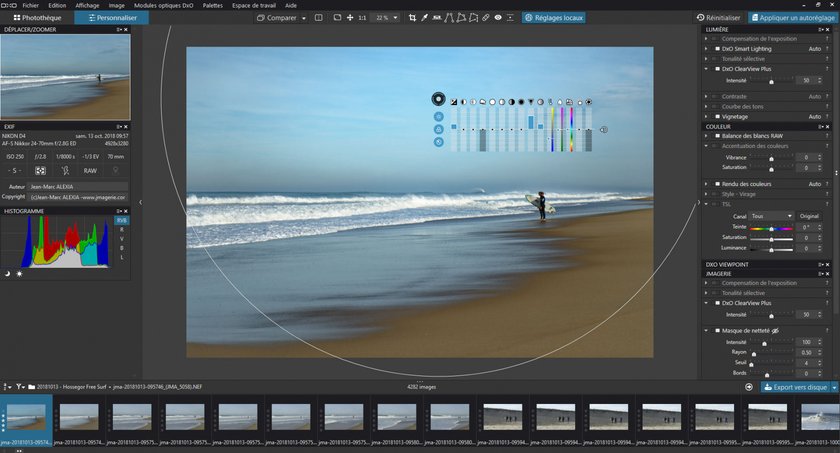 For a long time, ACDSee has developed a neat solution for organizing and viewing images. Recently, it expanded its range of products and became known not only for image management but also for image editing solutions. Today, ACDSee provides complete solutions for photo and video editing and mobile applications.
Besides the famous ACDSee digital asset management tools, ACDSee Ultimate 2021 includes photo editing and graphic design tools. It provides powerful RAW editing, focus stacking and HDR editing, facial recognition, support for layers and creating your own color adjustments, and tools for adding text and textures over an image. ACDSee Ultimate 2021 also includes geometric corrections, local adjustments, and tools for working with burst images.
ACDSee Ultimate 2021 is available only for Windows and costs $109.95 or $8.90/month.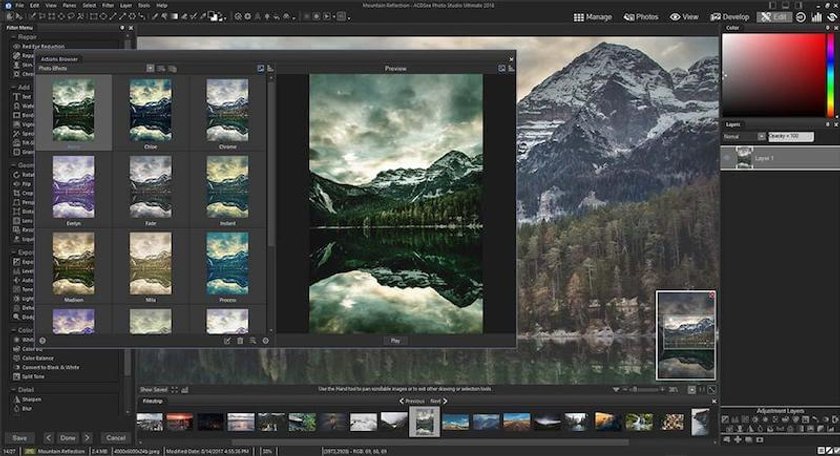 CyberLink develops several products for photo and video editing, online presentations, and video meetings. Its professional photo editing software, PhotoDirector 365, provides precise image enhancement tools, graphic design elements, and audio tracks.
Among PhotoDirector's best features are portrait retouching, layer editing and creative blending modes, haze and fog removal, deblurring, and content-aware object removal, moving, and cloning. Artificial Intelligence is used for face recognition and recreating painting styles.
PhotoDirector 365 isn't exclusively designed for photographers. It offers exquisite tools for graphic design such as 360-degree image editing, color replacement, layer templates, frame and clip art libraries, creative effects, and slideshows. You can use it to create videos from photos and add music as a soundtrack. It also allows you to organize images, use metadata, and search and tag photos.
PhotoDirector 365 is available for Windows and Mac. You can buy a perpetual license for $99.99 or get a subscription starting at $4.58/month.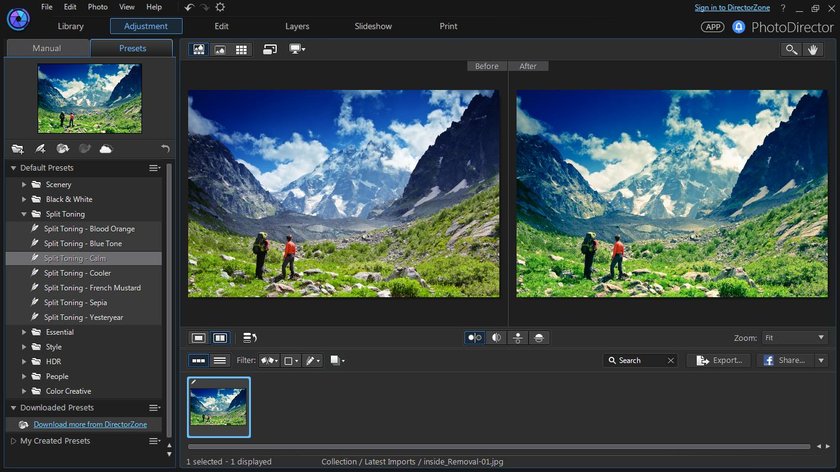 Corel is known for graphic design software, but they also develop professional photo editing software called AfterShot Pro. This RAW editor is dedicated to professional photographers. It offers competitive tools that are easy to learn and use. AfterShot Pro includes digital asset management, batch processing, and integration with Adobe Photoshop.
Among its best features are blemish recovery, highlight recovery with detail preservation, lens correction, camera profiles, and presets for fast styling. AfterShot Pro allows you to add watermarks and protect your images. It also provides selective and multi-version editing, noise removal, red-eye correction, HDR editing, and efficient exposure, color, and contrast adjustments.
AfterShot Pro offers a fluid workflow, with customizable workspaces and easy integration with other photo editors. It's available for Linux, Windows, and Mac and costs €53.99.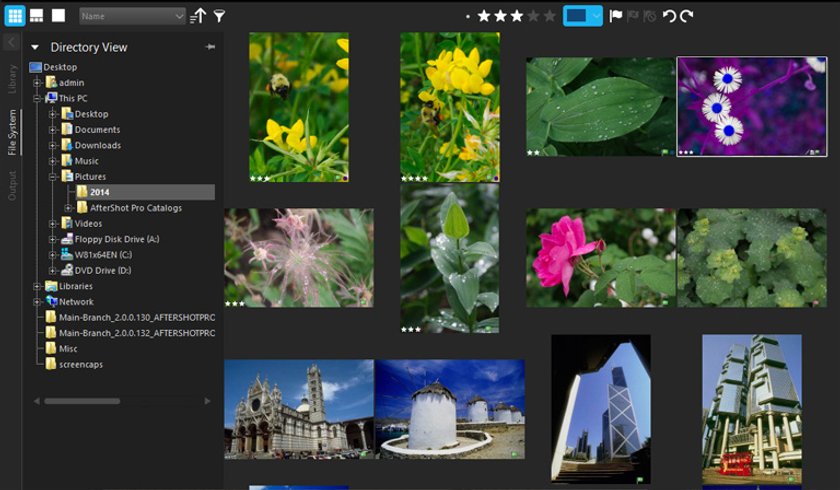 RawTherapee is a free professional photo editing software solution designed for RAW editing. It's cross-platform and has a large community around it. RawTherapee provides non-destructive tools, advanced color adjustments, camera profiles, and state-of-the-art demosaicing for RAW.
RawTherapee includes digital asset management tools and provides batch processing, preview panels, browsing through folders and albums, support for metadata, fast exporting, and image filtering by rating, exposure, and ISO. It's available for Linux, Windows, and Mac.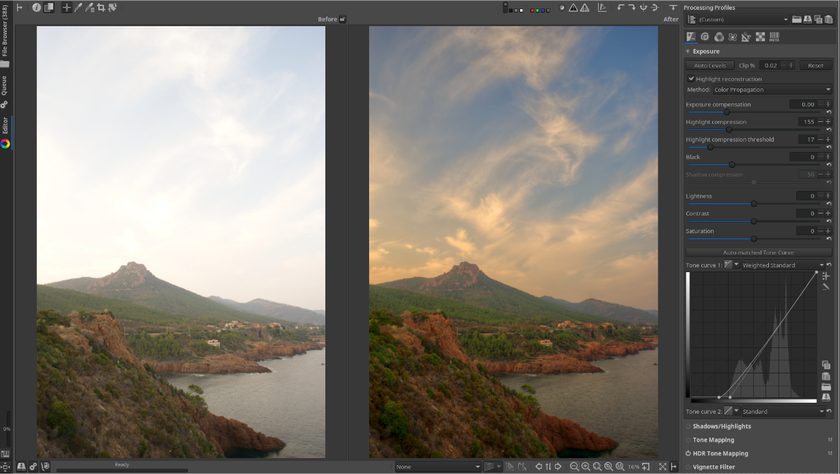 In conclusion
Most professional photo editors offer a free trial version. While you may not have time to try all their features, just installing and opening an editor can give you important information about the workflow, speed, and features you frequently use. As good as an editor may be, if it runs too slow on your computer, you'll lose valuable time. Also, read photographers' reviews and see if the editor you're considering delivers high-quality images for your preferred photographic style.
Choosing the best professional photo editing software for you is one of the most important steps in developing a successful career. Your photo editor is as important as your camera and should be a trusted friend. Choose it wisely and get to know it well!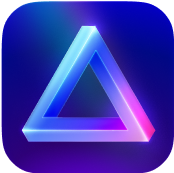 Advanced yet easy-to-use photo editor
view plans