BELLEVUE, WA - November 18, 2019 — Skylum is pleased to announce that Luminar 4 is now shipping. The release intends to change the way photographers approach photo editing, offering several tools informed by extensive machine-learning and a new streamlined interface to make photo editing more accessible than ever before. With its easy-to-use interface and sensible workflows, Luminar 4 is a great choice for creatives looking to move their photography forward.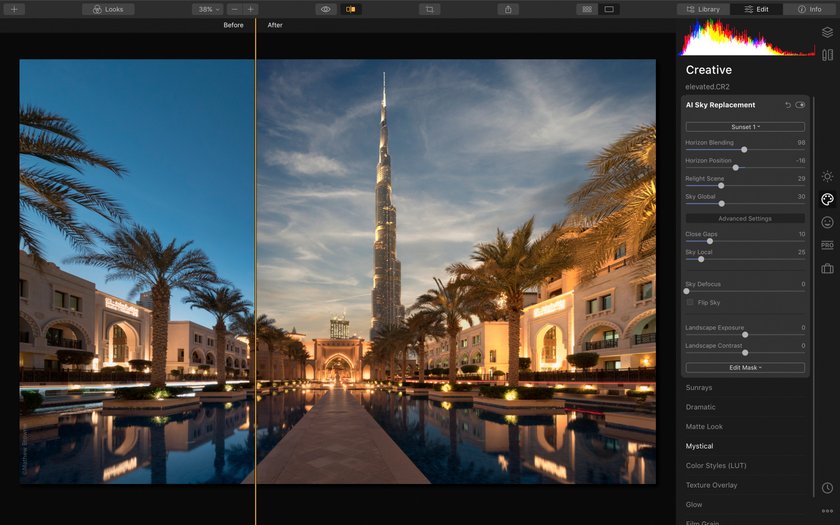 Luminar 4 isn't just another photo editor — it brings time-saving, creative photo processing to everyone in an easy-to-use approach. Skylum wants people to enjoy not only the taking of photos, but also the processing images which is typically where many photographers have the most frustration. With Luminar 4, anyone can create a masterpiece.
With a refreshed interface and workflow, Luminar 4 shifts from being a tool-based approach to one that is purpose-based. It shortens the learning process, helping any photographer experiment creatively and expand their vision. While the software incorporates complex tools, they're completely customizable and easy to use, whether you're a beginner or seasoned professional.
Skylum continues to push innovations forward through machine learning tools and introduces the newest AI-powered tools to Luminar 4: AI Sky Replacement, AI Structure, AI Skin Enhancer and Portrait Enhancer.
AI Sky Replacement works by automatically detecting not only the sky, but also objects in a photograph's scene. This helps make sure the photo ends up being as realistic as possible once you insert a new sky. It removes things like halos, artifacts and edges of transitions, problems that often were present in existing sky replacement techniques. With the AI Sky Replacement you will also be able to adjust the sky to fit the rest of an image — things like depth of field, tone, exposure and color — making it great for not only landscapes, but also portraits.
AI Structure in Luminar 4 automatically identifies objects like people and their faces, skin, sky, buildings and more, and improves them intelligently, instead of globally across the photograph. It adds detail and clarity to areas that otherwise wouldn't have much, boosting the structure and making for a much more pleasing image. What this means is that instead of adding Structure to an entire photograph, it selectively does so, meaning photographers no longer have to mask or brush out the effect.
Skin Enhancer allows photographers to automatically remove various skin imperfections like acne, freckles and moles, in addition to smoothing the skin. At the same time, skin pores and other small details like hair and eyelashes are preserved.
Portrait Enhancer takes your portraits to the next level, through several customization tools that were previously not accessible, even to professional retouchers. With Portrait Enhancer, it is now possible to highlight and improve primary features of a person's face and achieve a professional-looking portrait and make facial features more expressive with just the click of a button.
With these groundbreaking tools, photographers can achieve amazing results with just the click of a button.
"Luminar 4 is our biggest release yet," said Alex Tsepko, CEO of Skylum. "The changes we've made to the interface and workflow will make the photo editing process faster, and open up new possibilities to photographers everywhere. With new tools fueled by machine- learning, like AI Sky Replacement and AI Skin Enhancer, we make photo editing more accessible and approachable than ever before, Tsepko concluded
"Photographers no longer have to think about the 'how do I do this?,' instead they can focus solely on their creativity and lasting results."
Luminar 4 can adapt to any workflow
While Luminar 4 will be available as a standalone application, it will also shine as a plugin for Adobe Photoshop, Lightroom Classic and Photoshop Elements, as well as Apple Photos for macOS and Aperture. By offering users a variety of ways to edit their photos, Luminar 4 will be accessible and fit into any photographers' workflow!
Pricing and availability
Mixed-computer households can share the same product key for Mac and PC which can be activated on 2 devices.
The price is $89/€89/£81 for a new purchase and $74/€74/£68 for an upgrade at https://skylum.com/luminar-4.
Get in touch

Anastasia Sliusarenko
Head of PR&Communications