Adobe Illustrator is known as a reliable app, but the question is whether its price justifies its capabilities. It may make sense to explore competitors before investing in this application.
Despite the fact that Illustrator remains the world's most popular graphics software, many users are looking for other tools that offer similar features and capabilities. Whether you're a professional or an amateur, there are plenty of options to help you create stunning artwork without breaking the bank. In this article, we'll review some of the best alternatives to Illustrator in 2023, comparing their features, and ease of use to help you choose the best tool for your needs.

Software Like Adobe Illustrator: the Most Complete List
Although Illustrator is a really top-notch offering, it does have flaws. Overpriced, overloaded interface, only available for Windows and MacOS – all this shows that it is not only possible but necessary to look for other options. Let's take a closer look at Illustrator substitutes.
1. Affinity Designer
A lot of professionals around the world use this graphic design software, which is considered one of the biggest competitors to Adobe Illustrator. Users love its simple interface and seamless combination of vector and raster tools. Since the program is also available on iPad, it allows you to create designs and illustrations on the go, especially on tablets.
Specifications
The pricing model for this alternative to Illustrator is a one-time purchase. This differs from the subscription-based model, where users have to make a recurring fee to maintain access.
The app is compatible with Windows, Mac, and iOS. This means that you can install and use the product on a variety of devices, including desktops, laptops, and mobile gadgets such as the iPad.
The software is recommended for professional designers because it offers advanced features and editing tools. It includes image manipulation capabilities, vector graphics instruments, and other design-specific features to meet the needs of professionals.
Pros and Cons
In order to understand whether this Adobe Illustrator alternative is suitable for you, it is necessary to consider the benefits and drawbacks. Let's start with the pros:
Simple interface: Affinity Designer has a modern and intuitive interface that makes it easy to learn and use the application.

Affordability: The app can be purchased once, making it more affordable than other similar options that require a subscription.

Cross-platform: You can use this tool on a variety of platforms, making it accessible to a wide audience.

Powerful features: This software has a wide range of features for image manipulation, including vector drawing tools, advanced typography, and powerful export capabilities.
Speaking of cons, note the following:
Learning curve: Despite its user-friendly interface, mastering the app, especially for beginners, requires some learning curve.

Limited third-party support: Compared to other popular apps, Affinity Designer has limited third-party support for plugins, brushes, and other add-ons.
In any case, this software indisputably deserves the title of one of the best programs like Illustrator.
2. Sketch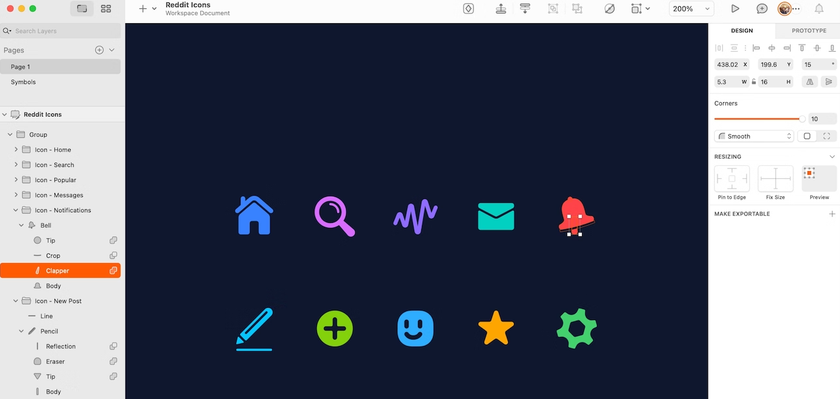 This is a vector drawing application that's well-suited for digital design. It is available for Mac users. While it doesn't have all the capabilities of Illustrator, it provides a cleaner, user-friendly interface that makes creating icons and UIs quick and easy. However, it may not be the best choice for creating complex illustrations or artwork. A license for Sketch costs $99 and includes one year of free upgrades. After your license expires, you can use the app indefinitely, but you'll have to update your license to get access to the latest updates.
Specifications
This is an Illustrator alternative for Mac created to cater to the needs of UI, UX, web, and app designers. It can be purchased once and used on a Mac operating system.
The app is suitable for various tasks, including website layouts, mobile application interfaces, and graphical user interfaces for desktop applications.
The product offers a one-stop solution for graphic designers working on various projects. It is a cost-effective and efficient tool for everyone who needs a comprehensive instrument that can handle different requirements.
Pros and Cons
The pros of this app include:
Clear Interface: This alternative to Adobe Illustrator is known for its simple interface that allows designers to quickly create illustrations and design interfaces.

Vector editing: The application has powerful vector editing features that allow designers to manipulate shapes, lines, curves, and text with ease. This makes it ideal for creating logos, icons, and other graphical elements.

Third-party plugins: Sketch has a vast ecosystem of third-party plugins that extend the functionality of the software.

Collaboration: This app has built-in collaboration features that allow designers to work together on the same project in real time.

Affordable pricing: Compared to other design tools, Sketch is relatively affordable and cheaper than Illustrator, making it accessible to small businesses and freelance designers.
However, there are also some cons:
Mac-only software: Although it is Adobe Illustrator equivalent, Sketch is currently only available on the Mac OS, which limits its accessibility for users who use other operating systems.

Steep learning curve: While the app is user-friendly, it still has a steep learning curve, especially for beginners who are new to using vector editors.

Not suitable for complex projects: This tool may not be suitable for complex design projects that require advanced features like 3D modeling or video and photo editing.
This application stands out among others because of its user-friendly interface and some unique features.
3. Inkscape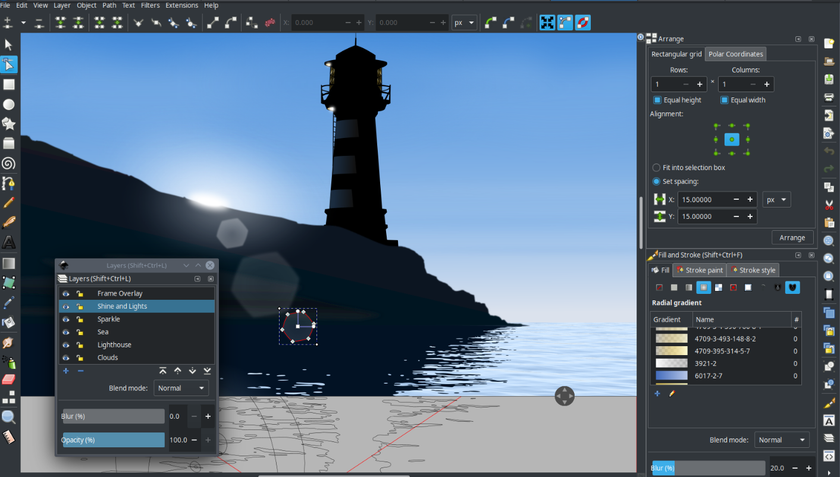 This software offers not only a handy interface and easy customization but also a wide range of advanced tools.
Unlike some other products, Inkscape lets you export to SVG, PDF, EPS, AI, CDR, PNG, OpenDocument Drawing, DXF, and PostScript file formats. It might not be the best tool if you're just starting out, but for those who are more experienced, this one offers the ability to create high-quality designs that can easily be shared with others. An additional undeniable advantage is that it is a completely free tool, which is compatible not only with Mac and Windows but also with Linux.
Specifications
Inkscape is a vector editor that is free and open source, which means that it uses scalable vector graphics (SVG files).
This one of the best alternatives to Adobe Illustrator is particularly recommended for users of the Linux operating system, as well as for students and startups who may have limited financial resources.
Despite its lightweight, it is a powerful tool that can run on low-powered computers. Inkscape has a wide range of features such as object grouping, layers, and various drawing instruments: shapes, calligraphy, pencil, and pen tools. It also has advanced features such as bitmap tracing, and Boolean operations.
Pros and Cons
Here are the pros of this design software:
Free and open-source vector app: Inkscape is free to download and use, and its source code is available for anyone to modify and distribute.

Cross-platform compatibility: The app is available on multiple platforms, including Windows, Mac, and Linux, which makes it accessible to a wide range of users.

Powerful vector editing tools: This one of the best Adobe Illustrator alternatives offers a wide range of features for creating and editing vector graphics, including drawing, text, and path editing tools.

Extensibility: This design tool supports a wide range of extensions and plugins that can add additional functionality to the software.
As for the cons, you should pay attention to the following:
Limited support for raster graphics: While Inkscape can import and export raster graphics, its primary focus is on vector graphics, so its raster editing tools are limited.

Slow performance on large files: Inkscape can become slow and cumbersome when working with large or complex files, especially on older hardware.
Despite the small shortcomings, it is really a worthwhile Adobe Illustrator replacement.
4. CorelDRAW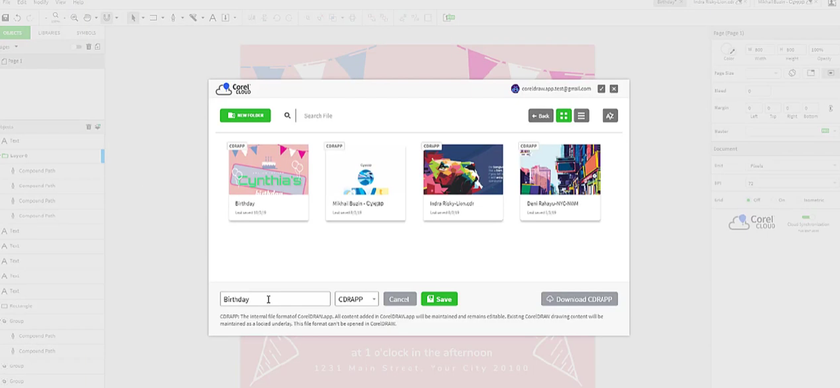 This application offers not only great performance but also an intuitive interface, which means that CorelDRAW is great for novice designers.
Even though this product is easier to learn than Adobe Illustrator, that doesn't mean it hasn't got many features. This design software offers a number of unique capabilities.
While CorelDRAW cannot be considered inexpensive, it offers greater flexibility in terms of payment methods. You can purchase CorelDRAW Graphics Suite with a one-time payment, while the new 2022 version requires a subscription. The latter comes with additional features such as dynamic asset management. For those who are not professional designers, the CorelDRAW standard is a more affordable option.
Specifications
The pricing structure for this software like Adobe Illustrator offers two options: a one-time purchase or a subscription-based model. You can also take advantage of the free trial period.
This product is compatible with a range of systems including Windows, Mac, and iPad. It is primarily recommended for users who work as illustrators or artists and require high-quality software. Whether you choose the one-time purchase or subscription option, this app provides access to a range of features and tools that can enhance your creative process and improve the quality of your work. With its compatibility across multiple platforms, you can easily integrate this software into your existing workflow regardless of your device preferences.
Pros and Cons
Let's consider the main advantages:
Versatility: CorelDRAW is a versatile tool that can be used for a variety of purposes, from creating business cards and logos to designing complex graphics and vector illustrations.

Easy to learn: The app has a user-friendly interface that makes it easy to learn and use, even for beginners.

Extensive features: Among other programs like Adobe Illustrator, this one has a vast range of features, including advanced tools for image editing, layout, typography, and color management.

Excellent file compatibility: CorelDRAW supports a wide range of file formats, making it easy to share and collaborate with others.
However, there are also some drawbacks:
Limited 3D capabilities: This software has limited 3D capabilities compared to other graphics software, making it less suitable for creating complex 3D models.

Some tools can be difficult to use: While the features are extensive, some tools can be challenging to use, requiring more advanced knowledge and experience.
Among other software similar to Adobe Illustrator, this is definitely one of the best options.
5. Boxy-SVG

This is a paid illustration and design tool that focuses on usability. It has an intuitive and minimalistic interface.
Most of the work is done on the "canvas", and there is a toolbar on the side. Using customizable keyboard shortcuts, you can quickly make edits. For those who are new to Boxy-SVG, there are many tutorial videos explaining how to use the application.
Specifications
This vector software can be used on completely different devices and operating systems. Do you like working on a mobile device? Or do you prefer the desktop version? All your needs will be covered. The application is available for Windows, Mac, Linux, Android, and iPhone users. You can get this one of the best Illustrator alternatives for $9.99 per year. The free version can be used for 15 days. That's enough time to experience all the key features of the application.
Boxy-SVG is incredibly easy to use and is the right choice for beginners. However, due to its lack of advanced tools, it may not be the best choice for the expert designer.
Pros and Cons
Let's look at the key benefits of this application:
User-friendly interface: Boxy-SVG has a simple and intuitive interface that is easy to navigate even for beginners.

Lightweight and fast: It is a lightweight Illustrator equivalent that runs smoothly even on older computers. It also loads and saves SVG files quickly.

Good for basic vector editing: The app is suitable for basic vector editing tasks such as drawing shapes, lines, and curves, and manipulating them using tools like the pathfinder and alignment options.
There are also some disadvantages:
Limited font options: Boxy-SVG has a limited number of fonts compared to other vector graphics editors. This might limit your creative options, especially if you are working on branding or design projects that require custom fonts.

The standard version does not allow you to export SVG files to PDF.
If you are a beginner, we advise you to try this one of the best programs similar to Adobe Illustrator.
6. Vectr

This is a great tool that can be a substitute for Illustrator. It is completely free and works in a web browser. Its user-friendly interface makes vector editing easy and straightforward to get started. Moreover, since the product is web-based, it can be accessed by anyone with an Internet connection, which makes it incredibly convenient for multiple users to collaborate on designs.
Specifications
An indisputable advantage is its completely free access, which makes this tool ideal for beginners and startups. This application is also great for users of outdated hardware and for those who prefer the Linux operating system.
Among other free Adobe Illustrator competitors, this product stands out for its versatility, but also for its ease of use. Thanks to its unique URL function, each image has its own link that can be shared with others, and once the design is complete, it can be exported to SVG, PNG, or JPEG files. Vectr is perfect for beginners and experienced designers alike who are looking for simple but powerful illustration software.
Pros and Cons
Speaking of the main advantages, we note the following:
Easy to use: Vectr has a user-friendly interface that makes it a simple way for beginners to get started with vector graphic design.

Free: The tool is completely free to use, making it a great option for those on a tight budget.

Cross-platform compatibility: It can be used on different operating systems as well as web browsers.

Collaboration: This software enables easy collaboration between users, allowing multiple people to work on the same project at the same time.
However, here are the disadvantages to pay attention to:
Limited features: Vectr doesn't have as many features as other vector design applications.

Performance issues: Some users have reported performance issues when using this tool, such as slow loading and crashes.
Despite some limited capabilities, this option is great for those who do not want to spend money on expensive software.
7. Gravit Designer

If you're looking for a powerful and versatile tool that won't price you out, check out Gravit. This Adobe Illustrator similar software is completely free and offers a wide range of features that rival Adobe Illustrator. Whether you are a beginner or an experienced professional, Gravit has something to offer everyone.
Specifications
With Gravit, you'll have access to thousands of vectors, templates, wireframes, and UI designs to help you create stunning artwork. This app has all the tools you need to bring your vision to life.
This software offers vector tools similar to Adobe Illustrator. It also provides features such as live filters, layers, and outline editing modes, allowing users to easily create and manipulate shapes. In addition to these standard features, the application also has some unique options, such as an SVG editing tool, and cloud integration.
Pros and Cons
The pros of this one of the best apps like illustrator include:
Autosave feature: This is one of the best options because it automatically saves your data every five minutes, so you don't have to worry about losing your projects.

Cloud storage: With 500MB of free cloud storage, we can say that Gravit Designer is quite generous in terms of document space. The learning curve for this app is very simple, and it also offers easy export to PDF.

Accessibility: The tool is available in the browser as well as on Windows, Mac OS, Linux, Chrome OS, and Progressive Web App platforms.
However, it is worth paying attention to the disadvantages as well:
Gravit Designer does not offer many advanced tools. For example, you cannot share it with other users or work on the same project at the same time.

A constant Internet connection is required. However, if you purchase the Pro version, you can use it without the Internet.
And yet, even with some imperfections, this tool remains one of the best Adobe Illustrator alternatives.
How to Choose the Best Alternative to Illustrator for You?
To choose the best option, try to consider the following points:
Your lifestyle. Do you prefer to work from a desktop or mobile device?

Do you work independently or in a team? If the latter, you are better off choosing an alternative that is ideal for collaborative work and allows you and your team to work on common projects at the same time.

Your level of design and illustration skills is also critical. If you are just starting out, you should choose an option that has a user-friendly interface and video tutorials.

The functionality of the app and its cost. How advanced features do you need? How much do you expect it to cost? Think carefully.
With these simple points in mind, you can make the best choice.
How We Test the Best Free Adobe Illustrator Vector Alternatives?
When looking for the best Apps like Adobe Illustrator there are several factors to consider, such as functionality, interface, compatibility, and overall user experience. Here are a few steps you can take to check out the best applications:
Do your research and make a list of potential alternatives: This can be done by browsing for vector software and reading reviews and recommendations from other users.

Install the software: Once you have a list of potential alternatives, install the software on your device. Be sure to download the latest version and check the system requirements to ensure compatibility.

Test the user interface: Spend some time exploring the interface and becoming familiar with the various tools and features. Pay attention to areas that are particularly easy or difficult to navigate.

Create a simple design: Start by creating a simple design or illustration to test the basic functionality of the software. This will give you a good idea of how easy or difficult it is to use the app for everyday tasks.

Evaluate the overall user experience: Finally, evaluate the overall user experience. Consider factors such as speed, stability, and responsiveness. Also, consider whether the application meets your specific needs and whether you would recommend it to others.
By following these steps, you will be able to test the best apps similar to Adobe Illustrator and determine which option is right for you. Remember that each tool has its own strengths and weaknesses, so it's important to choose one that meets your specific needs and preferences.
FAQ
Here we answer the most popular questions.
What is an Adobe Illustrator Alternative?
Alternatives to Adobe Illustrator are software that provides similar features and functionality. These apps are designed to allow users to create, edit, and manage vector graphics.
Why Would I Want to Use an Adobe Illustrator Alternative?
For a lower price (or even free) you can get the same features. You can also choose an option with a more user-friendly interface. For example, Luminar Neo is a great option for users of all levels thanks to its unique AI tools.
Are Adobe Illustrator Alternatives Compatible with Adobe Illustrator Files?
Some applications support files that are compatible with Adobe Illustrator. Be sure to read this information before installing.
Do Adobe Illustrator Alternatives Offer the Same Features as Adobe Illustrator?
Here again, it all depends on the chosen option. Some offer virtually the same features, while others have limited functionality.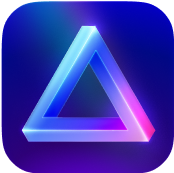 Advanced yet easy-to-use photo editor
view plans