With modern photo enhancing applications available for Macbook, it's extremely easy and fun to make
Some of the best laptops in the world are made by Apple. When it comes to photographers, Apple's MacBook computers are preferred by many around the world. The number of apps and programs that allow them to enhance their photos are one of the primary reasons why people choose MacBooks for their photo editing needs. Coupled with the excellent performance and light weight of these computers for easy portability, these become the ideal machines for photo manipulation and processing.
Kinds of Photo Editors for MacBook
There are many different kinds of photo enhancers for your MacBook. The one you choose will depend mostly on your needs and preferences. Some of these editors provide you with pretty much everything you could ever want from a program of the sort, but they usually come with an equally complex user interface. Such editors require you to spend a good amount of time learning and mastering them.
On the other hand, there are many photo editors that put the focus on ease-of-use. These also have all the basic, and even some advanced, editing features on your MacBook.
Let's take a look at some of the best advanced web-based and image enhancers online for your MacBook, so that you can decide which one is right for your needs.
For a Feature-First Approach
If you are looking for pro-levels of image editing, including the ability to create whole new images by treating your photos, it doesn't get much better than Adobe Photoshop. With this software, correcting colors and managing exposure is just the start. You can enhance your images using fine-tuned tools that allow you to make edits on a pixel level. On top of that, you have countless brushes that you can use to paint over your images, creating breathtaking works of art from your pictures.
Another great photo editing software for your MacBook is Pixelmator. It boasts a cleaner, more user-friendly design than Photoshop, and has many of the same features as well. You can enhance your images' lighting, colors, sharpness, and many other aspects for a lower price than Photoshop's.
For a More User-Friendly Experience
If you want to enhance your photos quickly with the help of an app that doesn't require you to spend any time learning it. Fotor is such an app. It is known for its very clean interface and its collection of various image editing tools. It's a completely free app to use, adding to its overall worth. You can tweak colors, exposure, and white balance among other aspects of your photos. If you want to play around with some nicely designed filters, you have that option too.
Apple's own Photos app is also quite a good option when it comes to advanced image editing. It has RAW support, so you can bring in your RAW files and tweak various settings to get the desired result. Photos is a great choice for those people who don't want to pay anything extra to get a software that does more than just basic image editing.
For a Great Balance
Luminar by Skylum is a newcomer to the world of image editors for the MacBook. It is already being praised widely for its very simple to use design and intuitive workflow. The best thing about Luminar is not this design, however. It is the excellent balance it brings between advanced photo editing tools and the overall user interface.
Colors, white balance, clarity, noise, temperature, highlights, shadows, and much more can be controlled in Luminar. You can crop and reframe your images the way you want, and make as many non-destructive edits as you want. Luminar's ability to be used with other leading image editors like Photoshop and Lightroom as a plugin also puts a feather in its cap. It's an excellent new entry in the world of photo processing apps for Mac computers, and might just prove to be the only software you require for enhancing your images at an advanced level.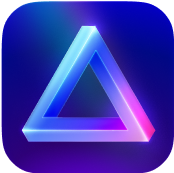 Advanced yet easy-to-use photo editor
view plans