It's easy to apply all kinds of photo effects and filters using one single Mac app.
Ever since the advent of digital photography, image editing applications have been evolving in their feature sets and quality on a continuous basis. There is simply a lot that these apps can achieve today in order to make your photos reach their true potential. Photography, therefore, has become a combination of great camera understanding as well as the knowledge of image editing. That is why so many people will tell you to shoot in RAW, as these files allow photographer to tweak their photos the way they want without ruining their quality.
Sometimes, however, you may want to use an app that has cool and creative features that you can use in an instant. These kind of apps usually don't let you edit RAW files, or at least not in as much detail as a dedicated RAW converter. They do give you access to quick tools, filters, text editors, and even stickers that you can use to give your photos a new look before sharing them online.
However, there are so many of such apps available for a MacBook that it's very easy for one to get confused as to which one they should use. We have put together a list of some of the very best apps that bring all the coolest photo editing features in one complete package for a MacBook or any other mac computer.
The Best Free Options
If you want something that is very easy to use and offers quick edits for your photos, look no further than Fotor. This excellent free image editor brings with it a multitude of options, allowing you to fix your image's highlights, colors, white balance, and more. Other than these basic tools, you can also use the app's various filters, and fun effects like tilt-shift, overlays, and borders.
Another great all-in-one photo editor that you can start using for free on your mac is Pixlr by Autodesk. It boasts an incredible amount of tools and effects for a free program, which is why it is considered as one of the very best free image editors for any platform. You can tweak your image's exposure settings, saturation, and even its hue, or you can go ahead and apply any of the multiple painterly filters and effects to make your images pop.
The Best Inexpensive, Yet Serious Offerings
There are a number of inexpensive image editors available for your mac computers, and many of them are very good. However, two of the best that stand out from the rest are Pixelmator and Luminar.
Pixelmator has a number of professional photo editing options, like layering tools and layer masking. It is considered by many as a much less expensive Photoshop alternative because of the features it provides. Options like clone stamp, removal of unwanted objects, selective adjustments, and more are present here. You can also use many of its photo effects layers that let you edit your photos' colors, saturation, contrast, and more.
If you want an all-in-one app that is easy to use and has even more professional editing capabilities, try Luminar. This is a new entry into the photo editing world and is being praised by a lot of people around the world. It brings pro features in a package that is easy to use and understand. Everything from RAW editing capabilities to quick image editing can done with Luminar. It is also much cheaper than some of the more famous image editors used by professionals.
If you go hunting for image editing application for your mac, you are sure to stumble upon something you like. There are specialized apps that you can use for certain functions, but if you want an all-in-one app that has all the cool photo effects and practical editing options, then these are some of the best out there.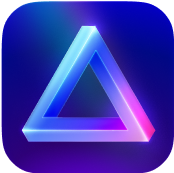 Advanced yet easy-to-use photo editor
view plans