Just when you thought the best HDR photo editing software in the world couldn't get any better, we are once again exceeding your expectations to give you the best version of Aurora HDR yet.
Faster than ever before across the board, we gave your beloved HDR software a massive upsurge in performance, speed and features. So that you can have the most amazing and beautifully seamless HDR processing workflow ever, whether you're a Windows person or a Mac devotee.
Introducing the new Aurora HDR 1.2.0
Here at Skylum, we always strive to give our users a more effortless and seamless photo editing experience, better than any other competing photo editing software out there, and the new Aurora HDR 1.2.0 does exactly that.
This latest version has gained a performance boost of 180% for bracketed shots and 175% for single images on MacOS. On Windows, on other hand, it has gained 500% for bracketed shots and 400% for single images. In addition, it boasts a better memory use, more intelligent management, and much improved stability.
Performance boost on MacOS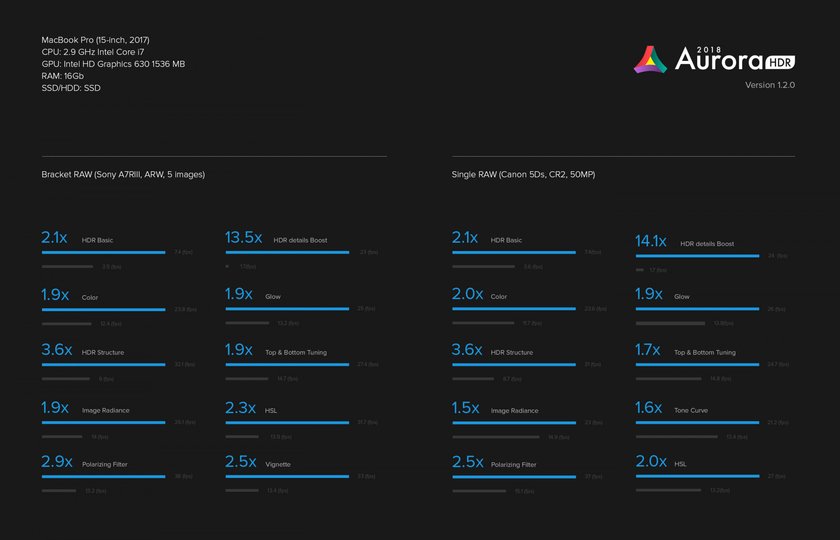 Performance boost on Windows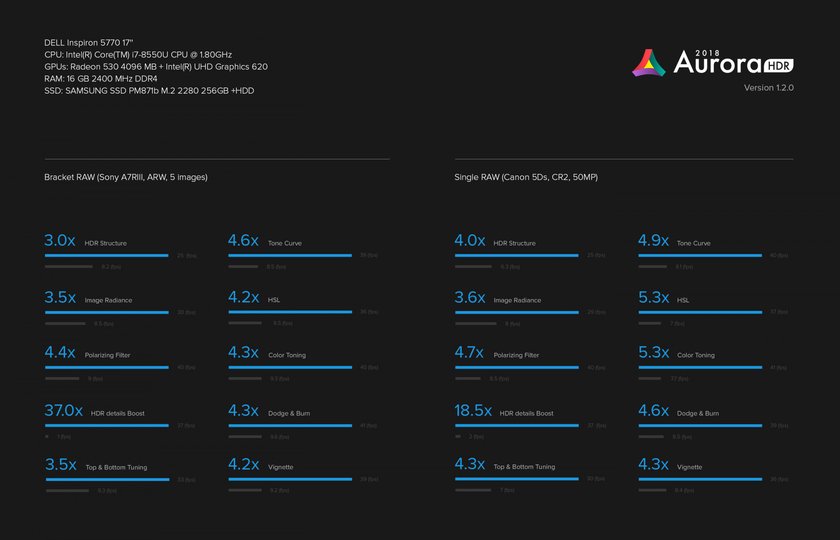 We've also given a plethora of fresh features. These including a new batch processing tool for Windows users; improved plugin stability, increased export speeds, and better memory management for batch processing for Mac users; and added support for more than a dozen new cameras including Sony A7 III, Canon EOS 3000D and FujiFilm X-H1.
As a result, this Aurora HDR update is allowing users a faster and much smoother workflow experience when editing their images. Because we want bring back your focus to your creative process, rather than spending all your time and effort on editing.
How to Update
Before we get into details, here's how you can easily get the upgrade:
For Mac users, simply launch Aurora HDR 2018. Once open, go to the Top Menu Bar, select Aurora HDR 2018 > Check for Updates.
For Windows users, launch Aurora HDR 2018. Once open, go to the Top Toolbar, choose Help > Check for Updates.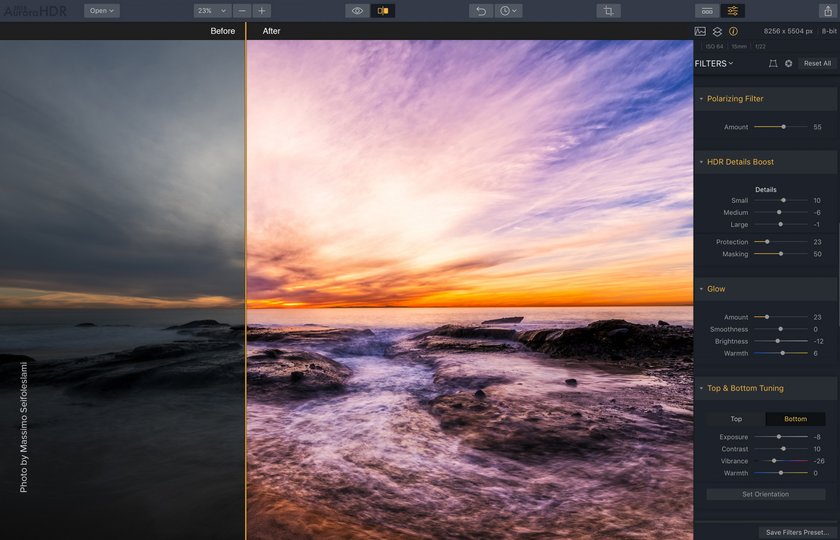 A Slew of New Features
No two computers are the same so we've designed the Aurora HDR 1.2.0 with distinct enhancements for both Mac and Windows users. Here are the lists of improvements we've done for Mac and Windows respectively.
Macintosh New & Improved Features:
Faster opening of RAW files. You can now open raw files even faster thanks to improvements in our RAW engine. This means a faster initial merge and an overall speed boost.

Improved Batch Processing.You can now export to several file formats including new options for PDF and JPEG-2000. Optimized the logic of sorting images inside the group.

Refined Preset Management. You can now install new Aurora HDR presets by merely dragging and dropping them on the App icon in the Dock. Get some new presets here to try out.

IMPROVED Language Support. Better support of German and Japanese localizations.

NEW Loupedeck Support. If you own a Loupedeck control surface, you can use it to edit right inside Aurora HDR. Use physical controls for a hands-on approach to image editing. Learn more at loupedeck.com.

Windows New & Improved Features:
Faster opening of RAW-files. You can now open raw files much faster thanks to improvements in our RAW engine. This means a faster initial merge and an overall speed boost.

New White Balance and Eyedropper Tool. A new White Balance functionality and eyedropper tool have been added to the HDR Basic filter. This makes it easy to remove color cast issues in an image. Changes to White Balance are now also stored in History states to make choosing an Undo level even more accessible.

New Batch Processing. Windows users gain the useful Batch Processing tool (also available in the Mac version). This makes it easy to select a large project or several images or brackets and develop them all at once. You can also save custom job settings to reuse later

New Renaming Layers. For all new layers you add to a document (except for the original or merged image), you can choose to assign a custom name. Just double-click on a layers name to edit it. This is a great way to organize adjustment and image overlay layers in your project.

New Advanced Layer Controls. Advanced controls for layers are just a click away. When you activate a layer and right-click on it, you'll see controls for essential options like hide, delete, duplicate, blend, and more.

New View Menu. This menu helps you control how an image is displayed. Choose magnification level, adjust the background color, evaluate image clipping and more. Additionally, new keyboard shortcuts speed up your workflow when it comes to viewing an image and other useful details.

New Image Transformations. You can now flip a layer on its horizontal or vertical axis. Layers can also be rotated 90˚ as needed for compensating for camera rotation. You'll find four new commands in the Image menu.

New Full-screen Preview. Want to check out your image with no distractions? Just press the F key to see your image full-screen and hide all of the panels and toolbars.

Enhanced Quick Preview. To see a toggle between the After and Before states, just press and hold the key. This invoked a Quick Preview to better judge the changes made to a photo.

Refined Preset Management. Custom preset packs are now correctly sorted making them easier to find in the Preset Browser. Additionally, try the drop-down menu for User Presets to rename, delete, export, or locate any custom User Presets.

Better Tone Curve. As you adjust the Tone Curve, you can quickly judge its effects with an easy to use a histogram. This makes it easy to evaluate changes to shadows, highlights, and midtones.

Updated Image Exports. You can now choose a custom location as well as a name for all exported files. Just select File > Export and specify exactly where to save the file and other options for the file format, naming, and quality. The embedded EXIF metadata is also handled better to preserve essential image details.

More Language Support. Quickly change the language used in the application directly from the File menu.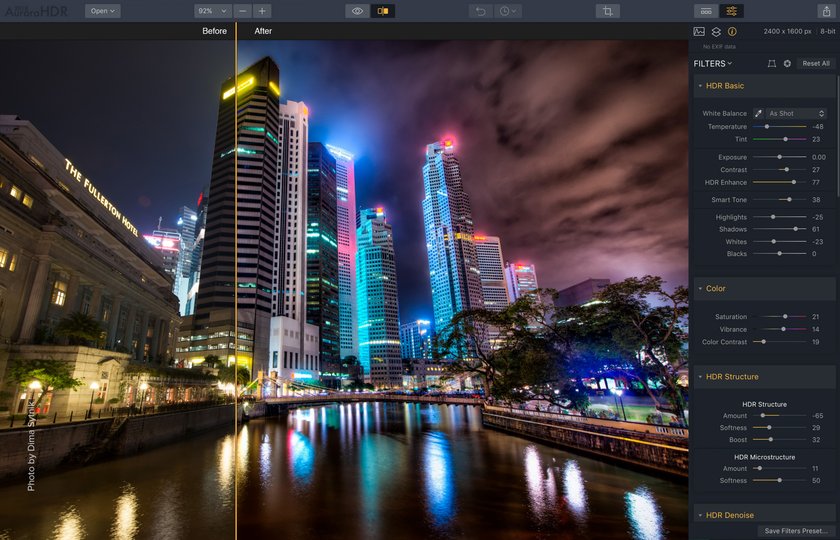 Even More Camera Support
The Aurora HDR 1.2.0 supports a slew of new cameras as well. Here is the complete list.
Canon
Canon EOS 3000D

Canon Rebel T100

Canon EOS 4000D
FujiFilm
FujiFilm X-H1

FujiFilm X-A20

FujiFilm X-A5

FujiFilm X-E3
Olympus
Panasonic
Panasonic DC-GF10

Panasonic DC-GF90

Panasonic DC-GX9

Panasonic DC-GX7MK3

Panasonic DC-TZ200

Panasonic DC-ZS200

Panasonic DC-TZ202

Panasonic DC-TZ220

Panasonic DC-ZS220

Panasonic DC-TX2
PhaseOne
PhaseOne IQ3 100MP Trichromatic
Sony
Compatibility with the Loupedeck+
If those aren't enough to impress you, we've also joined forces with the talented folks at Loupedeck to bring support for the brand-new Loupedeck+ console.
Yes, you read it right! Aurora HDR is now integrated and compatible with the updated Loupedeck+, which boasts an improved build quality, more precise mechanical keys, two customizable dials, and an all new "Custom Mode" for full control.
This means that users can now use the photo editing console for a more effortless editing with Aurora HDR, bringing the focus back to the creative process of crafting their masterpieces.
Wait, there's more… much more!
As a thank you for your all your help and support, we are throwing in a treasure chest of bonuses—a $148 value—when you download the new Aurora HDR 1.2.0.
By purchasing this $59 update, you get
119 Dramatic & Romantic Sky overlays, the ultimate sky overlay collection worth $29,
The complete HDR Tutorial by HDR master Trey Ratcliff, worth $99,
And the Deep Dive video into Aurora HDR 2018, also by Trey Ratcliff, which is worth $20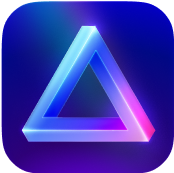 Advanced yet easy-to-use photo editor
view plans