If you have a drone, you've probably tried to film views of nature and crowds of people. And we bet that you have some really amazing shots that the world needs to see!
If you have a drone, you've probably tried to film views of nature and crowds of people. And we bet that you have some really amazing shots that the world needs to see! But before you become a YouTube star, you need to edit those videos somehow. And this is where our article will be helpful. We'll show some useful programs for video editing that suit people with different proficiency levels.
1. Windows Movie Maker 6.0 and Windows Live Movie Maker

These tools are easy to find in the Windows Essential toolset for Windows 7 and 8. With these programs, you can create videos from scratch, cut clips, and apply some effects, fonts, and filters. You can also share your videos on social media:
YouTube

Vimeo (which is less known but more suitable for drone videos)

Facebook (so all your friends can see)

OneDrive (to save the video without taking space on your hard drive)

Flickr (so billions of artists can see it and share it)
Unfortunately, Windows 10 doesn't come with Windows Movie Maker 6.0 or Windows Live Movie Maker. But you can still download these tools and use them. They're free, easy to use, and convenient, so you can just start using them to achieve outstanding results.
2. GoPro Fusion Studio (Windows & Mac)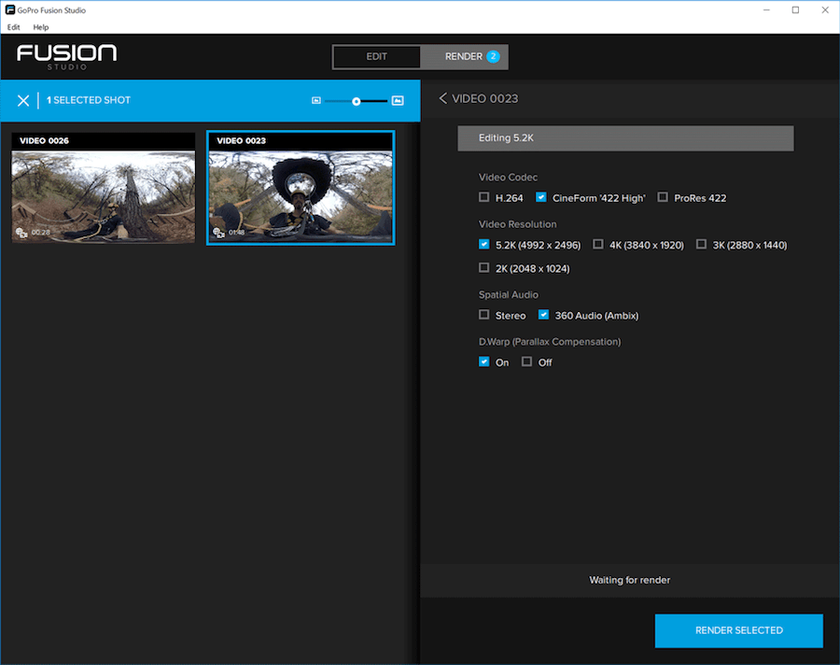 The next tool that's worth your attention is GoPro Fusion Studio.
It's also free. Most people who film from their drones make their movies in GoPro Fusion Studio. This tool includes such features as:
Merge

Travel footage (GoPro is made for adventurers, and it's easy to make interesting travel videos in this software.)

Slow-motion

Fast-motion (This is helpful if you want to create a timelapse from your drone videos.)
GoPro Studio highlights significant moments in your videos and helps you create compelling short clips.
You can share your videos directly from Fusion Studio to various social networks. You can download GoPro Fusion Studio to your Mac or Windows computer even if you're not a GoPro owner.
3. iMovie (Mac)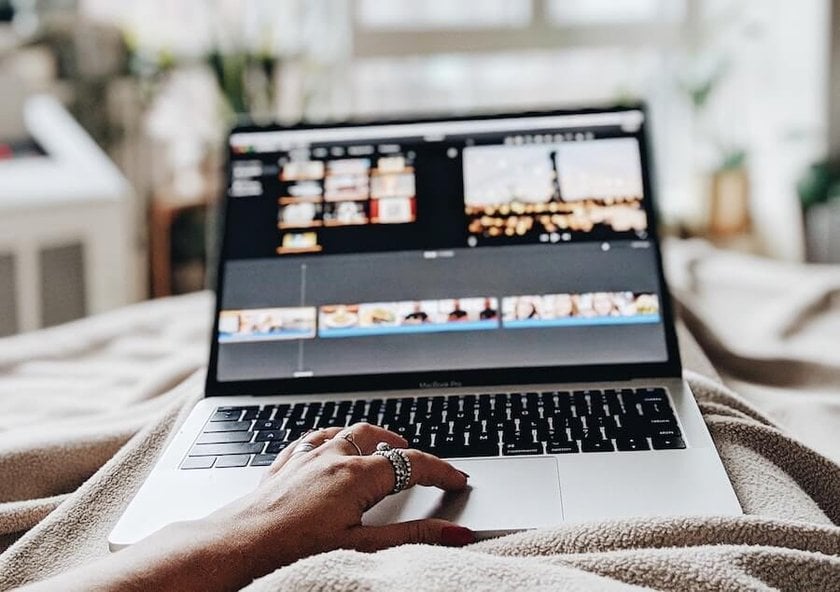 The next tool is iMovie for Mac.

It's free to use and is a built-in tool on every new Mac. On an older Mac, you can pay $15 to download it from the App Store. iMovie is simple to use. Even people who have never edited a video before will be able to deal with it.
iMovie for Mac is a magic wand for those who want to do some basic work with footage. The design is intuitive, and simple instructions and FAQs on Apple's website will help anyone understand all the possibilities of this tool. There are also a lot of tutorials on YouTube so you can quickly learn how to use iMovie.
You can also use iMovie on your iPad and iPhone. You can even begin to edit your video on your Mac and continue on an iOS device. And you can edit even 4K videos without losing any quality.
If you work on multiple devices with a different OS, we suggest seeing the next tool.
4. Avidemux (Windows, Mac & Linux)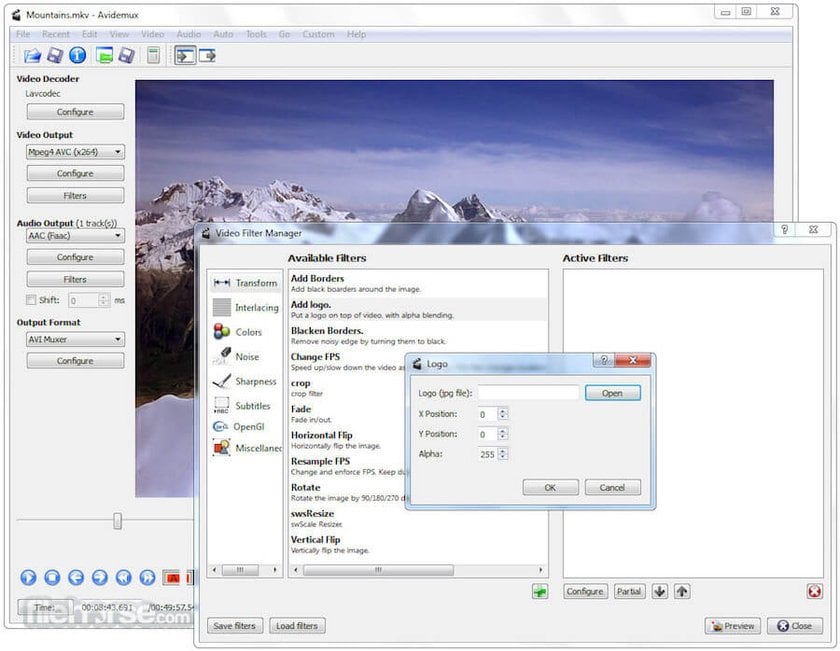 Avidemux is free for Windows, Mac, and Linux.
If you want a small tool that doesn't have many functions or an intuitive interface but is designed for geeks, Avidemux is definitely your choice. With Avidemux, you can apply filters, encode your files, and cut their length. You can use Avidemux with these file formats:
Avidemux gives you an opportunity to convert file formats to lighten the weight of a file. Plus, you can use some filters to see the result in a separate window. To learn the interface, which is hard to understand, you can read the guide. It's more like a bunch of articles in the style of Wikipedia.
Best drone video editing software for beginners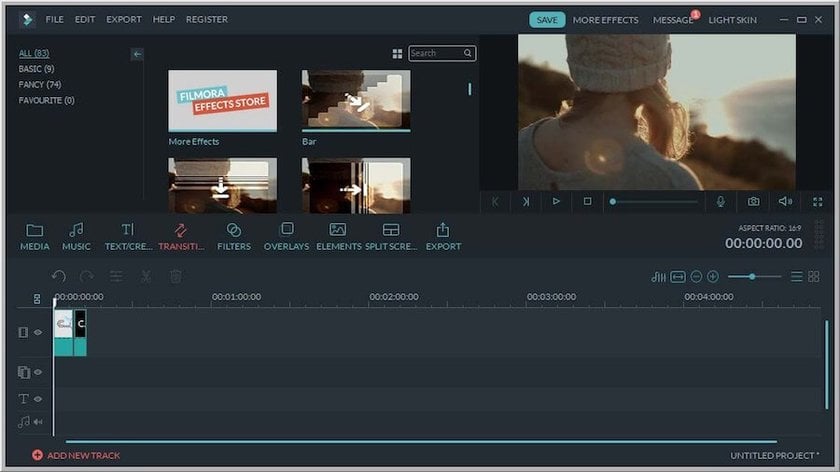 Let's begin with Wondershare Filmora. You can try it for free, but there will be watermarks. To get rid of them you need to pay $49.99 for the personal license.

This tool was designed for editing footage from action cameras. It has rich features and a vast menu of available options. Filmora has three modes:
Just the basic tools

Basic tools plus all the features Filmora offers

An Action Camera tool and Instant Cutter
The first mode was made for those who don't like dealing with complicated tools and who don't need many effects and advanced editing.
The second mode is for those who love to adjust videos precisely according to their own needs and who don't mind spending an extra hour on video editing.
The third set of modes are for recording and editing drone videos. Filmora includes many advanced features for adventurers, travelers, and professional operators.
Wondershare Filmora is free. You can download it following the link above.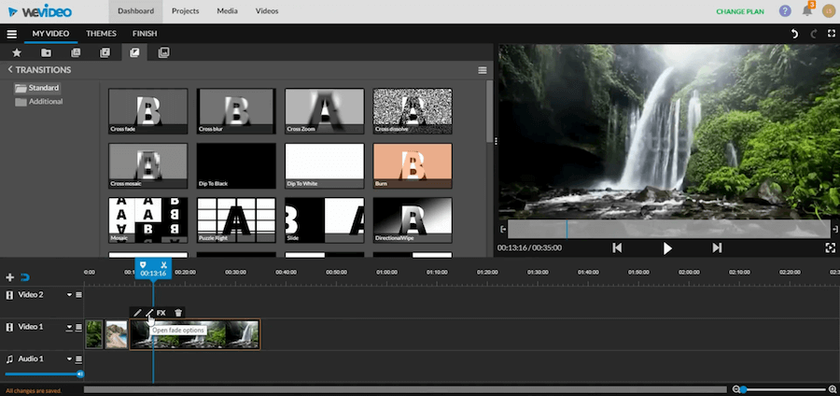 WeVideo is an excellent tool for video editing studios, advertising agencies, and those who love working on videos with friends. The best thing about this video editor is its intuitive interface and the possibility to save all video footage on Google Drive.
Videos can be huge, especially if you haven't encoded them to some light format or you need them in 4K. But with WeVideo, you can save all your footage to Google Drive and never be bothered with the capacity of your computer's internal storage.
WeVideo costs $69 per year, but it's much cheaper than buying tons of storage for your computer! WeVideo is a perfect tool for business owners.
7. Cyberlink Power Director (Windows)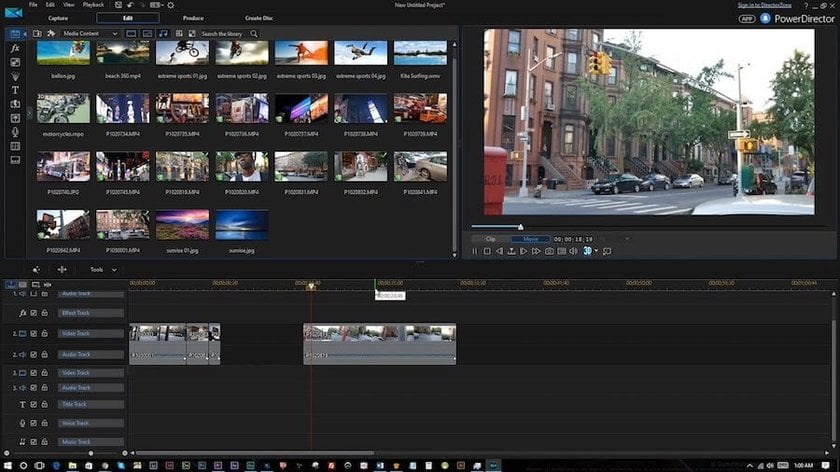 Cyberlink Power Director is a great tool for 360-degree drone camera owners. If you have one of these cameras, you may face problems such as lack of computer storage, insufficient power of your video editing tool, or loss of quality as a result of editing.
Happily, Power Director, especially its 15th version, will solve all these problems without creating new ones.
This video editor is powerful enough to handle multi-camera videos and synchronized editing. It's perfect for those who usually film from two cameras on their drone or from two drones at the same time. If you want to make video editing smooth and easy, pay attention to Power Director for Windows, developed by Cyberlink. It costs only $59 per year.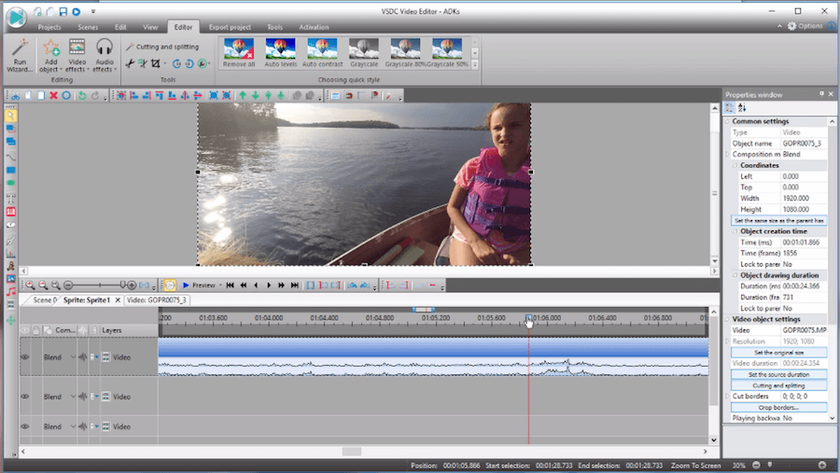 VSDC is a free alternative to Cyberlink Power Director. VSDC takes less space and memory than any other famous video editor (such as Sony Vegas). If you have a version of Windows lower than 10 and it's hard for you to find a tool that will run well, VSDC is your best choice.
It offers all the necessary tools and some additional offerings like color grading, motion blur, and blending. It's perfect for YouTubers and those who film and edit videos for themselves.
The only thing that's quite a downside in this free version is the speed of video uploads. But you can get a license for just $20 and enjoy the high upload speed for a whole year. VSDC won't surprise you by including a watermark or cutting the length of your video.
9. Lightworks (Windows, Mac & Linux)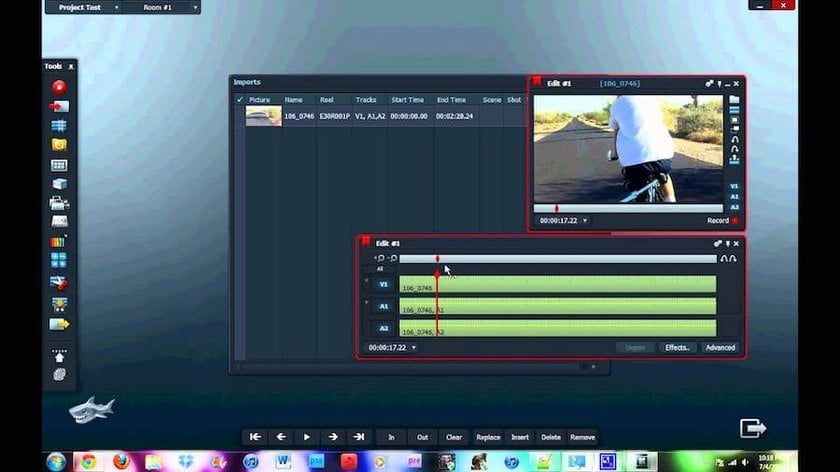 Lightworks is a potent tool for professional video editors. It can be installed on Windows, Mac, and Linux systems. Large studios have used this tool to create famous films such as Pulp Fiction and Mission Impossible. Lightworks is a genuine gold mine for people who create movies for festivals or who would love to present their works in Hollywood someday.
You can use this program for free during the trial period, after which it costs $179.99 annually. You can use the trial period to decide if you're ready for this kind of professional editing.
Best drone video editing tools for advanced users
10. Adobe Premiere (Windows & Mac)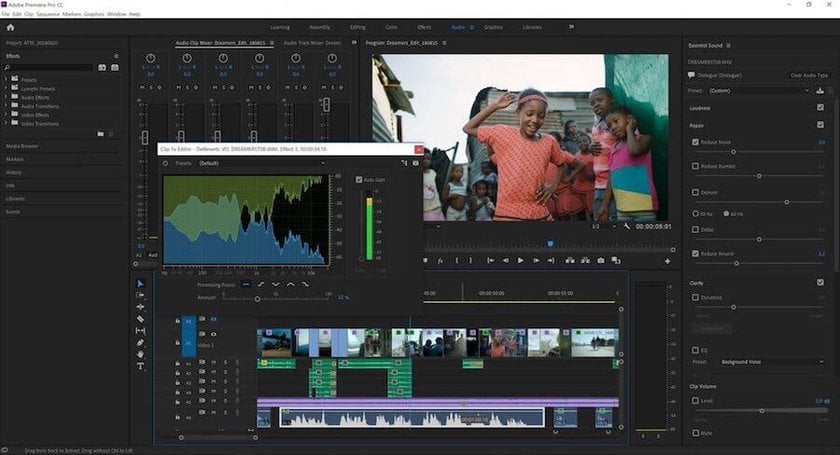 Adobe Premiere is a great choice for drone video editing and is available through Adobe Creative Cloud. It's excellent both for beginners and specialists. There are some features available only in the latest version of Adobe Premiere:
Live templates for text creation

Technical support

Ability to back up data to the Adobe Cloud automatically

Ability to export videos in multiple formats
Adobe Premiere offers many features and costs only $19.99 per month.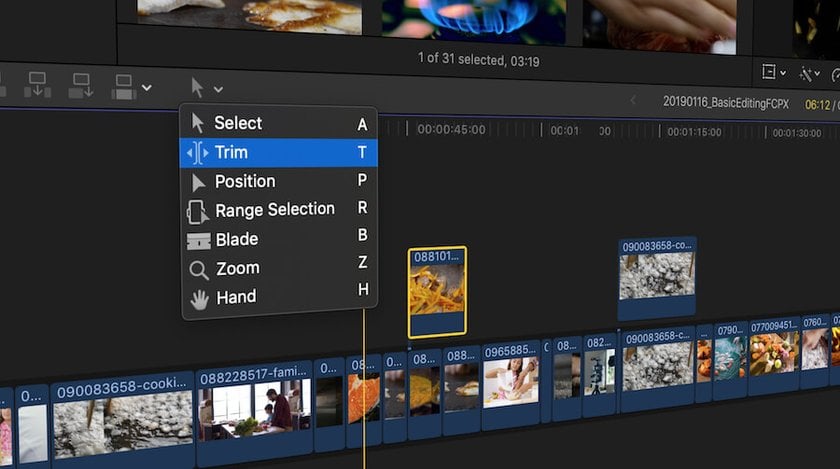 Final Cut Pro is a dream for professionals who love trying something new in their video editing process. Final Cut Pro's interface is highly intuitive, and the possibilities are crazy. You can use some third-party plugins to make your editing experience even more pleasant.
There are some advanced options that you'll love if you're a real drone video editing enthusiast. The only negative thing about this tool is its price. You have to pay $399.99 to install it on your Mac. But for those who love video editing and earn money in this industry, this isn't a problem.
12. DaVinci Resolve (Windows, Mac & Linux)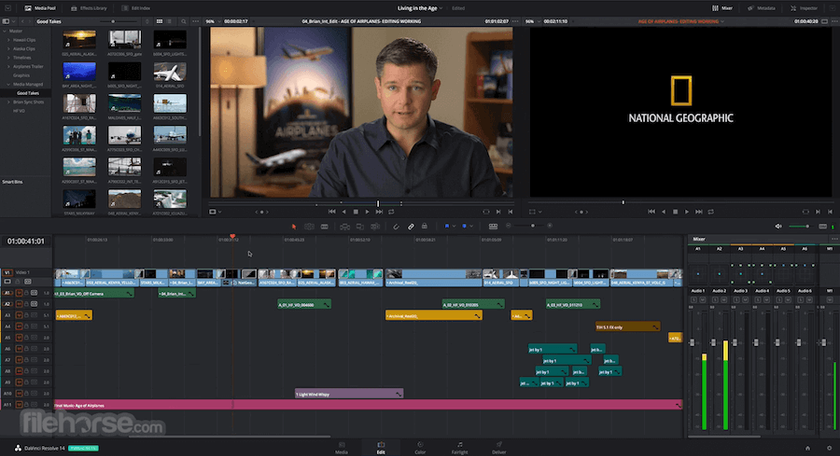 Da Vinci Resolve is used during the post-production process by professional video editors. The main feature of Da Vinci Resolve is the ability to handle many parallel engines to enhance the quality and color grading process. Because of this, you can edit video in real time with 2K resolution. This is an indispensable tool for those who dream about creating high-quality videos for their career.
All this is possible with an average computer – the same that will work with Adobe Premiere, for example. The Da Vinci developers have recently added some advanced coloring functionality.
There's a free version, but to edit 4K videos from drones you'll need to pay $905.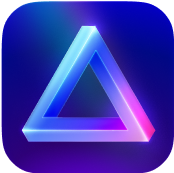 Advanced yet easy-to-use photo editor
view plans