Old photographs have their unique charm and a special place in the heart of every photography enthusiast. However, when it comes to the pictures' quality, it becomes noticeable that the capturing technology needed to catch up, and enhancing a picture post-factum was not an option. But it is now, and the task is to learn how to use it in favor of our photographic creativity.
So, if you want your pictures to look good, you will need a set of basic tips on how to sharpen old photos and choose the best photo-sharpening software to help you with it. Many photographers still point pictures manually, as most common photo editing programs include a sharpening feature. But what other option is available to sharpen an image?
The article will teach us how to sharpen photos using artificial intelligence. We will learn about the features that should be considered while choosing the best blurry photo enhancer on the example of Super Sharp AI by Luminar and how AI technologies help people see clearer.
Sharpening Old Photos: A Bridge From The Past To The Future

All photography enthusiasts understand the pain of capturing a significant moment and then realizing that the image is blurry. So, instead of enjoying the results of their work and sharing them with the audience, photography enthusiasts have to seek ways on how to make images clearer.
It is always better to prevent unpleasant situations than to eliminate their consequences, and blurry pictures are no exception. So make sure you use high-quality lenses and equipment, take your photos in a steady position, use tripods when needed, and reduce the impact of atmospheric haze and glare through optical lenses.
However, in photography, there are cases when blurriness is inevitable. And the photographer is not necessarily the one to blame, especially regarding pictures taken in the distant past. Old photos hold a unique place in our hearts, connecting us to bygone eras and the stories of our ancestors. Yet, the ravages of time can blur the lines of these memories. While rich in memories, our treasured photographs from the good old days often suffer from aging. Fading colors, subtle blurs, and the passage of time can take a toll on these precious snapshots.
The importance of sharpening old photos extends far beyond mere aesthetics. It is important not only for those who are interested in taking photographs. It is a way to preserve important moments from the past that were significant for your family, culture, nation, ethnicity, and so on. It is how you transmit information to the next generations so they don't forget where they came from so they know their roots.
Past and future walk hand in hand; they are inseparable. A person who doesn't know their past doesn't have a basis for a successful future. On the other hand, the technologies from the end, such as AI, make it possible to preserve our past and have an authentic experience of reliving it, partly through photography. In the next section, we will explain why one should not be afraid to rely on the technologies from the future, attempting to keep the special moments from the past in pictures.
Why Use AI To Make Your Photos Less Blurry?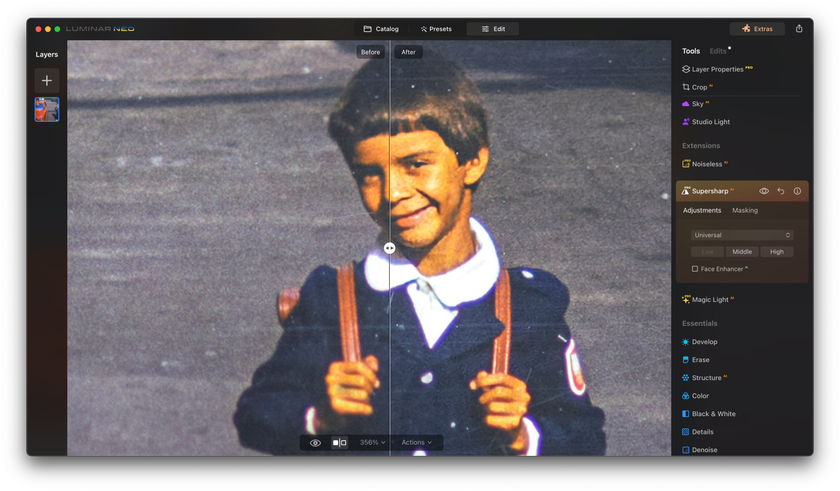 AI-based blurry photo enhancer is a sophisticated software tool that uses a special set of artificial intelligence algorithms to detect blurred images and increase their sharpness. The power of AI lies in its ability to constantly change, learn, and adapt according to the users' needs.
The best photo sharpening software based on AI continuously refines their sharpening techniques based on vast datasets. So, a photographer can believe that their future masterpieces benefit from the latest advancements in image processing. Whether you're dealing with motion blur camera shake or want to make your photos crisper, the AI will give you a helping hand to achieve the best results.
Here are just a few reasons why artificial intelligence can be your trustworthy and helpful companion when it comes to making your pictures clearer:
Effortless Restoration
AI-based enhancers make the process of enhancing blurry images effortless. With just a few clicks, you can restore clarity and sharpness to your photos, saving valuable time and energy.
Precision And Consistency
AI algorithms are incredibly precise. They can differentiate between details and noise in an image, ensuring that enhancements are applied where they matter most. This level of consistency is challenging to achieve through manual editing.
Speed And Efficiency
Traditional sharpening methods can be time-consuming, especially when working on multiple photos. AI-based enhancers are lightning-fast, making them a practical choice for photographers with busy schedules.
Future-Proofing
AI-enhanced technology is constantly evolving. Using AI-based blurry photo enhancers allows you to tap into a tool that adapts and improves over time. Your photos benefit from the latest advancements without requiring you to update your editing techniques constantly.
User-Friendly
Most AI-based photo enhancers come with user-friendly interfaces, making them accessible even to those new to image editing. You don't need to be a technical expert to achieve professional-level results.
You will quickly master working with artificial intelligence functions, and after that, you will not want to go back to long manual editing of blurry photos. Probably, there is no better answer to the question "How to make an image clearer?" except how to use modern technologies. We could write you a long and boring instruction about which tools in the vast majority of photoshops you could use to improve image quality step by step. But do you want that? In the era of rapid mastery of new technologies, you must use your time and resources rationally. Therefore, we invite you to find the best photo-sharpening software and start using it finally.
The Reasons to Choose Supersharp AI to Sharpen Your Images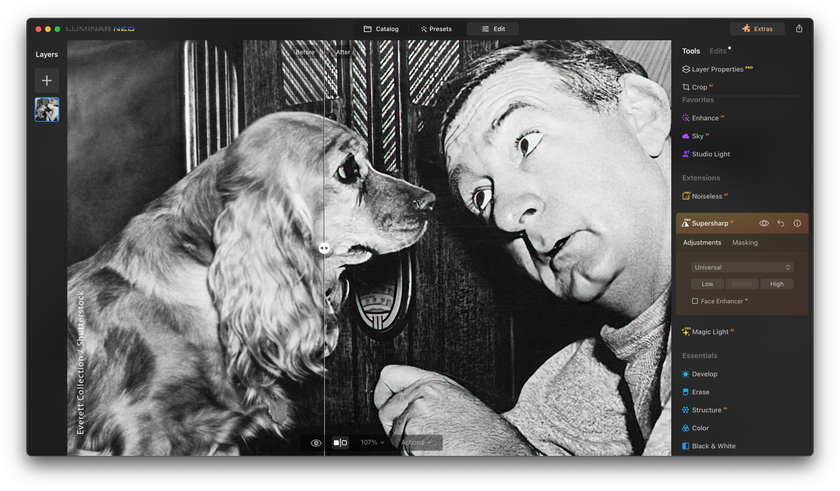 Artificial intelligence technologies are developing rapidly. So, if you decide to incorporate AI into the image sharpening process, choosing the best blurry photo enhancer among the many options available on the modern market may seem complicated and confusing, especially for those with zero experience using AI in photography.
According to the users' reviews, Supersharp AI takes its well-deserved place on the list of the best photo-sharpening software based on artificial intelligence. Below, we are attempting to cover the most significant strengths of this kind of software:
Unmatched Precision:
Supersharp AI employs advanced AI algorithms that meticulously analyze your images, ensuring pinpoint accuracy in sharpening. It discerns between noise and vital details, preserving the natural essence of your photos.
Speed and Efficiency:
Time is of the essence in photography, and Supersharp AI understands that. It's lightning-fast, allowing you to enhance images quickly and effortlessly.
Versatility:
Whether you're working on landscape shots, portraits, or vintage photographs, Supersharp AI adapts to your needs. Its versatility ensures that your entire photographic portfolio benefits from its magic touch.
User-Friendly:
In Supersharp AI's user-friendly interface, Luminar's dedication to user experience is evident. Even if you're new to photo enhancement, you'll find it easy to navigate and achieve professional-level results.
Continuous Improvement:
Luminar is committed to constant refinement and innovation. When you choose Supersharp AI, you're not just getting a tool; you're gaining access to ongoing updates and improvements, ensuring your photos stay ahead of the curve.
Bottom Line
Blurriness is a common obstacle to ultimate photographic perfection, especially for photography enthusiasts who restore old pictures for historical, cultural, ethical, aesthetic, and personal purposes. However, image sharpening software offers a helping hand in overcoming this obstacle.
AI-based blurry photo enhancers like Supersharp AI by Luminar offer users effortless restoration, unmatched precision, speed, and efficiency. They provide a user-friendly experience, making professional-level results accessible to all. Traditional options, such as manual sharpening, are also available, but the AI makes the image sharpening process much more convenient.
When choosing the best AI-based photo enhancer, Supersharp AI by Luminar stands out as a beacon of excellence. Its unmatched precision, lightning-fast performance, versatility across photographic genres, user-friendly interface, and commitment to continuous improvement make it a standout choice for photographers of all levels.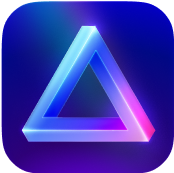 Advanced yet easy-to-use photo editor
view plans