Winter is almost here, and it brings something special with it. The world around us transforms into a snowy wonderland, and there's a unique magic in the air. Have you ever thought about capturing this magic with a winter photo shoot?
Taking photos in winter is like creating art. It's a chance to capture the beauty of the season, from the peaceful snowfall to the festive cheer. In this blog post, we're going to share some simple winter photo ideas that anyone can try. Whether you're a beginner or an experienced photographer, we'll show you how to make the most of this chilly season.

So, get ready to turn these cold, snowy days into something truly amazing, one photo at a time!
Winter Photo Ideas to Spark Your Imagination
1. Snowflakes and Frost Patterns
When you think about winter wonderland photoshoot ideas, capturing the intricate beauty of snowflakes and frost is a must. Here's how to do it:
How to capture intricate details: To photograph snowflakes and frost up close, you'll need a macro lens or macro mode on your camera. Find a calm spot where snowflakes are gently falling or where frost has formed delicate patterns on a window or a leaf.

Equipment and settings for macro photography: Set your camera to manual mode for better control. Use a tripod to keep your camera steady, and adjust your aperture to a high f-number (e.g., f/16) to maximize depth of field. A fast shutter speed is crucial to freeze the tiny details, so go for a high shutter speed (e.g., 1/500 or faster). Don't forget to use a remote or the camera's timer to avoid any camera shake when you press the shutter button.
2. Winter Landscapes
Creating stunning snowy landscapes in your photos is easier than you might think. We have some straightforward tips!
Start by finding interesting snowy locations, like trees covered in snow, frozen lakes, or snow-covered fields. Pay attention to how everything fits into your photo, and consider adding people, animals, or buildings to give a sense of scale. The snow can make the sky colorful during sunrise or sunset, so try taking photos at these times. Don't be afraid to experiment with different angles to find the best perspective!
Additionally, using lines and foreground elements can make your winter landscape photos even more captivating. Incorporate things like roads or pathways covered in snow to draw viewers into your photo and create depth. Adding elements close to your camera, such as snow-covered branches or rocks, can add layers to your composition and make your photos more engaging.
With these tips, you can easily capture the beauty of snowy landscapes in your winter wonderland photos!
3. Backlit Silhouettes: Adding Magic to Winter Sunsets
Want to take your winter photos to the next level? Try capturing stunning silhouettes against the backdrop of a winter sunset. It's a surefire way to inject drama and charm into your shots!
When you come across a breathtaking winter sunset, keep an eye out for interesting subjects – it could be a person, a tree, or a building. Place your camera so that the setting sun is behind your chosen subject. This simple technique turns your subject into a captivating dark shape against the colorful evening sky.
Also, getting the exposure right is key to making your silhouettes pop. Focus on setting your camera's exposure for the bright background (that stunning sky). You can use your camera's spot metering mode or adjust the exposure settings manually. Most of the time, you'll need to underexpose the photo slightly to make the silhouette bold and beautiful. Don't be afraid to experiment with different settings until you find that perfect balance.
By adding backlit silhouettes to your winter photoshoot arsenal, you can infuse your winter wonderland shots with a touch of enchantment and allure. It's the kind of magic that will leave a lasting impression on your viewers!
Winter Photoshoot Outfits
Dressing up for a winter photoshoot is an art in itself. It's about looking good while staying cozy. Here's how to strike that balance:
Layer It Up: Start with a warm base layer, like thermal tops and leggings. Add insulating layers, such as cozy sweaters or fleeces. Then, throw on a stylish winter coat that matches your photoshoot theme.
Accessorize Smart: Don't forget the essentials. Gloves, a hat, and a scarf will keep your extremities warm and add flair to your outfit. Opt for fashionable winter boots that can handle snow without sacrificing style.
Color and Texture: Choose colors that work with the winter landscape – earthy tones, cool blues, or rich reds. Experiment with textures like wool, fur, or faux fur for a touch of sophistication.

Move with Ease: Ensure your outfit allows for comfortable movement. Whether you're posing or strolling in the snow, you should feel at ease.

Plan for Surprises: Winter weather can be unpredictable, so bring extra layers and clothing options to adapt as needed.
By knowing that, you'll look fabulous and feel cozy, making your winter wonderland photoshoot both stylish and enjoyable!
Poses in the Snow
Taking photos in the snowy winter can be really special, especially if you strike the right poses! You can have some fun by making a snow angel or having a friendly snowball fight with your friends. These candid moments capture the happiness of the season!
If you prefer a calm and peaceful vibe, take a leisurely walk in the snow, leaving footprints behind. Or, simply stand confidently against the snowy background – the contrast can make your photos look elegant.
For a romantic touch, share a kiss while snowflakes fall around you. It adds a magical feeling to your photos!
Trying these poses during your winter photoshoot helps you capture the beauty and feeling of the season in your pictures! If you want some more cool photography tips and ideas for posing, check out our previous post. It has some really helpful and inspiring stuff in there!
Timing and Lighting
In winter photography, getting the right timing and lighting is super important. Try taking pictures early in the morning or late in the afternoon – we call these times the "golden hours." They give your winter shots a warm and magical look.
Even on cloudy days, you can still get great photos. Snow acts like a natural reflector, making sunlight soft and gentle. This soft light makes your pictures dreamy and special. So, use the timing and lighting to make your winter photos capture the serene beauty of the season.
Enhance Your Photos with AI in Luminar Neo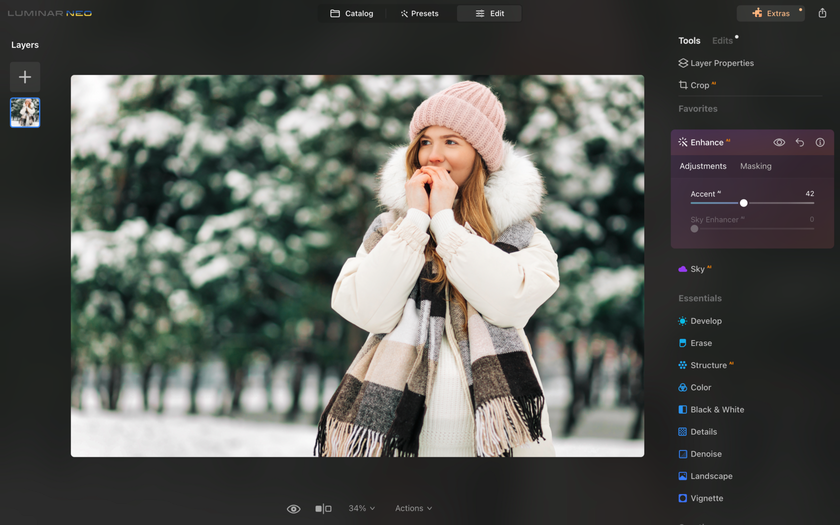 Luminar Neo's Enhance AI is your easy-to-use tool for making photos look amazing. It combines smart controls to enhance your images effortlessly!
With two sliders:
Accent AI: It automatically adjusts various aspects like shadows, highlights, contrast, and more with just one slider.

Sky Enhancer AI: Recognizes and enhances the sky in your photos, making it pop without affecting the rest of your image.
Editing is crucial to bring out the full potential of your photos and Enhance AI simplifies this process. Simply move the sliders or press a button to see the magic happen!
You can even fine-tune the effect manually. It's like having a pro photo editor right at your fingertips!
Wrap-Up
Winter's arrival transforms the world into a snowy wonderland, and there's something truly magical about it. In this blog post, we've shared simple yet powerful winter photo ideas. Whether you're capturing intricate snowflakes, serene snowy landscapes, or adding drama with backlit silhouettes, you have a world of winter wonder awaiting your lens!
Timing and lighting are your allies in making these moments shine, and Luminar Neo's Enhance AI simplifies the editing process!
So, get out there, embrace the cold, and turn these chilly days into magical memories, one photo at a time!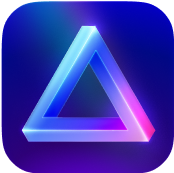 Advanced yet easy-to-use photo editor
view plans