Meet David Donaldson, an avid diver, a talented photographer, and a dedicated Luminar artist. David explores underwater life and shows us its genuine beauty. His works leave us speechless and thoughtful at a time when we need to take care of wildlife before it's gone forever.
This is where the story begins
It was our last dive of the trip; a dive to the wreck called Tiger Lily, just off the northwest coast of Mauritius. My head is buried in this locker on the deck; I've found some tiny transparent shrimps, one of which is hovering in the water just in front of me.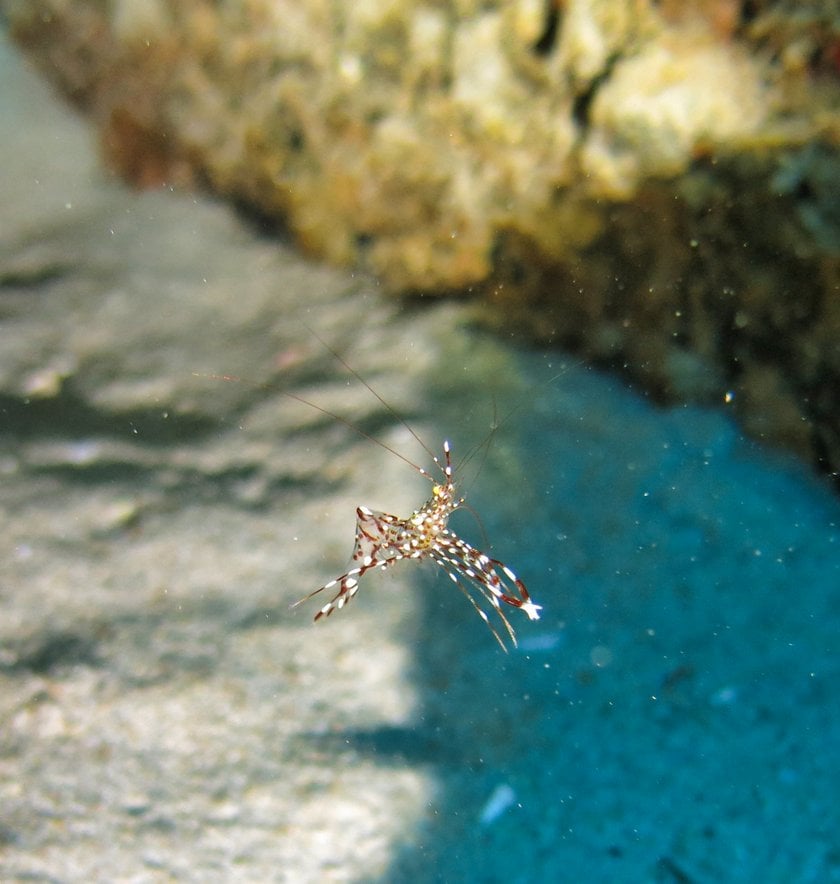 Diving at Lanzarote. Photo edited with Luminar 3: Accent AI Filter (58)

Suddenly a moray appears under my left shoulder, eyes firmly fixed on the disappearing shrimp, I hope, and fangs only too apparent in its gaping mouth. I somehow stay perfectly still, but my heart is pounding! The moray looks enormous, and it seems to give me a big open-jawed toothy smile as if to say 'ha-ha got you,' before heading off after the shrimp.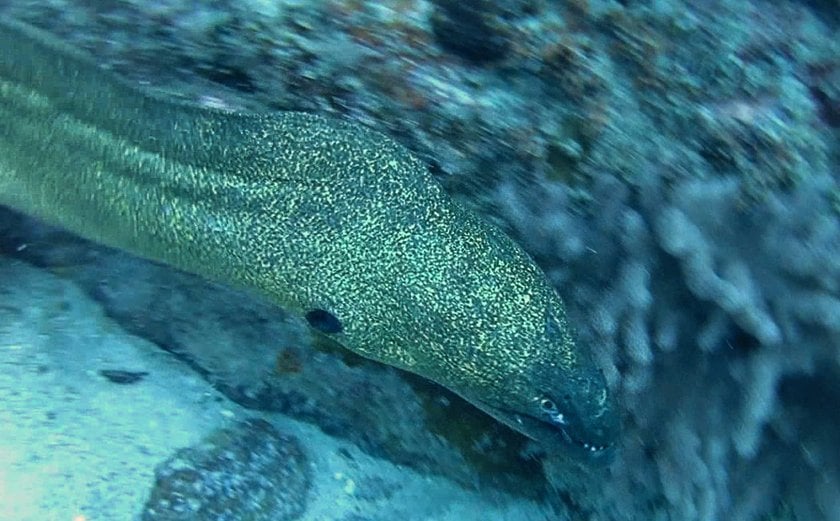 Diving at Lanzarote. Moray eel. Photo edited with Luminar 3: Accent AI Filter (67)
I look over, and my buddy is nearly drowning himself laughing. We both look at our computers, and it's time to start the ascent and bring to an end another exhilarating visit to the undersea world.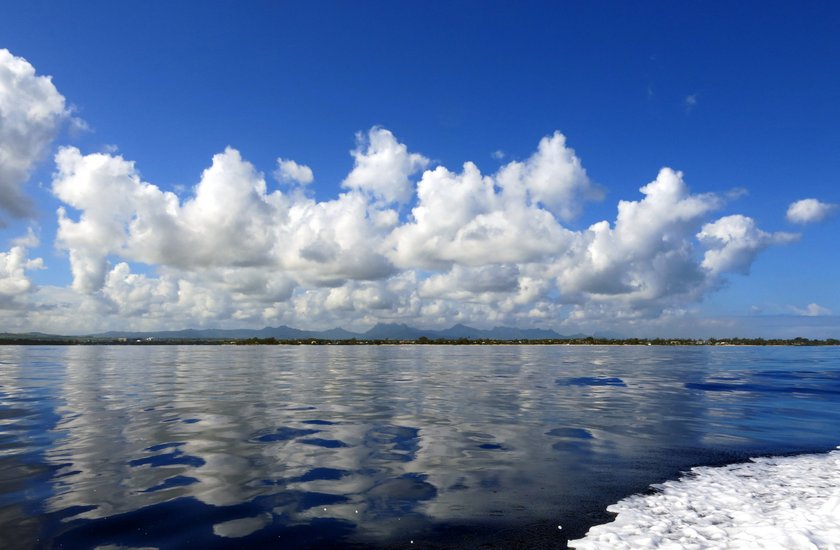 Diving at Lanzarote. Photo edited with Luminar 3: Crop tool
Like many others, I've watched Blue Planet 2 on TV in awe; it's the stuff of dreams. Since then, I've been lucky enough to see some of that wildlife for real. Going to more such places, seeing more such wildlife, is what I dream of.

My wake-up call came five years ago. I had been a criminal lawyer for more than 25 years. My law practice was my life. Then I experienced dramatic and unexplained weight loss. I was diagnosed with coeliac disease. I combated it with a regular gluten-free diet, but the thing I realized at that moment was that I'd been given a second chance at the age of 54. I asked myself, Is there more to life than work?
Lanzarote, a diving paradise
Last year I did a trial dive on a short break to Lanzarote. Stirring from the sunbed long enough to put on a wetsuit and scuba kit, I found myself in the sea at Playa Chica. I dived with the instructor, and it took my fancy. I had promised myself I would take it further, but of course I didn't. I never had time because of work.
Diving at Lanzarote. Photo edited with Luminar 3: Accent AI Filter (19), Dehaze (46)
My new resolution was to make time, nearly half a year, and I did the PADI Open Water course, met a bunch of new people, and a few courses later, I was back in Lanzarote diving, seeing stuff, and sharing my new passion for diving with others.
I know how it feels to see great shoals of sardines being preyed on by barracuda, fish darting and feeding in their native element. There were octopus, cuttlefish, enigmatic seahorses and so much more.
I had bought a basic Panasonic compact camera to record some of the natural wonders. The photos were priceless to me, but honestly, they weren't perfect. The time spent there was awesome, but I was far from Blue Planet.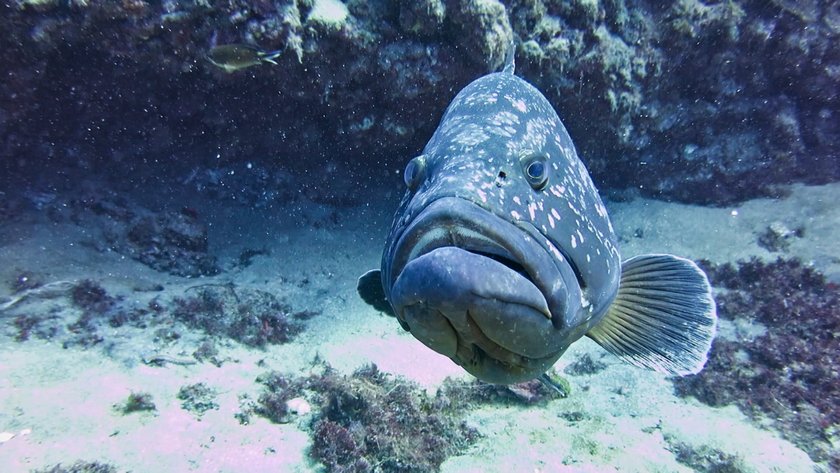 Diving at Lanzarote. Grouper face. Edited with Luminar 3: Contrast Enhancer Look
Things changed when I took a sabbatical from work and passed the PADI Divemaster Training after three months with Manta Diving in Lanzarote. I learned about underwater wildlife and their reaction when seeing human beings. I discovered a lot of stuff and mastered my skills. My photos became better and my videos were less shaky. I had some awesome memories, but it still wasn't Blue Planet.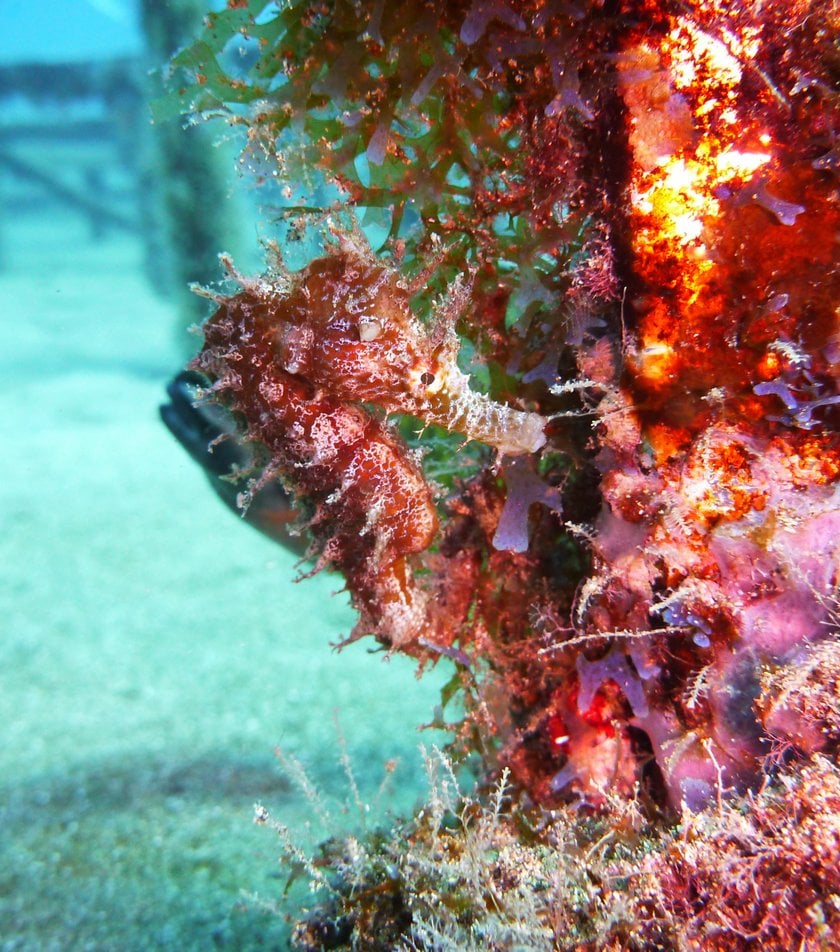 Diving at Lanzarote. Seahorse.
First turtle on Barbados
Going back to work was really hard, and I began to realize my days as a lawyer were numbered. A club trip to Barbados followed, where I saw my first turtle and realized I love them.
My first turtle at Barbados. Photo edited with Luminar 3: Contrast Enhancer Look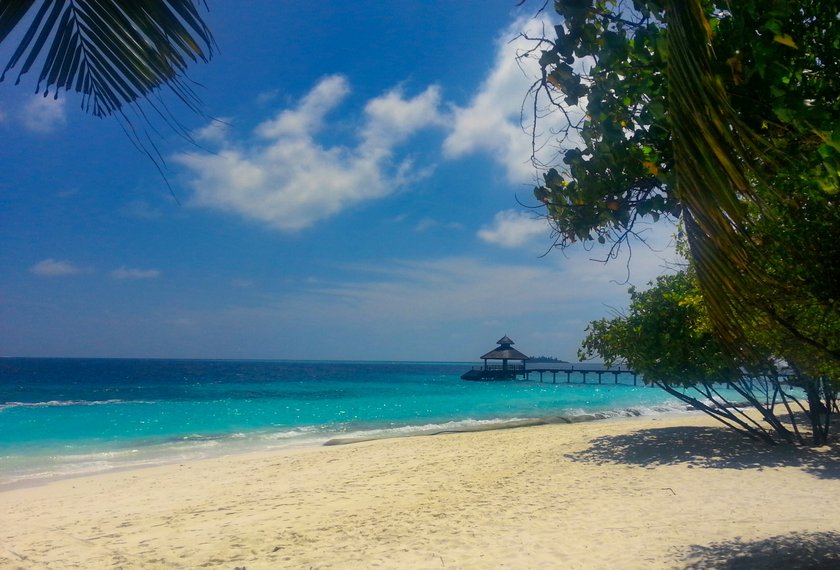 Maldives, Reethi. Photo edited with Luminar 3: Accent AI Filter (51), AI Sky Enhancer (31), Dehaze (64)

Mexico and the Philippines
While working in Lanzarote as a dive guide for a local diving center, mastering photography with a new Canon camera, and learning more about wildlife, the Blue Planet beckoned me.
So I teamed up with a few diver friends and we went off in search of stunning underwater landscapes, and finally we reached them.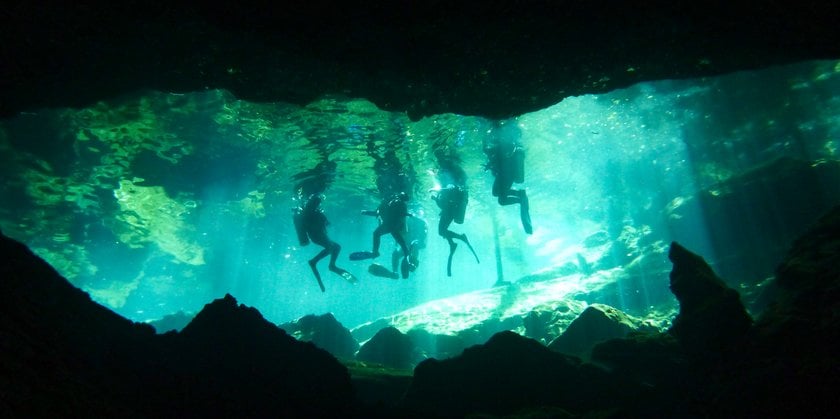 Diving in a 40-meter Cenote El Pit, Mexico

Discovering the Blue Planet
Seeing is believing. The new camera was busy, the photos were getting better. And nothing like being on my Blue Planet, seeing and experiencing it for real, could be more awe-inspiring.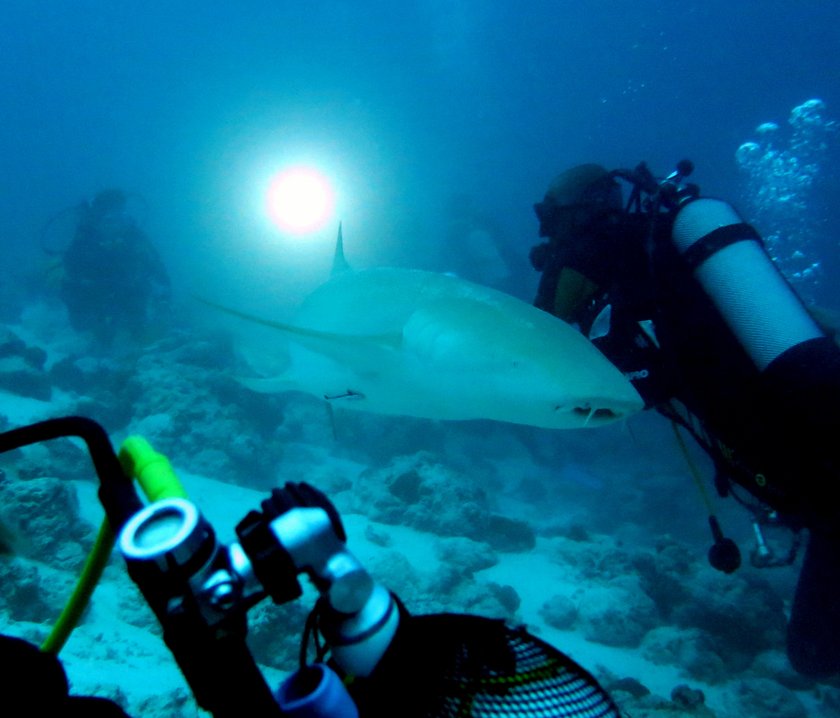 Nurse sharks in the northern Maldives.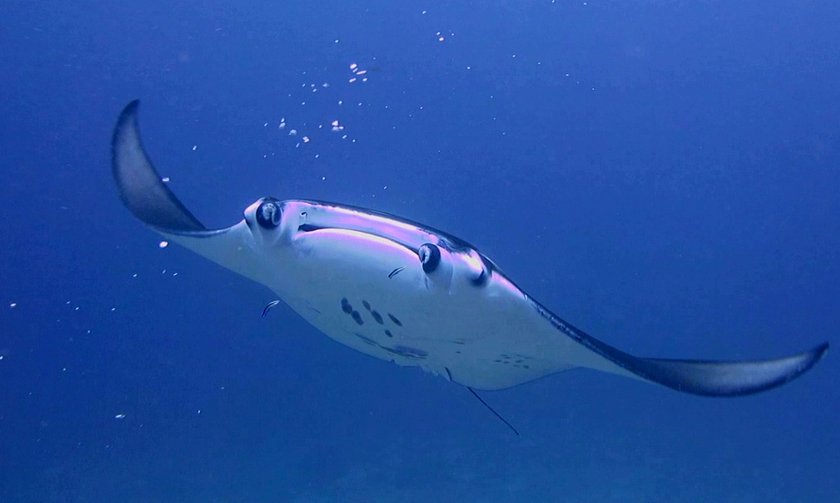 Manta ray at a cleaning station in the southern Maldives.
Living in the UK, I look for any opportunity to travel to sunny tropical places and dive in warm clear waters, and I want to see colorful and exotic tropical wildlife. I go as and when I can, and while it's still there. I have seen the mass bleaching of corals, dead reefs empty of fish, and I despair for the loss of habitat and life that once must have been there. Once you have seen the devastation, there can be no doubt it is happening now, and the Blue Planet is truly at risk.

My photography workflow
Underwater photography is challenging. I do try to compose the shot to get as close to the picture I want rather than just shoot and hope. Dive time is limited by your use of air, even more so at depth, and by the other divers on the dive. Photo opportunities need to be seized as they present themselves, or they will be lost.
Challenges of shooting underwater
My Canon camera has an underwater housing with a limited number of controls available, so manual options are necessarily limited. It has an underwater white balance setting, which works well most of the time to about 12 meters, and two custom white balance settings that I can set for other depths using a white card depending on conditions. Shooting in RAW and JPEG allows for later adjustment if needed. I tend to fix ISO and have a dial on the top of the housing allowing me to adjust exposure according to conditions.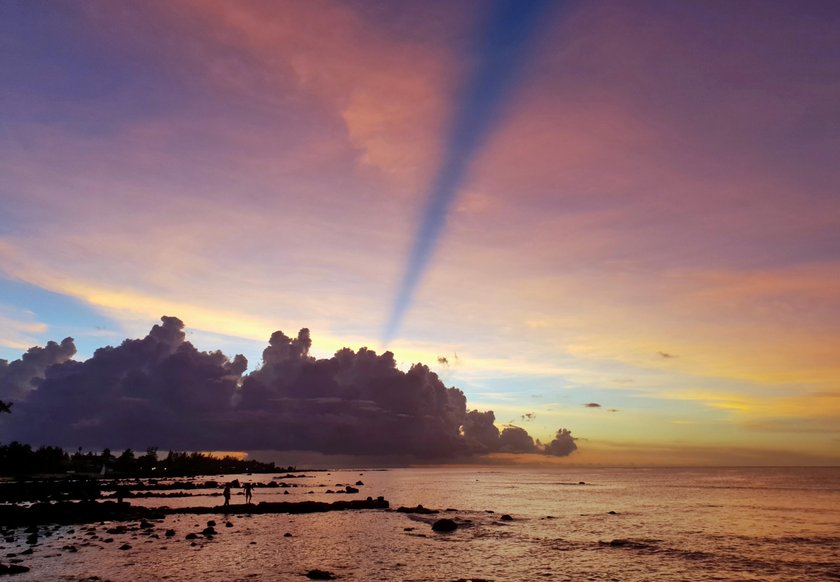 Sunset at Trou-aux-Biches. Mauritius.
Manual focus has to be done with buttons, which I find fiddly and difficult to do in anything other than the calmest of conditions. The camera has a useful zoom on focus when the shutter button is partly pressed, and I find good lighting improves the camera's ability to focus considerably. I aim to focus on the eyes of wildlife. The camera doesn't always get it right (and I certainly don't), and it's hard to see on the LCD screen through the housing how sharp a picture is, so I take multiple shots when I can to maximize the chances of success.
Sharp photos need a still camera, a still camera needs a still diver, and a still diver needs good buoyancy. Unfortunately, subjects often don't stay still, and in the sea the diver is subject to movement of varying degrees much of the time. Sometimes it's possible to lie on a sandy floor without damaging anything. Mostly that isn't possible, and taking a photo while the body is rocking at weird angles in a moving sea is all part of the challenge.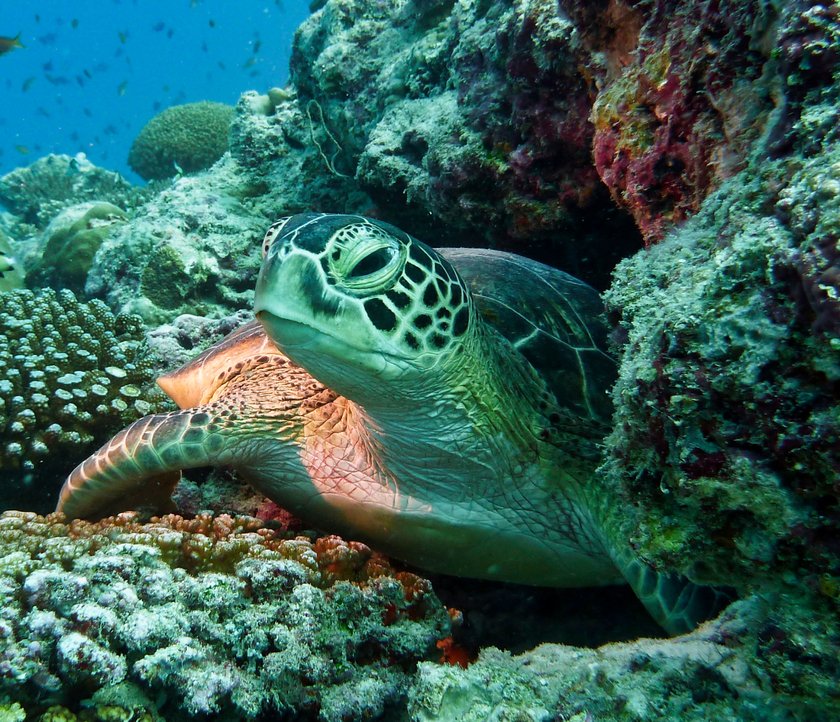 Maldives turtle. Photo edited with Luminar 3: Haze Removal Look
So as important as the technical skills are, an underwater photographer needs to be physically fit, good on air, comfortable at all angles, and with good buoyancy.
After the dive, the housing has to be cleaned and the files removed from the SD card. When I'm away, I rarely take a laptop because of air travel weight restrictions and the risk of theft. Divers and photographers are easy targets for robbery because their gear is visible, and is quickly sold. I will load the files on my tablet and phone to view, and I transfer the original folders and RAW files to a portable SSD drive for backup. I tend to leave editing until I get home and can use a big screen and my desktop computer.
Image editing tips
Getting the most out of the crop tool
The crop tool is my first tool of choice. I like to give marine animals room to breathe, usually in the direction they're looking or going. I look to crop out blank spaces around the edges and reduce bits that are blown out, whether too light or too dark. I look to crop out photobombing fish, and all too often odd bits of an encroaching diver or a diver's bubbles. Sometimes I try to create a different focus by cropping.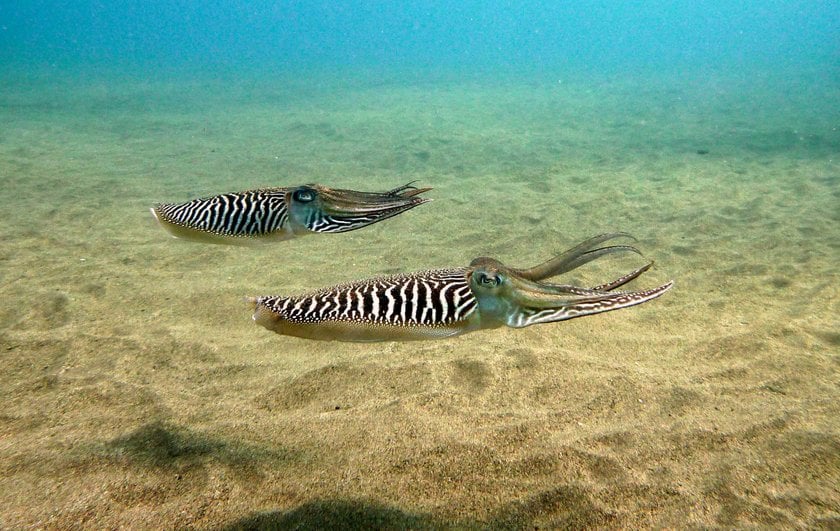 Lanzarote, cuttlefishes. Photo edited with Luminar 3: Crop tool, Haze Removal Look
Struggling with photo editors and finding the best one
I'm easygoing when it comes to editing. I couldn't come to grips with DPP — Canon's Digital Photo Professional software, which came with the camera — for RAW editing, so my RAW files lay neglected on the hard drive.
Picasa was good enough for a start, but it won't do RAW — it takes ages to load them — and the tools I now find limiting. The library function increasingly seems to struggle with my stash of photos.
I've tried Photoshop but found the learning curve steep for my needs, and the monthly price as steep as the learning curve for the amount I would use it.
Recently, a friend recommended Luminar 3. I'm still getting to grips with the software, but I love the Library feature over File Explorer, and I'm learning how to manage the Albums and Folders functions to set up all my pictures in one place. It's so much more functional than Picasa.
Luminar 3

is an excellent RAW editor, and I finally can rescue dysfunctional shots from underwater oblivion.

Luminar 3

allows editing using layers, which can be helpful for adding creative effects to my shots.

The

Accent AI

, Advanced Contrast, and Remove Color Cast filters dramatically and effortlessly improve my photos.
The instructional videos are helping me get my hands on the extensive range of tools and filters. I can't wait to become adept at using this software — which is more powerful than anything I've used before — and to tweak my pictures into showpieces Blue Planet might be proud of. Happy days!
Wrapping it up
More adventures to come! The Holy Grail of dive trips will be to the Galapagos Islands or French Polynesia, but such trips don't come cheap, so they may have to wait a while! In the meantime, there are so many places on the bucket list such as Thailand, Indonesia, Bali, Komodo, the Seychelles, and the Bahamas.
Meanwhile, let the dream live on. I trust Luminar 3 will be fixing my masterpieces with that extra Blue Planet wow factor for some time to come.
Feel free to visit my Facebook account, and my Facebook page Scuba Snaps enclosed. I've tweaked the privacy to allow viewing of some of the more recent pics and videos.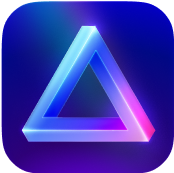 Advanced yet easy-to-use photo editor
view plans