Find out why Luminar is an essential tool for those who already use Skylum software
Luminar has a very powerful engine and is quite easy to use. It's a comprehensive solution that is an everyday photo editor - the first all-in-one solution from Skylum. That brings us to a discussion about the Creative Kit from Skylum. I have the Creative Kit and have used many of the products in it for a long time. They are a great collection of apps. In fact, some of the CK apps are absolutely essential to my process for finalizing certain images.
So, does Luminar complement the Creative Kit?
Upon reading about the vast range of tools in Luminar, it's logical to think that it might be too similar to the Creative Kit, especially considering the vast range of tools in Luminar. However, it's a new product entirely that goes beyond them - far beyond them - and allows you to take your photographic editing in new and exciting directions. Let me explain.
Why do I as Creative Kit user need Luminar?
So what does Luminar do for you? In short, it does just about anything you can imagine. It's very powerful and gives you an incredible amount of creative freedom in crafting your images. Here are some highlights of Luminar that in my opinion make it a great complement to Creative Kit:
You have an intuitive and exciting new UI.
You have the innovation of Workspaces.
You have a wide range of filters, including new ones that are not available in the CK apps.
You have a huge collection of fabulous presets.
You can create luminosity masks.
You have an extensive array of blend modes.
You can easily add a texture.
You have both a gradient mask and a radial mask.
You can apply filter masks as well as layer masks.
You can quickly and easily replace a sky.
You have the tools and flexibility to edit anything from landscapes to portraits, and everything in between.
You have a Transform tool.
You have Clone and Stamp.
You have Spot Healing.
You have Noise Reduction.
You have the Crop Tool.
Luminar puts all of this capability under one roof, so that everything is within easy reach. I suspect that future releases of Luminar will add even more capability on top of what is already there. And best of all, every bit of this fits comfortably in the user interface without feeling crowded, confusing or overwhelming. Like all Skylum apps, the user interface is wonderful, clean and intuitive.
I look at Luminar as the culmination of all the best ideas from Skylum, all neatly compiled into a single product that is easy to use yet very powerful. I am using the app to process all my single exposures as well as for final touches on some of my HDR images. The inherent flexibility and power of Luminar makes it a compelling choice for photo editing.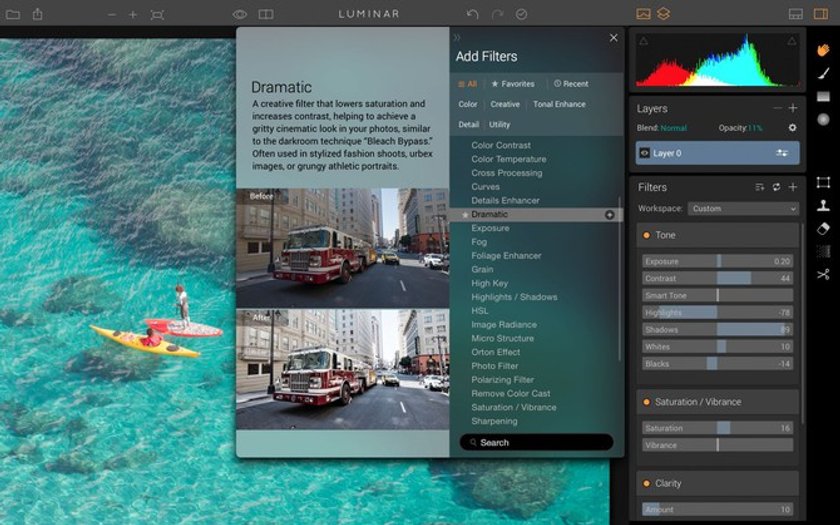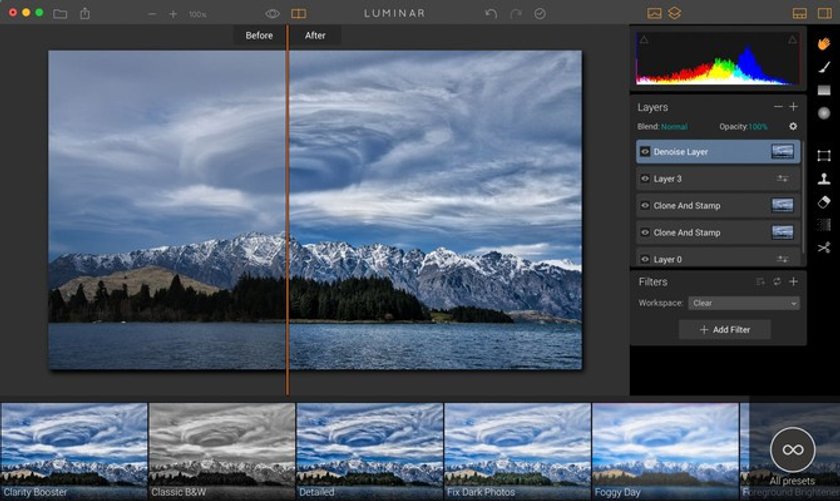 Luminar is a revolution in photo editing
I see Luminar as a "super app" that sits above and goes far beyond the CK apps. It is not just an evolution of some CK features - it's so much more than that. It's a revolution in photo editing that gives you many new capabilities, innovative tools and a brand new user interface. It offers you a wide range of processing and stylizing options, and a vast array of other capabilities as well. It's a brand new, fully-realized solution built from the ground up to be an amazing solution - and it is. Luminar is just different, and that's by design.
Luminar takes many amazing features that one needs in a photo editing solution and bundles it cleanly and intuitively inside a single UI, thus simplifying the steps you have to take in processing your images and streamlining your workflow. Personally, I am very excited about the whole idea and the use of Luminar photo editor. It's been fantastic to use it on my images. Luminar is an entirely new solution that will have an immediate impact on your workflow and your photo editing capabilities. All you have to do is sit down and create.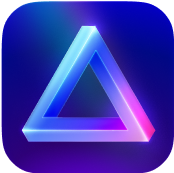 Advanced yet easy-to-use photo editor
view plans