It's time to step up to Luminar 2018, the best photo editing software for modern photographers.
Are you already using Snapheal? It's the most advanced tool to remove unwanted objects and people from a photo. We invented Snapheal to make the picture perfect even when the moment is not. But why stop there?
Luminar + Snapheal = Great Photos
A great image is much more than just removing blemishes and photo-bombers. It's time to step up to Luminar 2018, the best photo editing software for modern photographers. Luminar lets you take those distraction free images and make them truly attention worthy.
Bring your photos to life with advanced controls, intelligent filters, and complete noise removal. Our easy to learn application adapts to your way of working with workspaces designed for different photography styles. Luminar makes complex image editing super-easy, helping you create the most beautiful pictures in seconds.
If you're already familiar with Snapheal, then Luminar should feel right at home. Plus you can choose from workspaces for most photography styles to make editing even faster.

Snapheal Works as a Plugin
If you already own Snapheal, you can keep using it with Luminar. Haven't tried it yet? Feel free to download.
In fact, Luminar 2018 can use all the other applications in our Creative Kit toolset for the Mac platform. You'll find easy plug-in access from the Plugins menu which makes using other plugins a breeze. In fact Luminar works with most plugins (even those made by other companies).
Eliminate Lens & Camera Flaws.
Why stop with just distracting people and objects. Chances are your picture has a few other distractions too. Luminar's Lens Correction tool easily fixes all kinds of lens distortion, from barrel and pincushion to chromatic aberration and vignetting.
Have to take the shot from a weird angle? Do the vertical or horizontal lines in your photo look askew? With Perspective Correction, you can tilt the image in three dimensions as well as rotate to compensate for a poor or restricted shooting angle.
Make the Image Pop
With more than 70 bundled presets and hundreds more that are free to download from our website, you'll never run out of inspiration. Our presets are designed by professional photographers and image stylists. Plus the adaptive Amount slider lets you dial in just the right intensity for each effect.
Unlock the colors and details in every photo for beautiful images you'll want to share. Put Luminar and Snapheal into your photography toolbox today!
By the way, we have a special Holiday Offer for you!
What is included:
A full version of Luminar 2018 - no subscription and additional fees.

Cross-platform license valid for any 5 devices - Mac or Windows.

A pack of bonuses from our partners.
Click here to get the best offer of the month.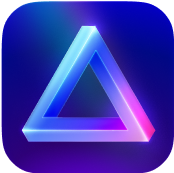 Advanced yet easy-to-use photo editor
view plans