Looking to buy the best instant camera but don't know what to pick? Check out the full list with pros and cons!
What is an instant camera?
An instant camera employs self-developing film to print your pictures right away. Arguably one of the most popular items on the list of best gifts for photographers, the instant film camera has its benefits and downsides. While delivering not-so-satisfying image quality and being expensive to use, the best instant photo cameras give us a unique chance to cherish the moment. Plus, they're stylish, fun to use, friendly for kids, and comfortable for travel.
How do best instant cameras work
To start taking instant snaps, you need to have your camera loaded with instant film. When you shoot an image, a chemical reaction takes place in a little darkroom inside the camera. The emulsion of Instax film is more stable and accurate than the emulsion of Impossible film. Pictures taken on Impossible film need to be protected from light to ensure the best processing. Instant film also requires a warm environment to work: above 55 degrees Fahrenheit (about 13 degrees Celsius).
What you should know about best instant film cameras
Using an instant camera isn't always fun. In these days of overwhelming social media popularity, people like taking photos and sharing them online right away. Even the best instant cameras don't allow you to do that. For Fujifilm as well as Polaroid cameras, the whole idea is to share photos with friends physically rather than through a screen.
If you want to buy an instant camera, you should consider an important point. The more critical limitation of an instant film camera is that it generally doesn't give you full control over exposure and focus. While a few expensive Polaroid cameras offer enough control, not everyone will be ready to purchase those models. To make the most out of your right-away snaps, check out some tutorials on topics like low-key lighting.
Let's take a peek at the best instant cameras. This list is designed to guide you through the heaps of camera specifications and help you choose the most suitable gear.
Fujifilm best buy instant cameras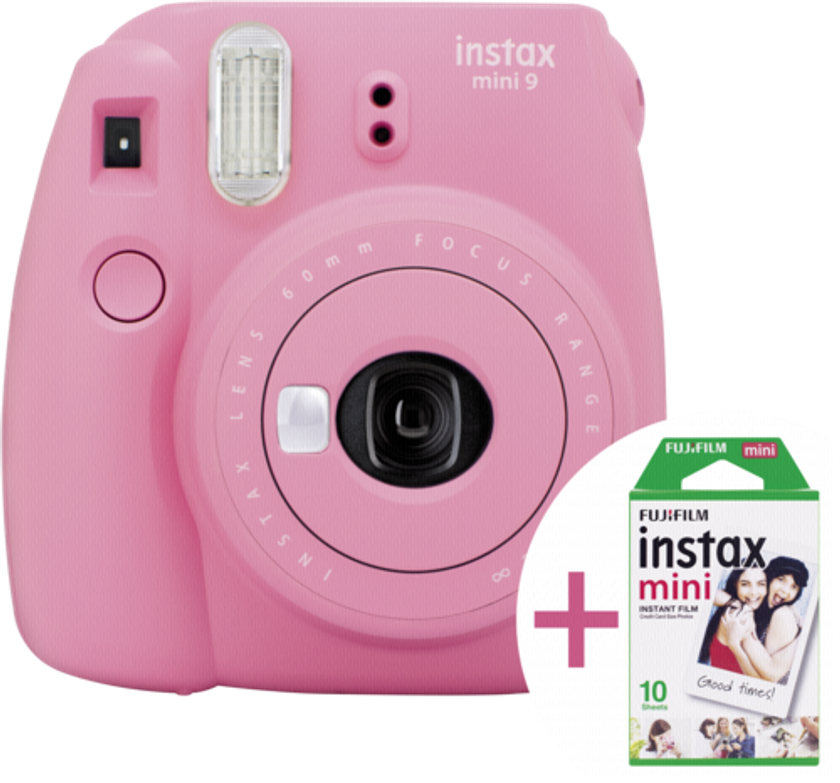 The Instax Mini 9 is Fuji's entry-level instant film camera and one of the most affordable Fujifilm models. The hugely popular Instax Mini film cartridges produce small business-card-size prints before your eyes in seconds. This Fuji camera looks like a refreshed retro camera. We highly recommend it for fun and for creating spontaneous happy memories.
Pros
Wide range of new colors
Built-in selfie mirror
Included close-up lens
Easy to use for photographers of any age
Affordable
One of the best instant cameras for weddings
Cons
Framing not ideal compared to Instax SQ10
Limited shooting range
Best for: kids, selfies, and taking funny shots at parties, weddings, and other events
Key specifications
Power supply: Two AA 1.5V batteries
Print size: 62 x 46mm
Lens: Fujinon 60mm, f/12.7
Optical 0.37x Real Image viewfinder
Dimensions: 116 x 118.3 x 68.2mm
Weight: 307g (without batteries, strap, and film)
Effective flash range: 0.6–2.7 m
Auto power off time: 5 minutes
Includes: 2 AA batteries, wrist strap, detachable close-up lens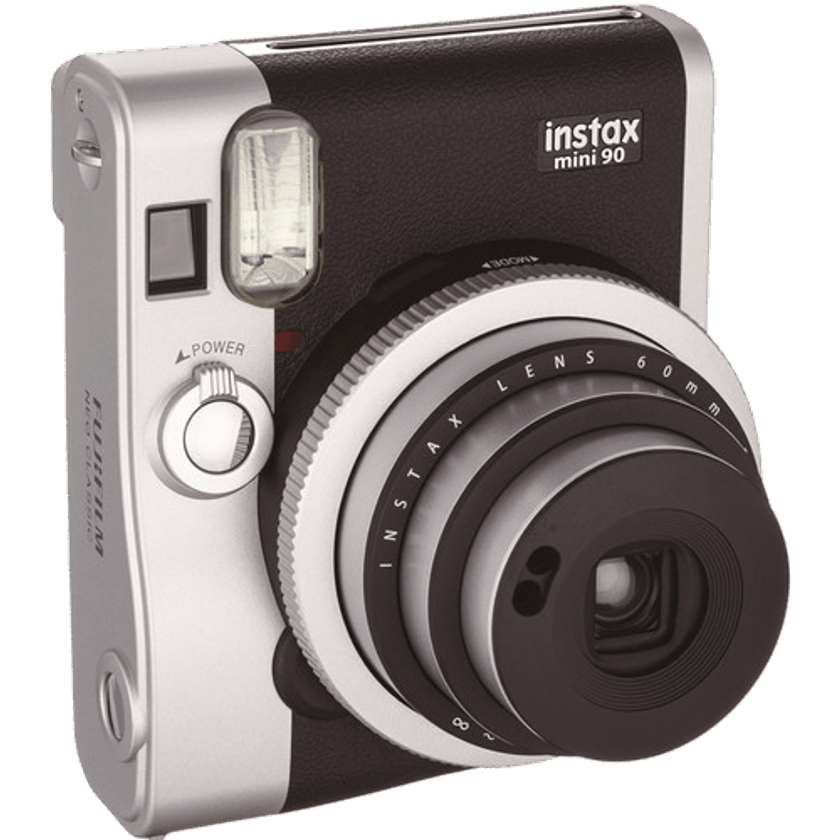 The Mini 90 is a more solid Fujifilm camera than the Instax Mini 9. It offers a rechargeable battery, an integrated LCD display, and manual exposure control for more accurate shots. This premium camera comes with plenty of shooting modes: kids mode for capturing fast-moving subjects, landscape mode for shooting subjects more than nine feet away, macro mode for focusing as close as 11.8 inches, and bulb exposure mode for low-light, nighttime, and light painting photos.
Plus, there's double exposure mode that lets you shoot twice on the same frame, producing a layered photo. There are also four brightness modes (normal, bright, brighter, and dark), enabling you to manually adjust the brightness.
Pros
Beautiful retro design
Compact
Consistent performance
Multiple shooting modes
Long lasting battery
Cons
Small viewfinder
Lack of handgrip
Best for: family photos, travel and holiday snaps, artistic shots, photojournalism
Key specifications
Print size: 62 x 46mm
Charge capacity: 10 film packs
Power supply: NP–45A lithium-ion battery
Lens: Move in/out type lens, 2 components, 2 elements, 60mm, f/12.7
Tripod mount thread size: 1/4″-20, female
Dimensions: 91.9 x 113.4 x 57.2mm
Weight: 296g (without battery, strap, and film)
Included: Fujifilm leather shoulder strap, NP-45A rechargeable battery, BC-45C battery charger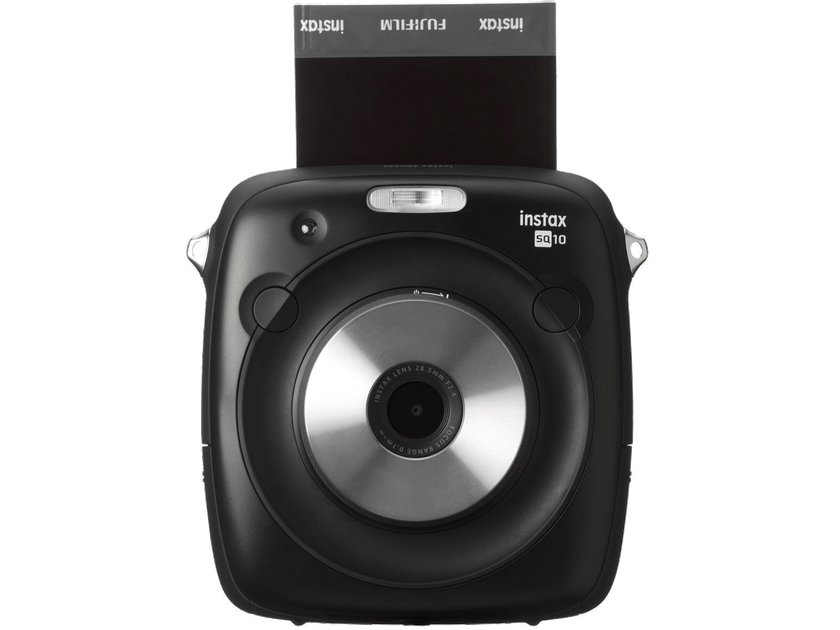 The SQ10 digital camera makes a big leap in the Fuji camera story. It delivers new square format prints, and they look great. Being a hybrid, it's also the first Fuji camera with digital capture, allowing you to crop and review images on a screen and print any images whenever you want. With the SQ10, you can not only crop pictures but apply effects, store snaps, and use them again. While the SQ10 and its cartridges are pricey, you can save significantly by only printing what you need.
As a traditional digital camera though, the SQ10 can be frustrating: the images are low-quality and there's no optical zoom, no exposure control, no video mode, and limited connectivity. Your smartphone invariably delivers better images.
Pros
New square print shape, like mini Polaroids
Digital capture for printing only the images you want
Digital zoom for cropping up to 2.4x with no loss in print quality
10 filters, vignette and brightness effects
Cons
Costs twice as much as Instax Mini
Over-exposed prints despite okay JPEGs
No export of images
Images are low-resolution
No exposure control and virtually no feedback
Not stable compatibility when printing shots from other cameras stored on card
Best for: those who can't stop creating artistic images; the SQ10 gives you more control over editing and printing shots
Key specifications
1/5" CMOS sensor, 1920 x 1920 resolution
Picture size: 62 x 62mm
Lens: fixed 33.4mm, f/2.4 (35mm equivalent)
Dimensions: 119 x 47 x 127mm
Weight: 450g (includes film pack and battery)
2.7" 230k-dot LCD monitor
Built-in flash and selfie mirror
Instax Square instant film
Single microSD card slot
Printing capacity: Approximately 160 prints per charge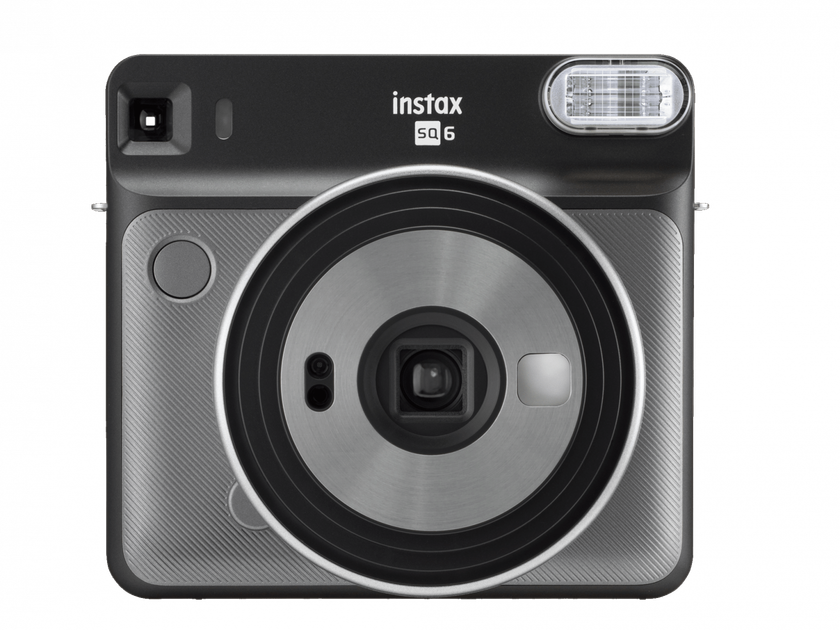 This Fujifilm Instax best digital instant camera is a joy to use! The Instax SQ6 is an analog instant film camera stylized like the classic Instagram logo. It's Fujifilm's second instant film camera that offers Instax Square prints. But unlike the preceding digital SQ10, the SQ6 uses the simpler analog process of the popular Instax Mini series. This makes it affordable, and while the absence of a sensor and internal storage means there's no way to print images twice or preview them, many photographers prefer its ephemeral nature as each print is unique.
The Instax SQ6 offers the choice of three focus modes and therefore delivers sharper images. And while the exposure remains automatic, the camera now has a variety of shutter speeds allowing it to better handle bright scenes. Plus, the SQ6 has three colored filters for the flash to produce special effects.
Pros
Square-format prints are a handy size
More control than an average instant camera
Easy to use
Great build quality
Good at shooting in low light
Cons
Blown highlights common
Unpredictable exposures
Non-rechargeable batteries
Fewer manual controls
Pricey film
Best for: beginners, as the SQ6 is a good starting point at its price. Also, it is one of the best instant cameras for kids.
Key specifications
Picture size: 62 x 62mm
Lens: 65.75mm, f/12.6
Dimensions: 118.7 x 128.1 x 58.1mm (not including protrusions)
Weight: 393g (without battery, strap, and film)
Shooting modes: Auto, landscape, macro, selfie, double exposure, lighten, darken
Viewfinder: 0.4x optical
Battery life: Around 30 square film packs (2 x CR2 batteries)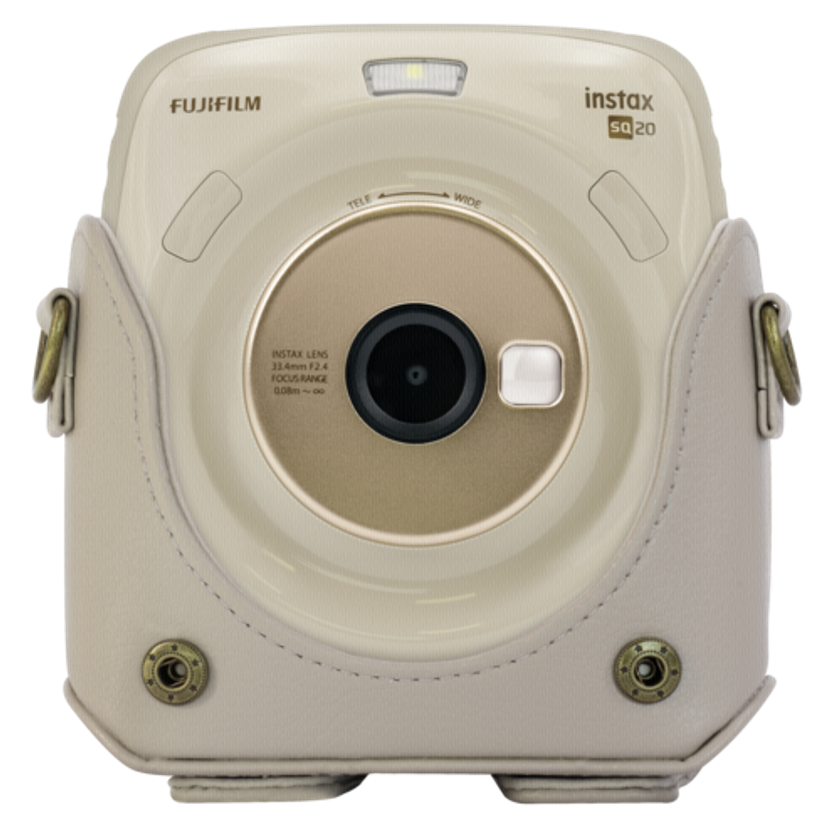 This model is easily among the best instant cameras. The Fujifilm Instax SQ20 is the third camera with Instax Square cartridges for producing instant square prints. This is a digital model that uses a low-resolution sensor to capture images before letting you view, edit, and save them on-screen and decide whether you want to make a print. The SQ20 receives the filter effects from its predecessor, the SQ10, but adds the ability to capture 15-second videos from which you can take shots. There's also a 4x digital zoom with no loss of quality for small prints, plus new collage modes.
Pros
Internal memory
Expandable storage
Ability to edit files before you print
A heck of a lot of fun
Ergonomic
Long battery life
Cons
Poor quality screen
Image quality could be better
Shutter button placement
Better alternatives are available from Fujifilm
Best for: those who like adding creative effects and using the SQ20 filters, vloggers, as it has the ability to capture 15-second video clips from which you can grab snaps
Key specifications
1/5" CMOS sensor, 1920 x 1920 resolution
Picture size: 62 x 62mm
Lens: Fixed 33.4mm, f/2.4 lens (35mm equivalent)
2.7" 230k-dot LCD monitor
Dimensions: 119 x 50 x 127mm
Built-in flash and selfie mirror
Instax Square film
Single microSD card slot
Power supply: Lithium-ion battery (built-in, not removable)
Shooting modes: Standard, double exposure, bulb mode, split, collage, time shift collage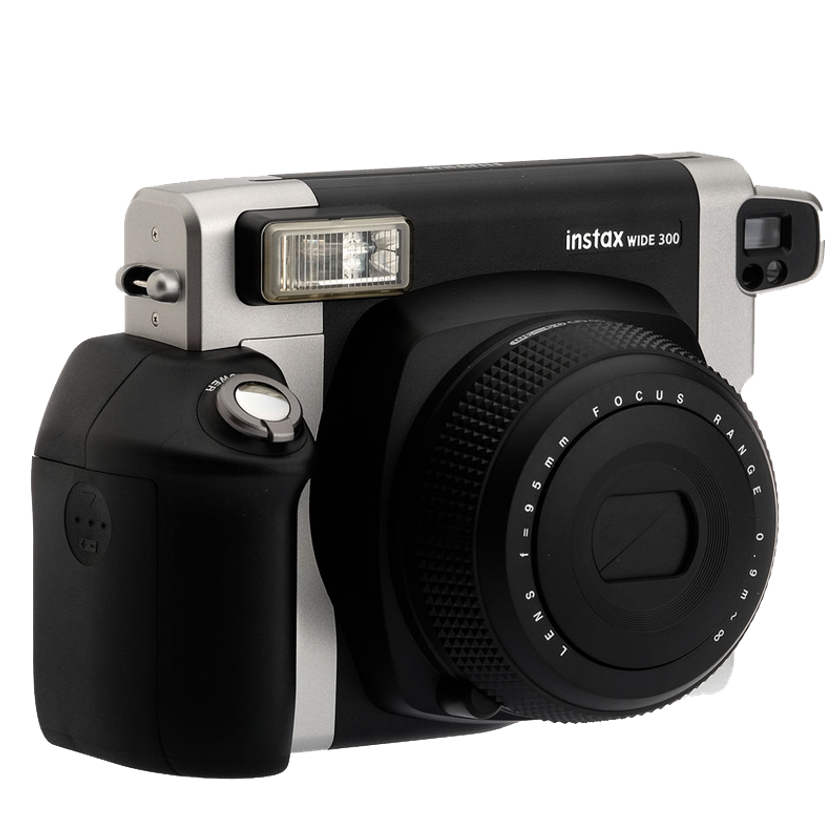 Compared to other counterparts in this list of best instant cameras, the Instax WIDE 300 is a big daddy. It's powered by four AA batteries and delivers larger prints using Instax WIDE films packs that more closely resemble standard print dimensions.
One of the best instant film caneras WIDE 300 has a slightly chunky body, but it's lighter than you think. A lever enclosing the shutter release button on its bridge-camera-style handgrip powers this one up and extends its 95mm lens. The built-in flash is likewise huge and automatic.
The only thing that seems to be odd and unpractical is the left-of-center viewfinder. Though control is limited to modifying brightness and flash, if you need instant prints to be close to the dimensions of regular photos, this is the best option.
Pros
Easy to use
Uses the largest Instax format
Affordable
Positive and negative exposure compensation modes
Motor-driven focus
Close-up lens included
Exposure compensation
Tripod socket
Cons
Bulky body
Impractical, small viewfinder
Difficult to frame close-ups
No way to disable flash
Best for: capturing memories at parties and other fun events, taking selfies with the close-up lens, low-light shooting
Key specifications
Film type: Fujifilm Instax WIDE film
Picture size: 99 x 62mm
Lens: 95mm f/14
Minimum shooting distance: 40cm
Exposure modes: Dark, normal, light
Flash: Built-in
Viewfinder: Optical
Power supply: Four AA 1.5V batteries (last for 10 film packs)
Dimensions: 167.8 x 94.7 x 120.9mm (not including protrusions)
Weight: 612g (without battery, strap, film, and close-up lens)
Polaroid instant cameras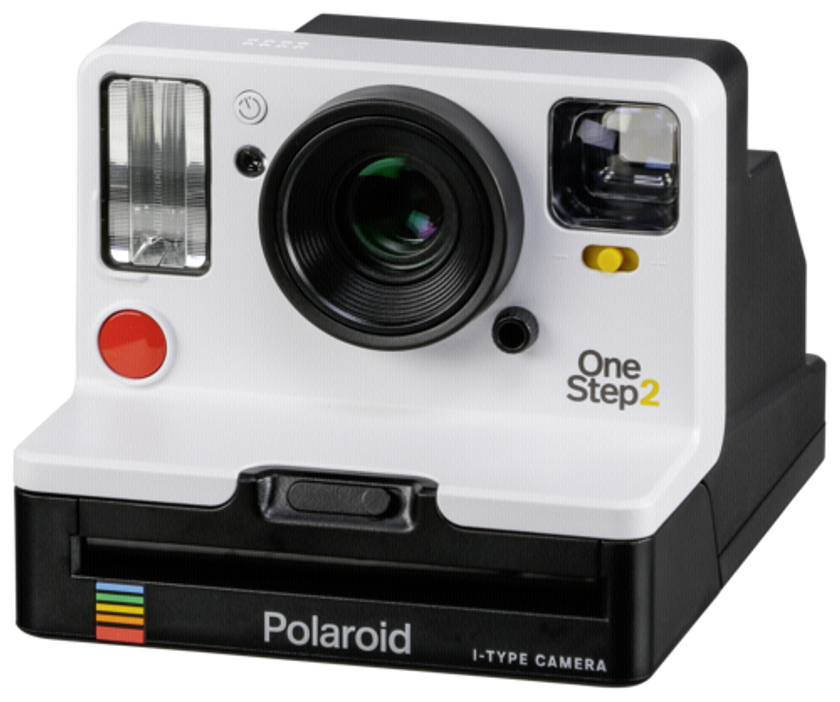 Adopting the retro design of the original OneStep from 1977, the new Polaroid OneStep 2 camera embraces innovation with USB charging. The camera delivers large, square-format instant prints using Polaroid i-Type and 600 category film, meaning you have to pay a bit more per print compared to its Instax counterparts. You get lighten/darken modes and a self-timer button. The OneStep 2 is hardly the best instant camera for beginners, but it has its peculiar benefits over the rivals.
Pros
Beautiful retro design
Simple to use
Low up-front cost
Simple, one-button operation
Black-and-white film
Multiple exposures possible
Easy USB charging
Cons
Layout of controls could be better
No long exposure support
Expensive film
Best for: those who are totally in love with black-and-white instant photography, as the Polaroid Originals monochrome film is pretty good despite its high price
Key specifications
Film type: Polaroid Originals for i-Type cameras
Picture size: 108 x 88mm
Lens: 106mm
Minimum shooting distance: 60cm
Focus modes: Macro, normal, landscape
Flash: Built-in
Self-timer: Yes
Viewfinder: Optical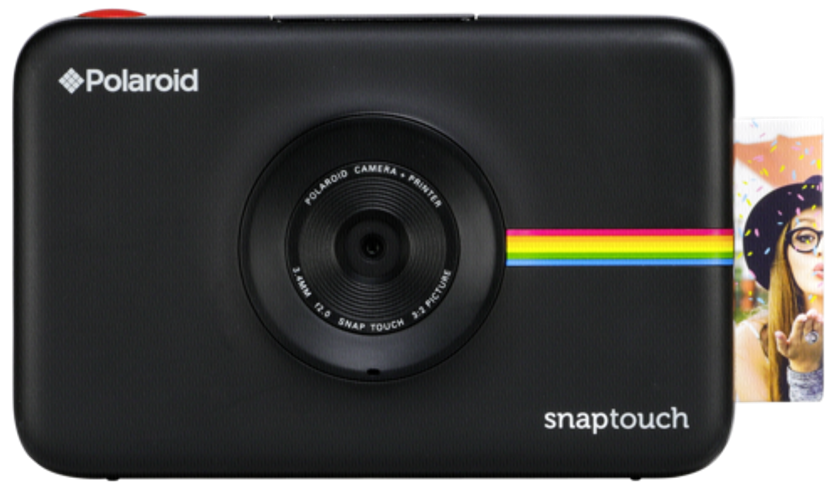 Another Polaroid camera, the SnapTouch is a high-end model among classic instant cameras. Unlike most other instant rivals, the SnapTouch is digital and has an LCD for previewing photos. There's no film; a premium and cut-to-size photo paper is used instead (Polaroid Premium Zink Paper). Thanks to connectivity to the SnapTouch web app, you can edit your photos, add creative effects, and print pictures using compatible printers. Plus, the variety of camera for instant photography colors gives you the freedom to decide which one suits you best.
Pros
Artistic filters and editing tools
Selfie mirror
Doesn't require ink for printing
Smartphone printing via Bluetooth
Cheap prints
Cons
Poor battery life
Slow printing
Low image and print quality
Slow autofocus
Lackluster LCD
Quirky UI
Best for: beginners, as it's an affordable, compact point-and-shoot that can print small photos
Key specifications
Picture size: 76.2 x 50.8mm
3.5-inch LCD touchscreen viewfinder
Resolution: 13 megapixels
Bluetooth connectivity
Photobooth mode and burst mode
In-camera filters, borders, and digital stickers
Built-in self-timer and selfie mirror
Micro USB port and microphone speaker
Power supply: Built-in rechargeable lithium-ion battery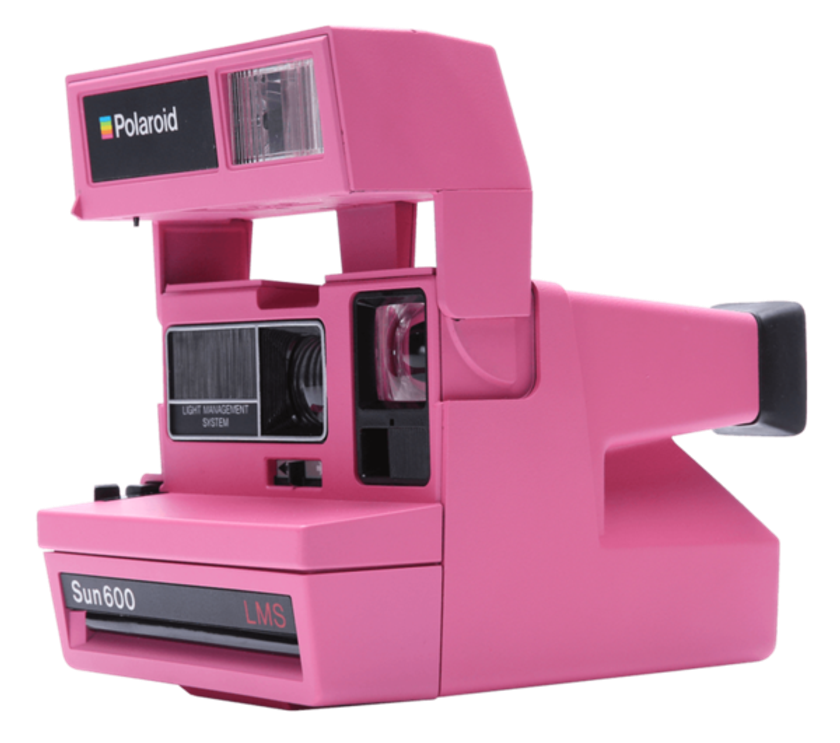 Thanks to Impossible, a beloved Polaroid instant camera is back right from the 1980s. Although it isn't the most lightweight and travel-friendly instant camera if you love the legendary design, this camera is for you. Even though it's affordable, you can't call it one of the best kids' instant cameras, because it would be hard for them to get to grips with it. It also has a new feature that past cameras didn't have – a Frog Tongue from Impossible, which protects your film from light once it's been printed, ensuring that it develops appropriately and consistently.
Pros
Takes 600 films and prints instantly.
Fixed focus lens
Fitted with a protective film shield
Vintage Polaroid camera lovingly refurbished by Polaroid Originals
Cons
Bulky design compared to modern cameras
Not travel-friendly
Fades to sepia quickly
Delivers 8 shots per pack (Polaroid did 10)
Pricey
Best for: true lovers of the classic Polaroid 600
Key specifications
Picture size: 79 x 79mm
106mm f/14–f/42 fixed focus lens
Shooting/focusing range: 4 feet to infinity
Shutter Speed: 1/3 to 1/200s
Built-in automatic flash
Accepts Polaroid 600 type film
Accepts batteries in film packs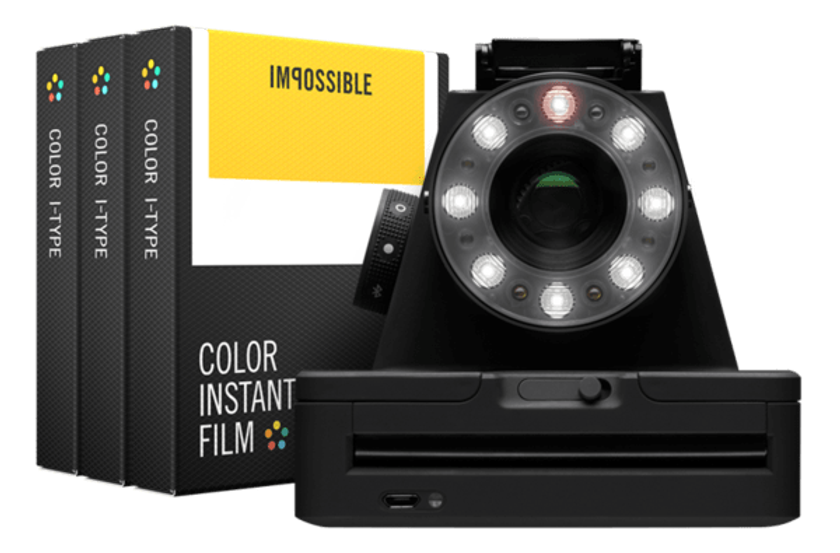 The Impossible Project I-1 camera features lights around the lens to create a soft light for shooting portraits. The Impossible I-1 is one of the best Polaroid instant cameras. It comes with a free web app for your smartphone that you can use as a remote trigger, noise trigger, or self-timer. The app also enables double exposures, light painting, and aperture and shutter speed adjustment. It works as a photo scanner too, which makes the I-1 an excellent option for experimenting with instant photography. Due to the camera's chunkiness, it's hardly suited for casual shots: it's too bulky to carry around. The battery life of this Polaroid best instant camera also leaves much to be desired.
Pros
Manual control via the app is cool
Dials and knobs are all pretty simple to use and understand
Probably the best camera to spit out Impossible Project's film
Pretty accurate autofocus, though slow in low light
Cons
A plastic lens only goes to show the limits of instant film
Battery drains pretty fast
Film ejection cover sometimes gets caught at the ejection door
Not enough shutter speeds and apertures
Best for: fun, experimenting with instant photography, shooting instant portraits
Key specifications
Lens: 6 lenses total, with 5 possible configurations
Autofocus: 5-zone autofocus system, using reflective IR ranging
Focal length: 82–109mm
Field of view: 41-degrees vertical, 40-degrees horizontal
Flash: 12 LED advanced ring flash
App: requires iOS 8.3 or later. Compatible with iPhone, iPad, and iPod touch
Other instant cameras
It is one of the best instant picture cameras that allows you to print photos. A compact camera has a built-in printer that prints photos 2x3 inch full-color, smudge-proof photos. The camera's compact size and instant printing capabilities make it a great option for events, trips, and everyday use. In addition to its printing capabilities, the Kodak Smile also has a variety of shooting modes, including automatic, portrait, and macro modes, which allow you to capture photos in different lighting.
Pros
2 picture modes
Auto flash
Long battery life
Built-in editor
One of the best instant print cameras
Cons
Best for: those who are looking for a camera to capture memories and moments on the go.
Key specifications
Picture size: 2"x3"
Zero ink technology to print HD-quality photos
Battery: Up to 40 prints on a single charge
Camera: 10 МР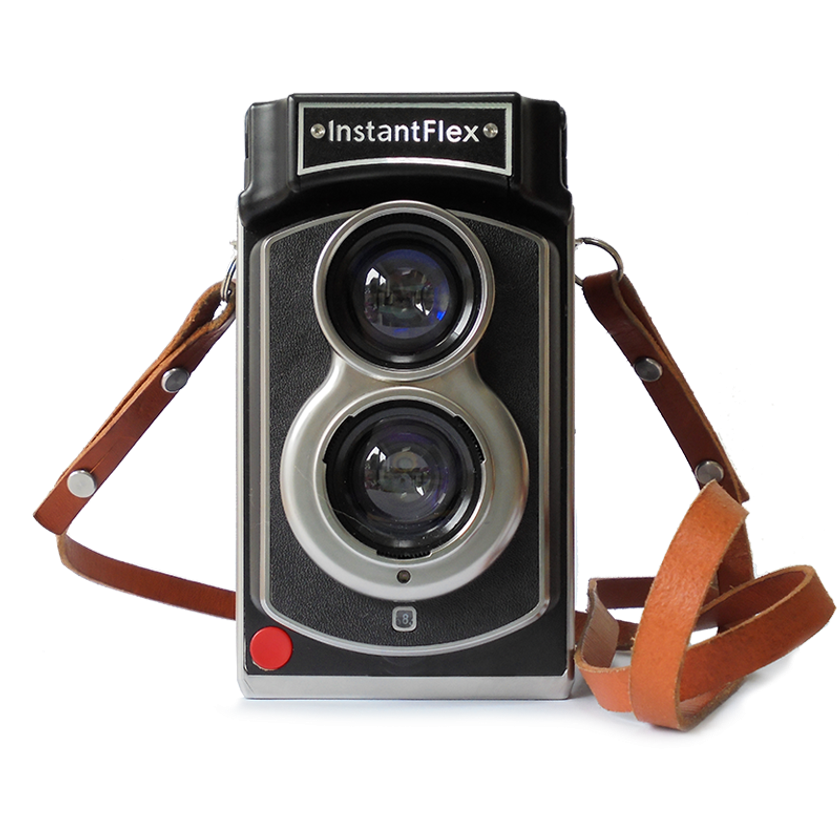 The Mint InstantFlex TL70 2.0 takes the best instant cameras to the next level. It boasts a new viewfinder that's a joy to use. The angle of view isn't wide enough, but it allows you to capture scenes in low-light conditions. In brighter environments, you'll get detailed images.
Full focus and aperture control gives you more creative power, especially when it comes to shallow depth of field, which is difficult to achieve with other best instant film cameras. An integrated flash for capturing late-night selfies is also hidden beneath the InstantFlex nameplate.
Pros
High build quality
Bright viewfinder
Fairly intuitive controls
Full focus and aperture control
Lightweight
Fun to tote around
Cons
Metering can be a bit wonky
Magnifier could be easier to work with
Best for: those who don't mind shelling out the dough for a unique experience and aesthetics. If you need a solid option that will help you stand out, go with the Mint InstantFlex TL70 2.0.
Key specifications
Aperture: f/5.6, f/8, f/16, f/22, f/bokeh
Lens: Three elements, aspherical lenses, 61mm
Fresnel super viewfinder
Exposure control: EV+/-1
Flash: Built-in electric flash with automatic light emission control
Power supply: 3 AA batteries (included)
Film: Fuji Instax Mini
Adapters: Tripod mount and neck strap holder
Dimensions: 141 x 102 x 80.2mm
Weight: 525g (camera only)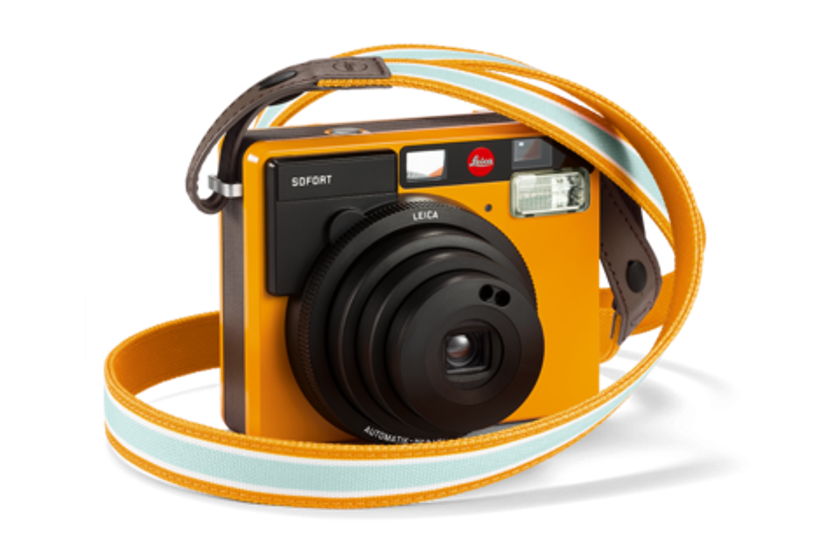 The Leica Sofort is one of the best instant photo cameras. It uses Instax Mini film and, in truth, significantly resembles the Fujifilm Instax Mini 90. But it's stylish and doesn't look like a kid's toy. With its 60mm f/12.7 lens, the Sofort captures much better images than the Instax. While it's expensive for an instant camera, it's still by far the most reasonable Leica you can get your hands on.
Pros
Compact size
Fun to use
Stylish
Cons
No manual controls
Expensive
Best for: travel adventures, parties, other entertainment events
Key specifications
Picture size: 62 x 46mm
Film type: 10 shots, color or monochrome, Instax Mini format, ISO 800
Lens: 60mm, f/12.7 (34mm in 35 mm equivalent)
Shutter speed: 1/8–1/400s (mechanical shutter)
Viewfinder: Optical
Shooting modes: Selfie, people & party, action & sport, bulb, macro, self-timer, double exposure
Flash: Built-in electronic flash
Power supply: Lithium-ion battery
Battery life: 100 pictures at 20°C (approximately)
Dimensions: 124 x 94 x 58mm
Weight: 305g (without battery and film)
Final thoughts
We've given you a bunch of dedicated easy to use instant film cameras with best image quality to choose from, but there are definitely some winners in our best instant cameras list in our humble opinion:
Fujifilm Instax Mini 9 – Available in plenty of bright, stylized finishes
Fujifilm Instax SQ10 – Allows for creative image editing
Polaroid SnapTouch – Delivers large prints and supports movie mode
Leica Sofort – Gives you style, high-quality prints, and plenty of shooting modes
Lomo Mint InstantFlex – Allows you to create unique prints thanks to additional lenses
Whatever best camera for instant photos you pick, remember that an instant camera is a way to cherish memories and keep them alive forever.
Follow Skylum Software on YouTube // Get the latest videos, tips, and photography inspiration each week!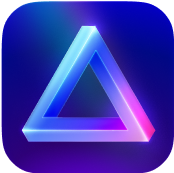 Advanced yet easy-to-use photo editor
view plans