BELLEVUE, WA - July 10, 2019 — Skylum Software is excited to announce a major update to its newest plugin, Luminar FLEX. With the FLEX plugin, photographers and other creatives who use programs like Photoshop, Lightroom Classic and Photos for macOS get timesaving tools and new creative options.
The Luminar FLEX 1.1 update adds the new Accent AI 2.0 filter. This amazing one-click filter uses machine learning to enhance photographs with adjustments like color, contrast, highlights, shadows and more. It makes getting pro results faster and easier than ever before. In fact, 99.5% of photographs can visibly benefit from Accent AI in just seconds.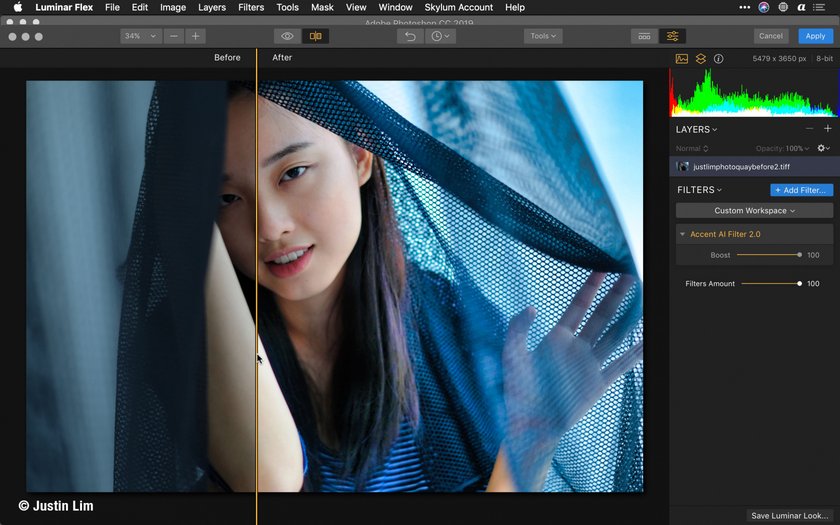 Accent AI 2.0 includes human and object recognition technology, meaning that photographs are more realistic than ever. It also includes more accurate color correction and a smarter detail boost. This unique technology is only from Skylum and is a major workflow boost to Adobe and Apple customers.
"We've been thrilled to see what creatives can make with Accent AI 2.0 with our Luminar 3 software. And we couldn't be more excited to bring that to the FLEX plugin. Now all types of creatives and photographers can adjust their photographs quickly and easily," said Alex Tsepko, CEO of Skylum. "Accent AI is incredible and every photo needs it!"
In addition to Accent AI 2.0, Luminar FLEX 1.1 brings several additional improvements that speed up editing and unlock new creativity.
The Filter Catalog is open by default. Easily search the 50+ filters with a name or a keyword, or browse by function. FLEX also tracks your most used filters in the Recent group and lets the user choose their own Favorites for quick access.
There's also easier management of Looks, which allow creatives to apply one-click presets to enhance their images. Find new creative options for free in the Luminar marketplace. One-click unlocks a new look, but you can customize with full controls.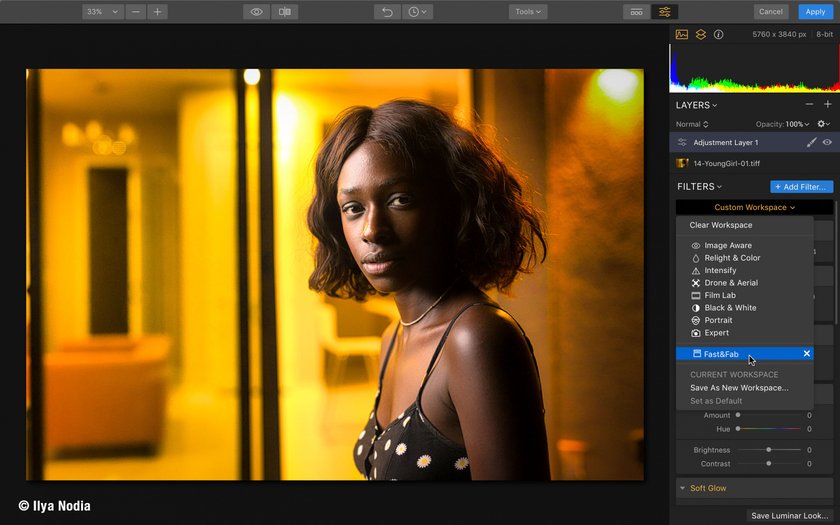 Finally, the FLEX update brings improved workspace management to allow loading new workspaces. These are perfect to switch back and forth between different workflows depending on the types of images they're working with, and what tools are necessary to get the job done most efficiently. FLEX comes with eight built-in workspaces:

Image Aware - Highlights four AI tools found in Flex (Accent AI 2.0, AI Sky Enhancer, Golden Hour and Foliage Enhancer), and allows creatives to apply different saturation and contrast levels to their images.
Relight & Color - Provides tools to help change the overall look of an image, through tools like Brilliance/Warmth, Color Contrast, Soft Glow, Golden Hour and Adjustable Gradient.
Intensify - Presents filters to boost the details, contrast and structure of an image. It's perfect for rich, detailed photos.
Drone & Aerial - Filters that help to enhance drone and aerial images, such as AI Sky Enhancer, Dehaze, Golden Hour and Sharpening.
Film Lab - Take your images back to the film days with unique filters like Matte Look, Split Toning, LUT Mapping and Texture Overlay. Perfect for a retro or vintage feeling.
Black & White - Control the black and white conversion of images with luminance and saturation tools, High Key, Curves, Grain and LUT Mapping.
Portrait - Take that headshot or wedding portrait to the next level with filters like Details Enhancer, High Key, Image Radiance and Dodge & Burn.
Expert - Have complete control over your images with the Develop filter, and use other filters like Accent AI 2.0, Dehaze, Remove Color Cast, Structure and more to take your photos to the next level.
FLEX also allows creatives to create their own workspaces, so they can customize the FLEX interface based upon what types of photographs they're editing, or what types of tools they use the most. You can also add additional filters to the built-in workspaces and save as a new workspace with just the click of a button.
Compatibility with older programs
What makes FLEX so powerful is its ability to unlock newer editing technologies and performance boosts with a one-time purchase, without the necessity to upgrade your previous software through a subscription or other means. FLEX works with photo editing applications from Apple and Adobe released for the past 10 years.
"The creative software market is constantly being updated and changing. While that's important, we wanted to bring the flexibility of the Luminar editing engine to all creatives by offering workspaces and presets that are well-suited for photographers, designers and other creatives," said Tsepko. "We want as many creatives to enjoy these tools as possible, which is why we have compatibility with older software versions. FLEX provides hundreds of presets and creative options to unlock new potential."
Taking advantage of machine learning, FLEX automatically adapts to your photographs, using artificial intelligence technologies. It allows creatives to use smart objects and batch processing through Adobe Photoshop. Photographers can take advantage of it too, through Adobe Lightroom Classic's seamless RAW transfer and Photos for Mac's nondestructive editing integration that syncs with the iCloud Photo Library.
How to update
Users with Luminar FLEX can update for free to version 1.1. Mac users can update by choosing Luminar Flex in the top menu bar, and then clicking "Check for updates." Windows users can choose Help > Check for updates on the top toolbar.
Pricing
Mixed-computer environments can share the same product key for Mac and PC, which can be activated on two devices. Luminar FLEX is available at skylum.com for $70/€70/£65, and comes with a 60-day money-back guarantee and a fully functional trial version. Extensive video training and customer support is included with the purchase, to make sure that you get the full value of your investment.
For those looking for Luminar technology as a stand-alone application, be sure to check out Luminar 3 for Mac and Windows at skylum.com/luminar.
Get in touch

Anastasia Sliusarenko
Head of PR&Communications