In the ever-evolving world of digital photography, one should not underestimate the importance of choosing the appropriate tools for editing images.
Befunky is known in modern photography as one of the most commonly used and popular image editing software. It is a versatile tool with numerous editing techniques and creative opportunities.
However, as we venture into 2023, we must keep our options open and explore the new possibilities in photo editing. There are plenty of kinds of photo editing tools available on the modern market, and each of them has pros and cons of its own. Let's explore it in more detail and discuss why Luminar Neo is a great alternative to Befunky.
In this comprehensive article, we will observe the Befunky photo editor reviews to learn more about the advantages and disadvantages of this tool that should be considered while selecting a proper alternative photo editor in 2023. We will also find out whether the Befunky pricing is appropriate or whether there are Befunky free alternatives that will help you edit your pictures perfectly without spending extra money.

Befunky: Pros and Cons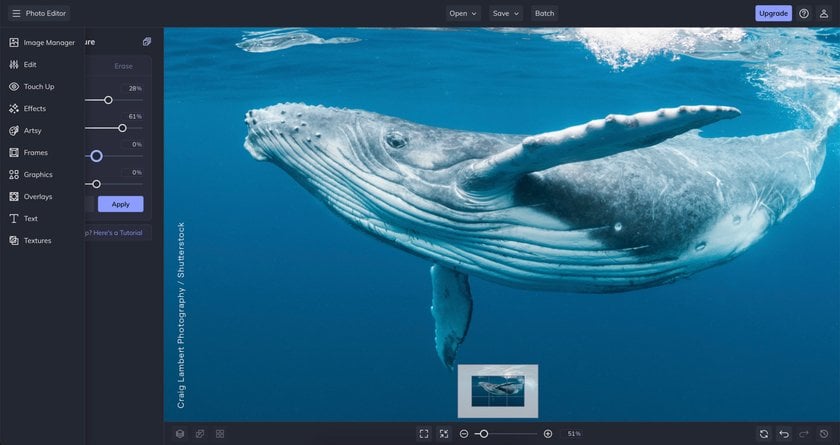 Befunky reviews show that the popularity of this photo editor among photography enthusiasts is quite reasonable. Many users laud Befunky for its intuitive and user-friendly interface, which makes it a perfect tool for newbies who are making their first steps in the fascinating world of photo editing. You don't need to download or install anything; the software is online-accessible.
Befunky offers diverse editing tools, from basic adjustments like cropping and color correction to more advanced features like layers and filters. Whether you are an amateur willing to capture your significant memories or a pro taking pictures for money, Befunky has something to make the process of editing and retouching your future masterpieces much easier for you. And even though Befunky is considered a paid tool, there is a free version for those who need more time to spend money on photo editing.
However, the options in the free version are limited. Newbies and amateurs may be fully satisfied with the free editing options, but those who want to use advanced features should buy a subscription.
And even if you decide that paying for the tool is worth it, the Befunky pricing may need to be clarified. Multiple pricing tiers exist (from $3.49 per month to $34.68 per year), and some users need help navigating and selecting the best suits their needs.
A free version also has a watermark on the final picture. It is not a problem for an editor to remove it, but it will require another editing tool, which is inconvenient.
Now that we've outlined the key advantages and disadvantages of Befunky based on user feedback let's dive deeper into the top alternative photo editing instruments.
Best Befunky Alternatives: Features, Pricing, and Reviews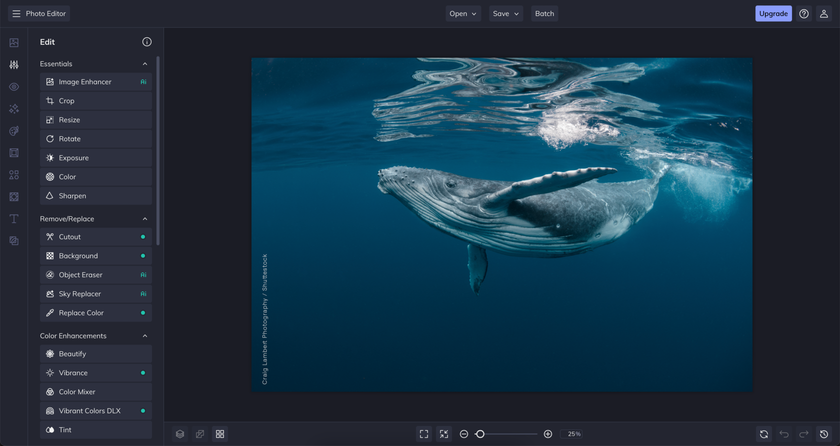 As we venture beyond Befunky in search of the perfect photo editing companion for 2023, we've compiled a list of five formidable alternatives, each with its unique strengths and drawbacks. Whether you're looking for free options or willing to invest in a premium experience, you will be able to find the tool that suits you best among the choices presented below:
Luminar Neo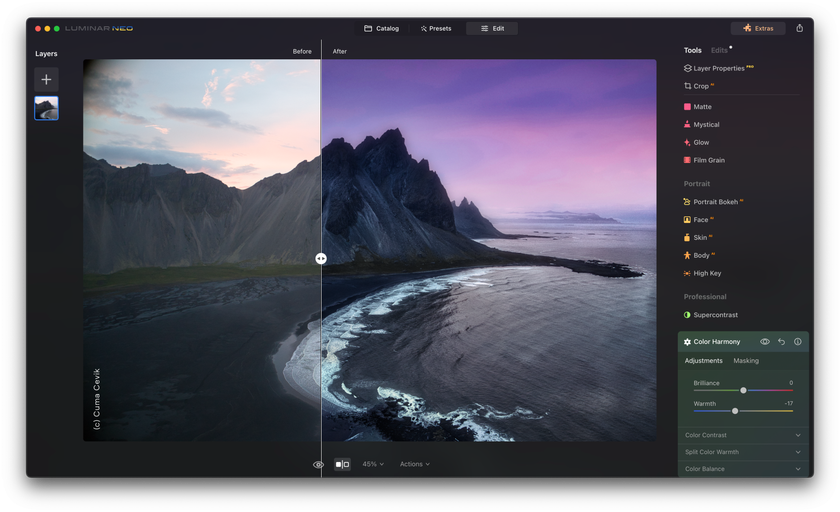 Luminar Neo stands as a beacon of innovation among image editing software, boasting an array of unparalleled editing functions. It distinguishes itself by focusing on elevating photographs with a sleeker methodology compared to Befunky. Particularly revered in photography, it captivates professionals with its robust editing capabilities and meticulous organization features.
Luminar's presets make it the prime selection for those seeking to refine their photographic prowess. The software's ascent to prominence is further propelled by its cutting-edge artificial intelligence attributes. Through enhanced AI, images acquire a mesmerizing ambiance.
AI-powered templates swiftly

heighten photo quality

.

Advanced masking tools and robust layer support facilitate intricate refinements.

The CompositionAI tool enhances image arrangement.

Scene transformations flourish with background substitutions,

enriched skies

, and dynamic relighting.

Portrait utilities deliver precise retouching and facial adjustments, while AI Skin and Body tools enhance human subjects.

Expert-level color grading, split toning, and advanced correction choices give artistic mastery.
Luminar Neo, with its pioneering AI technology and extensive toolkit, empowers photographers and creatives to achieve astounding outcomes while streamlining their artistic workflows.
Luminar Neo offers cutting-edge image editing capabilities at a pricing structure that accommodates various needs. The software's pricing model ensures accessibility and value for users seeking innovative editing tools. Luminar Neo's pricing aligns with its commitment to providing photographers and artists with a powerful platform for creative expression, offering features that streamline workflows and enhance editing.
A 7-day Free Trial of Luminar Neo with no obligation
Get it now!
Canva
The interface of this software is very simple and user-friendly. With a vast library of templates, graphics, and stock photos, it offers users many creative abilities. Ideal for team projects, Canva allows real-time collaboration and sharing.
However, Canva is an instrument made for designers rather than photo editors, so its options are limited when it comes to editing pictures. And just like Befunky, it adds a watermark to the final image in case you use a free mode. Canva offers a free plan with limited features and a Pro subscription priced at $12.95/month.
GIMP (GNU Image Manipulation Program)
This tool provides a robust set of advanced editing features akin to the software used by professional photographers.
Depending on your proficiency level, it can be considered a positive and negative characteristic. GIMP has a steeper learning curve, especially for beginners. The interface is much harder to understand and navigate than the commercial alternatives.
GIMP benefits from a passionate user community, ensuring constant updates and support. This tool is one of the 100% free Befunky alternatives.
Pixlr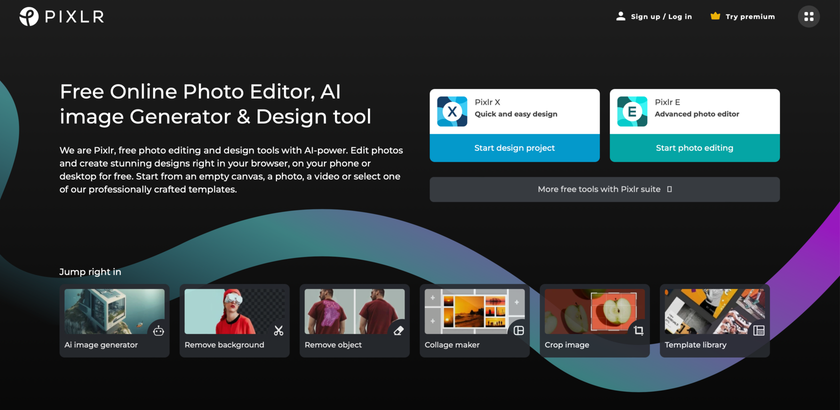 This photo editing tool is accessible on various platforms, making it convenient for on-the-go editing on your smartphone, offering a layer of support. This feature is required for advanced photo editing. It also allows you to edit an image for free without a watermark on the final picture.
However, as in any software with free and paid modes, free options in Pixlr are still limited. It is especially noticeable when exporting the final results and the intrusive advertisements on every step of your work that disturb you from the creative process.
Pixlr offers a free version with ads and a premium plan priced at $4.90/month.
Adobe Photoshop Express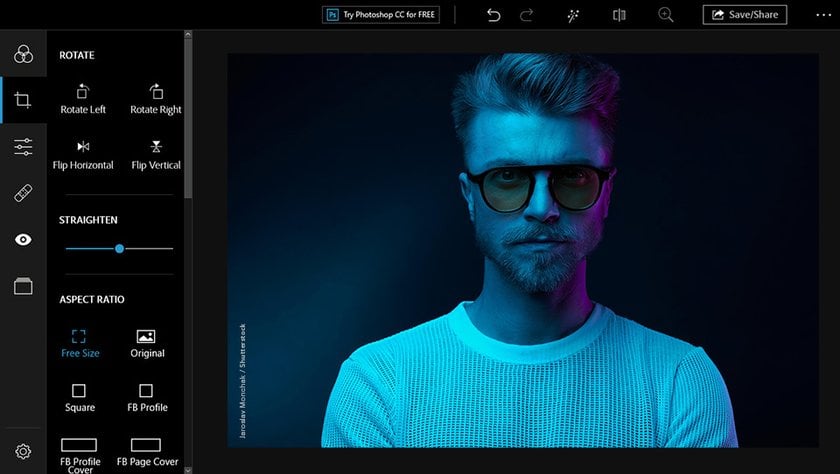 The streamlined version of Adobe's renowned editing software is available on mobile and web platforms. It is seamlessly integrated with other Adobe software products to ease the workflow.
Compared to full-fledged Adobe Photoshop, Express offers a limited feature set, and a paid subscription is required for the advanced features to be unlocked.
Adobe Photoshop Express has a free version with in-app purchases and a subscription plan starting at $9.99/month as part of Adobe Creative Cloud.
Bottom Line
Befunky, with its user-friendly interface and diverse editing capabilities, remains a popular choice for novice photographers and seasoned professionals. The free version of this photography editing tool offers a taste of its potential. Still, the full range of the software's capabilities is available only for users ready to spend their money on the paid subscription. The pricing tiers can be bewildering, and the watermark on free versions might be extremely inconvenient for some users.
The modern photo editing software market has much to offer photography enthusiasts who want their images to reach a new level of perfection. There are options for professional photographers and those who are only starting to explore the world of photography in general and image editing in part.
Each of the five most popular and commonly used Befunky alternatives in 2023 has unique strengths and limitations. From the simplicity of Canva to the advanced features of Luminar Neo and the accessibility of Pixlr, choose what is the most convenient for you when editing your future masterpieces. Adobe Photoshop Express bridges the gap between simplicity and power, while GIMP offers quick and easy editing.
You can try each kind of software offered above and see whether it can satisfy your photography editing needs for free, and if not, whether it corresponds to your budget to pay for the paid subscription and whether it is worth it. Create, observe, experiment, and don't be afraid to try something new if you want to make your photo editing journey easy, convenient, and enjoyable.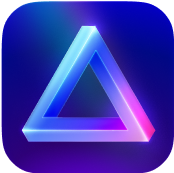 Advanced yet easy-to-use photo editor
view plans