In 2023, a mirrorless camera will be an easy and affordable entry into advanced photography. In essence, the general principle of a mirrorless camera is no different from the camera on your phone. Except that, not a single smartphone, even the most expensive one, will give you the functionality of a mirrorless camera (MRC).
With a slightly larger camera than a modern phone, you can use anything from wide-angle (for landscapes) to telephoto lenses (for capturing distant subjects). With a good device, you can take great photos without having to sharpen an image.

There are a huge number of different camera lenses nowadays, and every year it becomes hard to select the right one for a person who has just decided to join the ranks of photo makers.
A beginner photographer is usually limited to standard kit lenses as he/she does not know what is better for portraits or people in general. A professional photographer usually has at least two lenses in his arsenal, and the maximum depends on the needs of the photographer and the capabilities of the camera he uses. Nowadays exist many beginner lenses for Canon and sometimes it is problematic to find the right tool.
In this article, we will look at which lenses can be used in certain genres of photography and help beginners decide on their first ones.
We show an example of various lenses from wide-angle to telephoto, to show which lens element is the best variant for a certain task. When selecting a lens, don't forget to pay attention to which mount it's designed for.
What to Consider When Buying a Canon Lens for Beginners?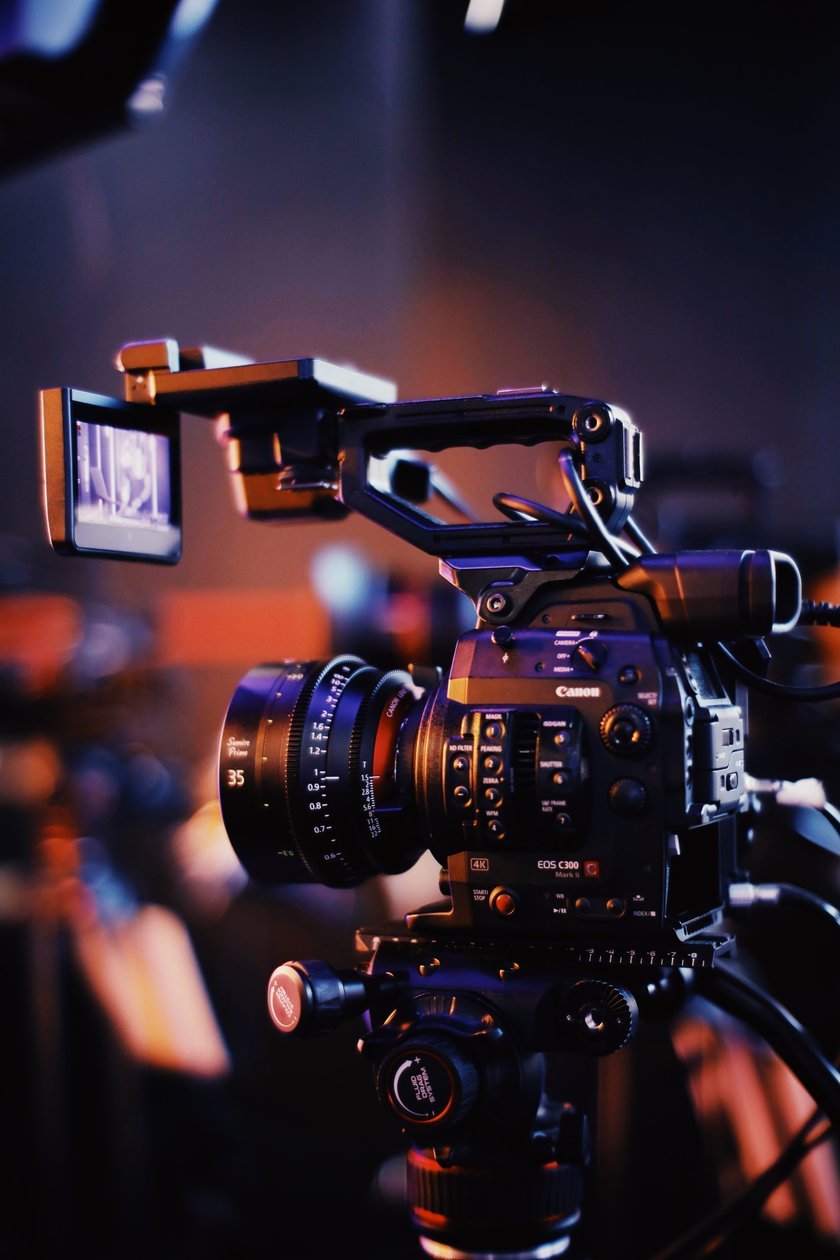 Some photographers use the lenses that come with their cameras. Others buy their cameras and choose lenses separately. But either way, a lens is essential.
Each lens has a certain characteristic – a numerical value in millimeters, for example, 50 mm. It is called the focal length and indicates how much the lens magnifies the image and the angle it captures.
There are some of them that we recommend for beginners. You should consider the options and prioritize them for yourself, from the most to the least important.
Lenses that scale, such as the 14-42mm, 16-50mm, 18-50mm, 18-55mm, or 18-105mm. These are fairly versatile lenses, using them will give a clear idea of which special lenses to buy in the future.

A prime lens that does not scale, such as 25mm f/1.8, 35mm f/1.8, or 50mm f/1.8. Fixed focal length lenses are especially good for portraits and fine-focus photography.

A telephoto lens, for example, 55-200mm. This type of lens allows you to photograph distant subjects, which may be useful for wildlife or sports photography, although not all photographers need this feature in the first place.
Keep in mind that it's not the numbers that matter, it's the image you get when shooting with a lens with a particular focal length. Take a look at the image below.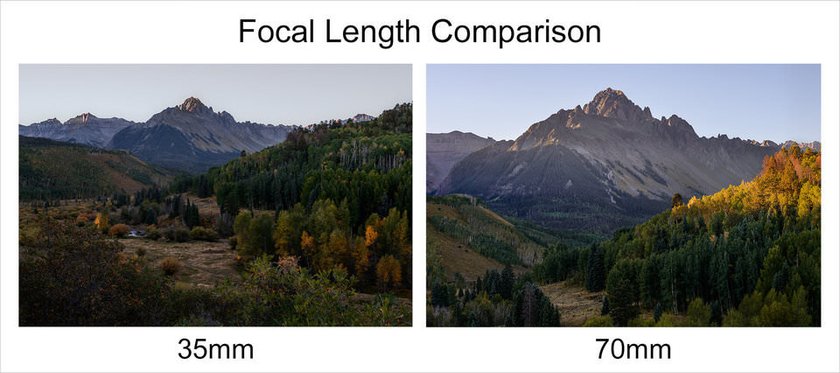 There is also an important difference between zoom lenses and fixed focal length lenses.
Zoom lenses cover several focal lengths. You can zoom in and out.

Fixed focal length lenses cannot zoom in at all.
Zoom is a great feature, but fixed focal length lenses are also a very good choice. They usually have several advantages, including weight, price, sharpness, aperture, and more.
An example of a zoom lens is the Canon 24-120mm f / 4. An example of a zoom lens is the Canon 50mm f / 1.8. It's easy to say that is a zoom, as it has a range of millimeter numbers to its name. It is the widest angle and widest telephoto lens that a single lens can offer.
As you can see there are plenty of Canon lenses for beginners and finding definite tools sometimes can be difficult. First, you should decide exactly what you need them for.
To make a photo of landscapes, and architecture, you'll need a zoom whose focal lengths start at 17-18mm (cropped) and 24-25mm (full frame);

For narrow spaces or stargazing, a wide-angle lens will come in handy, 10-15mm (cropped) and 15-20mm (full frame);

For reportage photography, it's handy to be able to zoom in on a person, which means you need a zoom with a far end of about 100-150mm. There are more (70-200 or 70-300), but then the near end will be too narrow and not much suitable for anything but reportage from afar. Lenses like 70-200 and 70-300 are usually used in landscape photography to get close to some piece of nature or to capture animals and birds. They can also be used for macro photography;

To take pictures of flowers and flies, there are special macro lenses;

For portraits, it's better to buy fx 50mm (cropped) or 85 (full frame), then you'll have beautiful bokeh and the background is perfectly blurred, and the aperture ratio is good. But it's all about taking portraits, you want to do it all the time and with a serious mind to do it professionally. Otherwise, a normal zoom will do. By the way, fixes come in different apertures, and you shouldn't chase the most expensive at first. For example, Canon 50 f1.8 will be enough for you instead of Canon 50 f1.4 (twice as expensive);

If you are not picky about image quality, for travel photography you'd better take a big zoom (18-135 or 18-200), you'll cover all focal lengths and you won't need to switch lenses. Kind of a versatile lens. Plus, you'll have the smallest photo bag you can carry, which comes in handy when you're traveling where weight is important.
Top 9 Canon Lenses for Beginners in 2023
Canon has a huge range of lenses for every taste, and this variety can be confusing not only to beginners but even to seasoned photographers. This list of the best Canon lenses for beginners will help you find the right model for your application and your type of camera.
1. Canon RF 50mm f/1.8 STM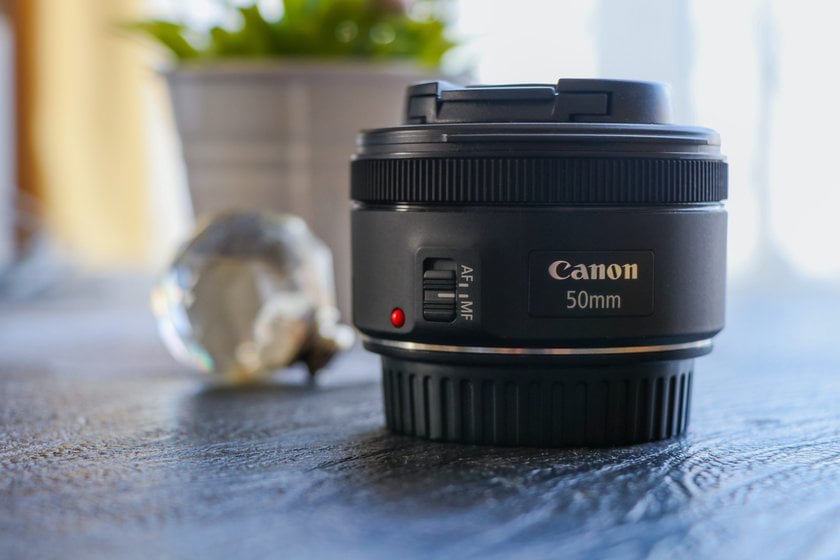 The best prime lens to start with. It's compact, lightweight, and inexpensive, and offers a stunning aperture. Playing with depth of field allows you to create more emotional and interesting photos by emphasizing one of the plans and beautifully blurring the rest (aka bokeh). And put more thought into the framing of your photo shoot. The EF 50mm f/1.8 is the ideal focal length for portraits with medium to moderate close-ups. Consider one of the best starter lenses for Canon.
Its brightness enhances your pictures in low light conditions. The shutter speed will be slower, meaning you'll have a better chance of capturing a sharp image without the so-called "wobble". So where other lenses might make you need a tripod to get a clear shot, this lens lets you take the shot hands-free. And that's worth a lot of money.
Plus, the Canon EF 50mm f/1.8 STM features a metal mount rather than the plastic plate of its predecessor, and a new STM focusing motor that delivers faster and quieter autofocus, which will be particularly useful for video recording). If you have some problems with some photo defects you can use an image eraser to solve a problem.
2. Canon EF 70-200mm f/4L USM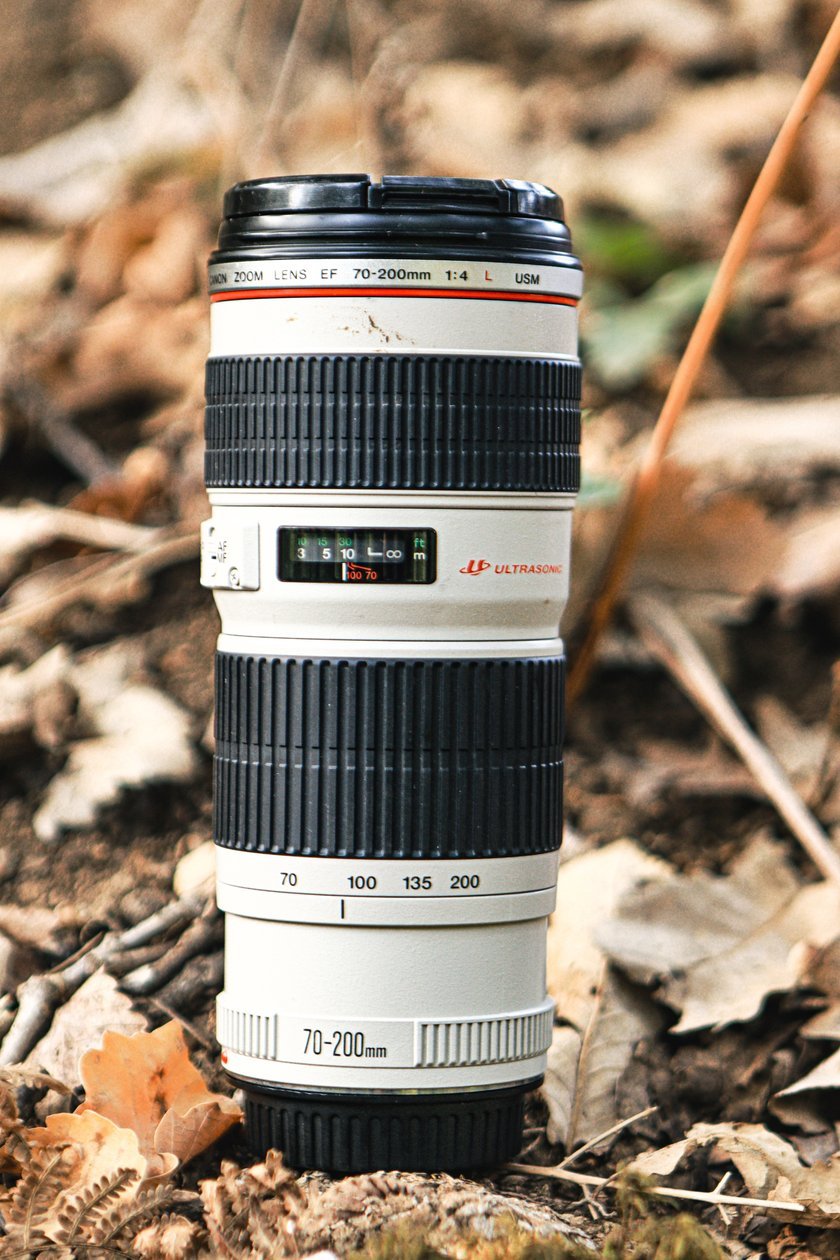 One of the best Canon lenses for telescopic photography, around 110-320mm focal length for camcorders with frame sensors. It's a zoom lens whose maximum aperture remains at f/4 throughout the zoom range, so you get more light at full zoom, which means faster exposures.
In other words, it retains ultra-fast focus and delivers great image quality during reportage photography, such as a football match involving your child or a flight of cranes in the sky. Experts particularly praise the Canon EF 70-200mm f/4L's exceptional build quality with excellent optical performance throughout its range.
On a separate note, we should mention its appearance: the white color of Canon lenses is usually characteristic of the professional lineup of lenses, which are very, very expensive. However, in the case of the Canon EF lens 70-200mm f/4L USM, we have a readily available professional quality for quite amateur money.
3. Canon EF-S lens 10-18mm f/4.5-5.6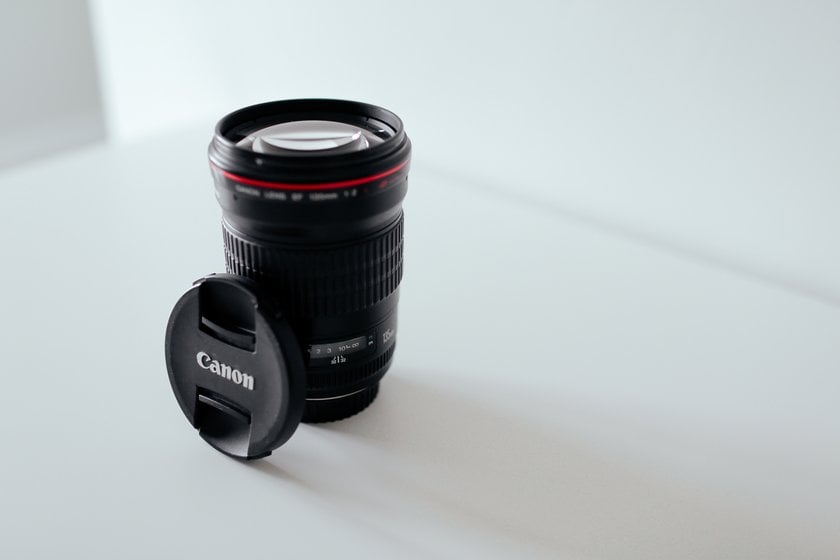 For wide-angle photography, it is the best Canon lens for beginners. When does it come in handy? For close-up photography (hotel room overview, for example), party, architectural, and landscape photography.
This lens is small, lightweight, and has superb sharpness. Its image quality and autofocus accuracy is a very strong competitive advantages over currently available lenses in this class. It also has a stabilizer, so you can avoid smudges in your photos.
The compact size of this wide-angle lens means it's perfect for everyday photoshooting, and traveling, or you can simply keep it in your pocket as a backup just in case. To make your photo more colorful and interesting, you can use a layer photo editor.
4. Canon EF-S 55-250mm f/4-5.6 IS STM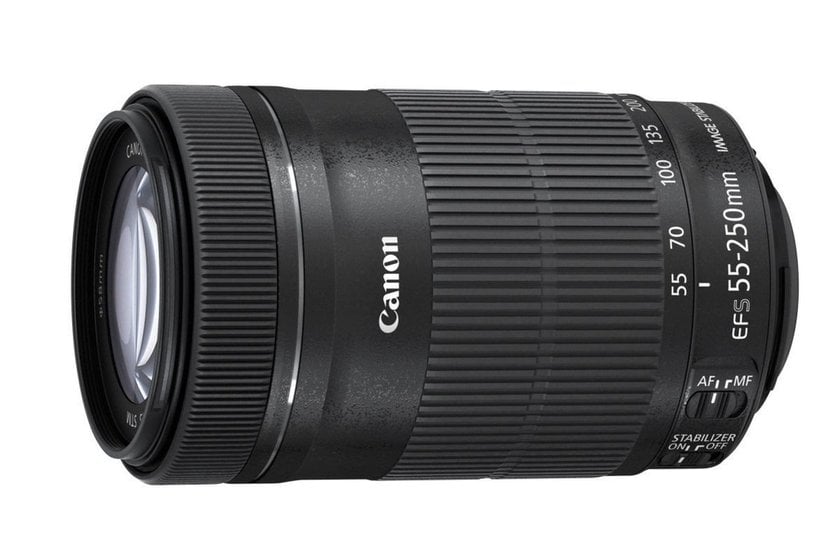 It's the lens of choice for anyone who makes photos with a Canon APS-C format camera. Reportage, portraits, animation, and even landscapes with a big sunset – the EF-S 55-250/4-5.6 IS STM long zoom lens can do it all. And not just any photographer! The silent and, most importantly, smooth STM autofocus drive is especially valuable for those filming videos which makes it an acceptable variant of the Canon lens for beginners.
Work is also made easier by the built-in 3.5-stop EV stabilizer. It makes vistas and handheld shooting easier, can suppress accidental tripod vibrations, and allows smooth panoramas in video shooting.
5. Canon EF-S 60mm f/2.8 Macro USM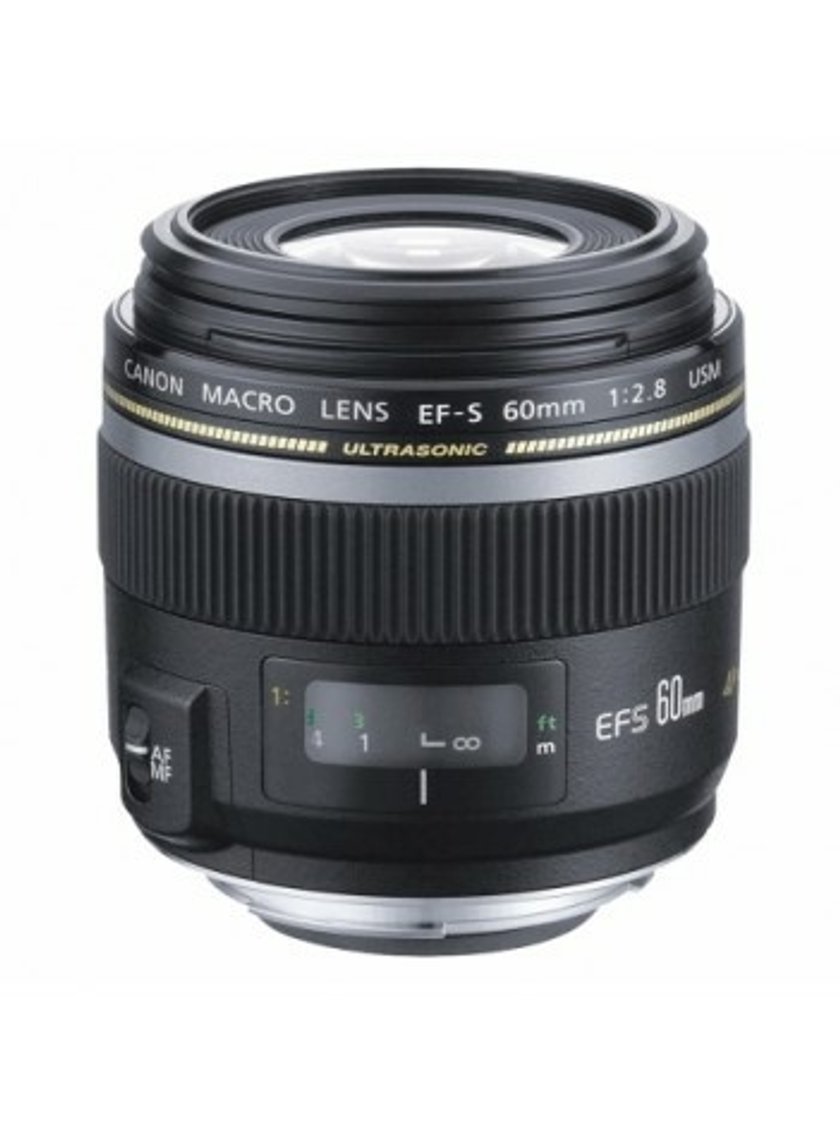 This is one of the best beginner lenses Canon in the range of APS-C camera optics. The focal length is practical: the angle of view is short enough not to get too close to the subject (because it could be a shy insect), but not too long either, making it easy to frame. The minimum focus distance is 20cm from the sensor plane (just under 10cm from the front lens).
Testing has shown that this lens is, as macro optics should be, sharp at any aperture, from open to fully closed, and holds counter light well, which is rare in macro lenses. The EF-S 60/2.8 Macro USM focuses quickly and reliably thanks to a fast ultrasonic AF motor. If required, this macro lens can also replace a portrait lens, especially when you want to shoot a textured portrait of a man.
6. Canon EF-S 24mm f/2.8 STM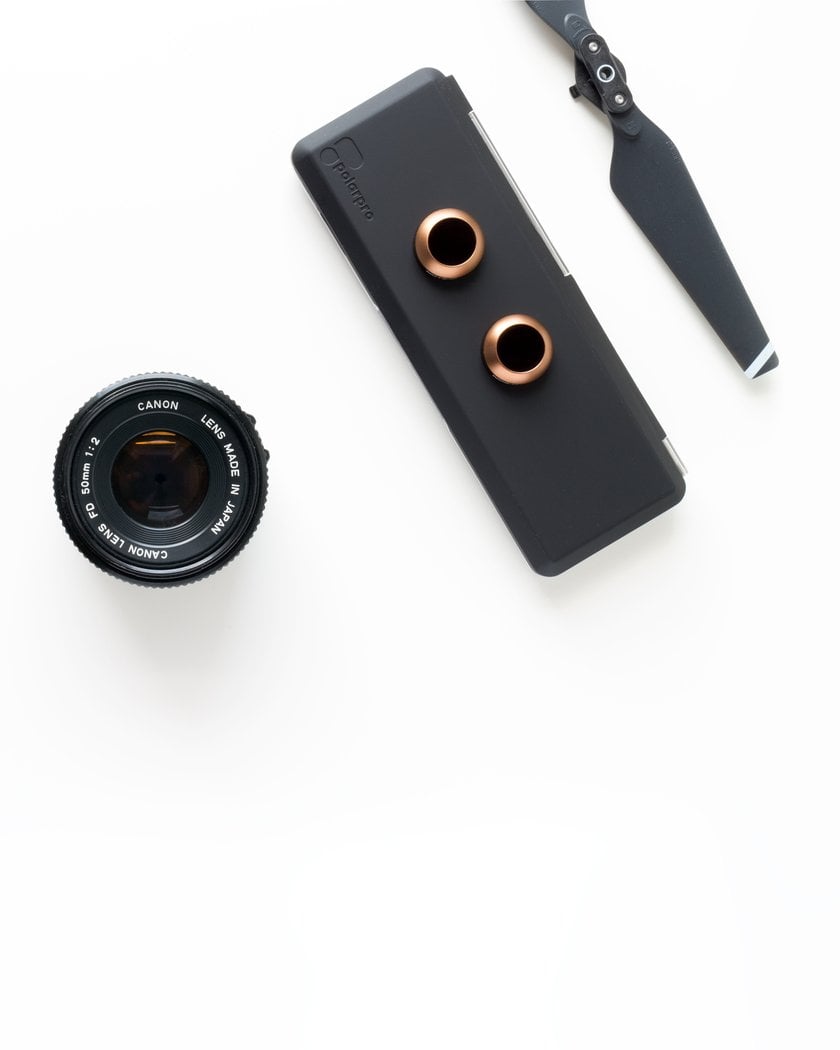 Canon DSLRs with APS-C-sized sensors are often sold with a universal zoom lens, which makes it impossible to put the camera in your pocket and carry it around with you at all times. However, there is a lens in Canon's line-up of optics for just such an occasion – the EF-S 24/2.8 STM. It weighs 125 grams and projects just 22.8 mm over the body. It almost turns a "cropped" DSLR into a compact – but what a compact! With a maximum aperture of f/2.8, a minimum focus distance of 16cm, and an equivalent focal length of 38mm, the lens is truly versatile.
You can shoot street photography, sketches, and even portraits with its consistent perspective. Although not close-ups and without pronounced bokeh, that's not always necessary. You can always use the best editing software for photography to make pictures better.
7. Canon EF 100mm f/2.8L Macro IS USM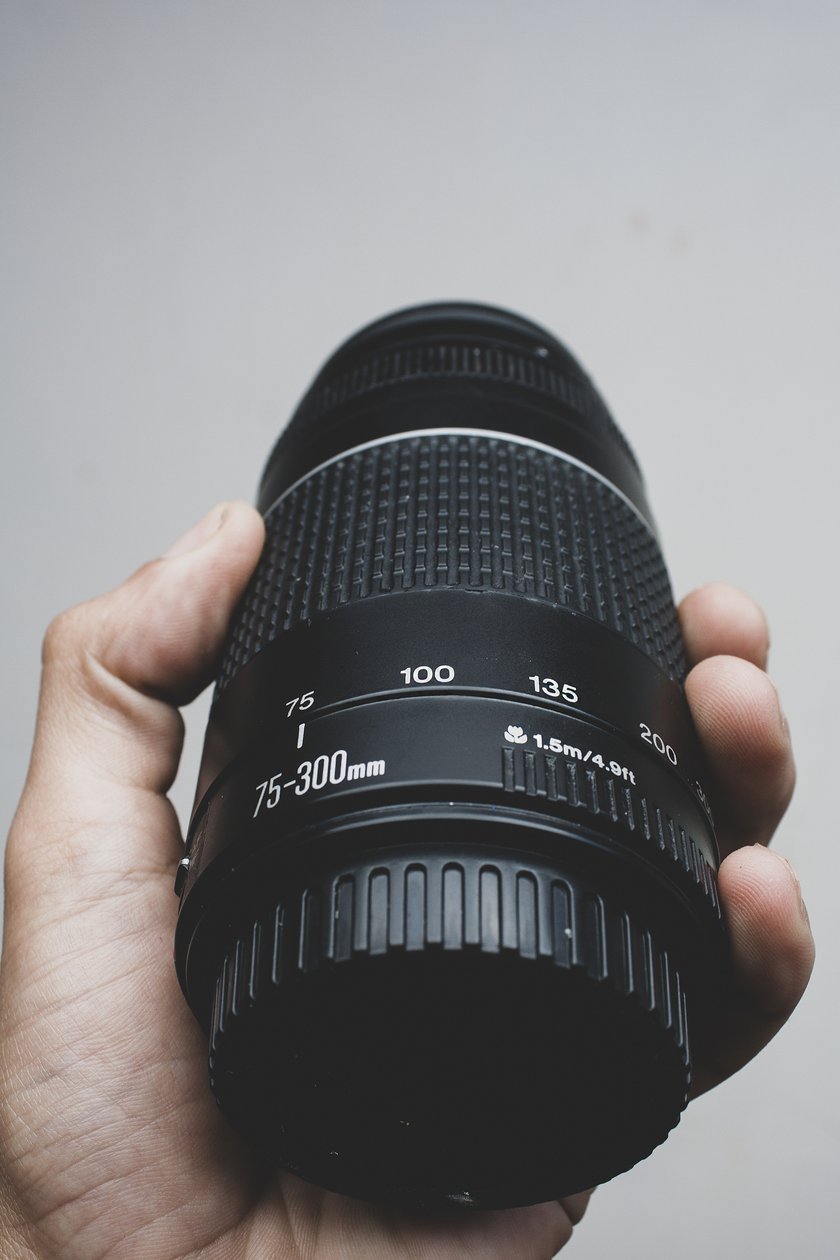 With the ability to focus as low as 30 centimeters and a long focal length, this is undoubtedly the best lens in Canon's EOS R macro range. Add to this all the attributes of a top series – high-quality optics, ultrasonic autofocus, and even an effective optical stabilizer. The image stabilizer, by the way, first appeared on Canon's macro optics.
The focusing system has three modes – traditional, from half a meter to infinity, and specialized, in the range of 0.3-0.5 m. A third mode, FULL, allows you to move from one subject to another at all distances without excessive movement, but the autofocus operation is slower and rougher, so you should use the switch more often.
Sharpness and contrast are exactly what you'd expect from a high-end lens.
Pros:
Excellent elimination of the effects of hand-arm vibrations on photo clarity;

Bright and contrasty images;

Effective autofocus;
Cons:
Choppy lines in the bokeh area despite the rounded aperture.
8. Canon RF lens 28-70mm f/2L USM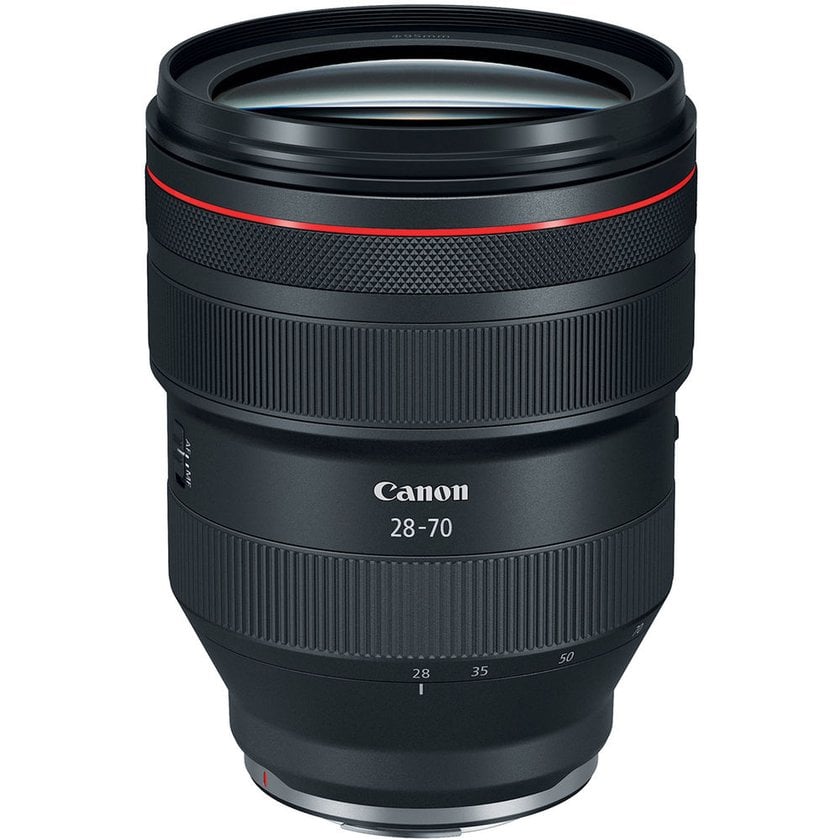 The quality of the autofocus is without comment: the ring-type USM drive silently sharpens the lens at the desired point in a tenth of a second. FTM, an inherent attribute of this design since its introduction in the early nineties, is more of a 'just to have' than a real necessity here.
It is one of the best beginner Canon lenses because of quality of the optics, which include UD elements, is such that it's hard to fault. Chromatic aberrations would have to be fished out under a magnifying glass, vignetting is only noticeable at the "wide end" up to f/4 and barrel distortion completely disappears at 35mm. Backlight is confident and even beautiful with even multi-beam stars without coarse flare, it may well be used in art photography as a "chip". Like any Canon starter lens, it is an acceptable variant.
Advantages:
Excellent quality optics;

Beautiful bokeh pattern;

High luminosity over the entire zoom range.
Disadvantages:
Dimensions and weight are unacceptable for 'walking' photography, for which zoom lenses are interesting;

High price.
9. Canon EF 70-200mm f/4L IS USM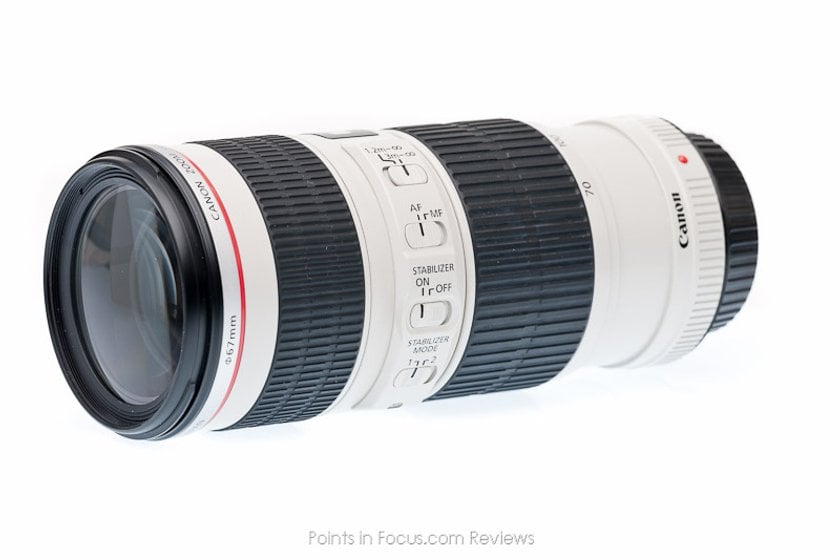 You can use one of the best lenses for beginners Canon even at a stadium where the light source is a modest spotlight. If your lens does not have enough light, it can be shuttered slower. It has optical stabilization which allows you to capture a blur-free shot. Unfortunately, the range of focal lengths is not very wide. So you might have trouble taking pictures of, say, jittery birds. But this model can please with a comfortable weight - it does not need to be mounted on a tripod, and the Canon camera with it can be held in the hands.
Main advantages:
High-quality construction;

Protected from water and dust;

Low weight;

Permanent aperture;

Fast autofocus;

Optical image stabilizer.
Cons:
High price;

Not the widest range of focal lengths.
Conclusion
Choosing the right photographic equipment is not as simple as just buying a good camera. You need to think about tripods, filters, batteries, memory cards, accessories, etc. Start with affordable beginner lenses for Canon for DSLR or system digital camera, think about lenses, and gradually expand your arsenal based on the tasks you'll be photo shooting.
And remember, photo equipment certainly matters. But whatever your gear, it's not the driving force behind taking good photographs. What matters is your willingness to learn the technical and creative side of photography, especially for beginner lenses.
In this article, we introduced the best lenses for beginners Canon, and we hope it helps you to make the right decision. When you take great photos, don't forget to use artificial intelligence photo editing tools for post-processing.
FAQ
Which Canon Lens Is Best for Beginners?
Check out our list. You can find the best option there.
Which Lens Is Best for Beginners' Photography?
Besides Canon, there are other options to look at.
Yongnuo 50mm f/1.8. This lens is designed specifically for Canon's EF DSLRs. It's comparable in performance to Canon's 50mm f/1.8 but costs almost half the price. A high-level aperture of f/1.8 allows you to shoot in low light, while a low aperture of f/22 gives you a shallow depth of field which make it one of the best Canon lenses for beginners.
Olympus 25mm f/2.8. This standard lens is very thin and light, so it's easy to work with. It's great for portraits, landscapes, and even macro shots in some cases. On a 35mm film camera, the focal length is 50mm but the camera also creates a natural perspective, so for everyday shootings, it's just perfect.
Which Lens Should I Start With?
Make your choice depending on what it is for. Also pay attention to the price, because this factor is not of the last importance.
How to Clean the Lens?
The lens should only be cleaned if necessary, as its glass is very fragile and easily scratched. If you wish to undertake this task, you must use a special photographic loader. Use it to blow away any dirt. An optics cleaning fluid will also help, so you won't damage the anti-reflective coatings. A small amount of liquid applied to a clean, lint-free lens cleaning cloth will help get rid of stains and prints. The lens should be wiped in a circular motion, starting from the center and moving toward the edges, removing all marks and smudges.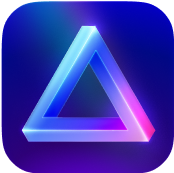 Advanced yet easy-to-use photo editor
view plans