Even the most primitive modern photo editors have a built-in noise reduction function and, perhaps, for publishing personal photos on Instagram or in other cases where image quality can be slightly neglected, any free photo noise reduction software is the best.
However, your pictures should look masterful if you are a professional photographer or aspire to be one. Therefore, in this article, I have collected the best noise reduction programs I use myself. Since I love shooting on film, the noise problem occurs quite often for me, so this is a burning topic for me. I hope my experience helps you to find the best image noise reduction software. So here we go!
What is noise in photography?
I could just list my personal TOP of best noise-reducing software here (and I will), but firstly there is one more thing you should be aware of. This is how noise generally appears in photos and how the software works to remove it. Understanding these basic principles will allow you to avoid mistakes when creating a photograph.
Noise is a defect in photography. It looks like small, randomly scattered pixels in the picture. Because of this, where the surface should be smooth, monophonic, or even empty (for example, the night sky), there is a feeling of roughness and fuzziness. It shows up significantly when an initially dark frame is heavily lightened in post-processing.
There are two types of noise in digital photography: color and luminosity. And also there are two types of noise reduction. Color noise is a mass of colored pixels chaotically scattered throughout an image. This noise is the easiest to remove. Most denoise photo editors can do this by simply desaturating the pixels with the help of special tools.
It will be a little more challenging with luminosity noise. This one consists of pixels of different brightness. The program, in this case, analyzes the noise and removes it by blurring these pixels. Because of this, your photo may lose its quality and sharpness. It should be noted that even the most professional programs work this way: some do it imperceptibly (we will talk about them today), while others leave distinct scars on your image. Anyway, you'd better take care of it in advance so as not to bother when the photo has already been taken.
Where does the noise come from in photos?
So, where does the noise come from in a photo? There may be several reasons:
too high ISO;

the poor condition of the camera sensor;

small pixel size;

wrong post-processing.
Camera Limitations
Let's go out of order. One of the biggest problems with digital cameras (in my opinion) is dead pixels. These pixels either do not transmit color at all or transmit only one shade. Unfortunately, no matter how expensive your camera is, physical sensor damage in the form of dead pixels is inevitable. It will happen sooner or later. The solution is to buy a new camera.
The small pixel size of the sensor can also affect the appearance of noise. Without going into technical details, I will only say that the larger it is, the better. This also includes the maximum ISO value with which your camera can produce an acceptable image. On cheaper cameras, this can be 800, while a more expensive DSLR can shoot with minimal noise and at 1600 ISO, for example. That is, if you are using a cheap pseudo DSLR or a cheap "semi-professional" DSLR, be prepared for noise issues. Of course, this is very individual. But it also makes noise in the picture, which is why I mentioned it. Now they offer to talk about what depends on you and not on your camera.
High ISO
If you don't have enough light, you can increase the sensor's sensitivity, but, as I said, not every camera can produce good image quality with a high ISO. Therefore, it is better to look at a faster lens if you shoot at night / in the evening or in rooms with low light. You can also try shooting with a tripod at slow shutter speeds if it's not for dynamic scenes.
Wrong post-processing
When editing photos, noise may appear if:
raise the exposure too much;

radically brighten dark areas;

increase sharpness;

turn up the saturation (this highlights the colored noise);

when editing the white balance (for example, you want to remove the cold blue from the photo and naturally add yellow for this, but the yellow noise that was in the picture will increase).
If you pay attention to this, the problem of noise will occur much less often. However, even if you do everything right, the photo can still turn out noisy. In such cases, you will need to fix it with noise removal software. Let's finally take a look at them.
TOP 8 best noise reduction software for photos
1. Luminar Neo
Luminar Neo is a powerful smart editor for photographers, one of the main features of which is the widespread use of artificial intelligence technology for fast and high-quality photo editing. It's also the best photo noise reduction software I've ever used, so it has a special place on this list.
Let me show you how it works. To get started, take a look at this test photo, which I shot specifically under the dim light of a lamp: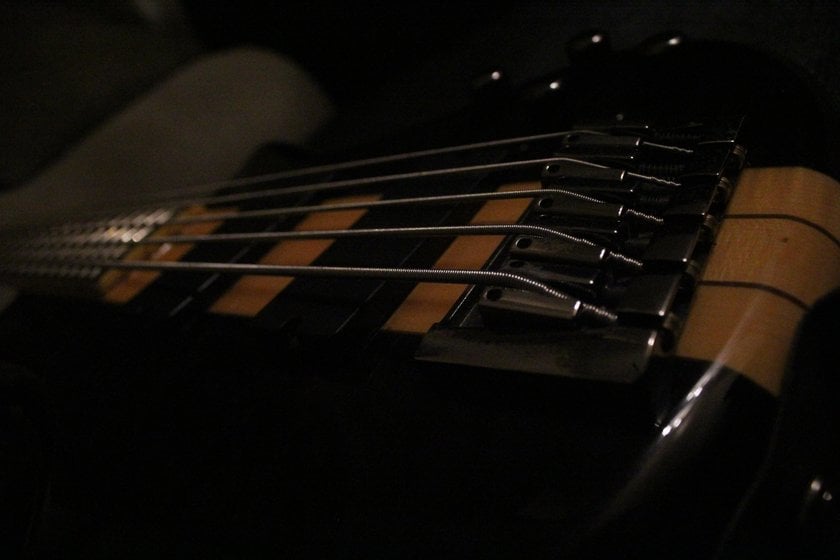 The picture was taken by my semi-pro oldie Canon EOS 600D with an 18-55mm kit zoom lens. In addition, I expressly set the maximum ISO that this camera allows: 6400 units. Even with the naked eye, you can see how noisy this photo is. And we will try to fix it with Luminar Neo. The standard noise reduction tool in Luminar Neo is Denoise. You will find it in Edit mode under the Essentials tab: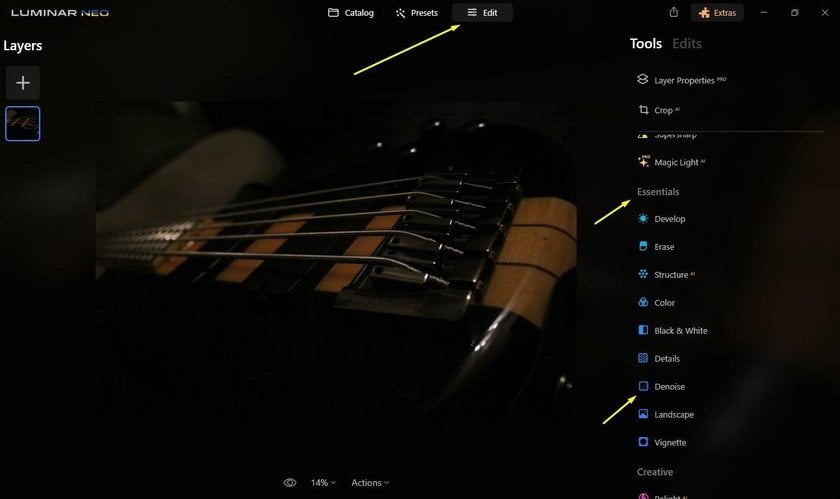 Here you can see two sliders for correcting color and luminosity noise. Most often in photography, you will encounter luminosity noise. This happened in my case as well. Therefore, let's first try to pull up the corresponding slider to one hundred by clicking on the eye icon, you can see the difference in real time: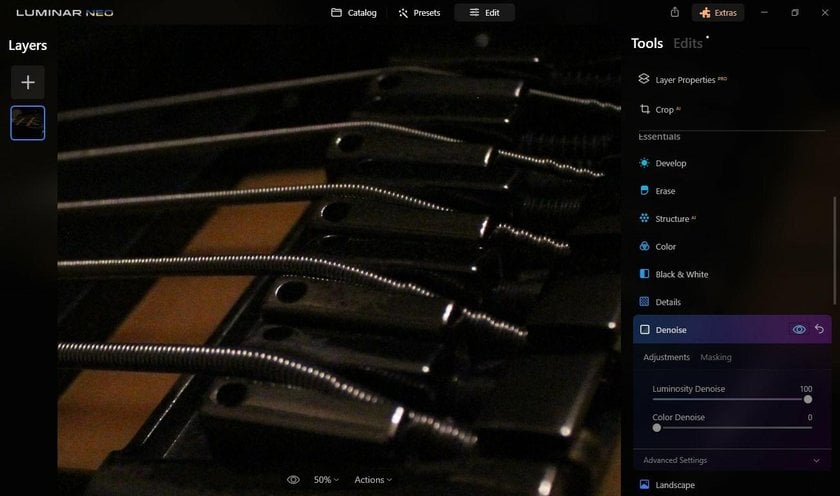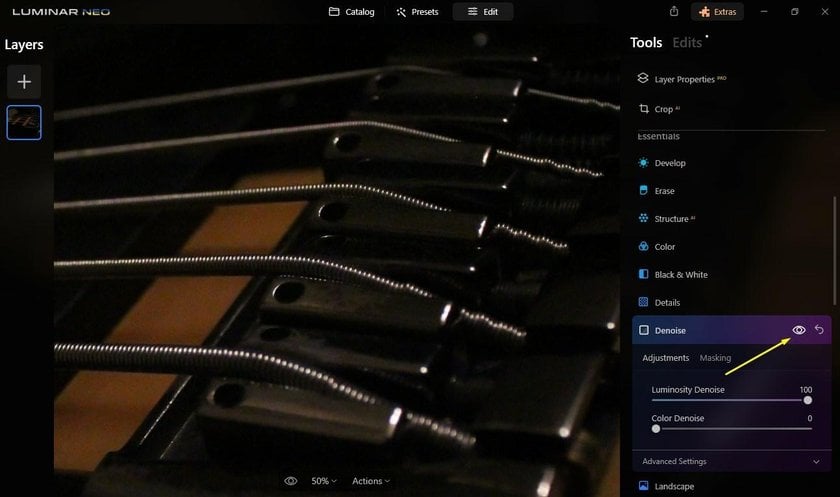 As you can see, my bass guitar's bridge now looks very smooth, but the image is slightly blurry. It's all up to you: you'll have to find that balance yourself. You can also boost noise reduction in Advanced Settings, making you more flexible: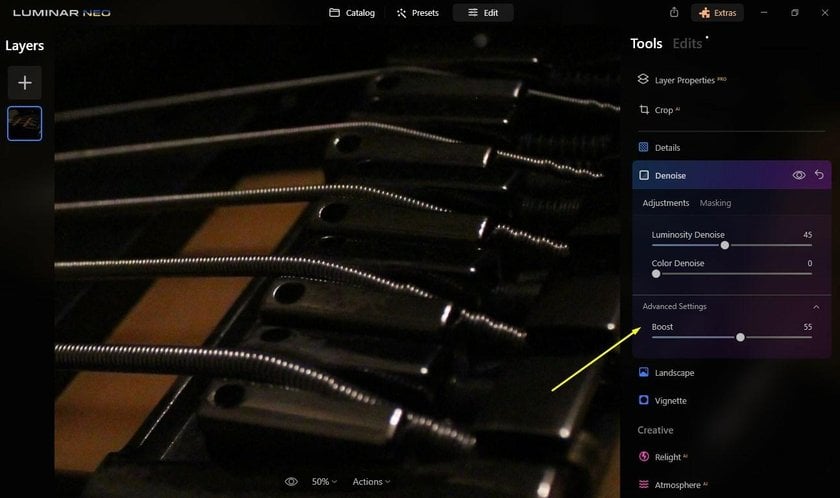 As I said, unfortunately, it is impossible to use denoising software without losing quality. However, there is another feature here that I find very useful. Go to the Masking tab and select Brush. With this tool, you can erase the denoising in areas where sharpness is critical to you: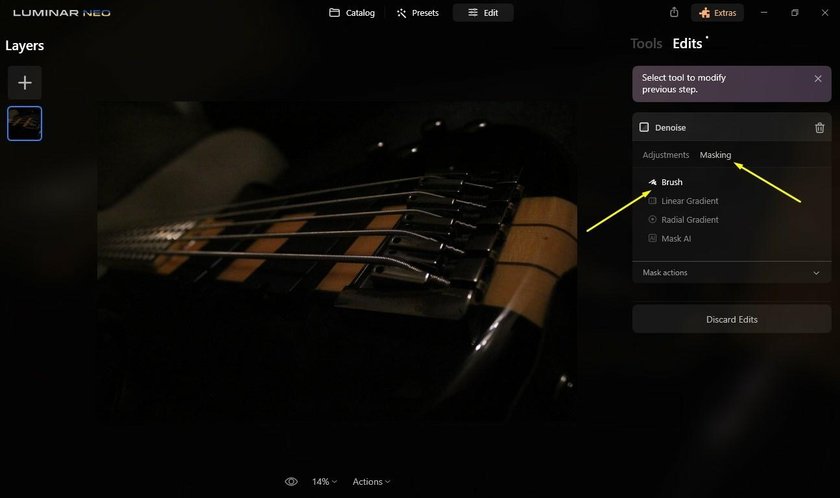 However, these are not the possibilities that make me say that Luminar Neo is the best noise-reduction photo software. There's also a Noiseless AI Extension that can remove noise without giving your photo an over-pastel effect. The artificial intelligence of Luminar Neo analyzes the levels of noise and offers one of three options for reducing it: low, middle, and high. In this case, all the image details are preserved in their original form. It's revolutionary, and that's why I think Luminar Neo is the #1 photo denoise software! Learn more about how Noiseless AI works here.
By the way, if you want to get acquainted with the possibilities of the program before opening your wallet, there is a free trial for seven days.
Of course, you can use any software to remove noise from your photos. If, for some reason, Luminar Neo does not suit you, take a closer look at these programs.
2. Topaz DeNoise
Topaz DeNoise is a program that also uses artificial intelligence to reduce noise and preserve detail. The balance between noise reduction and blur is achieved here slightly differently. To do this, in addition to the noise reduction slider, there is also a sharpening slider. It seems to me that boost is more convenient in this regard; however, this is subjective.
I can credit this program with the presence of a low light mode, which allows you to remove noise from photos with high ISO effectively. However, Topaz DeNoise's AI does not work well with raw images.
Considering all the advantages and disadvantages, I would say this is the best noise-removal software after Luminar Neo.
3. Adobe Lightroom
Lightroom is still considered one of the best noise-reduction software for photography. And this is not surprising because it not only copes well with the task but is also an incredibly convenient program. However, I believe that the main reason why it is still among the kings of the hill is the general hype about the product. Think for yourself, what software did you learn about first when you took your first steps in photography? That's right, Photoshop and Lightroom.
In fact, the algorithms of this program are not perfect, although it is still among the best, because ... yes, you yourself know why; can I say more? Well, just one thing: you can use Luminar Neo as a plugin for Lightroom. In this way, you get an incredibly effective tandem of two programs, allowing you to make your pictures worthy of the Louvre!
4. Noiseware
This is another handy program for removing noise from photos. With this software, you can remove noise with just one click. You do not need to configure any parameters, just select one of the modes set by the developers. Comfortable? Yes! Effective? Well, so-so. There is an option to adjust the noise reduction manually, but even that doesn't make it any better. The problem is still the same: blurring and loss of quality. You cannot manually edit each pixel. The program should be able to do it itself. However, as practice shows, such tricks are possible only with artificial intelligence.
I would say that Noiseware does its job, but there are better options out there. By the way, don't confuse this program with Noiseware Community Edition. It's different, free photo noise reduction software.
5. DxO PureRAW 2
If you need the easiest-to-use software, I advise you to look closely at the DxO PureRAW 2 program. There is no way to configure anything at all since artificial intelligence will do everything for you. It seems to me that having the ability to adjust manually is always better, but if this is not essential for you, this program will suit you. In any case, DxO PureRAW 2 does an excellent job of removing noise from photos and really minimizing quality loss. So it deserves its place in the best denoise software list.
6. Nik Dfine 2
Nik Dfine 2 is not a complete program but a plugin for the Nik Collection 5 package. Like all other tools, this one allows you to remove noise both automatically and manually. Among its exciting features, I would like to note the ability to select the area of the photo for noise reduction, that is, apply the correction not to the entire photo at once.
However, I must note that it is inferior in quality to the above programs. Of course, this is enough for publishing photos on the Internet, but if you are going to print your pictures, I would recommend using Luminar Neo, well, or Topaz DeNoise in a pinch.
7. Capture One
Capture One is an expensive professional photography software that is really worth the money. But I would recommend it to those who are engaged in photography professionally, that is, they earn their living from this.
It seems to me that Capture One is something like Lightroom on steroids. As for noise reduction, there is another unique feature called "single-pixel." This allows you to remove the so-called hot pixels from the photo. If a dead pixel is always either black or white, a hot pixel will be colored, but such pixels react strangely to light, which is why you get color noise in your photos. Capture One does a great job with this.
8. Photoshop
Sometimes, readers ask me why I don't like Photoshop. Well, ladies and gentlemen, that's not true. I love Photoshop. However, it is a complex one of the best softwares for noise reduction that took me years to master (to be honest, I still haven't mastered it perfectly). So when there is an alternative, I prefer to do something quickly than to sort through a whole bunch of obscure tools if I don't know about some possibility of PS.
Using Photoshop, you will not only have to learn how to apply the noise reduction filter, but you will have to get more creative. For example, you can use Adobe Camera Raw, use masks to remove noise selectively, and do other more advanced tricks.
I am a lazy photographer. Firstly, I try to photograph so that I don't have to process photos at all, and secondly, if I have to hunch over at the computer, I want to get it over with quickly. But that doesn't mean Photoshop is bad. It is still one of the best software for noise reduction due to its wide range of tools and the depth of its development.
Although I still argue that AI is a lot more fun to remove noise, if you're already using Photoshop, I recommend installing Luminar Neo as a plugin as well to get a compelling set to edit your photos.
Let's summarize
As you can see, noise reduction is accompanied mainly by loss of quality and blurring of the image, no matter what software you use. The best solution to this problem today is using artificial intelligence technology, so I believe that Luminar Neo is the best denoiser.
If you are already using Photoshop or Lightroom, Luminar Neo can accompany them as a plugin so that your photos will always be processed on top.
If you are considering other best free noise reduction software, your choice will depend on many factors. For example, do you want to manage everything manually, or do you prefer to do everything quickly and not bother; do you need only a denoiser or a complex program with noise reduction capability? Whatever you choose, I hope that my article was helpful. Good luck, and write you soon!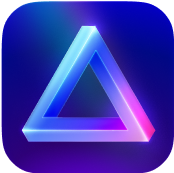 Advanced yet easy-to-use photo editor
view plans