Who hasn't heard of Adobe After Effects? After all, it's the one that lets you create mind-blowing effects.
It is a powerful editing and stunning visual effects software. It has been used for about 30 years in creating digital videos. In particular, you can notice fancy results of the introduction of this editor in video production in such popular Holly Wood movies as "Iron Man" and "Star Trek", as well as in video games and TV shows.
Most photographers, graphic designers, editors, and professional VFX artists have already managed to evaluate a wide range of editing and effects tools of this unique software. Motion graphics, subtitles, transitions, and video composition are only a small part of them. Using these tools with together your creativity and imagination allows creating many video masterpieces.
But not everyone can afford this software. The high cost, complex interface, and strict requirements for RAM and disk space make you think about a good substitute. We have selected 7 of the best After Effects Alternatives both for personal and professional goals. They will help you to achieve the same results easier and quicker. Let's dive into the world of video production with us!
Let's Start With the Basics
Adobe After Effects is software that works in three main ways: visual effects, animated graphics, and composition. It was developed by Adobe Systems company in 1993. And now, it is part of Adobe Creative Cloud and is well combined with Photoshop, Premiere Pro, and other Adobe products during various video production processes.
This soft is successfully installed on Windows, Mac, and Linux. It is paid. You can get access to it in the Creative Cloud All Apps plan, by paying $54.99/month. In this case, besides it, you have the opportunity to use the whole creative programs package. Photoshop, Illustrator, Lightroom, and Premiere Pro are the most popular of them. Also, there is a Free trial that is available for 7 days. Here you can try the main tools to know to find out if the program is suitable for you or not.
Any version allows working both beginners and professionals. In the first case, you can use it as a usual editor, that is crop frames, add interesting transitions, overlay music, and do other simple acts. During video production processes, professionals open all abilities of this software: using high-quality special video effects, video composition, overlying another background, creating animated personages, as well as adding snow, rain, or fire in the scene, etc.
The Main Functions You Need to Pay Attention During Looking for an Alternative
Before we consider programs like Adobe After Effects, let's find out what basic functions you need to work:
Multi-Track Editing Board. It makes your work with video and motion graphics easy. Thanks to this function, you can correct any effect in your work area.

Post-Production functions. If you create videos professionally, make sure that the software has all the necessary tools for transitions between frames, creating animation and special effects, as well as overlaying titles, captions, photos, and other objects.

Compatible with different formats. Creating different projects, almost always there is a need to upload files of different formats to your media library: AVI, GIF, PSD,

JPEG

, and others. So, the program must be compatible with all.
We have selected for you the 7 best alternatives to After Effects that combine these and other useful functions.
7 Best Paid and Free After Effects Software
1. Power Director
It's "father" is CyberLink. It is powerful software. It's suitable for the fast creation of professional videos of any type, from advertising for YouTube blogs and full-length movies. All these are thanks to the availability of unique tools for creating digital visual effects. Also, you can add free images and video clips from the extensive library to your project. It is a bonus to your program.
This app has two versions: free and paid. Power Director Essentials (a free alternative to After Effects) has access to the toolset and many Premium functions. What you can do with this software:
adjust hue, brightness, and other color parameters;

cut and combine multiple video clips;

edit green screen for further creating visual effects;

track the movement frame by frame to use dynamic effects;

adapt the music to the length video thanks to Smart Background Music.
The interface of this version is clearly even for beginners. Launching the program, you see the workstation with three main sections. The multitrack editing board is the most important of them because this is where you perform the main actions. You need to add items to your media library to start work. And then you drag them to multitrack. Note that the editing function is by default here. But you can switch it to an auto mode, slider creator, or a storyboard.
Power Director 365 (paid Adobe After Effects alternative version) adds access to a library with an 8,000,000 +photo, videos, and music from such popular stocks as Shutterstock and iStock. Also, you get more than 1000 unique packs, where you will find pre-made templates and effects. All these additions are a great source of inspiration for creating unique scenes.
Main Features:
Frame-by-frame motion tracking

Different effects editors: Blending effects, Slow and fast motion effects, and others

Correct of colors

Stabilization of shaky footage

Ability to import video 4K

Split-screen animations

Extensive library

Unique packs of templates and effects

Compatible with AudioDirector, Color Director, and Director Suite.
Compatibility: Windows, macOS
Free/Paid version: Free trial and Paid option
2. Blender
This software is a good alternative to After Effects, which positions itself as advanced 3D software. This is a real find because it combines the tools for beginners and those who are engaged in photo-editing for more than a year: anything from simple editing in real-time to creating realistic 3d effects/personages, computer games, and movies.
Blender has an intuitive workstation where you'll easily find all options you need. Here are the most common among them:
transitions;

cutting and clipping;

control speed functions;

grading;

adjusting audio;

different filters.
It is a universal Adobe After Effects free alternative that supports many simulations, providing wide opportunities for creative work: 3d modeling, animation, compositing, screening, mapping, rendering, texturing, fluid and smoke simulation, and others.
Main Features:
Supporting all kinds of visual effects from modeling to VFX

Easy combining 2D and 3D images

Wide range of tools

High-quality video rendering with realistic effect
Compatibility: Windows, Mac, Linux
Free/Paid: free and open-source
3. Apple Motion
Apple Motion is a powerful motion graphic and composing tool from Apple company. It gives you the unique possibility to create amazing effects in real-time mode. Here you can open your talent to creating 2D and 3D titles using wood, stone, or other 3D materials from 90+ available. Also, this software provides tools and 300 + filters which help you to make smooth transitions, create stunning visual effects, as well as try yourself in the production of animation trailers and editing TV shows.
This alternative to Adobe After Effects is closely intertwined with Final Cut Pro and has a similar interface to it. So, if you actively use that program for editing video, you can do all the necessary actions in Apple Motion and then just transfer them into Final Cut Pro.
Main Features:
Ability to create 2D and 3D titles and toggle between them

Wide range graphics

200+ filters

230+behaviors for natural animation

Enjoyable real-time visual tweaking

Export standard or 360° projects to Apple devices and upload them to YouTube
Compatibility: only macOS
Free/Paid: paid
4. Cinema 4D
Do you work in the field of design, animated 3D graphics, game development, and all kinds of visualization? Then Cinema 4D from Maxton is for you! This 3D software suite, like After Effects, has a set of powerful and flexible tools, that help you perform different tasks:
3D computer animation;

modeling;

simulation;

rendering;

sculpturing;

texturing;

many others.
Cinema 4D is not new. It has been existing since 1990. It was thanks to its cinematic effects that such famous film masterpieces as The Girl with the Dragon Tattoo, The Golden Compass, Chronicles of Narnia, and others.
Furthermore, it is easy to master this program even if you are a beginner. And all because Cinema 4D contains thousands of guides and tips. In addition, Maxton has its own training team that performs useful live webinars on a weekly and monthly basis.
Main Features:
Ability to perform a wide range of tasks from 3D computer animation to real-time graphics

Clear interface and easy to use
Compatibility: Windows, macOS
Free/Paid: paid
5. Hitfilm Pro
This software like After Effects is an all-in-one tool that combines in itself video editing, creating visual effects, and 3D compositing. So, it's a useful find for filmmakers and professional artists. This tool allows the creation of films on the Holly Wood level.
The visually stunning effects suite is what makes the program special. Here you can discover new facets in animating characters and images, applying behavioral effects to videos, using natural movements to figures, replacing the sky, and much more. And the catalog of 800+ visual effects will help you with it.
Main Features:
Unlimited audio and video tracks

Catalog of 800+ VFX and presets

Ability to include third-party plugins in the timeline

Supporting almost all media file formats

Import and animation of 3D models

Audio visualization

Creating realistic objects and effects thanks to supporting shadows, lights, and environment maps.
Compatibility: Windows, Mac
Free/Paid: paid, free trial version
6. Blackmagic Fusion
If your job is related to creating movies, advertising, and TV shows, this free program similar to Adobe After Effects is nicely suitable for you. It is widely used in Holly Wood and all over the world by professional filmmakers, 3D animators, motion graphic designers, and other specialists in visual communication.
Thanks to power tools for motion graphics, color correction, virtual reality, audio post-production, and visual effects, Blackmagic Fusion provides the best manifestation of your creativity. And clearly, the user interface makes the creative process more flexible.
Main Features:
Multi-shot timeline, that supports playlists, version tracking, and storyboards

Ability to mix video of different formats and resolutions in one project

Different toolbars

Supporting VR

360º workspace for editing VR scenes in real-time
Compatibility: Windows, Mac, Linux
Free/Paid: Work as the free version of After Effects, but with limited functionality. Also, there is paid version, that gives more opportunities.
7. Natron
Are you looking for a flexible cross-platform tool for creating visual effects? Natron is a good choice. It's new but allows making amazing projects on a professional level. This free software like Adobe After Effects, nice suitable for overlaying different filters and effects. You can work with HD, 2K, and 4K videos. The program has many functions for creating visual effects: RotoPaint, keying, 2D tracking facility, and digital compositing. But there is one disadvantage of this software – you can't create 3D effects.
Main Features:
Support different file formats: JPEG, PNG, PSD, and others

250+free plugins OpenFX

Flexible Roto and RotoPaint tool set

Intuitive curve editor
Compatibility: Windows, Linux, Mac
Free/Paid: free
How After Effects Alternative to Choose for Video Production?
Looking for the best programs like After Effects may seem like a difficult challenge for you. After all, each software is worthy of attention because has a great opportunity for creating video products. But knowing the basic point, you will quickly find what you need.
First, determine how well you know VFX. If you only begin to make your first steps in it or have little experience, Power Director is a good free After Effects alternative for you. Are you a professional who feels like a fish in the water in 3D animation, visual effects creation, and video editing? Then choose software with a wide range of tools and high performance, such as Blender or HitFilm Pro.
Do you want to get free programs like After Effects? Pay attention to Natron, which is the best in this regard. And if you work with Apple products and looking for something compatible to work, Apple Motion is a nice choice for you.
A Few Final Words
We have reviewed the 7 best alternatives to Adobe After Effects. Any of them allows you to unleash your creativity, no matter who you are: YouTube blogger, animator, or filmmaker. The main thing is to consider the level of your skills, the functionality you need for work, and your heart's call when choosing a program.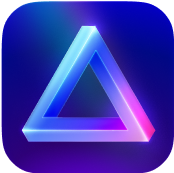 Advanced yet easy-to-use photo editor
view plans