Retina displays made a small revolution in visual perception of the images.
When Steve Jobs unveiled the iPhone 4, there was a great buzz around the Retina Display it came boasting. This was a display that was described as having enough pixels packed closely together than the human eye could not perceive any individual ones, hence creating a seamless visual experience.
Since then, Apple has put out a number of products with this Retina Display Technology. It is not confined to mobile devices either, as many models of the MacBook and the iMac saw its incorporation in them as well. Apple's computers which have retina displays are widely appreciated by people working in the fields associated with visual design. Photographers, in particular, tend to invest in Apple's computers with retina displays because they get both an outstanding software experience and a great screen for them to work on.
This love for such Apple products grows even further thanks to the number of excellent image editing tools available in the Mac ecosystem. Let's take a look at some of the best photo editors that a photographer can use for their Mac with a retina display. We will not talk about Adobe Photoshop in the list, as it is a very obvious choice in this regard. Instead, we will provide you with some great alternatives in case you are not happy with Photoshop for some reason.
Luminar by Skylum
Luminar is a very new entry in the world of image editing. It is currently Mac-only, and is hoping to take on the big guns with its intuitive user interface and useful editing features.
Luminar exists both as a standalone image editor as well as a plug-in for various image editors, including Lightroom. It is packed with many serious image editing tools, like the ability to remove objects from pictures, selective masking, working in layers, complete RAW support, extensive color toning, and non-destructive editing among others. Where it differs from other programs is in its intuitive design. All of the professional grade features in Luminar can be controlled by sliders on one side of the window, much like in Lightroom and Capture One Pro. This makes the learning curve much less steeper than for other image editors aimed at professional photographers. Couple that with the $69 asking price, and Luminar becomes a very interesting choice among the heavy hitters of image editing.
Pixelmator
Pixelmator is a very worthy competitor to Photoshop because of two reasons; it has very refined and easy-to-use interface, and it costs a very little as compared to Photoshop.
The makers of Pixelmator have done a stellar job in keeping all the good things about other top photo editors and removing all those features that are used by a very small amount of users, hence creating a very easy to use program. It is not only an excellent image editor but also works very well for those who want to make original digital art with the use of brushes and shapes. Almost everything that one can commonly do with Photoshop is possible here, including the use of a Heal Tool and Layer Masks.
Some pro level features like the ability correct gear defects like lens aberrations and a history browser aren't here, however, making it a little less powerful than what some professional photographer or artists might want.
Affinity Photo
This is another software that costs very little but does a lot. Affinity Photo boasts a wide variety of image editing features in a design that is somewhat similar to Photoshop's. The program has full RAW image support, making it a very interesting Photoshop alternative for professionals.
The program makes seemingly difficult things very easy. For example, if you need to remove something or someone from your picture, all you have to do is draw over it with a particular tool and the program will remove it instantly, in a very convincing way too. You can also stack multiple images over each other and Affinity Photo will align them together, letting you create some interesting composite photos by merging them together. However there are some good Affinity Photos alternatives.
Just like every image editing program out there for your retina display boasting Mac, Affinity Photo has its own quirks that you need to understand. But with the price it comes in at, it should definitely not be overlooked for the plethora of features it brings.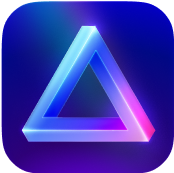 Advanced yet easy-to-use photo editor
view plans