Portrait photography is more than just an image of people. This is a reflection of the character, emotions, and personality with the main goal of evoking unforgettable feelings. You can achieve it through a combination of the right settings, composition, background, lighting, angles, and posing.
In the other words, the perfect portrait photo is the photo that is born as the result of tandem with the right technique and artist's expression. That's why such a genre is considered difficult to implement. However, the shooting becomes easier and is turned into an exciting process if you'll invest in a perfect lens. In this article, we'll share with you the best portrait lenses that will be a guide into the world of portrait photography.
A Lens for Portrait Photography: What is It?
When it comes to the definition of a "Portrait photography lens", most beginner photographers assume that it is a certain type of lens. In fact, any type of lens with the right focal length and optimal aperture will be suitable for creating perfect images of people even in low light and shallow depths of the field. It can be a prime, a telephoto, a kit, or a zoom lens.
How to Find a Good Lens for Taking Pictures of People?
When wondering what is the best lens for portraits, first decide what exactly you'll shoot: only a head, the full height of one person, the whole family, a circle of friends, or colleagues at a job. And then select the tool that best suits your style.
The prime lens is a winning solution in any situation. Why? It allows you to take amazing pictures not only of natural landscapes, urban jungles, goods, and fashion clothes but also of portraits due to nice technical features. The matter is that a larger aperture in this lens lets in much light. Along with great sharpness, these are ideal conditions for shooting the face and the body without visual enlargement of the nose or other distortions, which often occur when using a wide-angle lens.
But this doesn't mean that you only need to choose the prime tool as the best lens for portraits. Other types can also help achieve incredible results if they have certain features. Which exactly? Below, we'll tell you about it.
Long Focal Length
When picking a lens, give a preference to the optical gadget with a longer focal length. Its main advantage is that you can shoot a tighter composition with a capture of the main object close-up standing with the camera in hand at some distance. So, what focal length is good? Pay attention to lenses in a range of 50-200 mm.
Fast Maximum Aperture
In its essence, the aperture is the amount of light that penetrates the lens. In order to shoot a flattering portrait, pay attention to a lens with a fast maximum aperture. It means an aperture of f/4.0 or wider. Its main advantage is that you get everything you need for a professional reflection of personality, namely a blurred background due to a very shallow depth-of-field and sharp focus on the person himself.
Beautiful Bokeh
The word bokeh is of Japanese origin. In the country of the rising sun, it sounds like "ボケ", which means "blur". It has actively stuck in photography as an aesthetically attractive effect of the soft out-of-focus background, which is very suitable for the portrait genre. So, what lens is excellent for achieving such a result?
The best portrait camera lens for creating amazing bokeh is a lens that has a fast aperture, circular diaphragm blades, sharp focus, and such lens elements as special coatings which reduced spherical aberrations.
List of the Best Lens to Shoot Portraits
There are many lenses available on the market. And you're familiar with the situation when you wander for a long time in online stores and shopping malls but find nothing. Because finding something that is the best suitable to your needs is really confusing, like putting together a puzzle. So, what is the best lens for portrait photography?
We decide to make your choice easier by selecting 10 of the best models from the most popular brands: Canon, Nikon, Sony, and Fujifilm. They can turn any portrait shooting into an exciting process, and at the same time provide good results at a professional level. Let's consider them in detail.
1. Nikon AF-S 70-200mm f/2.8E FL ED VR – Nice Choice for Professionals Who Like Dynamics
This is one of the best camera lenses for portraits and also dynamic movements that are often found in sports competitions. It gives excellent results in any situation: when shooting face, all body, musical groups, and even motorcycle racing. Despite the fact that it is a zoom lens, you get sharp, clear, and contrasting images with magnificent bokeh at any distance. Even at a maximum zoom of 200 mm, the photo is obtained with emphasis on the facial features, which is very important for the portrait genre.
Having this tool, you won't have to worry about how to get great shots in the dark space or in the evening outdoors without using the flash. After all, it perfectly copes with this challenge thanks to the fixed f/2.8 aperture.
Nikon AF-S 70-200mm f/2.8E is created for professional shoots in any condition. It's incredibly convenient if you need to change settings quickly because it has customized buttons that are located directly on the barrel. And fluorine coating protects the camera portrait lens well against dust, dirt, and water, which allows you to use it in rainy weather as well as near rivers, waves of the oceans, or in marshy areas.
Pros
Excellent quality of pictures, even at a magnification of 200 mm and f/2.8 aperture

Allows to shoot not only portraits but sports and other dynamic photos

Very convenient switching of different functions

Has reliable protection against dust, dirt, and moisture
Cons
Very heavy, so your hand may get tired after a long shooting

Expensive for beginners and casual photographers
2. Canon EF 85 mm f/1.4L IS USM – Universal Workhorse
85 mm lens is an ideal size for portrait photography. That's why most photographers are so fond of Canon EF 85 mm f/1.4. It is universal and provides high-quality images with magnificent sharpness, contrast, detail, and color saturation in almost any condition, even during the rain, which is a great natural effect in wedding photos.
These good lenses for portraits allow you can capture the head, middle plan, whole body, and a group of people, giving wide opportunities for unlocking your creative potential.
Having a high aperture of f/1.4 this optical device allows for getting a lot of light. It's very good when shooting in a dark space, evening, and in other conditions where the light isn't enough, and you don't use a flash during shooting.
The lens also includes built-in image stabilization, with which you'll easily maneuver the camera in your hands while providing stunning image sharpness when there is no tripod near you. Good image clarity is also provided by a special glass-molded aspherical element. It eliminates such a common problem as spherical aberrations. Great bokeh with smoothness and creamy notes is one more feature of this best lens for senior portraits. Along with the above characteristics, it turners this tool into a good workhorse for shooting everyday life, weddings, and other events with people as the main objects on a full-frame Canon DSLR.
Pros
Nice quality and sharpness of an image

Good autofocus

Built-in stabilization

Copes well with spherical aberrations

Availability of weather seals

Beautiful bokeh effect
Cons
Slow focusing speed

High price
3. Sony FE 85mm f/1.8 – Mobility and Emphasis on Facial Features in One Device
This is one more 85 mm lens that deserves special attention. Professional photographers, who often work with portraits, appreciate it for a combination of extreme clarity of facial features and smooth bokeh with creamy notes. All these are thanks to using of a well-round 9-blade diaphragm and XA element that with the Extra-low Dispersion glass successfully helps to avoid spherical aberration and glare.
A fixed focal length of 85 mm of this camera lens for portrait gives you enough working space to completely convey the facial features and character of the main object in the frame. Holding this tool in your hand, you can feel more mobile because it has a compact and lightweight design. The weight of the lens is only 371 g, which makes it ideal for shooting not only portraits but also street scenes and images in low light.
Pros
85 mm is universal for the implementation of many portrait ideas

Gives excellent image quality even in low-light conditions

Quick, silent, and smooth focusing

Compact and lightweight

Soft creamy bokeh
Cons
More expensive than analog lenses from Nikon and Canon
4. Canon EF 50mm f/1.2L USM – Light as a Feather
50 mm lens is universal for shooting many portrait scenes. It's not too wide to cause facial distortion, and not too long to get the peeping effect. The f/1.2 maximum aperture makes this camera lens unique for portraits. What is its magic? This widest aperture among the 50mm lenses allows you to focus clearly on the person and the same time creates a pleasant creamy blur in the background, moreover in any light conditions, even in a dark space and cloudy weather. You can also shoot during rain without fear that this tool will get wet and spoil from water drops. After all, this good portrait lens has weather-resistant sealing. And being compact and as light, as a feather, it easily fits in a bag with a camera or even in a jacket pocket.
Pros
Clear and sharp images with soft background blur

Works well in extremely low light

Very compact
Cons
Not everyone because of the high price
5. Nikon 135 mm f/2 DC – Good Solution for Shooting Youth and Seniors
If you're looking for the best portrait photography lens for shooting in large spaces or outdoors, pay attention to the good old Nikon 135 mm f/2 DC. It was released back in 1995, but still has fans among photographers. It helps out well in those situations when you need to create a tighter composition from a distance, but 200 mm is usually too long.
This tool excellent capture the candid emotions of the brides in the church as well as each strand of hair, birthmark, and wrinkle on the face when shooting in the park or another natural location. That's why this is one of the best lenses for portrait photography.
The amazing bokeh effect is the main highlight of this lens. You get soft background thanks to 9 diaphragm blades and the unique Defocus Control.
Pros
Provides high detail of the main object at the distance

Amazing bokeh effect

Works well in large rooms and outdoors
Cons
If you use this tool very quickly, you may accidentally switch the focus ring on the lens from auto to manual mode.
6. Fujifilm 50-140mm f/2.8 – The Best Lens for Static Portrait Photography
Do you need a zoom lens that comes to serious portrait shoots? Then you're going to be in complete awe of this option. This workhorse, having diapason from 50 to 140 mm, brings variety to your shooting, allowing you to capture both a certain part of the body and the whole height with the camera. Moreover, without much effort. All you require is to turn the lens barrel and narrow your field of view.
What are the best portrait lens advantages? Even at the maximum image magnification, it makes the main object incredibly sharp, and the background is pleasantly blurred, as if creamy. But the benefits don't end there. Thanks to built-in image stabilization, shots are clear when shooting with a shutter speed of 1/15s and without a tripod. Also, being a certain distance from the subject, you can visually bring foreground and background elements closer to it due to the compression. That's why this is one of the best lenses for static everyday portraits and weddings.
Pros
Amazing sharpness and clarity at big distances

Pleasant creamy bokeh

Built-in image stabilization

Availability of compression

Nice price
Cons
7. Сanon RF 28-70mm f/2L USM – 2 in 1 Lens
If you like a wide and narrow field of view at the same time, you don't have to buy two different lenses. After all, Canon 28-70 f/2 L combines these features, which makes it a good lens for different portraits.
Variable focal length allows the creation of both wide-angle photos and short telephotos. In any case, you get a sharp image. And thanks to the reduced shutter speed and wide aperture f/2L, you can easily capture the desired object on a blurred background even in the dark space without the so-called camera movement effect. A juggler maneuvering fire torches at a fire show, the warm feelings of a newlywed couple at a wedding, or the exciting emotions of a trip along the ocean. This lens for Canon RF mirrorless cameras can effectively do all!
Pros
High clarity and sharpness on any focal length

Universal thanks to extra-large f/2 maximum aperture

Fast autofocus

Has protection against raindrops, snow, and other vagaries of the weather
Cons
Somewhat expensive for photographers with a small budget
8. Sony FE 70-200mm f/2.8 GM OSS – Catch Movement
Do you want to add lively notes to your portfolio with amazing photos where the main object runs, jumps, or dances naturally? Then this is the best lens for movable portrait photography. What are its main advantages? You can capture clear images with smooth bokeh of both face and body, without taking your hands off the camera, thanks to this 70-200 mm zoom-telephoto lens.
And having a camera body's own image stabilization, this optical device allows you to take photos with slower shutter speeds. You can't worry about the appearance of aspherical aberrations and low contrast because the Sony lens for portrait photography has two Super ED elements and other components that eliminate these problems. Also, noteworthy Nano AR Coating. With it, you'll be not about ghosting and flares, and colors along with contrast become better.
Pros
Ability to get high-quality photos at any focal length

Easy autofocus

Securely attached to the tripod thanks to the removable leg

Nano AR Coating that effectively fights ghosting and flares
Cons
9. Nikon AF-S 105mm f/1.4E ED – Ideal Lens Designed for Portraits
If you choose the best lens that is designed exclusively for shooting portraits at medium focal lengths, Nikon AF-S will suit you 100%. Despite the fact that it has been on the market since 2016, this assistant is still in great demand among photographers from all over the world. After all, it has everything you need to create lively and sensual photos of people of all ages and nationalities.
The main highlight of this lens is its medium telephoto focal length of 105mm. It is thanks to it that you get great close-ups with excellent sharpness and aesthetically pleasing blur in the background.
Pros
Ideal image quality

Beautiful bokeh

Full control over chromatic aberration

You can safely attach the lens to a mirrorless camera, Nikon
Cons
Bulky and heavy

Not everyone affords it
10. Canon 70-200mm f/2.8 IS II – Powerful Workhorse
It seems to you that 70-200 lenses are enough in this article, right? But in the portrait lens comparison, we could not ignore Canon 70-200 f/2.8. After all, it's so powerful, like a beast! A wide range of focal lengths makes it possible to create any portrait shots: in the studio, in the park, or near a stormy waterfall. At the same time, their quality will be at the highest level, and a pleasant bokeh effect is ensured.
Pros
Universal: has made amazing results in any situation

Covers 85mm, 105 mm, and 135 mm focal lengths which is the best for portrait shots

Easy shot holding the camera in the hands without shaking thanks to 3.5-stops of image shake compensation
Cons
Heavy (the lens weight is 1480 g)

Costs a lot of money
Luminar Neo – Amazing Photo Editor for Portrait Photography
Even if you'll be using the best camera lens for portraits, you need post-processing to correct possible issues with light, colors, sharpness and more. Photo editor Luminar Neo copes with it in the best way. By working on the basics of AI, it offers effective tools for retouching. With their help, you can make adjustments to face shape, clean and smooth the skin, as well as add shine to the eyes and beautiful redness to the lips.
Best Portrait Photography Lenses: Closing Thoughts
Portrait photography is a specific and very complex genre that requires appropriate lighting, properly built composition, certain posing, and the presence of appealing props. The lens also plays an important role here. In this article, we have found of what is the best lens for portrait photography; which one to select depends on the type of look you're going for and your preferences.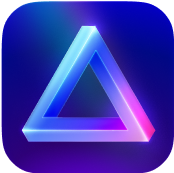 Advanced yet easy-to-use photo editor
view plans