If you want to learn photography, look for the best online photography courses. This article highlights all the best photography classes you can take in 2023.
Learning photography is a never-ending process. You have to keep up with social changes and trends, new composition techniques, and innovations in digital cameras and accessories. Moreover, you have to continuously grow as a photographer, nurture your inspiration, and find inspiration. So, how to choose what photography courses to take?
Online photography classes are an opportunity to learn from the masters and improve your skills. Photography courses aren't very expensive, and you can attend classes from anywhere in the world. The range of courses is very wide, from lessons on photography for beginners to masterclasses and practical workshops. The best online photography course will help take your skills to the next level.
You can find classes for a specific style of photography, such as portraiture or black and white photography. You can also find photography tutorials for a specific model of camera or lens. There are a lot of online courses for image editing too. It shouldn't be hard to find the perfect class for your needs.
How to choose the best online photography class
Competition among photographers is fierce, but true professionals will always be appreciated. To stand out from the crowd, you need to constantly evolve, and find your own style and direction in which you want to work.
While there are many online photography classes and many of them are free, not all of them offer valuable information and are right for you. Photography requires technical skills, solid camera knowledge, artistic and design skills, and, not least, creativity and the ability to "see" a good photograph. Moreover, your learning process should be structured, as you need to add skill after skill in the right order. So, great online photography classes will quickly improve your photography skills.
To choose the right online photography class for you, answer these questions:
Is the class targeted at your level of expertise? Don't think that taking an advanced class when you're a beginner means you'll learn faster and begin a successful photography business. You need to choose a course fit to your skills; otherwise, you'll end up confused. Online classes mention what level they're designed for. If a class doesn't mention a level or claims it fits all levels, stay away from it.
Does the class fit your purpose? Define what you want to learn from the best online photography courses. It may be photography basics, composition, image editing, a specific style of photography or technique (aerial, wedding, black and white, panorama), how to use specific gear (fish-eye lenses, Nikon cameras), or how to use specific software (Adobe Photoshop, Luminar Neo, Lightroom). Knowing what you want to learn helps you choose a course that interests you.
How good is the instructor? Choose a course taught by a renowned photographer or photography instructor. It's important to have an experienced instructor who can provide useful examples and workflows in the best online photography class. The teacher has to match your style and personality too. If you consider him or her an inspiration, you'll be more motivated to learn and practice.
Is the class offered by a trusted provider? Choose a credible course provider. It may be a prestigious university or digital photography school, a famous online course platform, or a trusted website. Remember that you'll pay for the digital photography course, and you want good value for the money. Moreover, a certificate will be more valuable if it's offered by a prestigious school.
What's in the syllabus? Check the syllabus before enrolling in a class. Make sure you'll learn exactly what you're interested in and that the class offers rich resources and valuable information. The syllabus offers insight into a course's method and workflow. A successful photography course is designed with the best syllabus.
Does the class offer free resources or do you have to pay for them? Many online photography classes use videos, text tutorials, software, and books. Make sure you have access to these resources. For example, online photography training based on Adobe Photoshop requires you to have an Adobe Photoshop subscription. Similarly, a class may require books you have to buy. So, always make sure you have access to all the materials you need if you are just getting started in photography and want to take photography courses online.
Does the class offer a certificate or lead to a degree? Many online photography courses offer a certificate you can add to your resume, increasing the value of your photography training. You can even achieve an online photography degree by attending online classes offered by a renowned university. If you need a certificate, check if the course offers one and under what conditions. Usually, you have to pay for a certificate even if the class is free. If you are new to photography, you could definitely use a certificate from the best photography courses for further development.
To help you decide which class to take, we've come up with a list of the best online courses you can attend in 2023. There's a great selection of courses for different types of photography.
Best online photography courses for beginners
A beginner needs a comprehensive guide to the basics of photography. A beginner course has to cover concepts like exposure, contrast, light and shadow, color temperature, white balance, depth of field, and focal length. It also needs to cover basic composition rules and how to work with geometrical elements and combine them to achieve meaningful images. So, an online photo course will help you to get into the photography industry.
To find the best online courses for beginners, pay attention to the instructor. It's essential to choose someone with great teaching skills who's able to explain and illustrate technical matters and challenge you with practical assignments. You need an experienced instructor with good reviews to help you take the first steps into the photography world. You can also choose classes held by a university or institution with a strong photography background. Just take a better photography masterclass with the best practices!
Here are some of the photography classes for beginners you can choose from this year. Be sure to find out when the basic photography course starts.
Free online photography courses
1. 365 Days of Photography Course offered by PhotographyCourse.net - the best online learning community platform for photographers. The 365 Days of Photography will give you a solid understanding of using your camera in every lighting and scenario. Each lesson is bite-sized, accompanied by a practical challenge designed to help you discover new talents within yourself.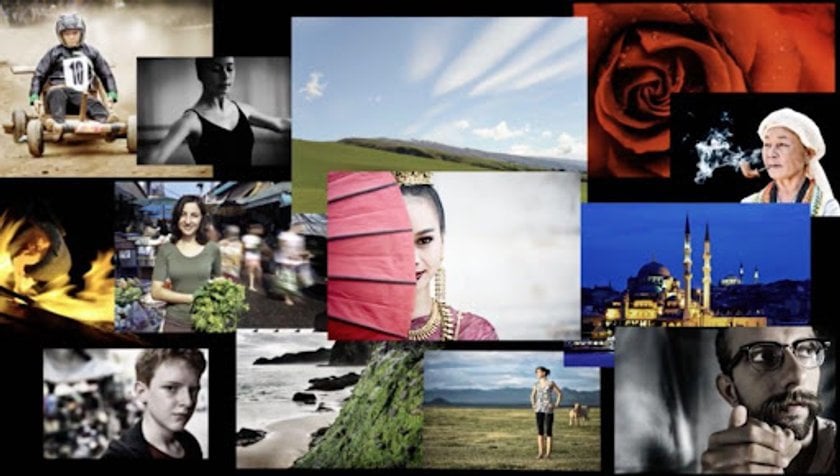 Your understanding and experience of photography will mature beyond simply using your camera. You will become a confident, adaptable photographer who feels comfortable in many settings – as you will intrinsically know how to get the best results with your camera. The course covers:
Essential to advanced camera use


Development of personal style


Composing photos with confidence


Perfecting timing

Photography in natural and artificial light

Creating photos that convey feeling

Working in low light and challenging light

The instructor, Kevin LJ, has over 35 years of professional photography experience and over seven years of teaching photography to thousands of students both in person and online. His teaching style is concise and enjoyable, and he brings a wealth of professional experience.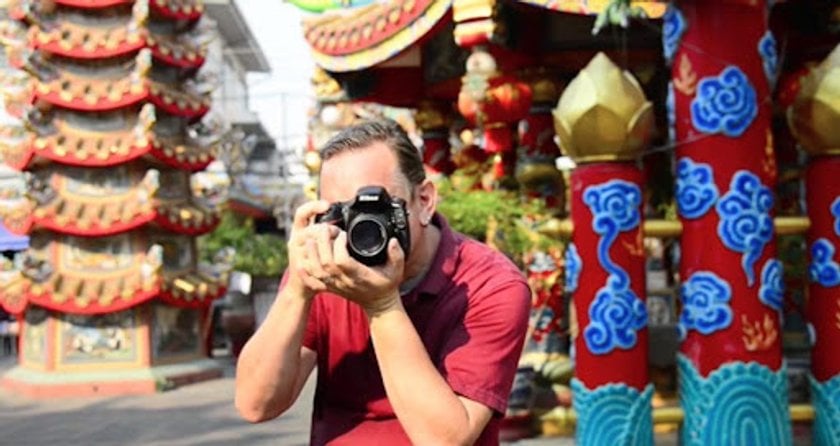 2. Photography Basics and Beyond: From Smartphone to DSLR Specialization offered by Michigan State University – Coursera is a renowned platform where universities from all over the world present their onlines courses. This photography specialization has five courses that cover all the basic knowledge you need:
Cameras, Exposure, and Photography
Camera Control
Principles of Photo Composition and Digital Image Post-Production
Photography Technique: Light, Content, and Sharing
Photography Capstone Project
This is just perfect for beginners! On this photography online course you can enroll for free and have access to videos and reading materials, assignments, and a discussion forum. But if you want a certificate, you have to pay a fee and receive good grades on all the required quizzes and assignments.
3. Intro to Photography Class offered by Alex Buisse – An adventure photographer working for Red Bull, Sports Illustrated, and Patagonia, Alex Buisse is a good example of an appealing teacher. This is one of the best complete beginners' photography courses online! His photography class doesn't offer a certificate, but it's available without enrollment. The course has 30 written lessons, illustrated with amazing photographs by Alex Buisse himself, and covers gear, exposure, focus, composition basics, and post-processing.
4. Cambridge in Colour offered by Sean McHugh – A member of the Cambridge University Photography Society, Sean McHugh offers photography tutorials available anytime and to anyone. Covering photo essentials, camera equipment, photo editing, and printing, the Cambridge in Color course is a complete resource for beginners. Moreover, you can ask questions, take part in competitions, and share your photos to receive feedback. Like many free online photography courses, it doesn't offer a certificate. Choose one of the top online photography classes!
5. Lynda Photography Courses offered by Ben Long – In video tutorials, Ben Long covers basic subjects like exposure, dynamic range, white balance, and color temperature. The senior editor at Macworld magazine and the author of many photography books and classes, Ben Long has vast teaching experience and a long career in photography. He teaches not only technical concepts but also creativity, attitude, and workflow. He updates his tutorials weekly.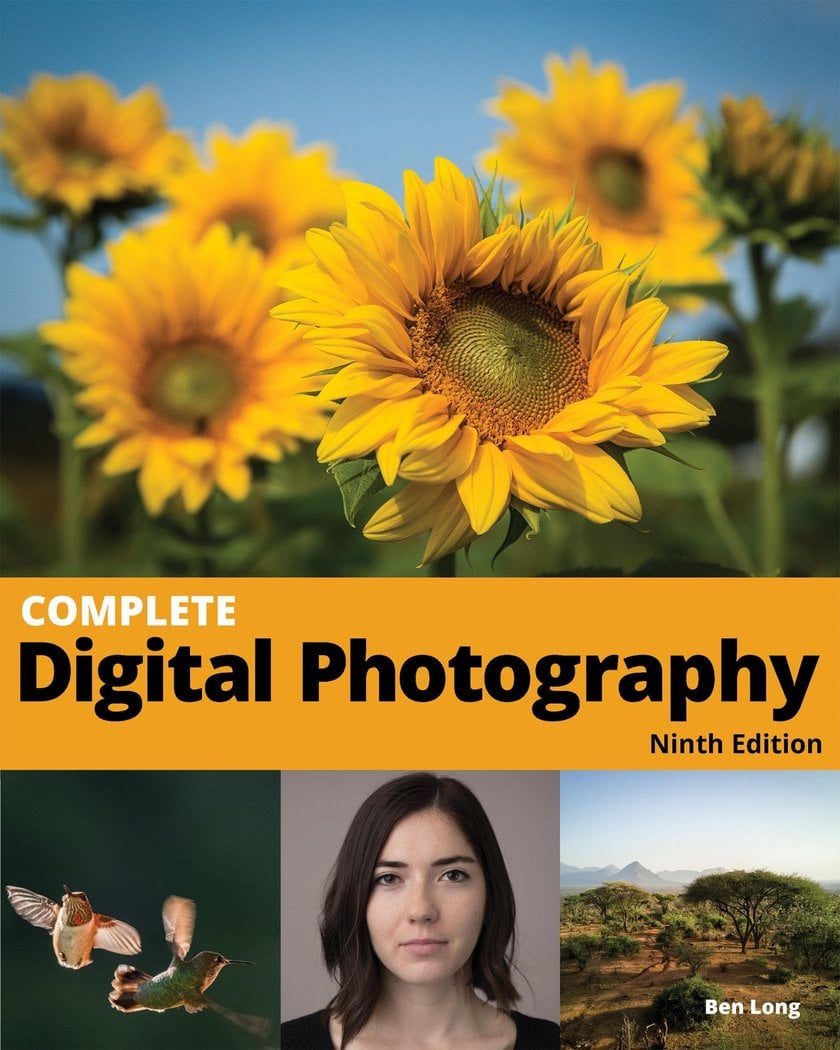 6. Beginner Digital Photography offered by Alison – A fast and straightforward course, Beginner Digital Photography features the most important camera settings and photography basics. It has three modules dedicated to working with the camera and the best equipment, editing images with Adobe Photoshop and Lightroom, and doing personal projects. This course offers three hours of video materials and the possibility to buy a certificate.
Paid online photography classes
7. Fundamentals of Photography offered by Nikon School – The best digital photography school for learning how to use Nikon products, Nikon School has a wide range of classes. Fundamentals of Photography is a class by Reed Hoffmann that's designed for beginners. The course covers exposure, ISO, aperture, shutter speed, camera modes, focus and metering modes, flash, shooting in RAW and JPEG, basics of composition, and more. It costs $29.95.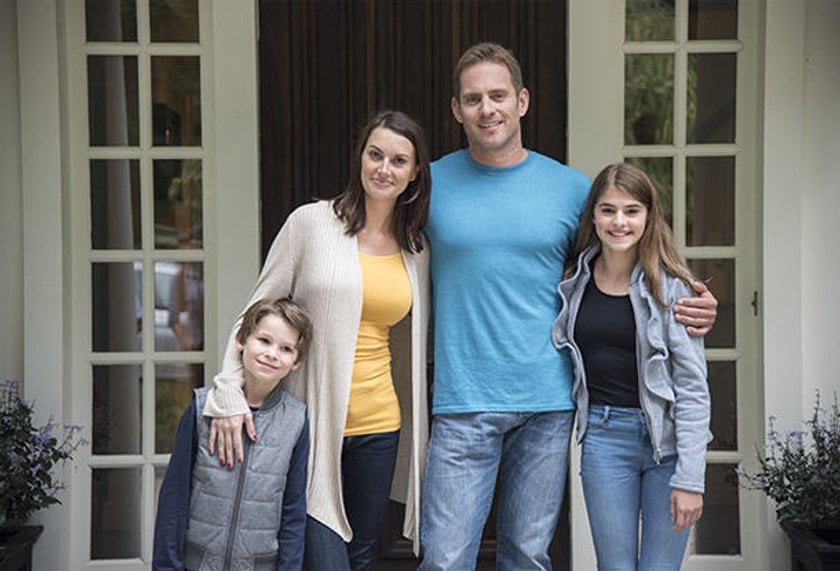 8. Fundamentals of Photography offered by John Greengo – Travel photographer John Greengo focuses not only on technical skills but also on how to bring your creative vision to life. In this course, he covers basic concepts (aperture, shutter speed, etc.), composition, choosing the right gear, developing your workflow, working with natural light, and analyzing images. Want to know more about travel photography? The course has over 100 videos and costs $119. John Greengo also teaches more advanced classes dedicated to specific camera models and photography styles (landscape, travel, nature).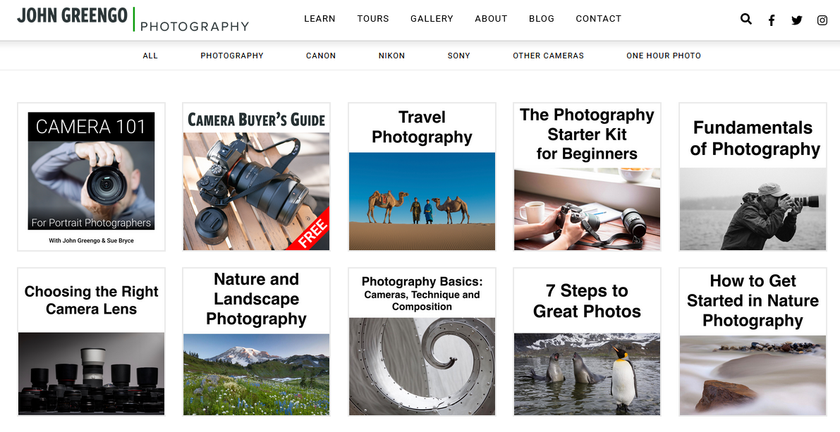 9. Photography Masterclass: A Complete Guide to Photography offered by Phil Ebiner, William Carnahan, Video School Online Inc, and Sam Shimizu-Jones on Udemy – This course offers a complete perspective on taking pictures with any type of camera and is the best rated photography class on Udemy. It covers manual settings, lighting, composition, and several photography styles (portraiture, landscape, aerial, commercial, etc.) in 21 hours of video materials. It offers a certificate of completion and costs €10.99.
10. Photo 101: How to Take Great Photos offered by Canon Online Learning – Canon offers many online classes for learning photography. Created by Rudy Winston, this course allows you to familiarize yourself with basic concepts, composition, and common challenges in a photographer's life. It dedicates a lot of time to how to "see" and compose a good image, work with both subject and background, and improve your timing. The course costs $29.99.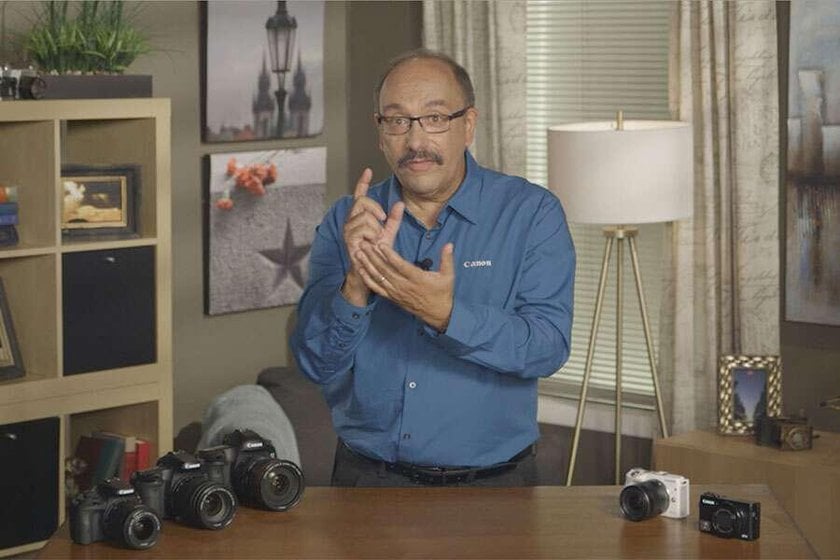 11. Professional Photography Course offered by New York Institute of Photography – Starting from the basics of photography (exposure, lighting, and lenses), this online class helps you take control of your camera. It covers many photography styles and reveals tips for achieving the perfect composition and taking excellent photos in any conditions, including night photography. This course focuses on practice and offers you one-on-one support and feedback from professional photographers. NYIP graduates are eligible to become certified by the Professional Photographers of America (PPA). The course costs $499.
Best online photography courses for advanced photographers
As an advanced photographer, you have to look for more specific photography lessons covering niche subjects or inspirational techniques. You need to focus on workflow, creativity, and special effects. As a result, the best online photography classes for you are either dedicated to a specific photography style (like macro photography) or taught by some of the most famous and prolific photographers.
Free online photography courses
12. Documentary Photography and Photojournalism: Still Images of a World in Motion offered by the Massachusetts Institute of Technology – This is an amazing photography class for those who want to specialize in documentary photography and photojournalism. This course by Professor B. D. Colen covers the history of photography, the required skills, and practical projects. It's an undergraduate-level course offered by one of the most famous universities in the world through the OpenCourseWare program. It won't teach you how to use a camera, but it will introduce you to the fascinating world of photojournalism and help you launch a career in this field. These skills can also be applied to street photography. Although you won't get a certificate, you can cite the course on your resume.
13. Nightscapes: Landscape Astrophotography offered by Ian Norman – The creator of Lonely Speck, Ian Norman reveals in this short online course all the tools you need to photograph nighttime landscapes. This course covers basic astrophotography gear, choosing a location and setting up, exposure and composition for nighttime photography, and image editing for astrophotos.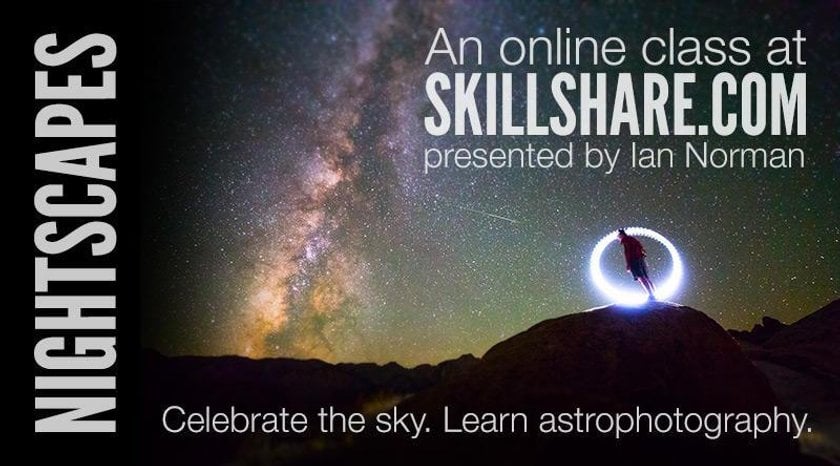 14. Wildlife Photography Course offered by WildlifePhoto – If you want to learn the secrets of wildlife photography from photographer Will Burrard-Lucas, this free photography class is for you. You'll learn how to choose gear and equipment, the best camera settings for shooting wildlife, how to take sharp photos of moving subjects, and how to edit your images in a natural and subtle way. This course also offers access to the e-book Ten Things You Can Do Right Now to Improve your Wildlife Photography!
15. Images, Ideas, Inspiration offered by the School of Visual Arts, New York – Classes from this prestigious school aren't free, but its YouTube channel is, and it features no less than 100 hours of online video classes taught by great photographers. You can listen to Mauricio Alejo speaking about conceptual still-life photography or John Trotter speaking about photojournalism. You also can learn how to be a successful photographer from gallerists, art directors, filmmakers, and editors.
16. Luminar Learning Center offered by Scott Davenport – Dedicated to photography, Luminar Neo is a powerful image editor. Landscape photographer Scott Davenport offers a series of free photography tutorials covering all the features of Luminar Neo. He also organizes workshops and writes photography books about landscape photography and the perfect image editors for it.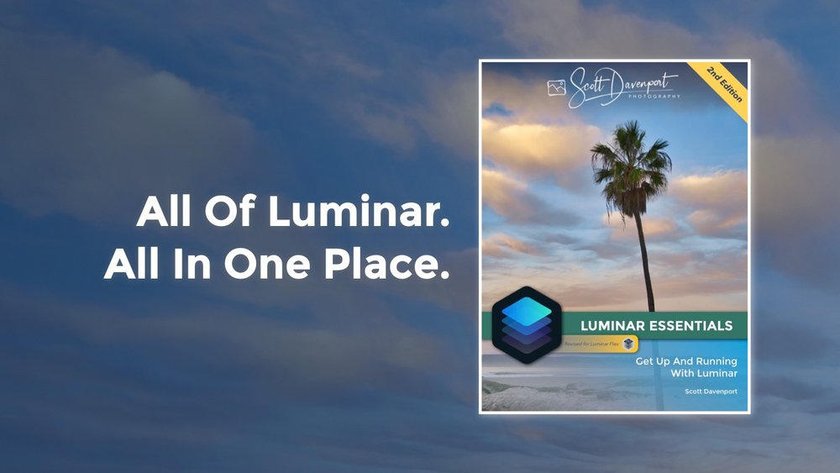 Paid online photography classes
17. Annie Leibovitz Teaches Photography offered by Masterclass – Powerful and emotional, the portraits of Annie Leibovitz are incredible material for a photography class. In 15 lessons, Leibovitz reveals the magic of her studio, her knowledge of portraiture, and the methods she uses to tell stories through her images. The class also covers developing concepts, working with natural light, and post-processing. You'll receive assignments and additional resources. The class costs $105. This is a great option if you want to know more about portrait photography.
18. Jimmy Chin Teaches Adventure Photography offered by Masterclass – National Geographic photographer Jimmy Chin reveals his techniques in 20 video classes. Learn how to plan, capture, and edit adventure photographs from one of the best photographers in the field. Jimmy Chin speaks about gear, creative approaches for different styles, and passion. Including photo studies, assignments, and many practical tips, this course is the first step of your adventure. It costs $105.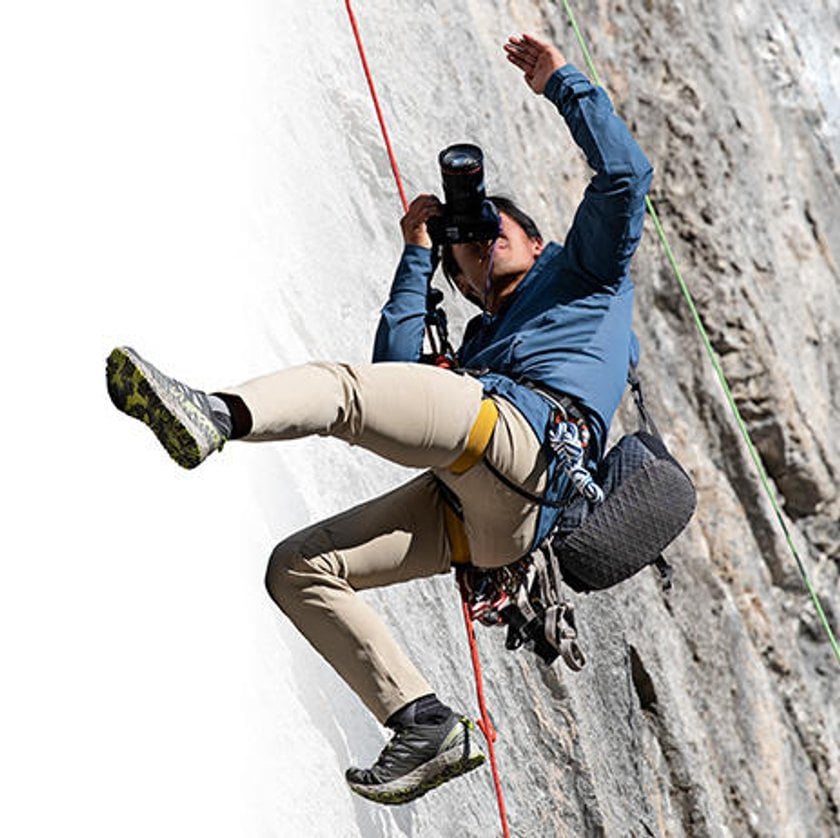 19. Long Exposure, Architecture, Fine Art Photography - Creating (en)Visionography offered by Julia Anna Gospodarou – (en)Visionography, developed by photographer and author Julia Anna Gospodarou, is a new way of creating fine art photography. The main ingredients are long exposures and architecture, but also conceptualization and workflow. This course includes a 2.5-hour video tutorial and an e-book that will change the way you see photography and make you fall in love with black and white photography. The course costs €49.
20. Light, Shadow, and Motion offered by KelbyOne – Joe McNally has had a 30-year career in photojournalism, portrait, and commercial photography. His work has been on the cover of TIME, Sports Illustrated, Fortune, and other magazines. In this course, McNally reveals his lighting secrets when shooting subjects in motion. Dedicated to those looking to photograph dancers, actors, and athletes, this course teaches you to work with speedlights and strobes and create impressive and artful photos. Access to KelbyOne course costs $19.99/month.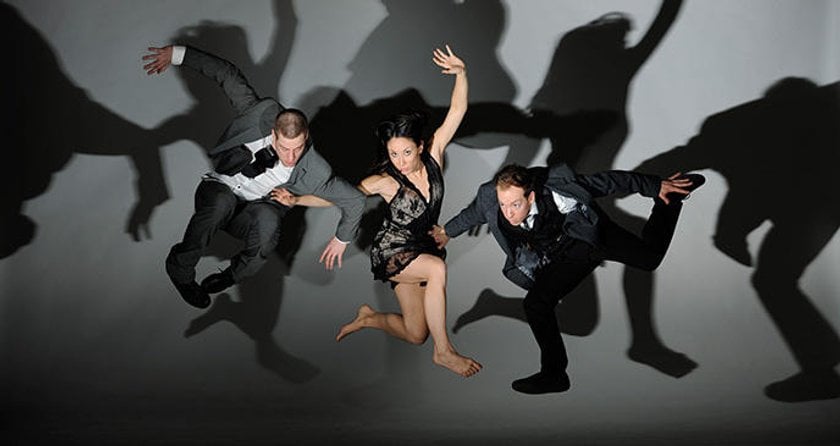 21. Introduction to Black and White Film Photography offered by CreativeLive – Black and white photography has many adepts, and many of them consider film photography to be its true heart. This online course covers everything from taking photos with a film camera to film types and printing. You'll learn about the Zone System, metering, film chemistry and development techniques, exposure techniques, and scanning negatives. This course is taught by Daniel Gregory and costs $29.
In Conclusion
The learning process is different for everyone. If you study your profession diligently and attentively, a comprehensive course from a professional will suffice. Then you can study the topics that interest you on your own. Later, you may be interested in master classes with more experienced colleagues. The main thing is how you use the knowledge you have and how well you understand your own growth areas in the profession. The number of courses you take is not as important as the application of the knowledge you gain.
The best online class for you has to offer the skills and learning tools you need. Make a list of your wishes and possibilities and look for the best match. Keep in mind that online classes may require additional resources like books and image editors. No matter which course you choose, use dedicated photography software to enhance your photos and achieve natural-looking results. If you haven't tried Luminar Neo yet, download the free trial and enjoy its features.
FAQ About Best Online Photography Class
Photography courses online are the most affordable way to gain knowledge, which refers primarily to lower costs, independent choice of schedule, and no need to go anywhere. Moreover, an undeniable advantage of online learning is the ability to take courses from anywhere in the world. However, many photographers doubt the feasibility of such training. They also have questions about the courses. Here we answer the most popular ones.
What is Taught in an Online Photography Class?
Imagine: you bought a DSLR, found a client, and held a photo shoot, but in the end, the photos turned out worse than on your smartphone. So, if you're not familiar with camera settings, you need a basic photography course. In such a class, you will learn:
How to work with your camera's settings and learn how to use its features. For example, you will learn what shutter speed, aperture, white balance, and ISO mean.
How to compose your shots, choose your angle of view, work with different object volumes, and adjust focus.
How to use studio equipment and all the nuances of studio photography.
You will practice shooting in a variety of techniques, from portrait to landscape.
You'll become familiar with Adobe Photoshop and be able to edit photos.
If you already have these skills, you may want to take a thematic course: documentary, wedding, studio, subject photography, and other options.
Who Should Take an Online Photography Class?
Online photography training is for those who are learning to use a camera and want to deepen their knowledge or learn the nuances of a particular subject. It saves you time because you don't have to go somewhere, and the cost of online learning is lower on average. This makes courses suitable for beginners as well as professionals.
Can Beginners Learn Photography Online?
Of course, beginners can learn online. Special courses have been developed for them, as mentioned above. Nevertheless, online photography courses often provide for free distribution of the student's workload. This means that the student decides when and how much to study. It is especially important for beginners to be able to divide the workload properly in order to learn the material more effectively.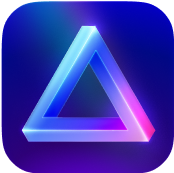 Advanced yet easy-to-use photo editor
view plans