Want to learn how to make a fantastic panorama from multiple photos? In this article, I have prepared for you the TOP 10 best panorama stitching software in 2023.
I hope this article will be helpful to you. I have a little bonus at the end, so be sure to read it all the way through!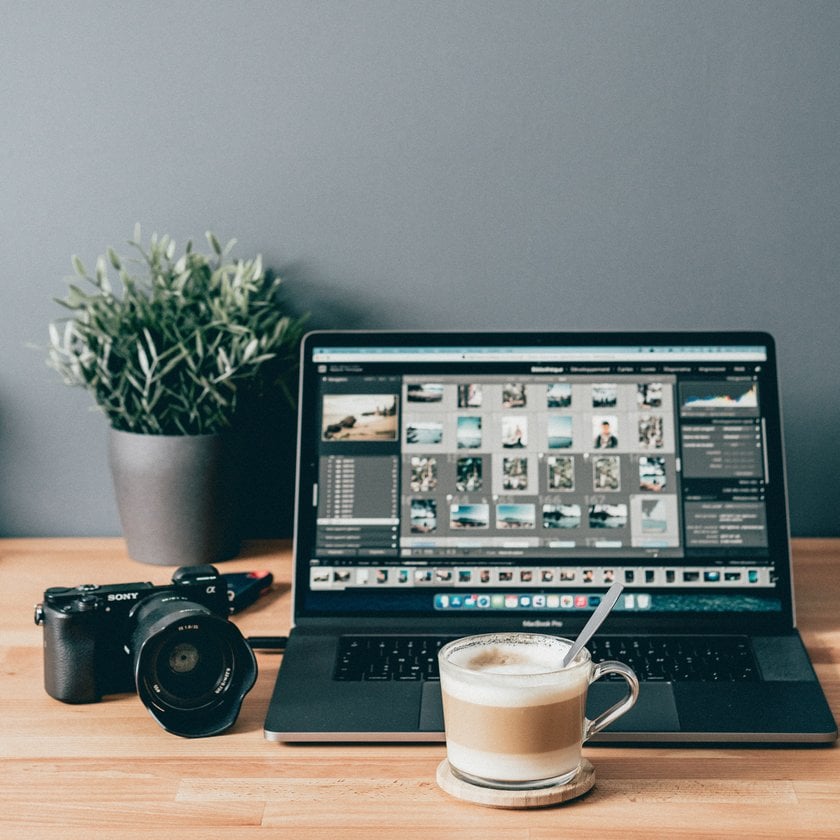 Photo stitching: how does it work?
So, let's start with the main thing. What is a photo stitch, and how does it work? Let's say you want to wow your friends and followers by posting an excellent panoramic shot on social media. Of course, you know that the shorter the focal length of your lens, the wider the angle of coverage will be. However, even an ultra wide-angle lens will not allow you to create a proper panorama. So what to do?
In the days of analog photography, standard 35mm film was inserted into medium format cameras to achieve this effect. Thus, it was possible to expose several frames at once and get an actual panorama. Do you want to play with it? It's commendable if so, but I don't think that's really what you need.
Today, many cameras have a built-in panorama mode. I can't say it works well. Sometimes you can get a tremendous in-camera panorama, but in low light conditions or when shooting handheld, artifacts can appear in the picture. Of course, there are specialized digital cameras for taking panoramic photos, but they cost as much as an airplane wing.
This is where photo stitching software comes into play. We are used to the fact that for serious photo processing, you need to use serious programs such as Photoshop. However, in this article, I would like to bypass this one since Photoshop is already a rather complicated photo editing tool. Of course, you can stitch photographs with it, but there are a few more convenient and, most importantly, free photo stitching software to explore.
Shooting features for panoramic photo stitching
Before we take a look at the best panorama photo software that can stitch your photos together, I'd like you to remember a few essential things:
Make sure that the exposure of your photos to stitch is the same. This may seem strange since you are already shooting several frames one after another. However, when shooting at sunset, when the Sun is rapidly sinking toward the horizon, every minute of delay can be fatal. I ruined some incredible panoramas like this in my time, so don't repeat my mistakes.
Shoot from a tripod! There is almost always a minimum obstruction of the horizon. It's invisible to the eye, so it doesn't bother us. However, panoramic photography stitching can create ugly stitches that are not always easy to remove.
Ok, let's finally take a look at the best photo-stitching software.
TOP 10 image stitching software for Windows and Mac in 2023
1. Luminar Neo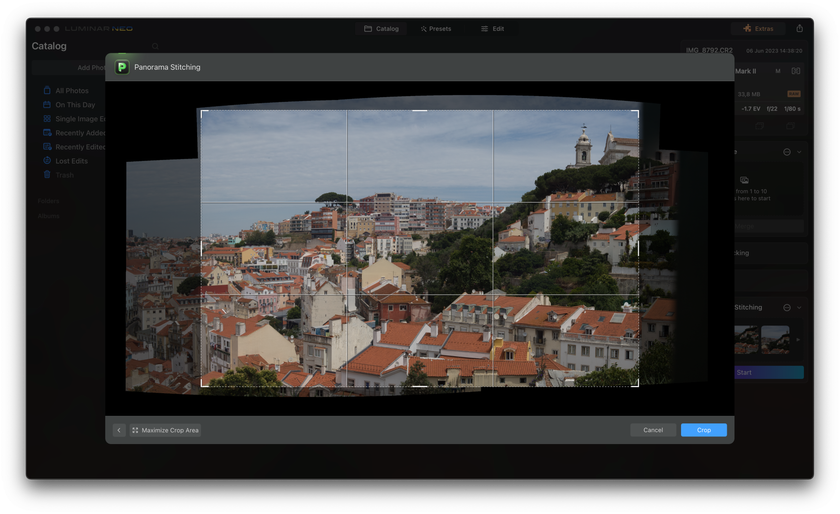 For me, Luminar Neo is all about creativity. Unlike Photoshop, this program makes processing more manageable and enjoyable. The main advantage of Luminar Neo is AI-powered technology that allows you to change the exposure, improve the image's color gamut, tone the image, etc., with one click. At the same time, you have complete control over all parameters if necessary.
There is also a massive set of creative tools. For example, you can add fog or sun rays to a photo, change the sky using one of the ready-made templates or choose your own, change the colors of individual objects without affecting other areas of the frame, and much more.
And finally, the Panorama Stitching Extension—Luminar Neo's latest update. This smart feature selects and seamlessly stitches frames around a chosen object, adjusting for changes in lighting and movement. This tool's distinctive feature is its ability to morph a video into a panoramic photo. It can also compile a moving object from multiple frames into a single dynamic image—another new creative feature for photographers.
All in all, this program encourages you to explore all its possibilities to create truly captivating images—just give a try!
2. Hugin

When I first worked with Hugin, I was not too fond of the program. It was because of the nasty interface. Yes, it doesn't look so good... BUT! This software does what it's supposed to. Initially, the program's functionality was primitive, but after the release, development continued, and today Hugin has many exciting features. For example, this allows you to fine-tune control points, fix level mismatches, etc.
In addition to being an excellent photo stitcher, this tool will please you with something else. First, it's free. Secondly, it is available on Windows, MAC, and Linux. I believe that given its effectiveness and accessibility for all categories of users, you can turn a blind eye to an unpresentable appearance.
3. PTGui

Many consider PTGui to be the best panorama stitch software. I won't say so, but I'll leave it up to you. The reason for this is also that there is a modification of PTGui Pro, which I have not used before.
This program allows you to do everything that Hugin does, but it has a more pleasant and understandable interface, as well as some additional features. For example, you can combine multiple source HDR images into an HDR panorama.
One of the most outstanding features of this tool is its batch-processing capability.
PTGui is also compatible with Windows, Linux, and MAC. The program is not free, but there is a free trial version.
4. Lightroom

I said that I would not mention Photoshop here since it is a well-known program available for Windows in which almost any photo manipulation is possible, including panorama photo stitching. Also, it's overly complex. I would say it is too complex to be considered in the context of such a narrow topic.
However, there is room for one of Adobe's products. I mean Lightroom. It wasn't specifically created as photo stitching software free, of course. But there is such a function here, and it works very well.
In one of the previous articles, I already said that Lightroom, in fact, is an extended version of the Adobe Camera RAW tool, which opens in Photoshop when you upload a photo in RAW format.
Adobe Lightroom is positioned not as a graphics editor but as a photo editing program. That is, it is intended exclusively for photographers. Here I see a convenience because the tool for stitching panoramas is in the same place where you do everything else. And given the possibility of batch processing, it becomes even better!
A considerable advantage is an ability to process source images in RAW format, which many specialized programs cannot do. In addition, if you are into photography, you are most likely already familiar with the interface of this program, which means it will be easier for you to learn new techniques. This is the reason why Lightroom is on this list.
5. PhotoStitcher

The name of this program itself speaks of its purpose. I am one of those people who prefer to use several specialized tools for different purposes than one universal one. That is why I am delighted with this tool: there is nothing extra here, and the developers have made every effort to make the image-stitching process as simple and convenient as possible. At the same time, the result is excellent: PhotoStitcher almost automatically combines several shots into a single panorama without seams and artifacts. Even if you don't have a tripod handy when shooting, you can take a high-quality panoramic picture with this software.
In addition, this program automatically adjusts the exposure if you hesitate while taking photos and the position of the Sun changes.
A trial is also available here. Bad news for Linux users: PhotoStitcher is not ported to your OS.
6. PanoramaStudio

Another narrow-profile tool. However, this software offers you a few more options.
First, with this one, you can create interactive panoramas. That are full-fledged virtual tours that you can immediately export to the working format of HTML 5.
Secondly, this soft can be installed as a plugin for Lightroom. Here I should note that even though PanoramaStudio has some tools for photo processing, it is unlikely that you will be able to create a masterpiece. Sharing with Lightroom saves the situation, but the program itself is more suitable for demonstration purposes than for making beautiful pictures.
The free version of the program does not limit you in terms of use but has reduced functionality. For example, this does not work with ultra-wide-angle lenses with high distortion. Luckily, it is not very expensive. I recommend this program to enhance your ability to create fantastic panoramas if you already use Lightroom. Also, this software is excellent for those who need to create interactive images.
7. Microsoft Image Composite Editor

Microsoft style, this panoramic photo stitcher only works with Windows OS. However, this is the most popular OS worldwide, so you should not ignore it, especially since the software is outstanding.
A feature of this program is that it allows you to create a static panoramic image based on the video, which is very convenient.
However, there is a downside: the Image Composite Editor doesn't have any photo enhancement tools at all. But as in the case of the previous program, it can be used as a Photoshop plugin.
ICE is free, so if you're using Windows, I recommend trying this one.
8. Panoweaver

An expensive panorama photo stitcher, which, nevertheless, is worth the money spent on it. Panoweaver was not designed for beautiful panoramic pictures but for creating interactive virtual tours. This program supports panoramas of any type, so you can use them to create spectacular demos. For example, a spherical panorama of the city from a bird's eye view looks very impressive. With Panoweaver, you can create something like this with just a few clicks.
Yes, this is another feature of this tool: almost all functions are automated. Just upload your photos, select the type of panorama and start stitching.
9. Panorama Stitcher
A super fast and super simple best photo stitching software for macOS users that allows you to make spectacular panoramas without artifacts in just a few seconds: upload, stitch, and enjoy!
This program is your choice if you do not like to process photos for a long time. However, it doesn't give you as much control over the image as other software on this list.
The free version only allows you to stitch up to five photos, but that's not a big deal, as the subscription only costs $15.
10. GigaPan

This program is exclusively for use with GigaPan equipment. This is incredibly professional software that is designed to create fantastic panoramas with incredibly high resolution.
If you have been into panoramic photography for a long time, you may be using the Gigapan Epic. In this case, apart from the GigaPan program, you will not need anything else.
In final words
Panoramic photography is a fascinating genre that is becoming increasingly popular these days as photo editing software evolves and gets smarter with every new release. Each has its own advantages and disadvantages, so I don't really know which of the programs I have listed above is the best for photo stitching, so I recommend you try different options and choose the best one for you. I hope this will be enough for you to find what suits you for creating extraordinary panoramas. And I'll tell you goodbye for now. See you (write you) in the following posts.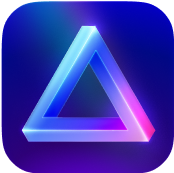 Advanced yet easy-to-use photo editor
view plans