The human body is unique. It has its own shape, lines, texture, and birthmarks. So, most photographers use it as a main object of shooting. But body photography can be very difficult.
Because you must have a sharp view of details, master the photography basics, and know the answers to the client's questions "What to do with my hands?", "How do I sit down?", "Where should I look?" and many others. That's why in one article we've collected useful photography tips and posing ideas in one article. They will turn your shooting process into an easy pleasure, be a fresh breath of inspiration, and help you to get aesthetically pleasing portraits of a full body.
What is Body Photography?
The definition "human body photography" is widely used in the world of medicine. Here it's a special technique that helps doctors detect melanoma in the early stages in patients with eczema, psoriasis, and other suspicious neoplasms. This occurs due to the use of a high-resolution, professional medium-format camera that captures images of a certain sequence of poses. They allow making an image of the whole body for further diagnostics.
However, in the 21st century, this definition is also known beyond medicine, namely in the photographic industry. Creative people around the world actively use it as a genre of photography. In it, they convey the natural beauty and features of a particular body, as well as create a specific mood or tell a particular story in a creative way. It helps clients visually explore their attitudes toward themselves and look at their bodies from the head to the toes with different eyes.
The Shooting of Body Photos: What do You Need to Know?
A photoshoot with the participation of the human body is quite difficult, especially if it's a couple or group of people and the main object isn't a professional model. After all, it's important that the client feels relaxed and comfortable. Because only in this way you'll get the most natural pictures.
The stiffness of the client's body from not knowing what pose to take is the first problem that most photographers face during the shoot. So if you don't want to see the confused look of the main object, at the beginning of your cooperation find a common language with him or her. You have to get trust so that the human feels comfortable and understands what exactly is required of him. Then give your client clear instructions regarding poses before you'll press the shutter button. Keep in mind, 80% of a photo session falls on the preparation of the model, and only 20% – on the shooting process.
In order to get beautiful body photography, take into account the following important nuances:
Location. Before you start, think about what kind of full-body headshots you want to create. Should it be images of one beautiful girl or the whole family? Swimsuit advertising of photo of businesswoman? After this, choose an appropriate location. We recommend taking family and business photos in a studio with monochrome background, and the other types – outdoors, where different natural backgrounds give endless opportunities for creativity.

Posing. If you want to know how to take a good full-body picture, pay special attention to posing. After all, it's like a language of the body, that can tell a lot to viewers. Make sure that the position of the head, hands, legs, and other parts best corresponds to your idea. We'll consider the most advantageous poses a little later. Necessarily avoid situations in which your client slouches, holds his head unattractively, or his hands hang freely like sausages. Make sure that a significant part of the weight is placed on the feet or legs in a particular position.

Hair and clothing. Even if you put the model's body in the right pose, there may be force majeure situations with clothes, such as unzipped trousers, twisted sleeves, or thread sticking out of the seam. Do you notice such problems during full-body photography? Stop and fix unattractive areas of clothes. The same goes for hair. After all, the slightest wind can dishevel strands or curls, giving them negligence.

The facial expression of the model. Face can tell a lot about a person. It is its expression that helps to create harmonic full-body portrait photography. So, think about what theme, mood, and expression you need to convey in the shot. Then just tell the model where to turn her head, how she should look, what kind of smile she should have, etc.

Camera angle. The position of the camera is a very important part of every shoot, especially if the human body is the main subject. There are no specific rules regarding the angles. You can play with different angles. But there are some of them which will help you to achieve a particular result. For example, if you crouch down on your knees, your camera will be at your client's waist level, which is ideal for a full-body photoshoot. If you want the viewer to be in a position of power, shoot from the Bird's Eye View over the subject. On the contrary, to get power over the viewer and create a dynamic lie on the ground and aim the lens up to the level of the model's knees. In any case, remain more placed under the head than below the feet. Thus, your image will not seem too close.

Background and foreground. Planning full body shots photography, think about background and foreground because they are part of the frame. Be sure that there are no excess people and nothing prevents. Use white space to make images more attractive.

Camera settings. Pay special attention to the aperture. If you want to get a beautiful body image with blur background, isolation of the main object, and looking away from distracting elements, a wide aperture is a winning solution. When shooting of ecology full body portrait, that is, in nature, you may need a narrower aperture, around f/4.

Choice of the lens. Keep in mind that a wide-angle lens isn't a nice solution for shooting people because it distorts elements that are located on the edges of the frame. In addition, using it, you'll not achieve the blurring photo background. A 55 mm lens with an f/1.4 or f/1.8 aperture is another thing. It allows the viewer to see the subject's body as it really is, with the unobtrusive blurring of the background. To achieve this effect, you don't need to come close to the object. Shoot from the distance. 85 mm and 105 mm lenses are also perfect for shooting full-body portraits due to the ability to frame the subject. But if you have only a 35 or 40-mm lens, it doesn't mean that your shooting will be useless. After all, by centering the main object in the frame you'll get a good result. And shooting from a low angle, you'll even get the effect of elongated legs.
Correct lighting. Before you'll put the model in front of the camera, look carefully at the lighting. Do you have enough natural light, or maybe you need additional sources of light? It all depends on the place where you're shooting. When taking photos indoors, it's very important that the whole body was well-lit to see it in all details. One small flash and diffuser aren't enough to achieve this goal. You need a stronger source of light. A studio strobe and softboxes are the best solutions, which help you to create a soft and warm light. When it comes to shooting outdoors, you can notice that the bright sun in the afternoon makes the photo very contrast with deep shadows and such eyes as a raccoon. In order to avoid this, mix artificial light with natural one. For example, illuminate the background with the sun, and direct artificial light on your model.
When everything is ready for shooting, it's very important to work quickly. Don't make the model stand in one pose for a long time and wait for the settings of equipment and staging of props. The person should be posing enthusiastically during the whole shooting and not feel annoyed or tired.
Below, we'll share with you some tips on how to take full-body pictures that will help you to achieve the desired results no matter what camera you use: DSLR or mirrorless.
14 Tips on How to Get Amazing Full Body Photos
1. Play With Colors
Color is one of the most significant things in any photography. It is able to reflect certain moods: dark tones – sadness and mystery, light – freshness and novelty, and bright – cheerfulness and energy. So, why not create an interesting color palette using a triad scheme that would maximally echo the tone of the skin, hair, and eyes?
2. Show Diversity
Full-body photography is about diversity. So, you can involve several people to show the different shapes, ages, nationalities, ethnicity, growth, etc. Also, you can create an exciting picture with both people with different views on life. For example, one woman is seating in the lotus position and meditating, while the other one is smoking.
3. Feel Free to Crop
When it comes to cropping, most photographers face doubts and take full body shots. But capturing a certain part of a woman's or man's beauty can better acquaint viewers with the main object. So, don't be afraid to crop the client's body. But keep in mind the following rules:
Don't cut joints, that is elbows, knees, ankles, or waist.

Use the rule of thirds, putting a person in the center at eye level.

Keep a subject slightly moved back to get an image with some space.
4. Try a High-key Technique
High-key is a technique where most of the frame has a lot of light and is bright. Only some fragments remain dark or have a medium tone. Such an effect leads to loss of texture of the skin and thereby makes a body like painted on canvas. That's why it creates an ethereal view of anybody. In order to get a high-key effect, first evenly illuminate the background and the main subject. Then play with settings so that you get the effect of overlighting.
5. Close-up Body in the Frame
Do you want to add fresh notes to your portfolio? Then experiment with different close-up body frames. Focusing on a unique area of the body (birthmark on the back, navel with water drops on the skin, graceful curve of the neck, beautiful collarbones, or other) you eliminate all distractions and show true beauty. Use a macro lens to achieve the desired effect.
6. Tell a Sensual Story
Stories are always filled with lively emotions. So, why not come up with a sensual story or take it from real life and show it in full body image? A famous writer and motivational speaker without hands, Nick Vujicic, together with his newborn daughters or a woman who breast cancer survivor, are nice examples.
7. Use Props in a Creative Way
You don't necessarily need to show only the naked body. You can also include original props in your shot, which give special interest. Put on the back a twig with dried flowers, give the main object a coral, or decorate the body with balloons. You can try everything.
8. Monochromatic Images
If there are many colors in one photo, it distracts from the main object and creates a motley effect. That's why many experienced photographers bet on monochrome. It's the combination of different shades of one color and lowering the color temperature that allows you to get pleasing to the eye image, the focus of which is the object with its special shape and skin texture. You can try black and white gamma or pay attention to nude shades.
9. Light in the Background
Do you want to focus only on the shape of the body? Place the person so that the light source is behind him. Thus, you get a beautiful silhouette, which is also a great effect. The most interesting full-body shot example is if you put a person into one of the yoga asanas in front of the sunset so that his body covers the rays.
10. Discover the Mystery and Creativity of Shadows
Is it possible to capture the body without the object himself? Augers! You only need to use tricky lighting and put the person so that his or her shadow is reflected on the wall. You can also include the main object by stepping back a little. And to show creativity, many photographs use such a technique as "gobo". It creates a shadow in the form of a chimeric pattern if attach a piece of lace, blinds, or another item is in front of the light source.
11. Making the Human Body Photographic Dynamic with Motion Blur
Freezing the moment of the movement in the still image is a powerful way to show dynamics. You can achieve this effect in two ways:
set the manual mode on the camera and independently manage the shooting;

go into shutter speeds priority mode, set a slower shutter speed, and shoot during the model move.
12. Body Painting in the Shot
A portrait with a painted full body is beautiful avant-garde art. So, plunge into it with your head fixed on the camera riot of colors that create beautiful and realistic patterns. If you have never been engaged in body art, cooperate with an artist who creates masterpieces on the body. And putting models in certain poses and fixing them on the camera for getting natural or abstract photography will be your role. 5 painted models on the background of large tropical leaves that together create a colorful frog – this world-famous work of Johannes Stoetter can be a fresh breath of inspiration for you.
13. Complete the Image with Textures and Fabrics
The texture is a powerful composition element that gives the photo more depth and a sense of tactility. If you add translucent fabric instead of clothes will make the human form clear. In order to achieve the maximum desired effect, place the light source sideways.
14. The True Beauty of Body Underwater
Full body photo underwater is one of the most beautiful options. Since our body moves more smoothly underwater, it gives a wide field for experiments. So you can try this genre. But don't forget to take with you a special camera, waterproof lenses, and light for focusing.
Full Body Poses Photography: The Best Ideas
The success of a shoot depends on posing. The correct execution of full-body poses by the model is a 100% stunning result. But if you're a beginner photographer, you may face a lack of inspiration. Don't worry! Below, we'll consider with you the best ideas for poses that will make shooting an easy process.
Favorable Position of Hands
Many photographers don't know what to do with the hands of models. In fact, there are several simple positions:
Cross arms on the chest. This pose means confidence and power. In order to do it correctly, the model should bend forward and slightly lower her chin.

One hand is on the hip or in the pocket, and the other – hangs loosely.

Pose for woman: one hand is on the hip or placed along the body, and the other is raised to the chin or collarbone.

Pose for man: hands in the pocket/hips or adjust caffs of their shirt.

If the model wears a jacket, her hands should hold these clothes for lapses: one above and the other – below.

Touching face. This pose adds a touch of playfulness. The mood of the photo depends on which part of the face the model touches. Contact with lips conveys sexuality, and with chin or hair – gently. Fingers at the time should be positioned in such a way that they resemble a ladder.
Asymmetrical Shoulders – Basis for Relaxed Photography
In order to get relaxed touches on the woman's body in full body photography, ask the model to stand as she waits for the bus or her turn to the museum. You'll notice how she will take a relaxed pose and her shoulders will become automatically asymmetrical.
Bend One Knee – Attractive Pose for Women
If you have ever heard about an S shape, you know how attractive it looks. So, why not include it in your composition by asking the model to bend her one knee?
Hip Fall One Side – One More Pose for S shape
Not only a bent knee can achieve attractiveness. The model just has to abduct the hip to one side to create the S shape.
Head Positions for the Best Convey Senses
The position of the head plays an important role in body photography because it can tell a lot. For example, to achieve confidence, pull the model's chin up. Also, this position of the head can even correct the face, visually decreasing the large forehead. And if the head isn't fully turned to the camera, it visually makes the face and the figure slimmer.
Lay Down: Natural, Relaxed, and Casual Pose
Do you want to create something that is taken from real life? Then let your model lie down on a soft bed, sand, or wooden surface, resting at this time on the elbow and keeping the legs slightly bent at the knees.
Sitting on Stairs
Stairs are an interesting location for posing, no matter where they are: in the subway, pedestrian crossing, park, or at home. So, include them in the list of your shoot locations. When you'll be ready, ask the model to sit on the stairs not straight but at a slight angle. Her legs should be slightly extended in front of her and crossed at the ankles. One hand at the time is on the stairs near the body and the other is on the knee.
Body Photo Editing in Luminar Neo
Now you know how to take full-body pictures. But the work only with camera, lighting, and models isn't enough for harmonious completion of the desired idea. Post-processing is always required. Luminar Neo will help you to edit your body photos at a high level. This photo editing software which works on the basis of AI can do amazing things. Here you can correct colors in a photo with high-key technology, adjust contrast, change the background, retouch the face, and do so much more.
Conclusion
A full-body portrait is different from an ordinary portrait, where the head and shoulders only appear. After all, here you need to make more effort in terms of finding locations, creating an image, and selecting appropriate poses. But the main task is to make the model feel easy and relaxed. You can achieve this by using to practice the tips and poses that we wrote about in our article.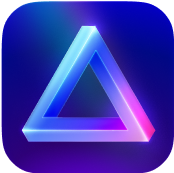 Advanced yet easy-to-use photo editor
view plans